Looking for a fun popcorn to eat while watching a movie or t.v. this weekend? Brownie Batter Cookie Dough Popcorn might just be the fun chocolate covered popcorn you have been waiting for.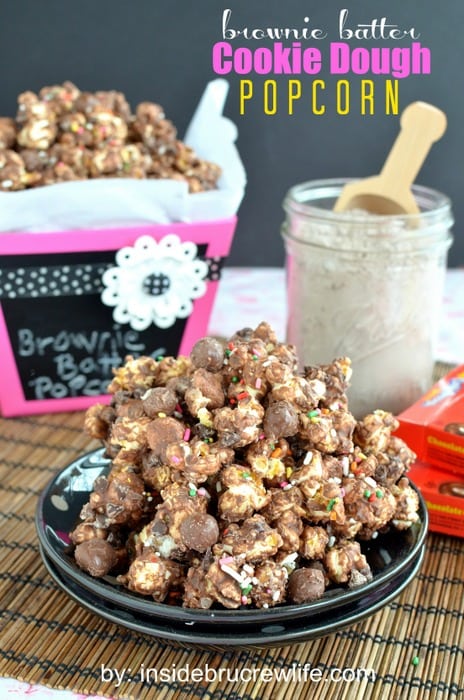 It's no secret that I love chocolate covered popcorns. I mean, you have seen this Reese's Popcorn and this Almond Joy Popcorn right? Popcorn coated in chocolate and filled with candy and marshmallows is definitely my favorite snack to make in a hurry. Plus, it is a no bake recipe. As we head into the summer months, those are great recipes to have on hand for days when it is too hot to turn on the oven.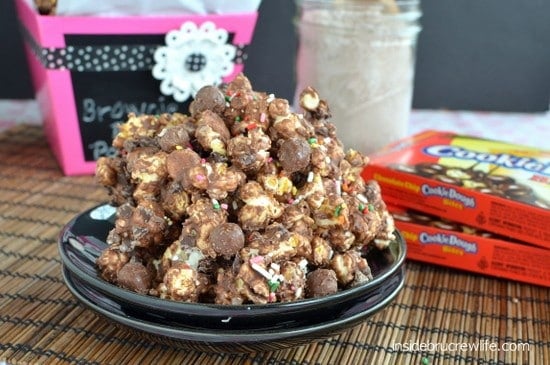 Have you seen this cookie dough bites candy? I found them in my local Walmart's candy aisle with the movie box candies. Word of warning...I found some cookie dough bites at the Dollar Tree...not good! Trust me and buy the ones from Walmart:-)
Another word of warning...buy an extra box of cookie dough bites because when you taste test them (and you will) there won't be any left to put in your popcorn.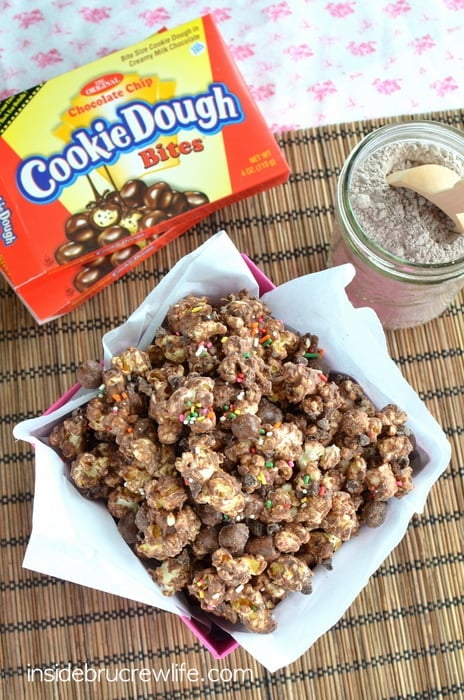 This popcorn is really so easy to make. First make your popcorn. We have a Whirly Pop and we absolutely love how the popcorn comes out of it. But you could definitely use microwave popcorn too. Then you melt up some CandiQuik to cover the popcorn with. In my recipe I used two kinds of CandiQuik...it was actually because that was all I had left in my cupboard at the time. But it turned out so perfect and delicious that I decided that was the way it needed to stay. Using a little of both gave it the chocolate color and taste, but it didn't overwhelm the brownie mix.
Now I 'm sure you are wondering what to do with the extra brownie mix...don't you worry your pretty little head. Keep reading...I have four other recipes at the bottom of this post that you can use the brownie mix in 🙂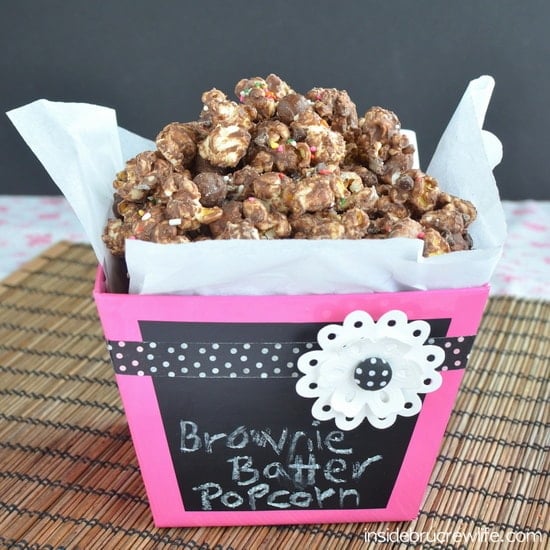 I found these cute little chalkboard boxes at Target last week. I knew right away that I wanted to decorate it with some washi tape and these cute Flowers Detailz Dies from Lifestyle Crafts. I know this isn't the greatest picture of the flower, but if you look really closely you can see how the flower is embossed around the edges and center. I used two of the dies and layered them for a fuller flower. I also added a polkadot brad and curled the edges of the center flower for some more pop. These boxes are perfect for filling with any popcorn mix. Make sure to put the popcorn in a plastic bag before handing out though.
Want to purchase your own die cuts? Head over to Lifestyle Crafts and use the code BRUCREW to save 20% on your total order.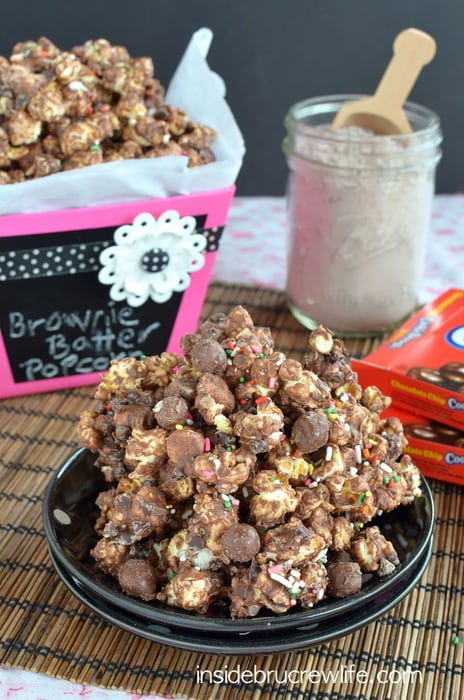 More ways to use up the extra brownie mix: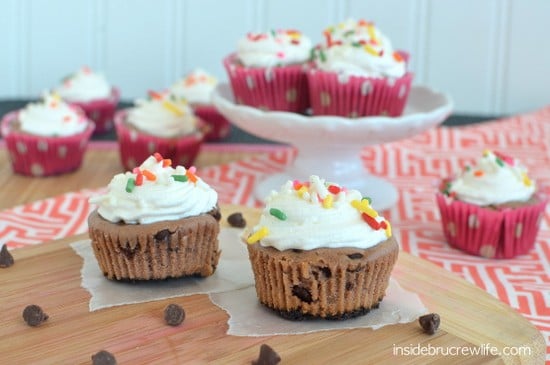 Brownie Batter Chocolate Chip Cheesecakes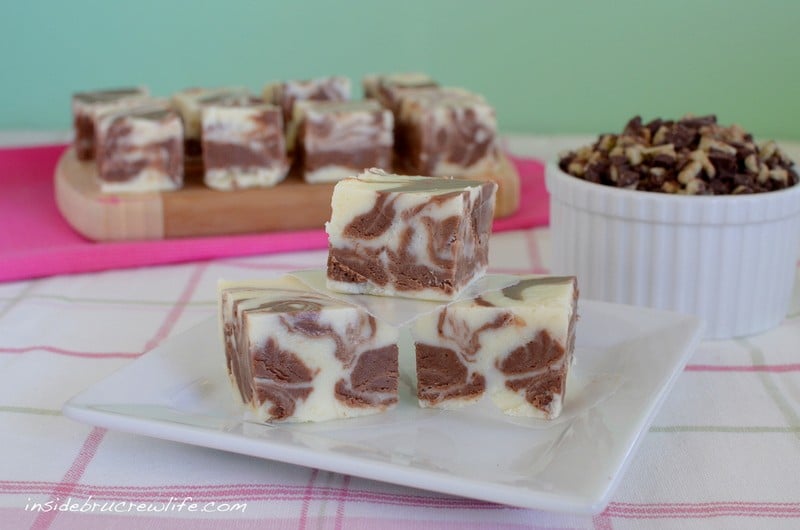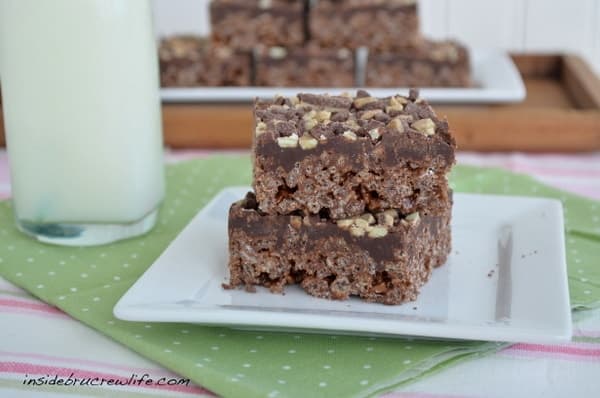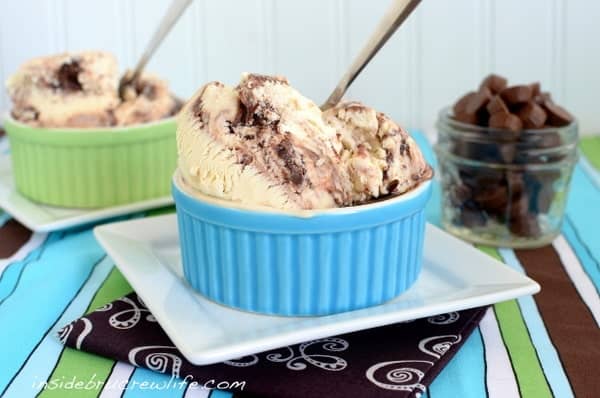 Peanut Butter Brownie Batter Swirl Ice Cream