These Chocolate Pumpkin Spice Cookies are soft, fudgy, and full of chocolate. It is a delicious fall cookie choice.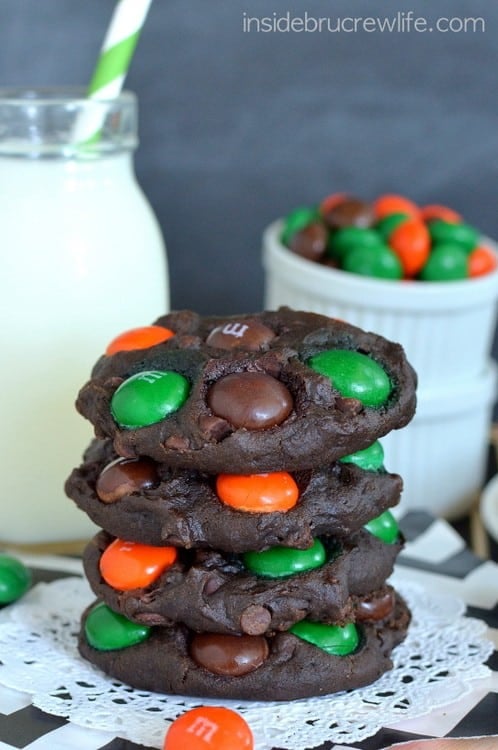 Ok, you guys! These Chocolate Pumpkin Spice Cookies turned out absolutely delish!
You need to try a batch just to see what I'm talking about! Right now!
Like run to your kitchen and start baking. yYou can thank me later when you are dying over how rich and fudgy these cookies are.
Now you can use any M&M candy on these cookies, but as soon as I saw there were Pumpkin Spice M&M's this year, I headed right to my Target and bought a bag. Ok, fine, I actually bought 2 bags.
You never know when pumpkin inspiration is going to hit.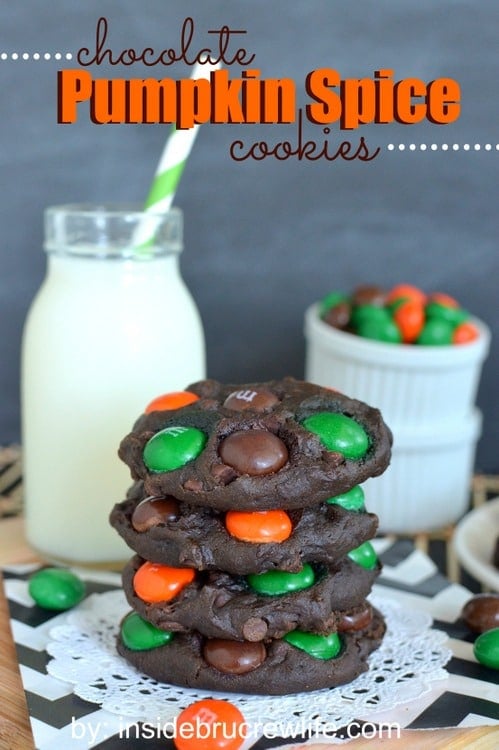 The other night I got a craving for pumpkin cookies! Surprise surprise! Me craving pumpkin goodies in the fall.
I sure hope you guys love this orange stuff as much as me, or it's going to be a long 2-3 months. I promise it won't be all pumpkin here all the time, but I have gone through a few cans already, just so you know!
At first I was going to make another version of these Chocolate Chip Pumpkin Cookies. But then my husband was digging in my baking cupboard for something sweet, and I saw the cocoa powder and the bags of pumpkin M&M's, and a new version started swirling in my head.
These are now my absolute favorite fall cookie!
Chocolate Pumpkin Spice Cookies
Now let's talk baking time before you get started. I tested 3 different times to see which one gave the best cookie.
I started with 9 minutes, but those were way too puffy and dry for my taste. So, I dropped the time to 7 minutes.
The biggest key to underdone cookies is to keep them on the hot baking sheet for 3-4 minutes after taking them out of the oven. They will continue to bake on the sheet.
Then you can remove them to a wire rack to cool completely. I was questioning my 7 minute time because they seemed a little too under done. So, round three went in the oven for 8 minutes.
After the cookies had cooled completely and set up, I started taste testing. Some one's got to do it! It's the best part of my job description!
Any way, my favorite cookie was the 7 minute batch. It was fudge-y and decadent and absolutely amazing!! After it cooled completely the centers were not under done any more. They are worth waiting for!
It was all I could do to not eat the entire 7 minute batch!
The cookies that were baked for 8 minutes were really good too. They were still slightly fudge-y and delicious!
I would say if you have time to let the cookies sit for a while, go with the 7 minute time. But if you need to eat them right out of the oven, 8 minutes will work for you.
Honestly, just have fun with it and find what works best for you. Maybe you like dry cookies and want to bake them longer. Go for it!
I'll just be sitting in the corner with my under done cookies because that's how I roll!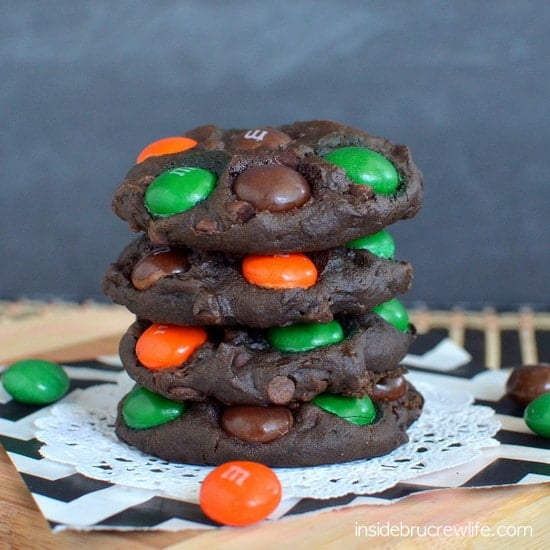 Stay up to date on all the BruCrew baking here:
FACEBOOK | PINTEREST | GOOGLE+ | TWITTER | INSTAGRAM | BLOGLOVIN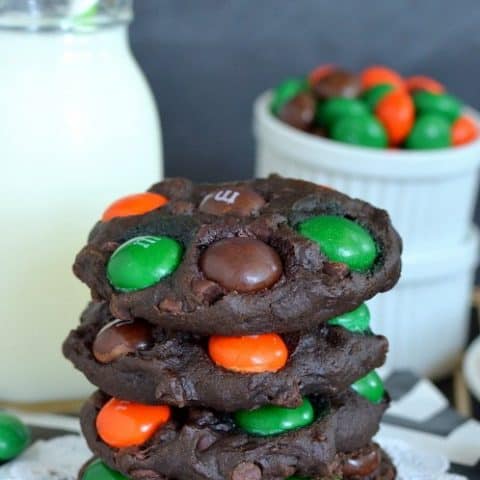 Chocolate Pumpkin Spice Cookies
Chocolate and pumpkin cookies with Pumpkin Spice M&M's are a rich decadent fall cookie.
Ingredients
½ cup brown sugar
½ cup oil
1 cup canned pumpkin puree
1 egg
1 Tablespoon vanilla extract
2 cups flour
¼ cup cocoa powder
¼ cup dark cocoa powder
2 teaspoons baking powder
1 teaspoon baking soda
2 teaspoons cinnamon
1 teaspoon nutmeg
½ teaspoon salt
1 cup mini chocolate chips
1 bag Pumpkin Spice M&M candies
Instructions
Preheat oven to 350 degrees.
In a mixing bowl mix the brown sugar and oil. Add the pumpkin, egg, and vanilla and cream again.
Stir together the flour, cocoa powder, baking powder, baking soda, cinnamon, nutmeg, and salt.
Slowly mix the dry ingredients into the pumpkin mixture. Stir in the chocolate chips by hand.
Drop by teaspoon onto a nonstick baking sheet. Press 5-6 M&M's onto the top of the dough close together. Bake for 7-8 minutes.
Cool on the pan for 3-4 minutes before removing to a wire rack to cool completely. Store in a sealed container on the counter for 4-5 days.
Notes
*I used ¼ cup regular cocoa powder and ¼ cup dark chocolate cocoa powder to get the dark color in the cookies.
**If you bake the cookies for 7 minutes, they will be slightly underdone until they cool completely. They end up being extremely rich and fudgy after setting up. Bake for 8 minutes for a slightly firmer and drier cookie.
***Use regular colored M&M's if you can't find the pumpkin spice candies.
Recommended Products
As an Amazon Associate and member of other affiliate programs, I earn from qualifying purchases.
Nutrition Information:
Yield:

40
Serving Size:

1
Amount Per Serving:
Calories:

93
Total Fat:

5g
Saturated Fat:

1g
Trans Fat:

0g
Unsaturated Fat:

3g
Cholesterol:

5mg
Sodium:

87mg
Carbohydrates:

12g
Fiber:

1g
Sugar:

6g
Protein:

1g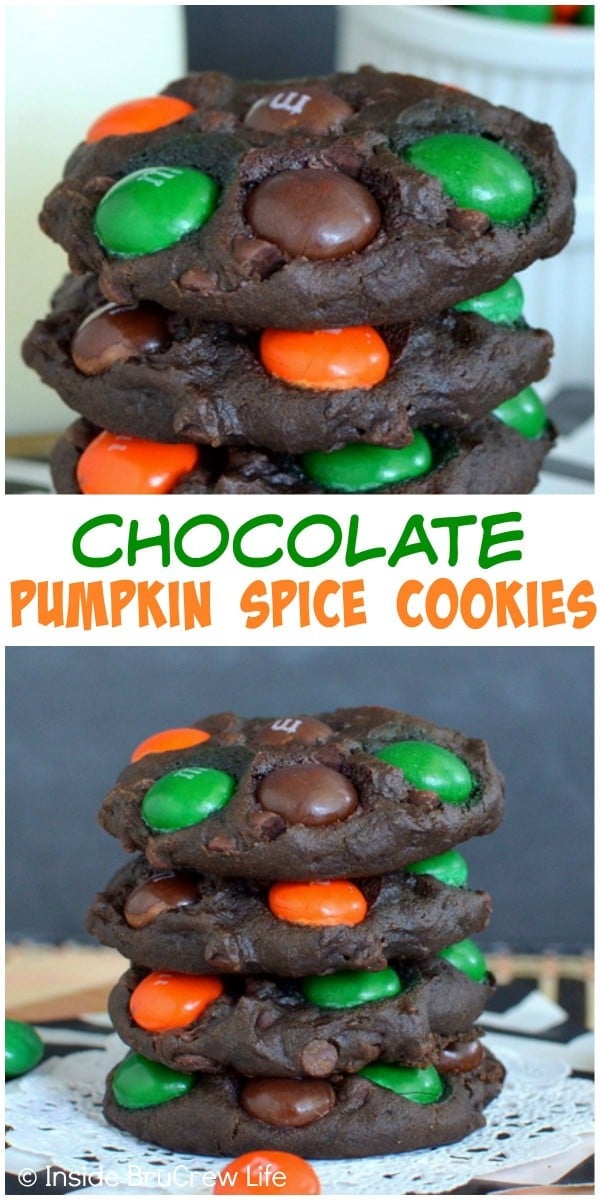 Other great ways to use up that extra pumpkin puree: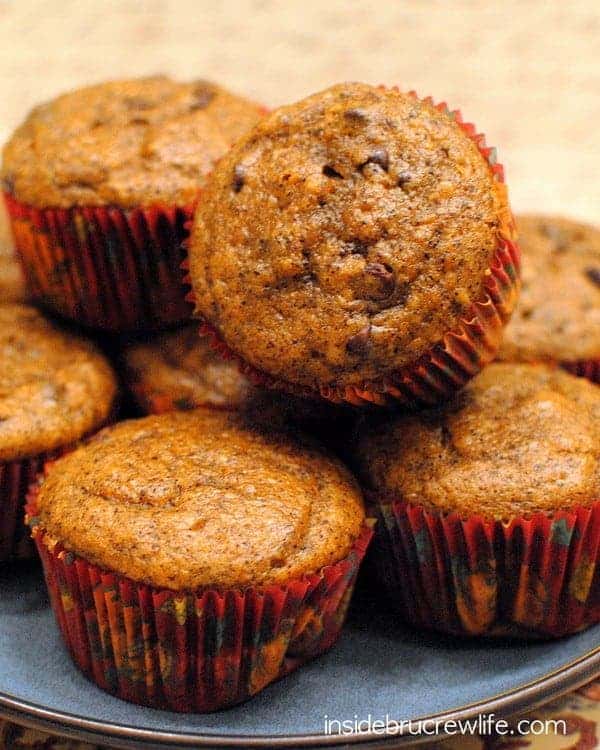 Pumpkin Cappuccino Chip Muffins