Are you looking for an delicious cookie to bring to those Fourth of July parties this week? These Chocolate Whoopie Pies are an easy cake mix cookie that everyone will enjoy.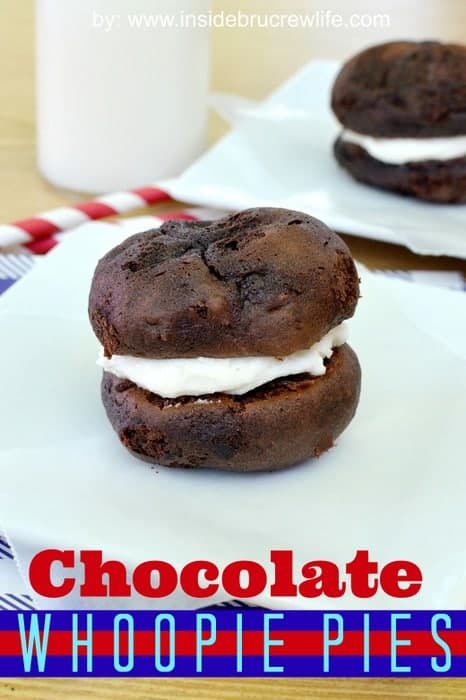 Before we get to the cookies, let me ask you one simple question. Have you heard the news about Google Reader? If you haven't heard yet, Google Reader is shutting down tomorrow, July 1st. If you use Google Reader to follow the BruCrew, can I suggest you make the switch to Bloglovin. I personally use and love Bloglovin. You can follow BruCrew Life on Bloglovin HERE.
One thing that my husband is known for is making homemade pizza. He and his brothers used to own a small pizza place about 10 years ago. It was fun, but very eye opening. We learned you really need to have a ton of money in savings to keep your business going through those first few tough years. After a year and a half, we had to sell the place, and everyone moved on to other jobs. But my husband still makes pizza for us a few times a month. We also make pizza for anyone in our church that might need a meal, usually for families that have had a recent birth.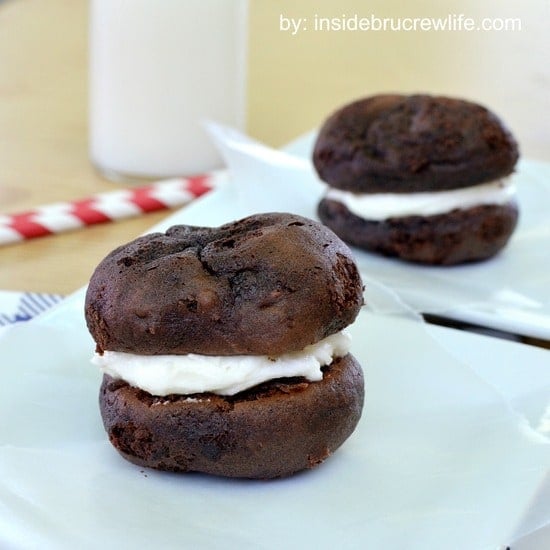 Last week we were on the schedule to bring pizza to a family that just had a baby girl. Of course that meant I needed to be on the ball with a delicious dessert to go with the pizza. I wanted to make something that didn't make a lot of extra treats because I knew they wouldn't want the extra goodies sitting around, and I couldn't leave them in my house. I still lack self control in the sweets department.
These cake mix cookies are perfect because when you fill them with frosting, there are only 12 cookies to deal with. Six went out the door immediately after I ate one. They were seriously so awesome, and they took me back to my childhood. I grew up in Amish country in PA, and these cookies taste just like the whoopie pies we would buy from the Amish family store. These tasted so much like those Amish cookies, that I just had to eat another one right away. Bad for the diet, but oh, so worth it.
Now I had totally planned on dividing the frosting into red, white, and blue. But...that was before I realized I was completely out of red gel color. So, I went with the classic white marshmallow butter cream for these bad boys. If you want to get all patriotic, you could dip the edges of the frosting in some colored sprinkles. I was on a time schedule, and barely had time to make these and snap a few pictures before my husband had to drop them off. I guess that is poor planning on my part, but I am so glad I got a few pictures to share with you.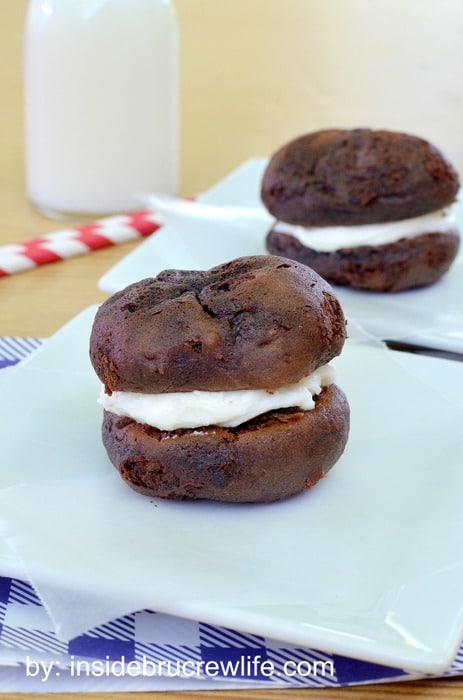 You need these cookies like now. Promise me that you will give them a try...but I suggest making them only if you have someone to share them with.
Stay up to date on the BruCrew baking:
FACEBOOK | PINTEREST | GOOGLE+ | TWITTER | INSTAGRAM | BLOGLOVIN
More fun red treats to celebrate with on July 4th.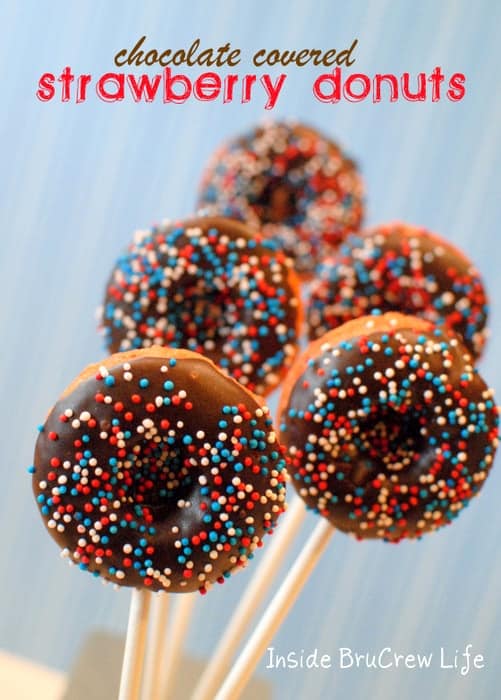 Chocolate Covered Strawberry Donuts