Cinnamon Apple Baked Oatmeal is a breakfast full of hearty goodness! Make it ahead of time and have breakfast ready for the week.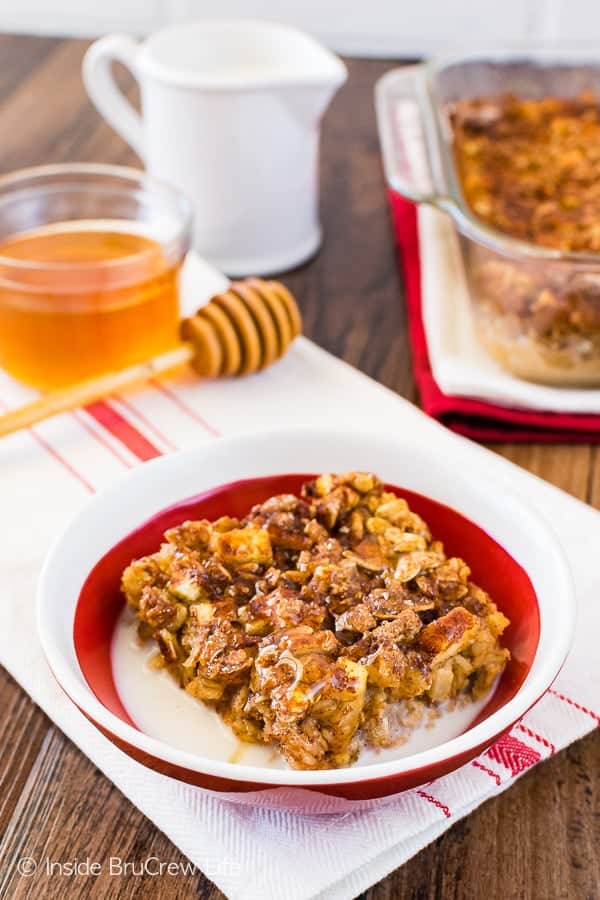 Our kids have been back to school for about four weeks now. So far, they are still doing pretty good at getting up on their own and being ready to leave on time. I have to admit that I love the fact that our kids are old enough to be responsible for getting ready on their own.
Don't get me wrong; I have days where I miss those little babies that needed me for everything. Our oldest going off to college really had me wishing those little ones were still here.
I still have moments of sadness, but for the most part I'm doing ok with our kids being big because it means an extra hour of sleep for me on a school mornings now. Making breakfast the day before is another way I give myself permission to sleep in while the kids are getting ready.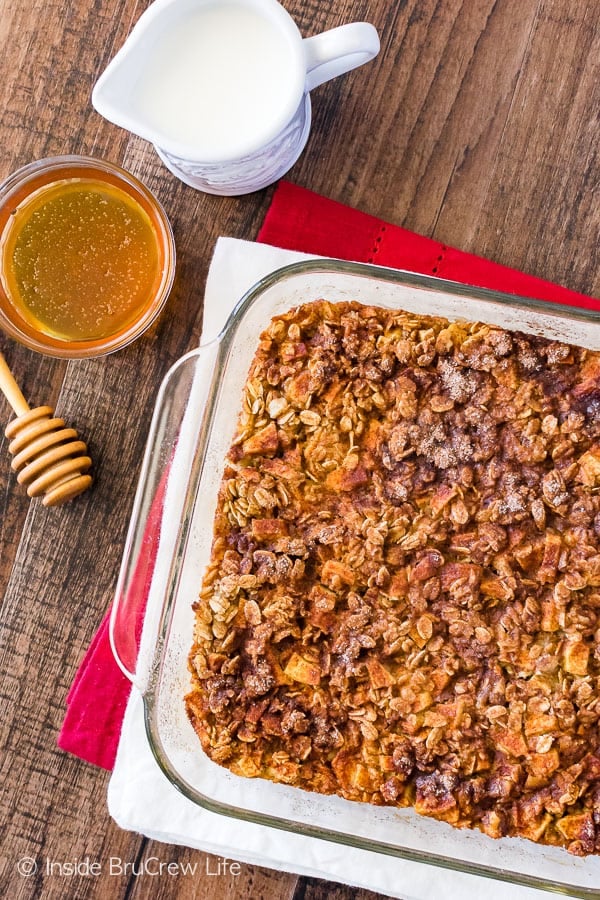 Whenever we have extra brown bananas I like to make a batch of these double chocolate banana muffins. Banana treats are always better the next day, so I never feel bad about not making them fresh for breakfast.
A pan of baked oatmeal is another easy breakfast I like to make the day before. If you pop a square in the microwave, it tastes just like it came out of the oven. Gotta love that!
This chocolate chip banana streusel baked oatmeal is one of my daughter's favorites. Can you tell we like chocolate and banana in this house? This time I decided to change up the oatmeal a little bit.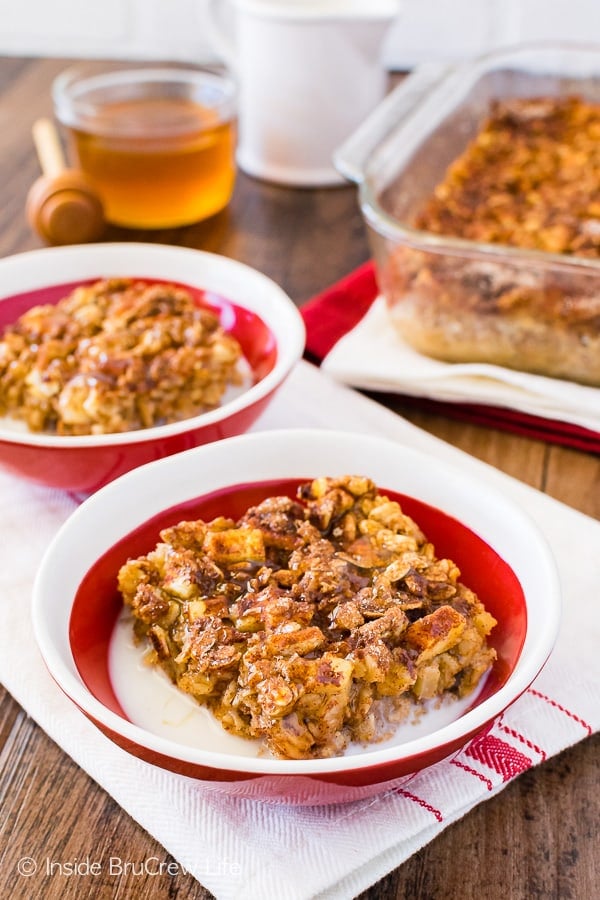 We had some extra apples in our fridge that needed to be used up before the crisper claimed them as victims. I don't know about you, but this time of year I start to crave all things apple and pumpkin, so I tend to buy extra produce and cans when I'm at the store.
I should probably start planning out my recipes a little better because we are trying not to waste food.
My husband actually ate quite a bit of this baked oatmeal this time around. He wanted me to tell you that if you eat it cold, it holds up like a soft granola bar. Now you know.
Here are some easy tips so you can have a pan of this cinnamon apple baked oatmeal in your fridge waiting for those hungry kiddos (or hubby) tomorrow morning.
Whisk together your wet ingredients first.
Stir together the oats, cinnamon, and apples, then add the wet ingredients. Do not over stir.
Pour the mixture into a greased pan.
Liberally sprinkle the top with some cinnamon sugar.
Bake until it is firm and toasty.
Cut into squares and place in a bowl. Pour milk on top and drizzle with honey!
Or eat it cold like a soft granola bar. Either way works. Enjoy!
More great breakfast ideas to make ahead of time: