A crunchy topping on this Chocolate Chip Banana Streusel Baked Oatmeal will have you ready for breakfast in the morning. Enjoy a warm square with milk and drizzles of honey.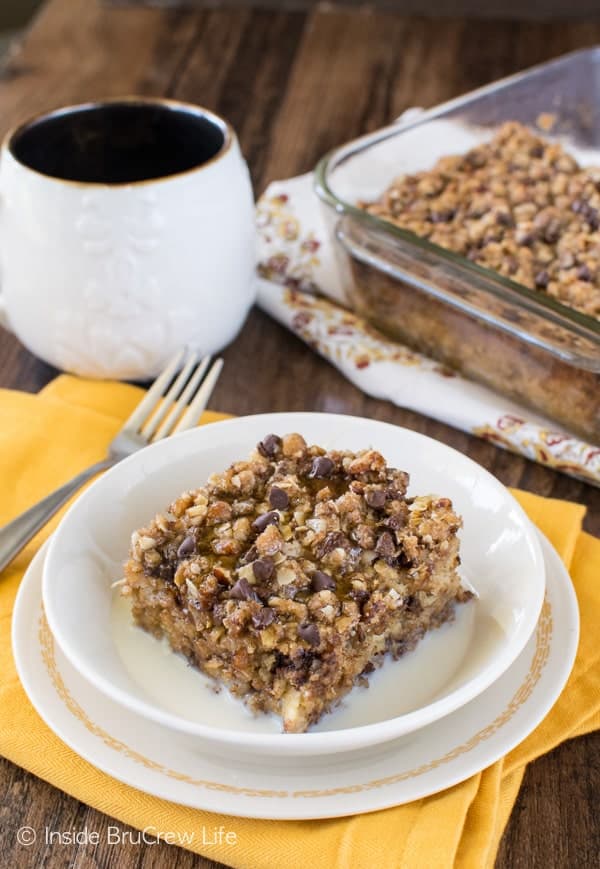 CLICK HERE TO PIN THE RECIPE FOR LATER!
You know those bananas on the counter. The ones you bought last week with the good intentions of eating them as a healthy snack each day. Yeah, they are still sitting there, but now they are a lovely shade of brown. Oh, wait. That's what happened on my counter.
You guys know how I feel about bananas. There is only a very short window where I can enjoy eating one. I try to buy the greenest bananas at the store, so they will last for a few days. After they turn yellow, I just can't do it. Yes, I know. I'm a strange one. It's ok...at least I know it.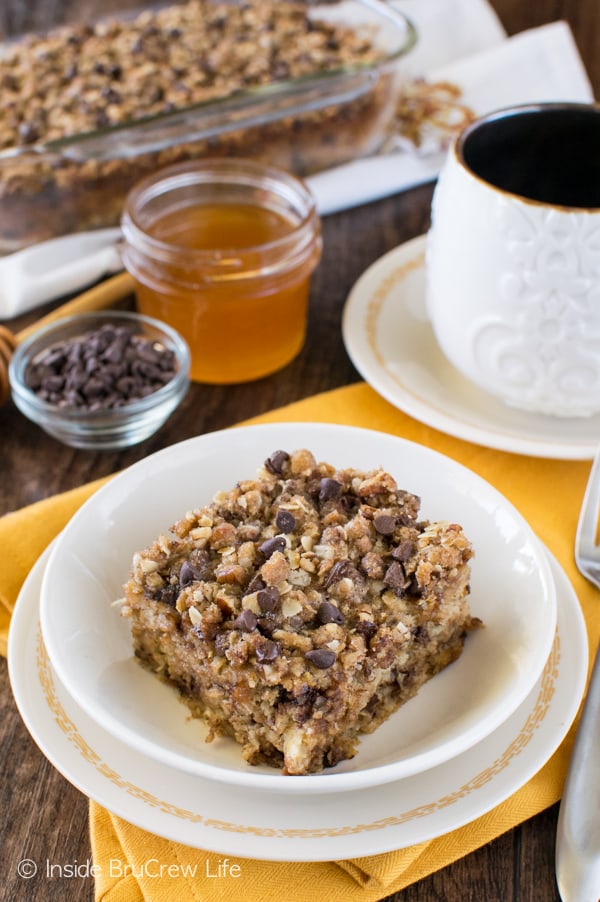 So since there were 5 black bananas sitting on our counter, I decided to make some baked oatmeal. That's another thing that I am picky about eating. I grew up eating bowls of sticky oatmeal for breakfast. And it was ok, just not my favorite. Well, unless it was heavily dosed with brown sugar and raisins. Then I could eat it...but barely.
Over the years I have found that I really enjoy baked oatmeal. There is a little more substance to it, and if you add streusel, it is almost like eating coffee cake. I did say almost. Don't email me with complaints that this doesn't taste like cake. I did warn you.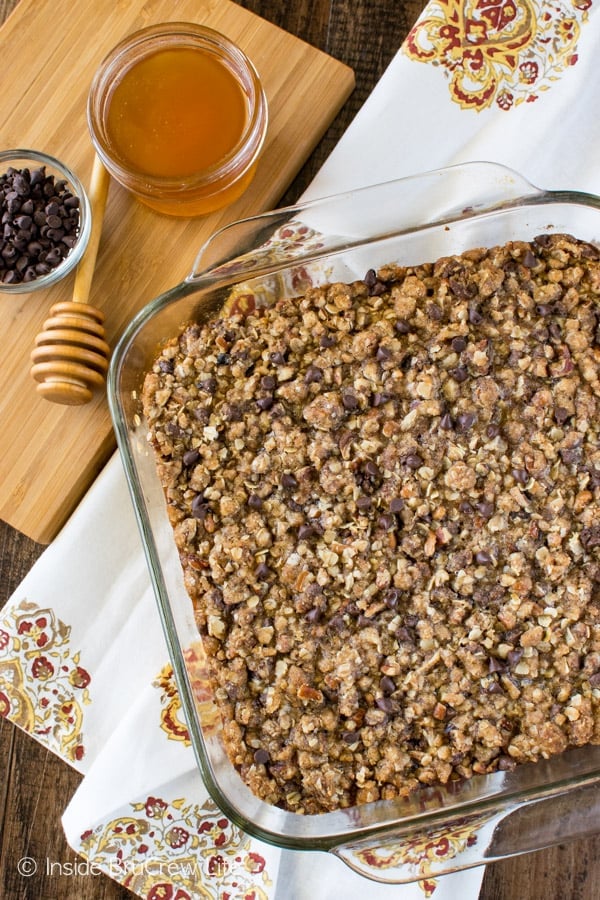 Almost is really one of those words you have to take with a grain of salt. Like when my husband asks if I'm ready to go. My answer is usually "almost"...when in reality I know I'm nowhere ready to go. It's probably a trait I should work on more...
For this baked oatmeal I used this blueberry banana baked oatmeal as my base recipe. Obviously, I left out the fruit and added chocolate. Any time I can add chocolate to something and call it breakfast is a major win in my book! Then I went and added this amazing crunchy streusel topping! You guys...
I can't even begin to tell you how good this topping is! I did a variation of the streusel from this blueberry almond crumble bread. It is so good that I may have added it to a few more recipes you will be seeing soon!
Here is the breakdown for making this easy chocolate chip banana streusel baked oatmeal for breakfast:
Whisk together all the wet ingredients first.
Stir together the dry ingredients in a bowl, and then stir in the milk mixture.
Pour the batter into a greased pan.
Mix together your streusel topping until it looks kind of like wet sand.
Crumble the topping over the top of the batter.
Bake until firm and toasty.
Cut out a square and drizzle honey and milk on top! Enjoy!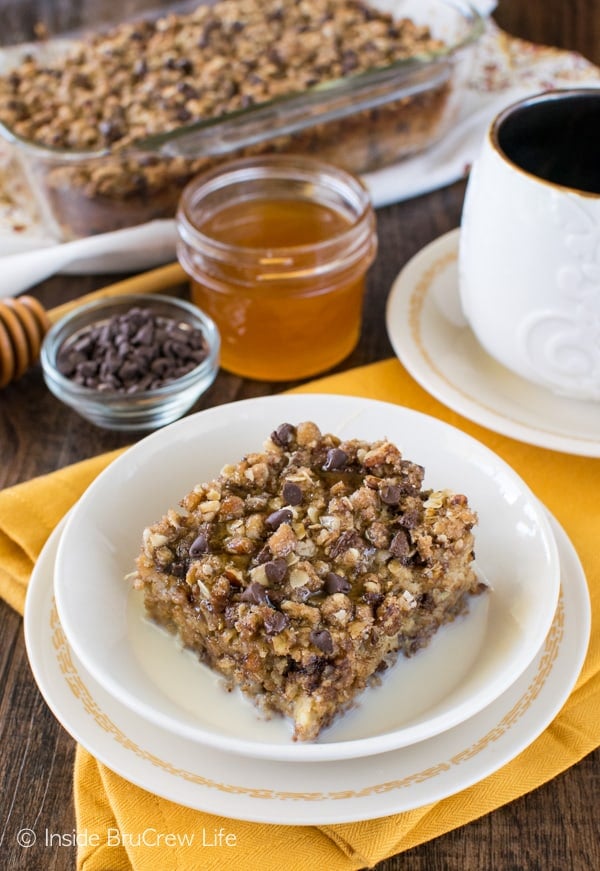 More great recipes to enjoy for breakfast: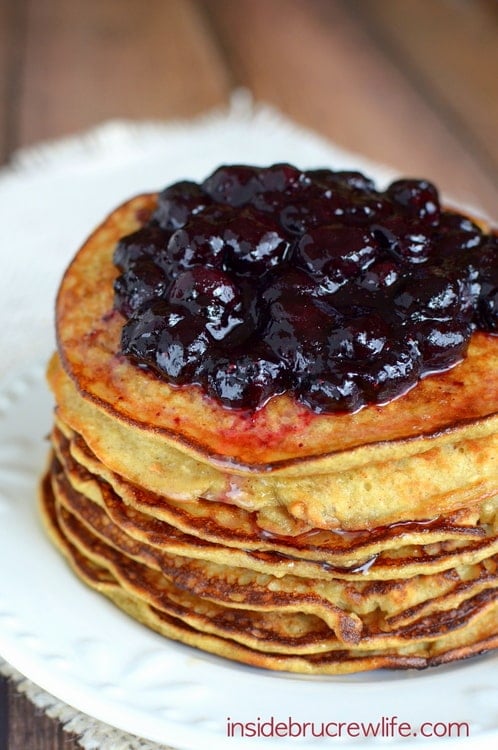 Skinny Banana Oatmeal Pancakes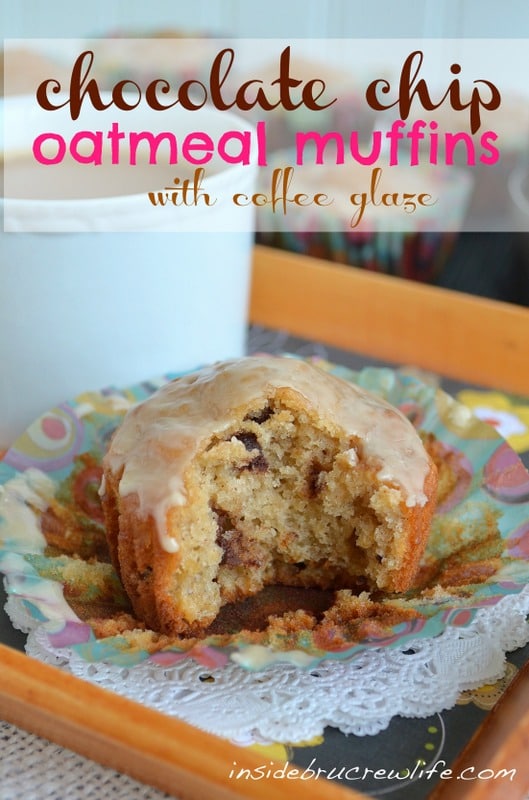 Chocolate Chip Oatmeal Muffins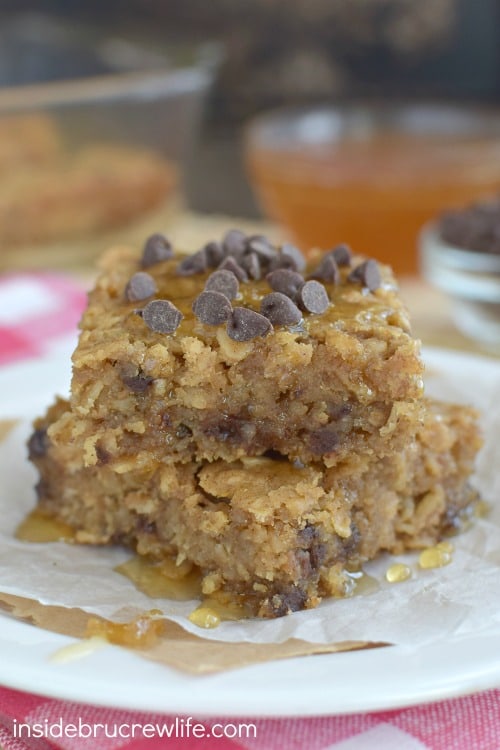 Peanut Butter Chocolate Chip Baked Oatmeal