Make a double batch of this Cinnamon Pumpkin Spice Muddy Buddies because it will disappear in a hurry this fall. The pumpkin spice chocolate and sweet candies make this snack mix so irresistible!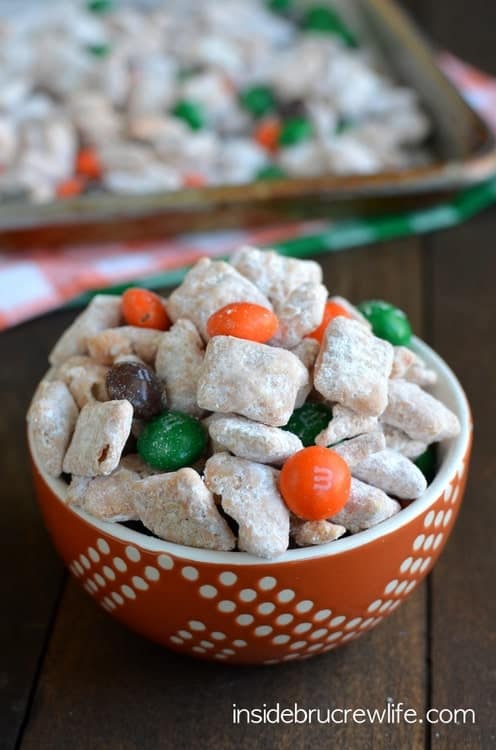 I'm kind of in shock right now...it's already a week into November.
Can we all say WHAT? Where did the entire year go? Maybe it's just old age setting in because seriously where did the rest of the year go? It's probably time to cut back on things like these little pumpkin spice latte cheesecake bites and these pumpkin spice pop tarts because I'm losing some time here while I'm busy snacking.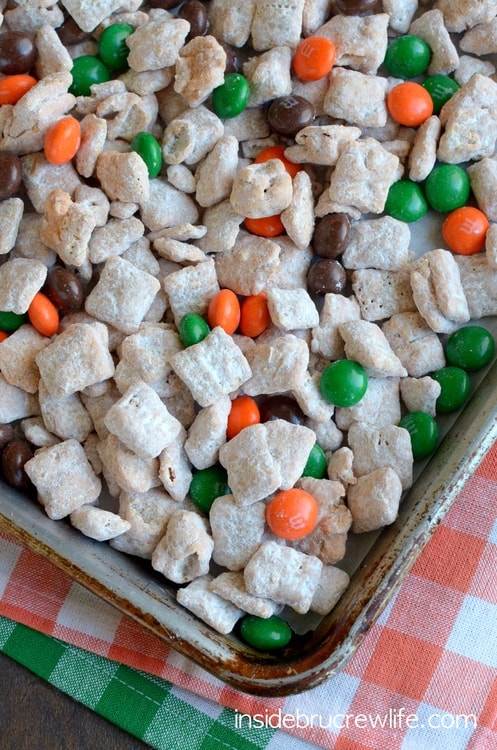 A few weeks ago I was at Target for a few things. LOL! Who am I kidding? I always end up with a cart full of stuff I never meant to buy. Do you think it's something in the air that makes us lose track of time and fill our carts with all sorts of cute things?
Anyway, I picked up some pumpkin spice kisses and a bag of fall colored M&M's. Then they sat in my cupboard until I had that lightbulb moment. You know the one, right? Where you drop everything you're doing just because you need to make the crazy creation that just popped into your head. I'm looking at you chocolate pumpkin spice cookies! And just like that I'm craving a batch of those cookies again.
This fun popcorn was another one of those crazy ideas that I had too. Ok, so it turns out this isn't really an original idea. Dang that Google. Always bustin' on my ideas! At least my chocolate method was different than most.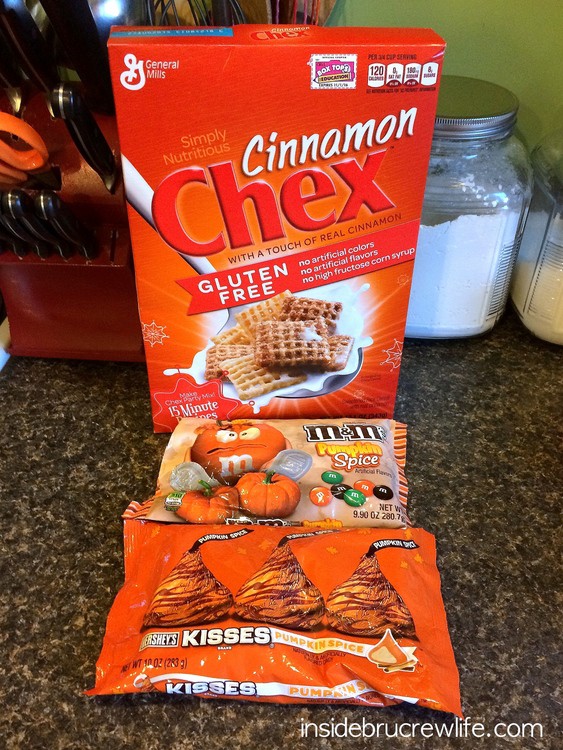 The first thing you are going to do is measure out all your ingredients and have them ready to go. The chocolate sets up quickly, and you can't be fumbling with measuring cups and cereal. Also make sure you have a big bowl with a lid or a gallon sized ziplock bag to shake everything in.
Now that you have all that set, let's get started. Unwrap all the kisses and place them in a saucepan. Yup, you heard me right. We are melting those babies down. Keep your temperature low so you do not scorch your chocolate because that would make you cry. If it starts to seize up, you can always add a little bit of shortening or butter to fix that.
Pour it over the cereal in a bowl and stir until every piece of cereal is coated in the chocolate. Then quickly spoon the mixture into the ziplock bag and pour the powdered sugar on top. Close it up and shake, shake, shake! This is where a bowl with a lid comes in handy. If you have a large enough tupperware bowl, you can stir the chocolate and toss the powdered sugar all in one bowl. If not, the bag works great too. I have done both methods.
Then spread it out on a tray so it can cool and set. Toss some colorful candies in and get ready to dive in. This cinnamon pumpkin spice muddy buddies is so easy to make and tastes amazing. Trust me and make a double batch.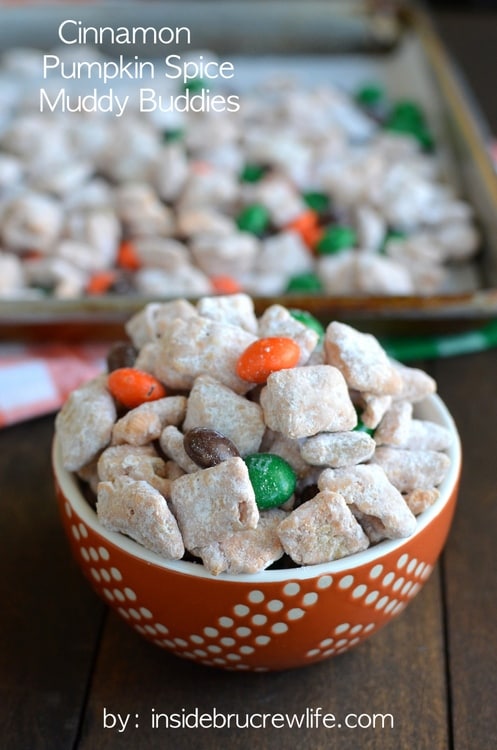 More easy no bake recipes to make this fall: