These little Pumpkin Spice Latte Cheesecake Bites are a delicious treat for fall parties. The creamy pumpkin bottom and the swirl of coffee whipped cream will have you grabbing another one in a hurry.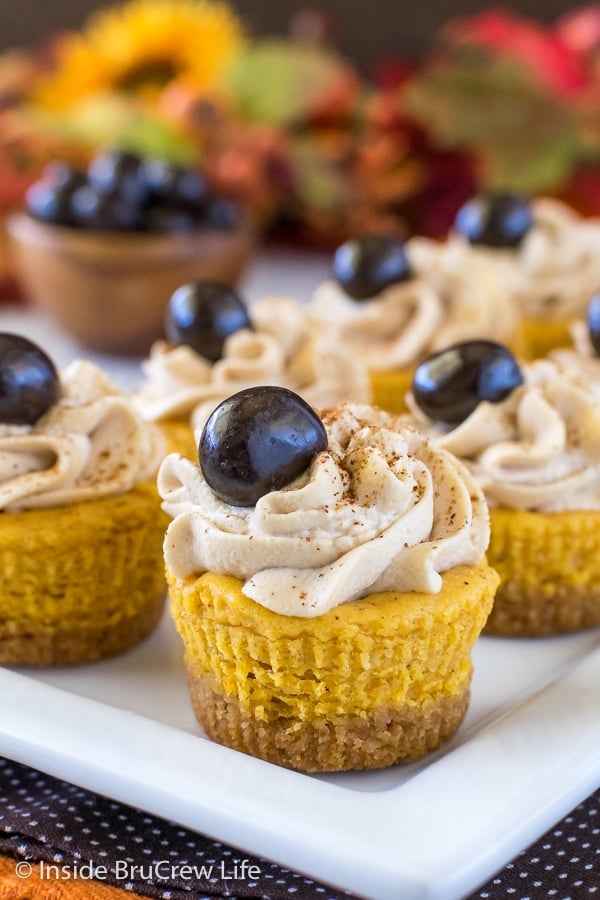 Woo hoo! PSL season is officially here. How many of you had a pumpkin spice latte from Starbucks earlier this week? My hand is up with everyone else.
Now of course, it's still blazing hot here, so I went with a Pumpkin Cream Cold Brew. The topping is seriously so good and tastes like pumpkin pie! It's the perfect drink when you want fall but summer is still going strong.
But now that I've had my fix from the 'bucks, I'll just stick to making my own at home for a while. Homemade Starbucks copycats are always better anyway.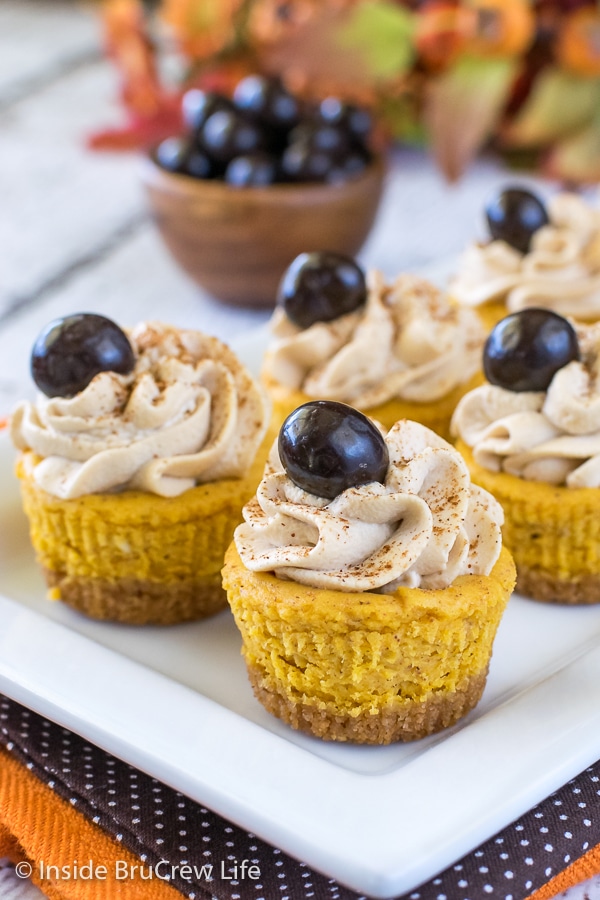 These mini pumpkin cheesecakes are another way to get your fall fix. Since everyone gets so excited for the fall drinks to arrive at the local coffee shops, I knew that I wanted to make a mini cheesecake that had those flavors.
I used this Pumpkin Oreo Cheesecake as my base for the bites, and then added a homemade coffee whipped cream and a coffee bean to make them look cute and taste delicious. This batch only makes 24 mini bites.
Trust me, those will not last long at all. Something about the little size makes you think you can pop a few of them at a time.
If you love cheesecake and pumpkin, you need to try the Best Pumpkin Cheesecake this fall.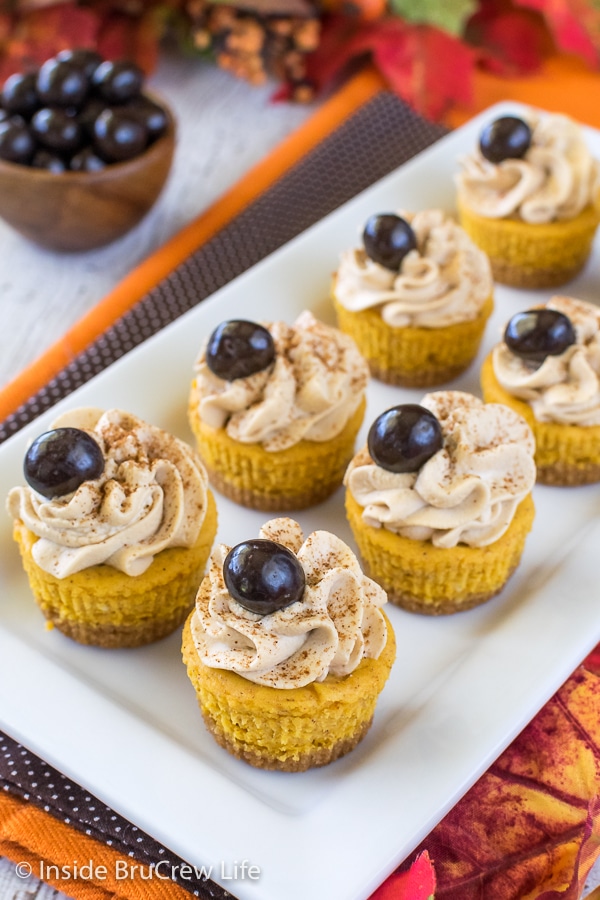 How to make Pumpkin Spice Latte Cheesecake Bites:
Press a mixture of cookies crumbs and butter firmly into the bottom of mini muffin tins.
Make sure to set cream cheese out ahead of time. It makes it easier to beat it into the sugar.
Add the rest of the ingredients except the egg and beat until creamy.
Add the egg and beat until just mixed in.
Spoon the batter evenly into 24 muffin tins. Each cavity will be very full.
Bake and chill. (full recipe below)
Adding a swirl of coffee whipped cream makes these pumpkin treats taste just like a pumpkin latte from the coffee shop.
PRO TIP: If you do not like coffee flavored treats, make this Vanilla Whipped Cream or this Chai Whipped Cream instead.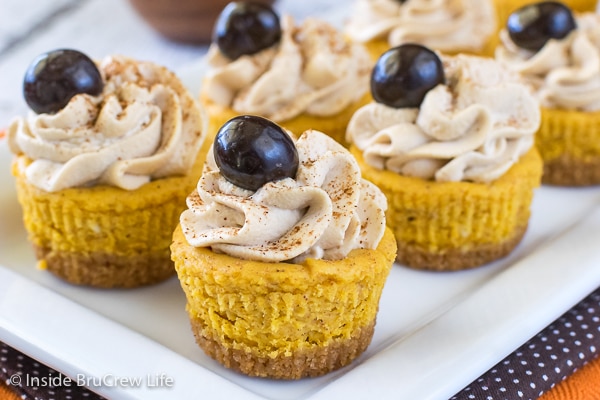 Tips for making cheesecake:
Make sure your cream cheese is room temperature, so it is creamy when you beat it.
Do not over beat the batter as you are mixing everything in. Too much air can cause cracks.
Use a little bit of flour in the batter to thicken it and keep it from cracking.
Bake cheesecake over a pan of steaming water. This steam bath will give your cheesecakes a creamy consistency.
Do not over bake your cheesecake. The edges of the cheesecake should be well set, and the center should be set but still jiggly. (Kind of like Jello.)
If you are making full size cheesecakes, remove it from the oven and wait 5 minutes; then run a knife around the edge of the cheesecake and pan to loosen it.
How do you store cheesecake?
Keep cheesecake in a tightly sealed container in the refrigerator for up to one week.
Cheesecake can also be frozen. To keep cheesecake in the freezer, wrap the unfrosted cheesecake in plastic wrap and place in a freezer safe bag or container. Thaw in the fridge overnight, then add whipped cream before serving.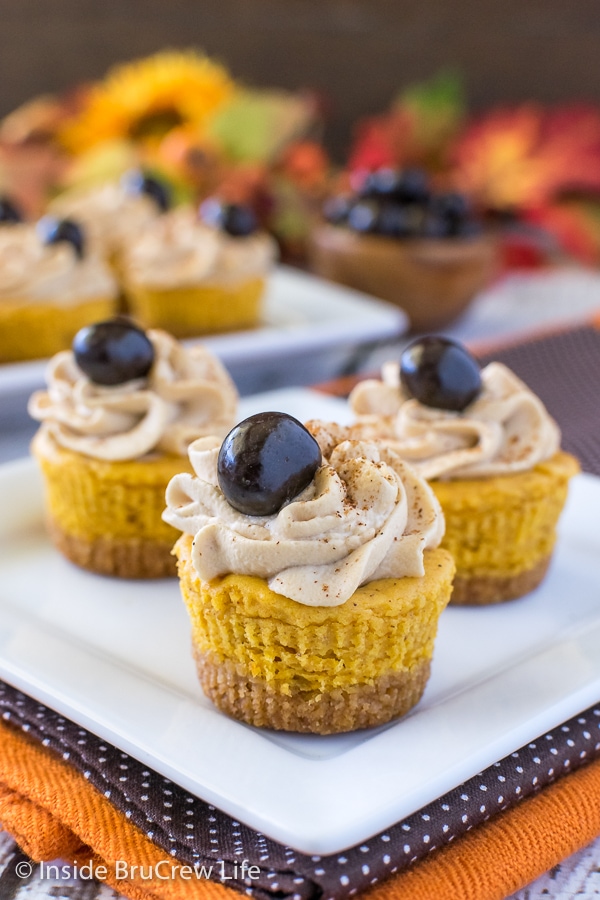 Looking for more fall cheesecake recipes?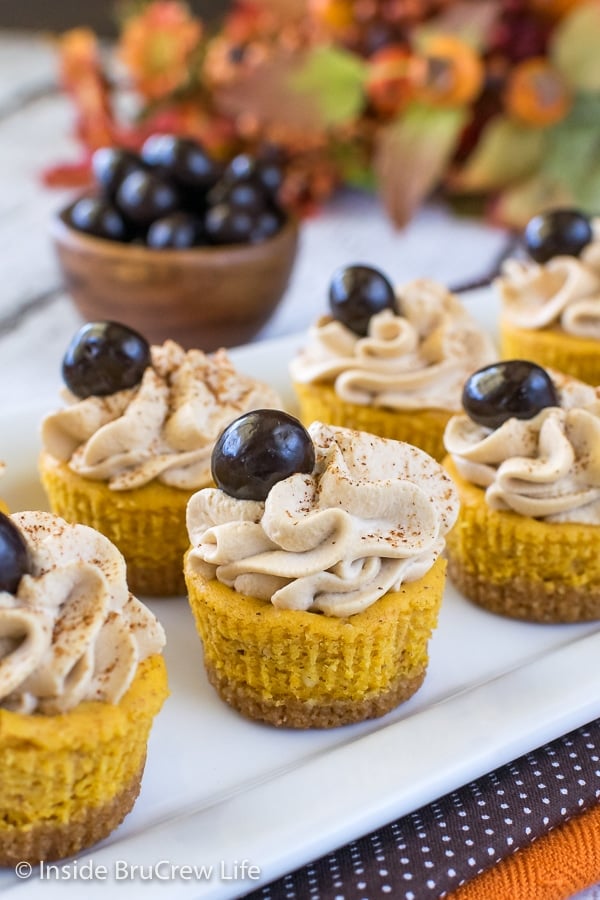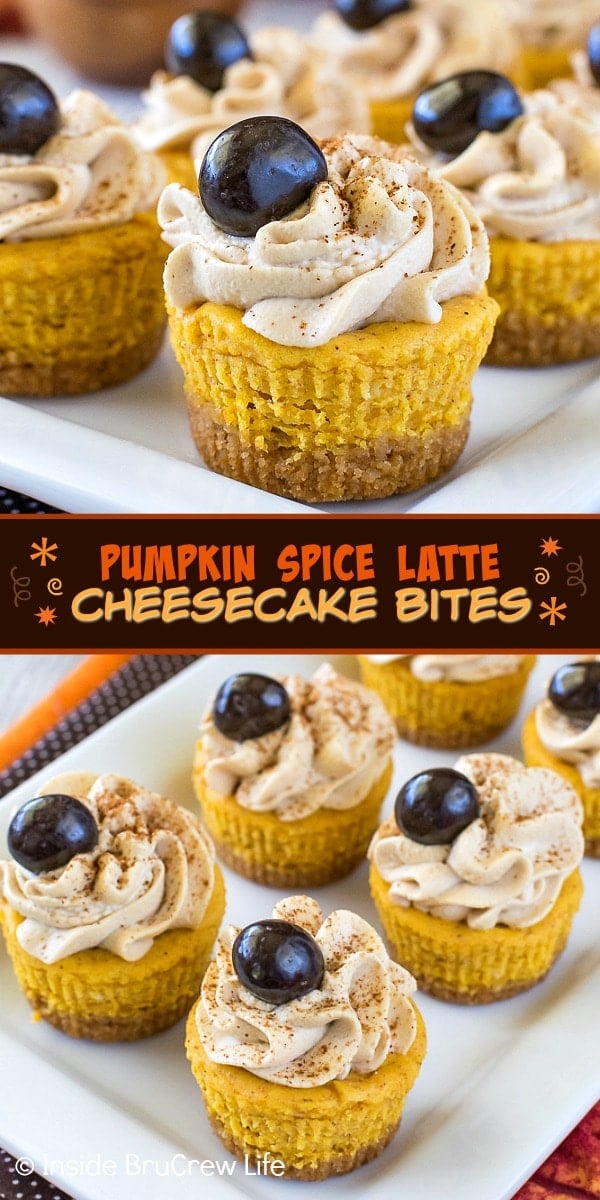 *The post for Pumpkin Spice Latte Cheesecake Bites was first published October 5, 2016. The post and photos were updated and republished August 27, 2020.