This rich and smooth Dark Chocolate Buttercream Frosting will satisfy any chocolate lover. It's the perfect topping for cakes, cupcakes, or cookies. You will never buy store bought chocolate frosting again after trying this homemade frosting recipe.
For a decadent dessert, try adding this frosting to the top of a pan of Homemade Chocolate Chip Brownies. It's what dreams are made of!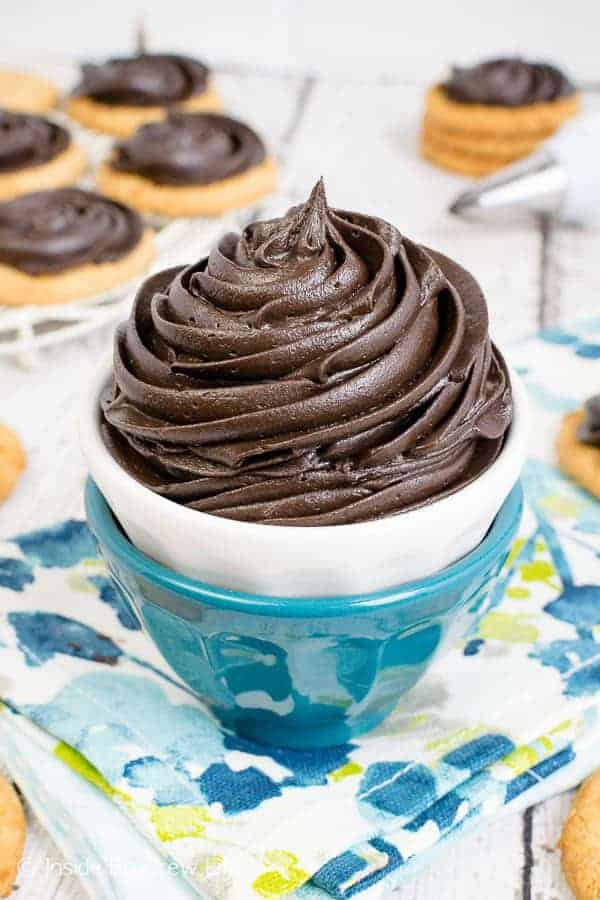 When it comes to chocolate desserts, I say the darker the better. Of course, that's my personal opinion. I do realize not everyone shares this love for rich dark chocolate goodness.
In fact, I used to be an all milk chocolate kind of girl. Hello, M&M's. Those sweet little milk chocolate candies are still my favorite. But then my husband introduced me to dark chocolate, and my world has been changed.
Dark chocolate does take some time to get used to. The difference in dark chocolate versus milk chocolate is that there is more cocoa bean present in the dark. Milk chocolate has sugars and creams added to it to sweeten the flavor.
Honesty, I'm not picky though. I'll eat any kind of chocolate you put in front of me.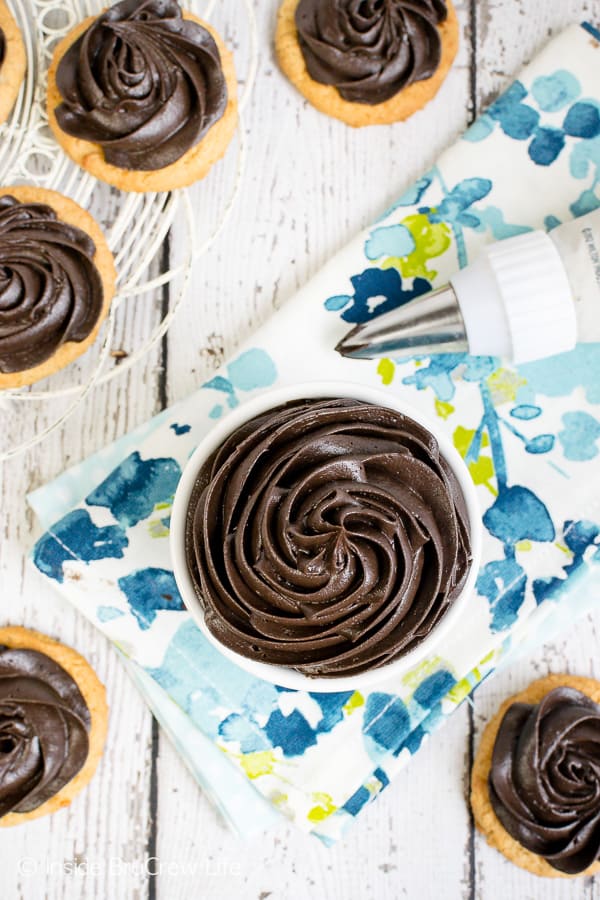 Today I wanted to share the best chocolate icing recipe with you. Again, that's my personal opinion on the matter. But I think you will agree that this Dark Chocolate Buttercream Frosting made with cocoa powder is absolutely amazing! In fact, I'm confident that this will become your favorite chocolate frosting too!
Now this recipe really isn't anything new because I have used on multiple recipes over the years. So you may be wondering why I am sharing it with you again.
Well, homemade buttercream frosting this good deserves its own page of glory. I mean look at that rich dark chocolate swirl staring at you.
Makes you want to grab a spoon and dig in doesn't it? Or just grab a spatula and go to town frosting this Peanut Butter Explosion Chocolate Cake with a thick layer of this chocolate frosting. You know you want to.
Or make a batch and have on hand to top on these 2 minute vanilla mug cakes. You will be glad you did!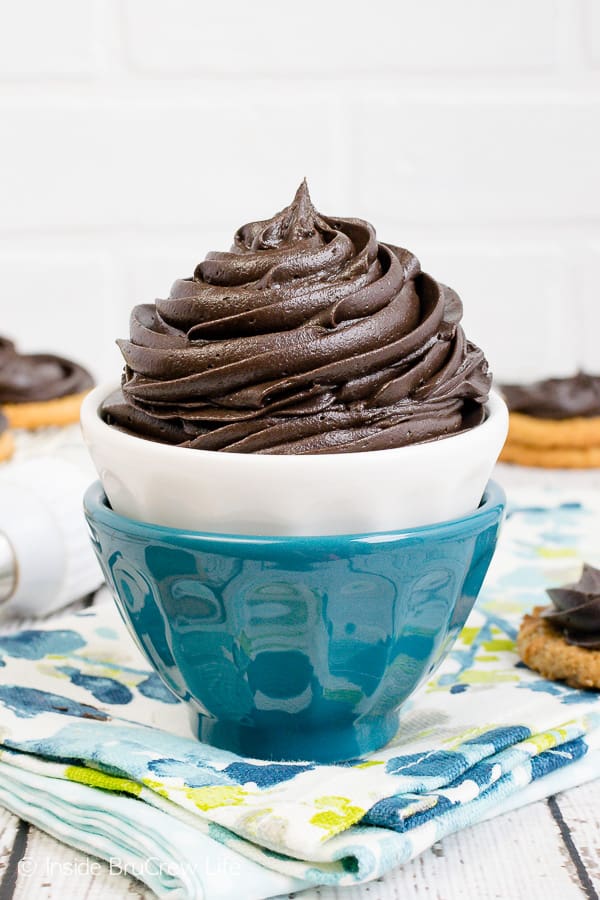 How to make Dark Chocolate Buttercream Frosting:
Make sure you set your butter out ahead of time. Soft butter is much easier to beat into a light and fluffy texture. Add the salt and vanilla and beat it with the butter until creamy.
Add the dark cocoa powder and powdered sugar alternately with the whipping cream. Continue beating the frosting until everything is mixed in completely.
Once the ingredients are incorporated, increase your mixer speed to high and beat the frosting for another minute or two until the frosting is light and fluffy.
Use a piping bag and recipe tip 1M to swirl the frosting on your cupcakes or cookies.
What else can I use chocolate frosting on?