These sweet little White Chocolate Mochaccino Chippers are a fun and delicious treat to share at any picnic or party! Cookies, chocolate, and coffee is the perfect combo.
The Dark Chocolate Buttercream Frosting is the perfect filling for these little cookies.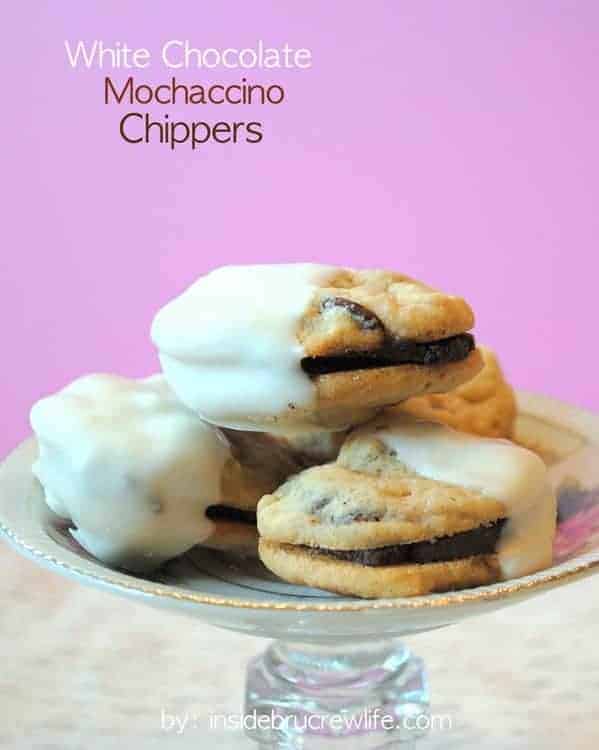 We have been cleaning freaks around here. Freaks I tell ya. I am talking bags to Goodwill and bags and boxes to the garbage.
Dusting scrapbook shelves with 6 months of dust on them. Eeeeiiikkkk has it really been that long since I have been in that room? We even moved the couch to vacuum and mop under it. I'm tell ya people this is big stuff.
My scrapbook room is getting a redo too. All the paper and embellishments have been moved into a better filing system for me. I am thinking about moving the furniture around, and the room is definitely getting a new paint job.
What color is a good inspiration color???? I guess a trip to Lowes or Menards is in my future. But first I need to find a way keep up the energy when cleaning out all the things!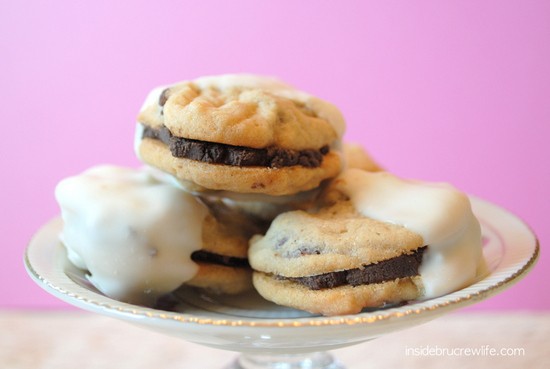 I think another Salted Caramel Mocha Latte and a batch of cookies might do the trick!
These aren't just any cookies. These are little chocolate chip cookies filled with dark chocolate frosting made with coffee flavoring. But I didn't stop there. These mini cookies got dipped in white chocolate too. Oh, yeah! These are the perfect treat to enjoy while cleaning.
These will either send you into a sugar coma or give you enough energy to get your next room dusted.
How to make these White Chocolate Mochaccino Chippers:
Beat the butter, shortening, and sugar until creamy. Add the egg, milk, and extract and beat the mixture again.
Stir together the salt, baking soda, and flour. Slowly beat it into the creamed batter. Stir in the chocolate chips and drop small spoonfuls onto a baking sheet. You should get 72 small cookies.
While the cookies are cooling, make the chocolate frosting. Use a coffee extract to give it a mocha flavor. Spread it on half the cookies and top them with the other cookies.
Melt the white chocolate chips and shortening in the microwave for 20 seconds. Stir it until creamy and dip the cookie sandwiches in the chocolate. Place on wax paper until set. Store in a tightly sealed container.