These easy Brownie Whoopie Pies can be filled with any flavor of frosting or candy. Chocolate on chocolate is definitely a good way to satisfy any chocolate craving you might be having.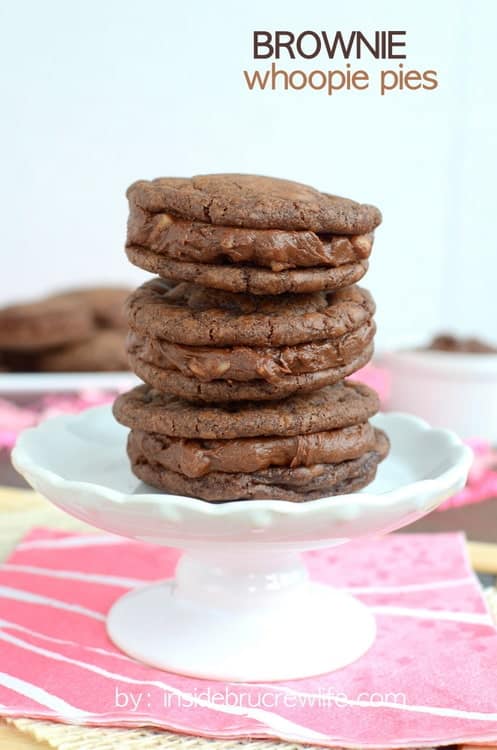 Do you find yourself getting obsessed over certain things?
My current clothing "must haves" include ruffles, stripes and flowers, cuff bracelets, and tank tops. And the colors pink and coral...seriously I can not get enough of those two colors. It's kind of bad because every time I go shopping, every other color gets ignored. My wardrobe is starting to turn into a one color fest. But I'm sure that will change once my "favorite" color changes.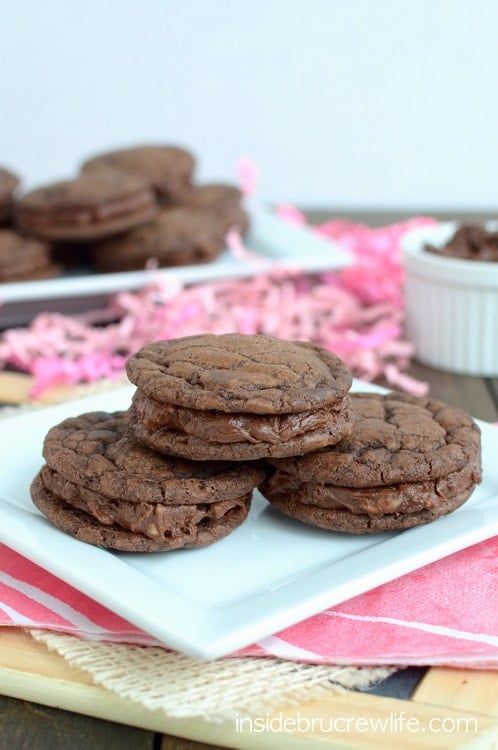 I am also loving Brownie Whoopie Pies right now too.
Last year I made these Reese's White Chocolate Brownie Whoopie Pies, and boy were they ever good. Honestly like "eat every single one in sight" good!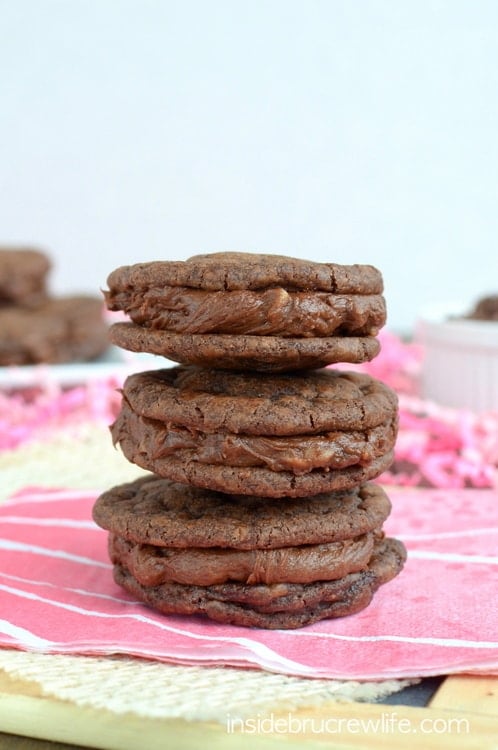 Making another batch of these delicious cookies had me a little nervous. I know how much I like brownies...having small bite sized ones filled with frosting was going to test my will power tremendously. Ok, I admit it, I failed. I really don't know how many of these I ate.
Let's just say I should probably run marathons to burn off all the sweet calories I end up consuming when I bake!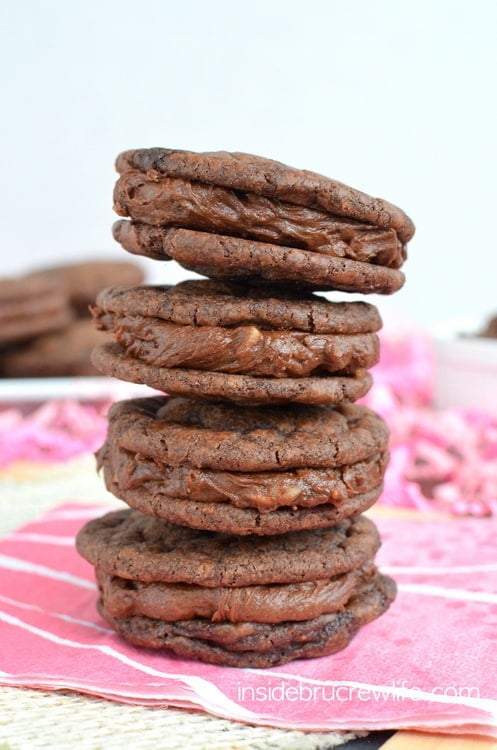 These Brownie Whoopie Pies are so easy to put together. They start with a box brownie mix that you add 1 egg and 1 stick of butter too. That's it. Do not follow the box directions because you will not be able to roll them into balls before baking.
Also, make sure to roll them small because we are putting two cookies together with frosting. Smaller is better here. Did I just say that? Usually anything with chocolate should be as big as possible. But go ahead and make these smaller...that just means you can eat a few more later 🙂
After the cookies cool completely you can fill them with the chocolate frosting. Try to resist licking the knife as you spread the frosting on. Adding some marshmallow cream to the chocolate frosting makes it so creamy and delicious. If chocolate isn't your thing, you can make any flavor of frosting you like to fill the brownies with. Although, if you just admitted that you don't like chocolate, you might just be an alien. Just sayin'! You can also add your favorite candy into the frosting. I used up a partial bag of toffee bits in mine, but it is totally up to you. Go plain or go candy filled...either way just make the brownies.
Forget all other plans this weekend...these Brownie Whoopie Pies should go straight to the top of the list. I'm thinking that I should add add extra running to my list too...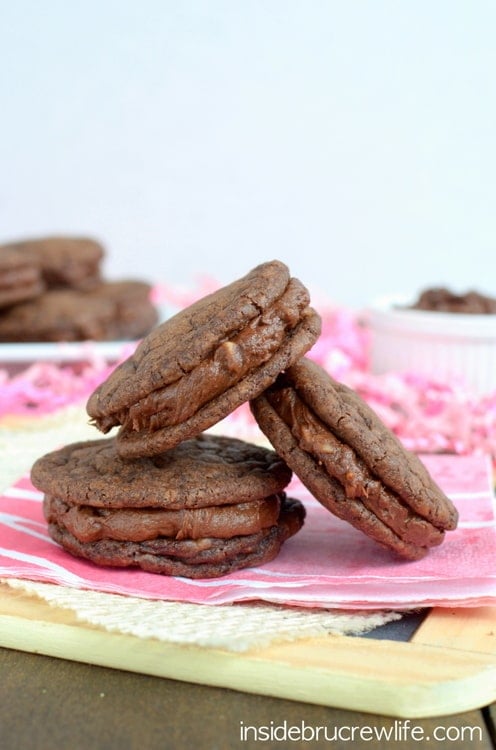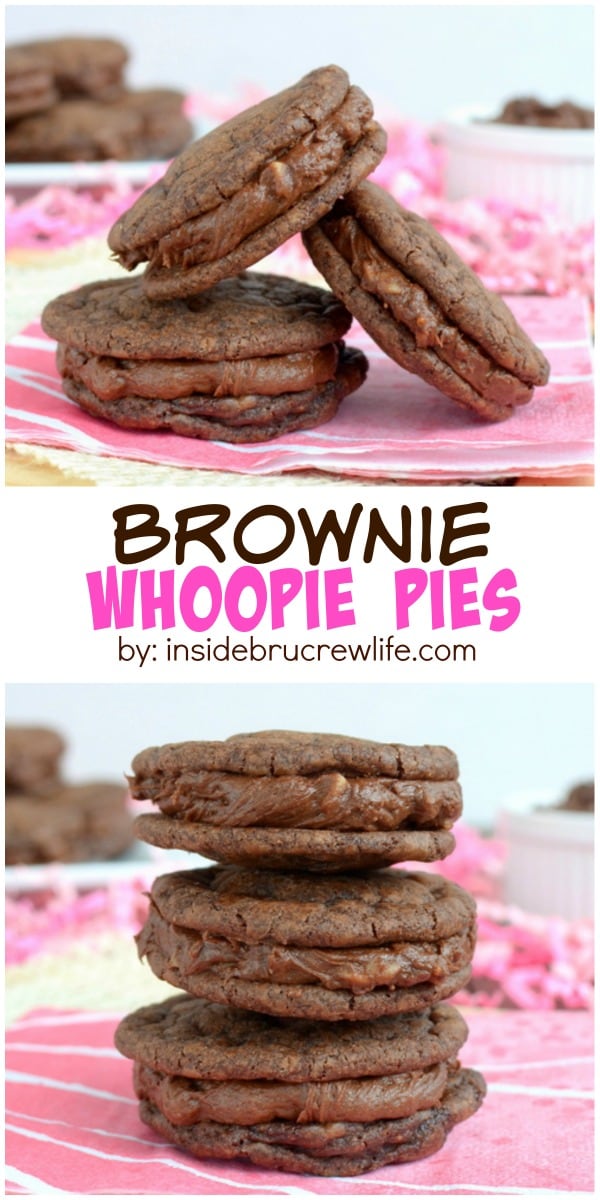 A few more rich and decadent brownie recipes for you to try: