These Dark Chocolate Butterfinger Cookies are for the serious chocolate lover in you. Make sure you have a big glass of milk ready for when that cookie craving hits.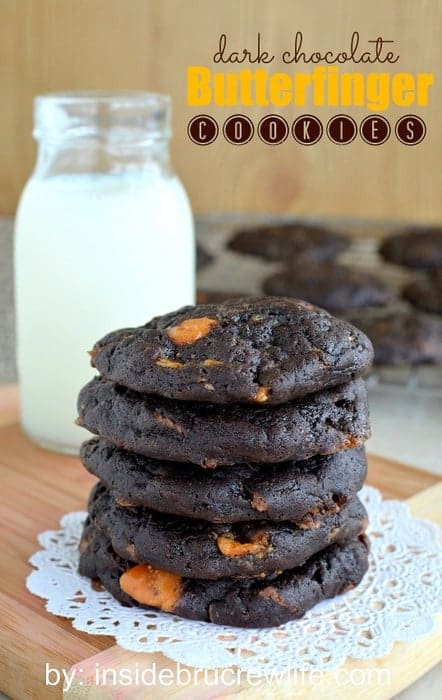 Let's talk about fashion for just a minute. How many of you have heard of a Spankz? Basically it is a very tiny undergarment that squeezes the life out of you so you can look good in your clothes.
I found a couple cute dresses a few months ago that I really liked, but they were just a teeny tiny bit too snug. I had high hopes that I would stick with the exercise routine, and I would give up eating cookies, so I decided to buy them. Yeah...neither of those happened in time for me to wear the dresses without help. Time to go shopping for a Spankz. I was curious how well they really would work. My daughter and I headed to the mall with some friends. After having a great lunch and some fun shopping, we headed to Kohl's to see if we could find the undergarment that I was looking for. After I picked myself up off the floor from sticker shock, I grabbed a few sizes to try on. How can something so small cost so much money? It's crazy!
Just so you know, I had a complete workout in the dressing room. I worked up a sweat just trying to wiggle in and out of those torture devices. These things cause emotional and physical distress. Emotional because you feel like a huge whale trying to get your body into a piece of clothing that looks like it was made for a 10 year old. The physical distress comes from sweating buckets while you are supposedly on a fun shopping trip. Exercise and shopping should never go in the same sentence.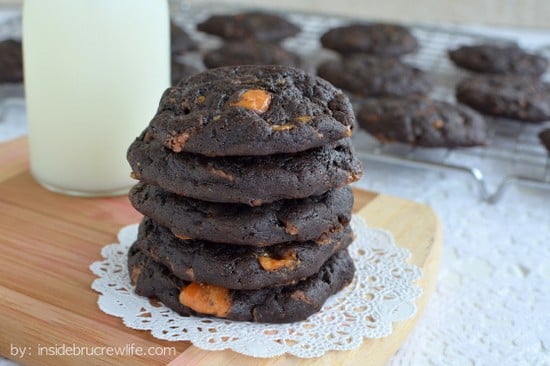 Want to know something that should go in the same sentence? Dark chocolate and Butterfinger ! That is one combo that should go together all the time. My daughter always gets this combo when we go to Coldstone Creamery. She never changes what she gets. This made me thing of putting the two things together in one delicious cookie.
Let me just tell you, this dark chocolate cookie was absolutely perfect. They were rich and soft and full of Butterfinger candy chunks. I suggest making sure you buy milk when you buy the rest of your ingredients. They may be rich, but they were just right to dig into after a traumatic shopping trip 🙂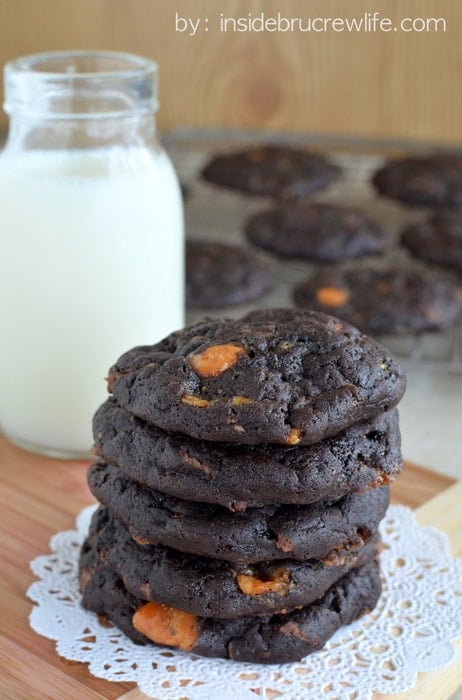 Make sure you don't miss any of the crazy baking
by following the BruCrew here:
FACEBOOK | PINTEREST | GOOGLE+ | TWITTER | INSTAGRAM | BLOGLOVIN
Other cookie recipes that we like to make in our kitchen: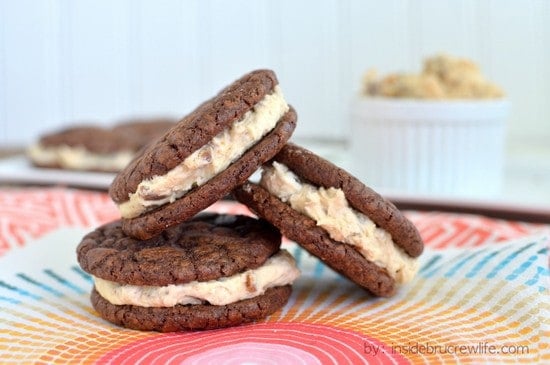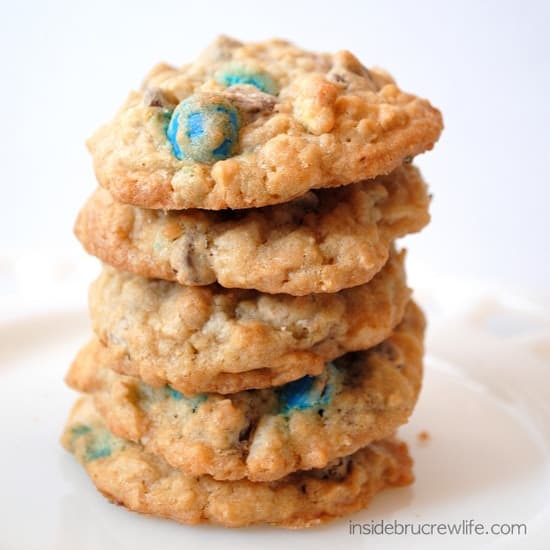 Almond Joy Chocolate Chip Cookies