These Almond Joy Chocolate Chip Cookies have almonds, coconut, and candy pieces in them. They are perfect for dunking in a cup of milk.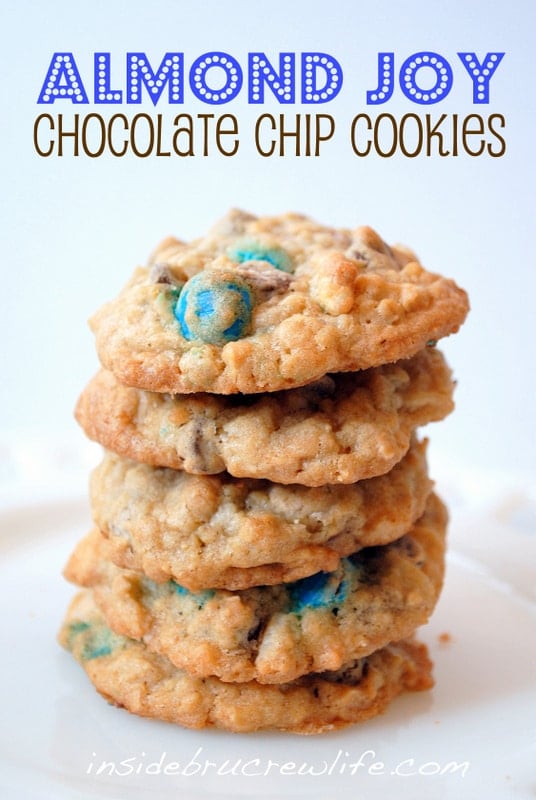 The hour and 20 minute torture that I have been enduring
this week at the gym has paid off!
I weighed in this morning and woo hoo!!!
4 lbs are gone.
Yup doing the happy dance over here...
the pants that I was hoping to wear
on our big date tomorrow night fit...again!
I just tried them on and
yup more happy dancing
going on in this house!
I just had to celebrate by sharing
some cookie love with you guys!
Honest!!!
I only ate one of these delicious bad boys!
Believe me, I wanted more...
but since my pant were zipped
and looked presentable for the public to see...
I resisted the urge for more.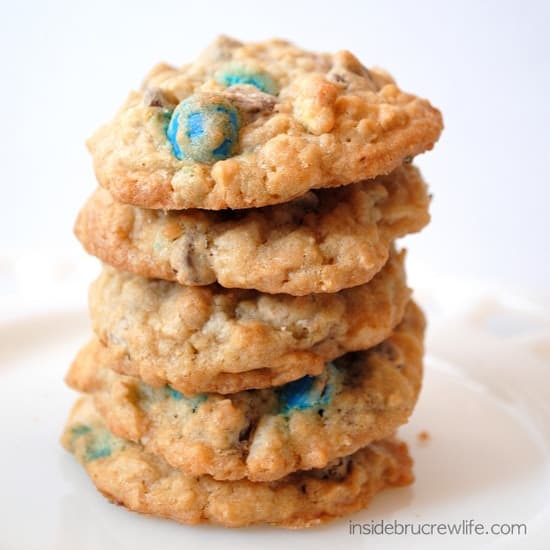 Also it has come to my knowledge:-)
that I have a peanut butter addiction...
and I had to break out of the pb rut
that I had gotten into.
so I resorted back to another yummy addiction...
COCONUT!
Plus, coconut reminds me of summer and
since it snowed here again...
I need all the summer time thinking possible!!!
Hope you enjoy:-)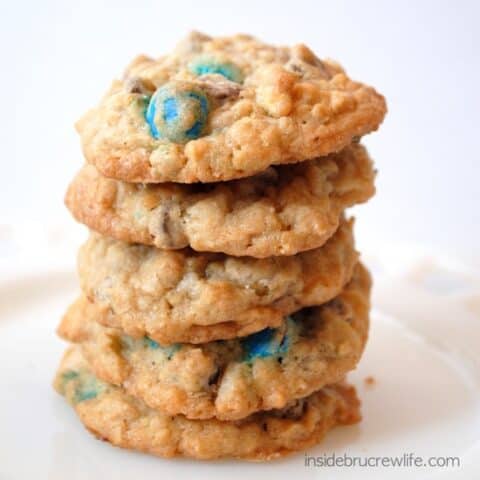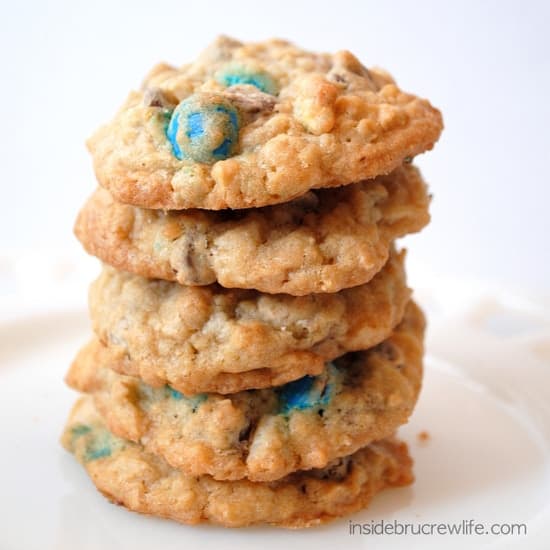 Almond Joy Chocolate Chip Cookies
Chocolate Chip cookies with almonds, coconut, and Almond Joy Pieces are fun cookie to dunk in milk.
Ingredients
½ cup sliced almonds
10 Tablespoons butter, softened
½ cup sugar
½ cup packed brown sugar
1 egg
1 ½ teaspoon vanilla
1 cup flour
½ teaspoon baking soda
¼ teaspoon salt
1 cup quick oats
1 ½ cups chocolate chips
1 cup Almond Joy Pieces (or M&M's)
¾ cup shredded coconut
2 Tablespoons milk
Instructions
Preheat oven to 350 degrees. Spread the almonds on a cookie sheet and bake for 5-10 minutes. Stir occasionally and keep an eye on them because they will burn if you forget about them. Let cool and chop into smaller pieces.
Beat butter and sugars until creamy. Mix in egg, milk and vanilla and beat again.
Slowly beat in salt, baking soda, and flour.
Stir in coconut, oats, chocolate chips, almonds, and Almond Joy Pieces by hand until combined.
Drop dough by spoonfuls onto a baking sheet at least 2 inches apart. Bake 10-12 minutes.
Cool on sheet for 1-2 minutes then remove to parchment paper to cool the rest of the way. Store in an airtight container.
Nutrition Information:
Yield:

36
Serving Size:

1
Amount Per Serving:
Calories:

153
Total Fat:

9g
Saturated Fat:

5g
Trans Fat:

0g
Unsaturated Fat:

3g
Cholesterol:

14mg
Sodium:

81mg
Carbohydrates:

19g
Fiber:

1g
Sugar:

13g
Protein:

2g