This easy, no yeast cinnamon roll dough can be made and baked in under an hour. Try making Eggnog Cinnamon Rolls for a delicious holiday twist.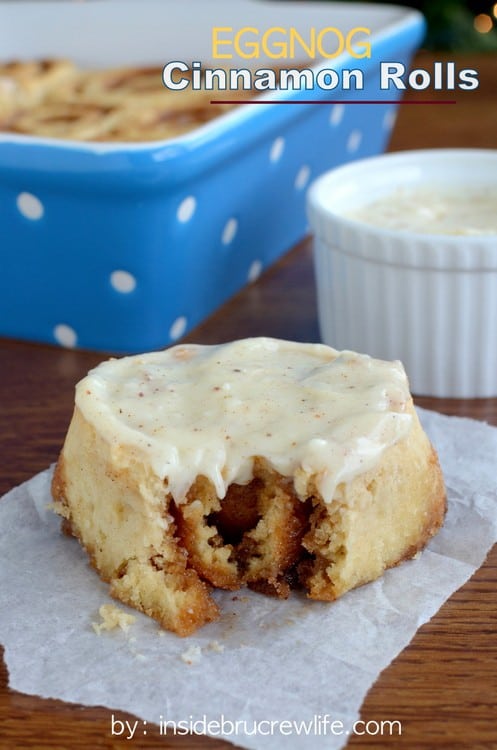 So far we have gone through two containers of eggnog...in one week. And Christmas is still 20 days away! Oh, and only two of us actually like eggnog in our house.
My oldest finished off the first container so quickly that I had to buy another one and put a note on it that said "Do Not Touch". This is a very necessary note because that kid would seriously drink all of it in one day if I let him. I had these cinnamon rolls in mind, so I had to make sure the eggnog was there when I went to bake.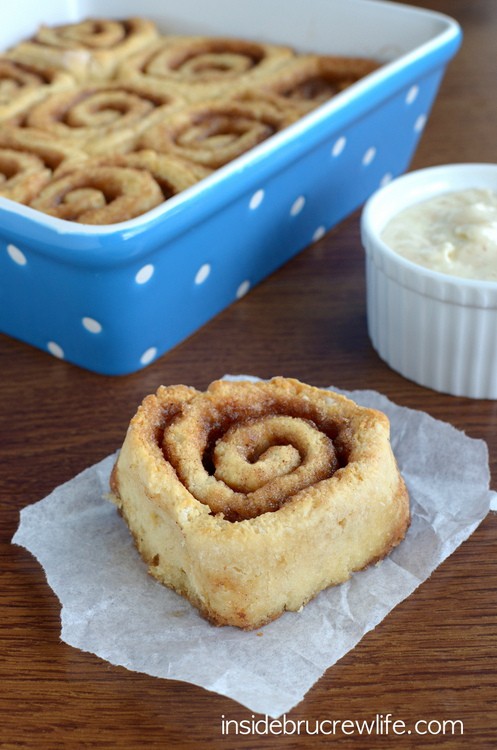 So, the other day I about fell over. Not because I tripped or anything...although that has happened before. My oldest son came home from school and asked if we could go shopping...for clothes. And then he said he wanted clothes for Christmas too. Stylish clothes to be exact.
Who is this???
This is the child who wants nothing to do with shopping and who will wear whatever clothes I buy. I was in shock just about all day from those two comments. I was telling my husband this and he asked, "Is there a girl?" We asked, and he swears up and down that there is no girl. I have my suspicions though...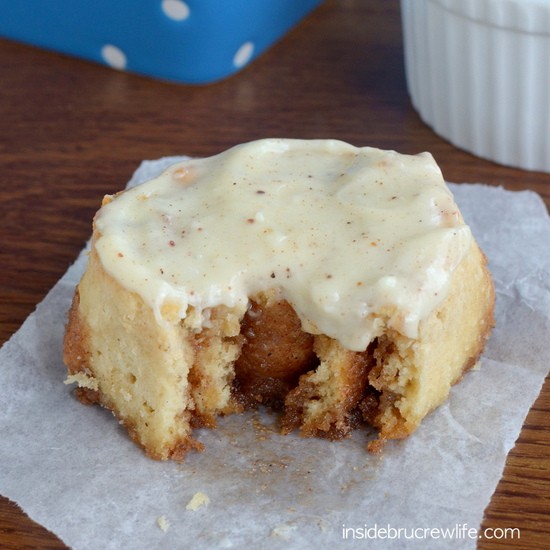 Maybe I should buy two more containers of eggnog. One for my son to drink and one for me to bake him yummy eggnog treats...then I will bribe him with both to tell me why he is interested in clothes so much. He does go to a private school where the kids do dress a little nicer. The mom in me is hoping that is the reason...no way am I ready for him to like girls.
But we did take him to the mall the other night. He was like a kid in a candy store...except we were in Old Navy, and he was picking out shirts and cardigans. Oh, and he asked for a bow tie. Again who is this child? I think it is all the Dr. Who he has been watching lately. He even wore a bow tie to school today. Apparently it is the cool thing to wear now.
I have to face it one of these days...my baby is growing up and I don't like it.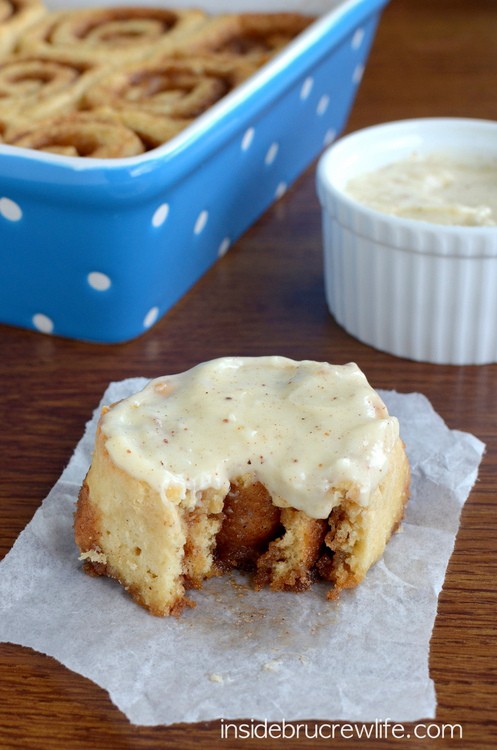 I think I will just go face plant myself into a pan of these Eggnog Cinnamon Rolls to console myself.
This is such an easy dough to make. I love it because there is no rise time. Make the dough, roll it up, and bake. And that can all happen in about 45 minutes with a bowl and a fork. Perfect for those mornings you have a cinnamon roll craving!
This eggnog version is so delicious. I used eggnog in the dough, and again in the frosting. No shortage of eggnog flavor here!
Bring on the eggnog...I have more shopping to do...for clothes apparently.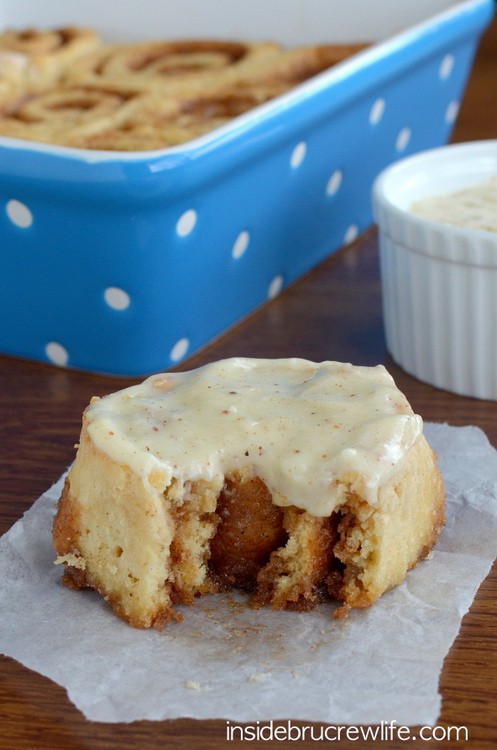 Stay up to date on all the BruCrew baking here:
FACEBOOK | PINTEREST | GOOGLE+ | TWITTER | INSTAGRAM | BLOGLOVIN
Eggnog Cinnamon Rolls
This easy no yeast Eggnog Cinnamon Rolls gets holiday flavor from eggnog in the dough and frosting.
Ingredients
For the Dough
2 ½ cups flour
2 Tablespoons sugar
1 ½ teaspoons baking powder
½ teaspoon baking soda
½ teaspoon salt
1 cup eggnog
7 Tablespoons butter, melted and divided
For the Filling
¾ cup brown sugar
¼ cup sugar
1 teaspoon nutmeg
1 teaspoon cinnamon
1 Tablespoon butter, melted
For the Frosting
4 ounces cream cheese, softened
1 Tablespoon eggnog
½ cup powdered sugar
½ teaspoon nutmeg
Instructions
Preheat oven to 400 degrees.
Stir together the filling ingredients until it looks like wet sand. Set aside.
Sift together the flour, sugar, baking powder, baking soda, and salt. Create a hole in the center of the dry ingredients and pour in the eggnog and 2 Tablespoons melted butter. Use a fork to stir together to form a soft dough.
Place the dough on a well-floured surface. Knead the dough a few times to work a little bit of flour into the dough. Do not add too much flour or your rolls will be tough.
Use your hands to gently press the dough into a 10x14 rectangle, keeping some flour between the dough and counter.
Spread the dough with 2 Tablespoons melted butter, and sprinkle the filling over the top. Leave about a ½ inch border all around the dough.
Slowly roll up from the shortest side. If the dough sticks to the counter, use a spatula or knife to gently loosen it as you roll. Cut the roll into 9 even pieces.
Spread 1 Tablespoon melted butter in the bottom of a 8x8 baking dish.
Place the 9 rolls in the pan with room around each one. Bake for 18 minutes. Let cool slightly.
Beat together all the frosting ingredients. Serve the warm rolls with frosting.
The unfrosted rolls can be stored in a sealed container on the counter. Keep the frosting in the refrigerator. These can also be reheated the next day for 10-15 seconds in the microwave, before adding frosting.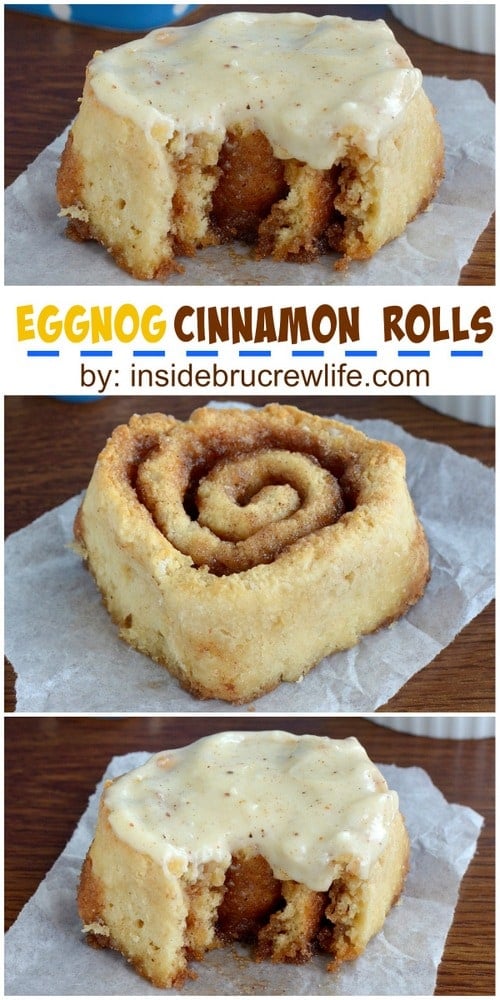 Other baked goods that use eggnog in them: