Eggnog Scones: Light fluffy scones made with eggnog, chocolate chips, and an eggnog glaze make these the perfect holiday breakfast.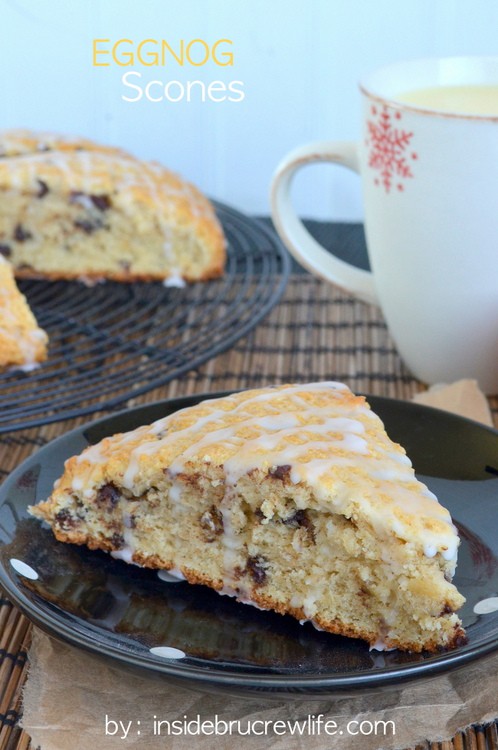 Eggnog is one of those holiday drinks that you either love or hate.
I personally love the stuff! Now I can't chug an entire gallon, but a nice sized cup once a day is a nice way to bring in the holidays.
Only my oldest agrees with me on this one. It was pure torture for him the other week. You see, I bought some eggnog and told him not to touch it until I was finished baking.
Then I promptly forgot about the eggnog for oh, let's say about 5 days or so. I say forgot very lightly, because you see my son would come home from school every day and ask if he could have some.
No, not yet, was the answer for those long 5 days. I kept thinking maybe we needed some more Eggnog muffins or maybe some eggnog cheeesecake brownies or even better eggnog latte cupcakes!
The only problem with those is that I can't bake the same thing twice. At least not for myself that is. So until inspiration hit, the cap was staying put on the eggnog.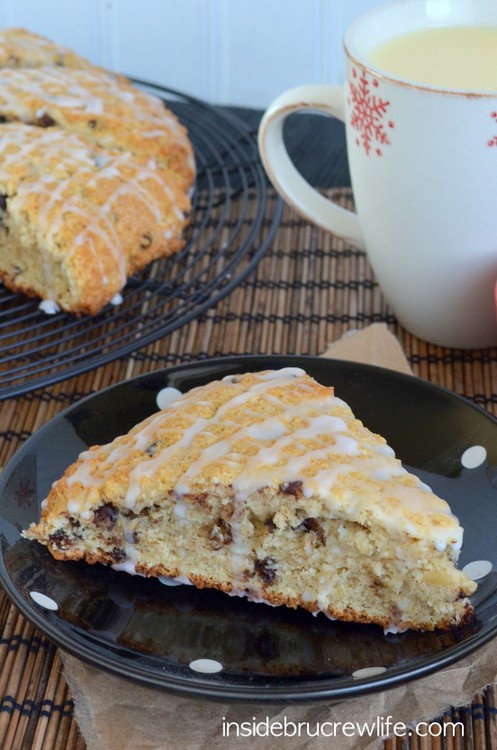 And then one day I just decided that we needed some eggnog scones for breakfast the next day.
I usually bake on a whim every day.
My cupboards are packed with fun baking ingredients just waiting for the day when I get a light bulb moment and decide to use that particular item. Any one else bake like this?
I wish I could say I have a plan each day, but no, my kitchen is always very random. I never know for sure what is going to happen each day.
Anyway, my son was a very happy camper when he got home, and I handed him the eggnog container and told him the rest was his.
Scones used to scare me. Until I made them and realized just how easy they are to put together.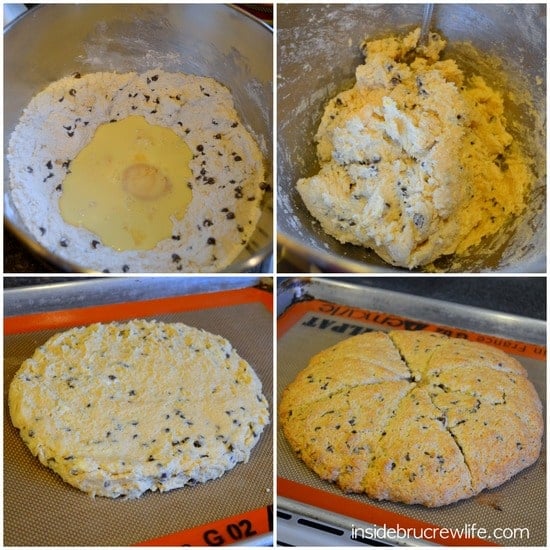 Tips for making Eggnog Scones:
You need to start with cold butter. This is one of those times you want to leave the butter in the refrigerator until you need it.
Use a pastry blender if you have one. Or use a fork and crush away until the butter is blended into the dry ingredients, about the size of peas. Then I create a "well" for my liquids. Go ahed and refrigerate the mixture for at least 15 minutes after you mix the butter in.
Using the fork, mix the liquids in with the flour and butter until a soft dough forms. Do not over mix it. Tough scones are not fun to eat. Gently stir in the chocolate chips, if you want. It's ok, if you want to leave them out.
Drop the dough onto a prepared surface. A Silpat Baking Mat
works great for scones, or any baked good for that matter. Pat the dough into an 8 inch round circle, about an inch thick.
Using a large knife, score the dough into 8 sections. This dough is very sticky, so wipe your knife off with a napkin in between cuts. Do not attempt to move the dough. Remember it's sticky!
Bake the scones in the oven for 20 minutes. They will bake up golden and puffy. I usually use the knife again and make cuts all the way through while it is still warm. Again be very careful because you do not want to cut through the Silpat. Carefully pull them apart and let cool.
I happen to think that all baked goods need to have some sort of drizzle. No one likes a nekkid scone right.
Well, actually my husband prefers his plain jane. Sometimes I'm a good little wife and only do half of them plain. This wasn't one of those times.
He was at work, and the kitchen was all mine. Mwhhahahaha! Yes, I'm evil like that sometimes. I knew he would object to the chocolate chips too. He did look at me a little strange when I mentioned the idea of making something eggnog and chocolate chip related. It sounded good to me at the time.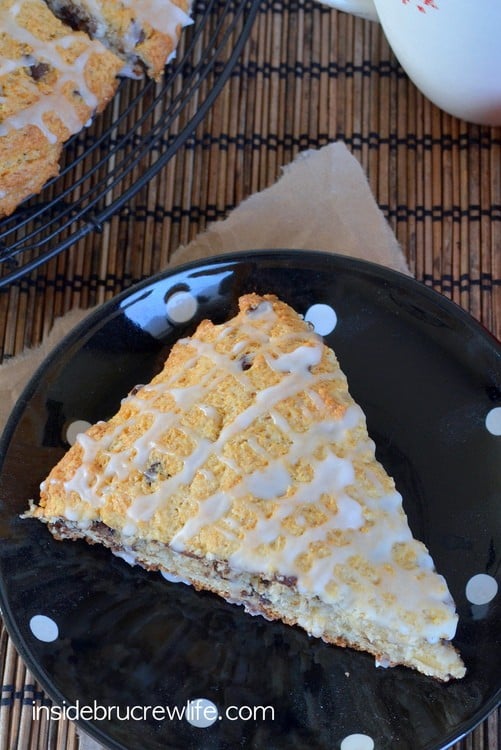 Now excuse me while I go polish off a bowl of eggnog ice cream. Shhhhhh don't tell anyone that it's there…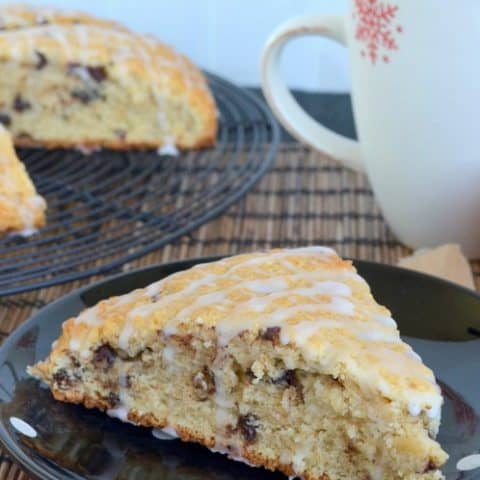 Eggnog Scones
Soft flakey scones made with eggnog and chocolate chips make the perfect holiday breakfast. Serve warm with the glaze and watch your eggnog fans smile!
Ingredients
2 cups flour
1/3 cup sugar
2 teaspoons baking powder
1/2 teaspoon baking soda
1/4 teaspoon salt
1/2 teaspoon cinnamon
6 Tablespoons cold butter
2/3 cup eggnog
1 egg
1/2 teaspoon rum extract
1/2 cup miniature chocolate chips
For the Glaze
1/2 cup powdered sugar
1-2 Tablespoons eggnog
Instructions
Preheat oven to 400 degrees.
In a large mixing bowl, sift together the flour, sugar, baking powder, baking soda, salt, cinnamon and chocolate chips.
Add the butter and cut in until the butter is in small pieces.
Create a well in the dry ingredients and pour the eggnog, egg, and extract in the middle. Gently stir until combined.
Place dough onto a prepared pan. Pat the dough into an 8 inch circle.
Use a sharp knife to score into 8 sections. Be careful as the dough is very sticky. Do not try to separate the sections. Bake at for 20 minutes.
Remove from the oven and cut all the way through the scored sections. Let cool.
Stir together the powdered sugar and eggnog. Drizzle over the scones. Let set. Store in a loosely sealed container.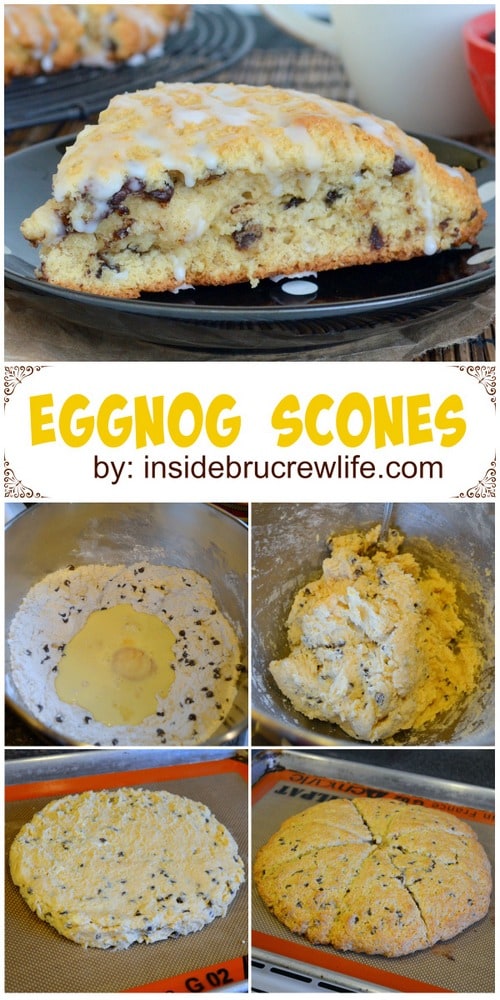 *This post contains an affiliate link. Thank you for letting us share products we use with you.