Frosted Chocolate Banana Scones are just what your mornings need this summer. Easy to make, full of chocolate, and topped with frosting are just a few reasons why you should try them.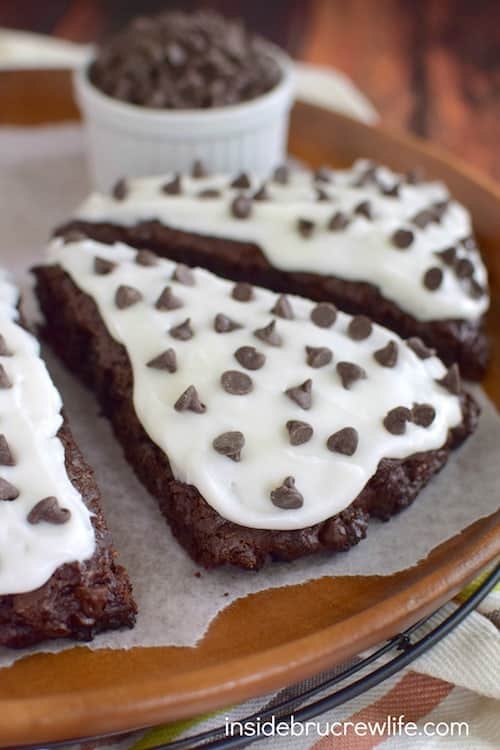 The first week of summer break is always rough. And by rough, I really mean lazy. Our kids have been sleeping in really late after a whole school year of being up early. I have let them sleep until they wake up naturally for that first week. There were a few days they went to bed later, and we had to wake them up before it got too late in the morning.
I have to admit the quiet time in the morning does help me get all my work done easier, so I may have let them sleep longer than necessary.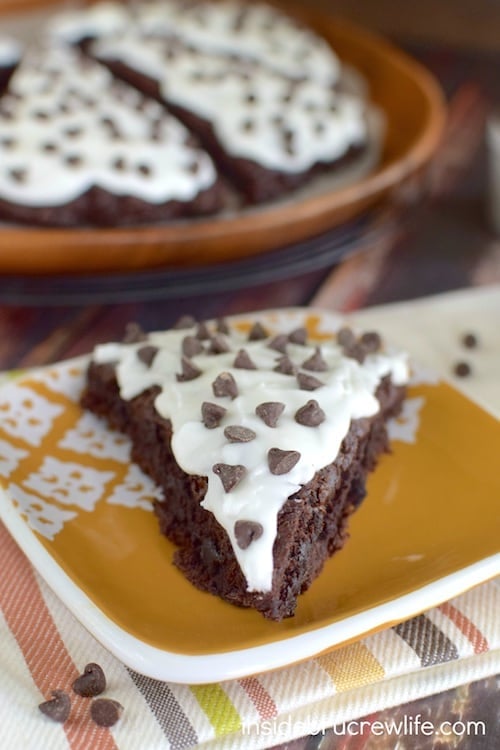 Now that they have all that sleeping in out of their system, it's time to implement a summer schedule. We need to have a summer list of chores and fun activities for the week, so they do not ask for electronics all day long.
I also need to make a plan for having breakfast made and ready to get us started each morning. Scones and muffins are always an easy breakfast to have ready the night before. My brain just doesn't work first thing in the morning to follow a recipe and to work a hot stove, so I like to bake the day before.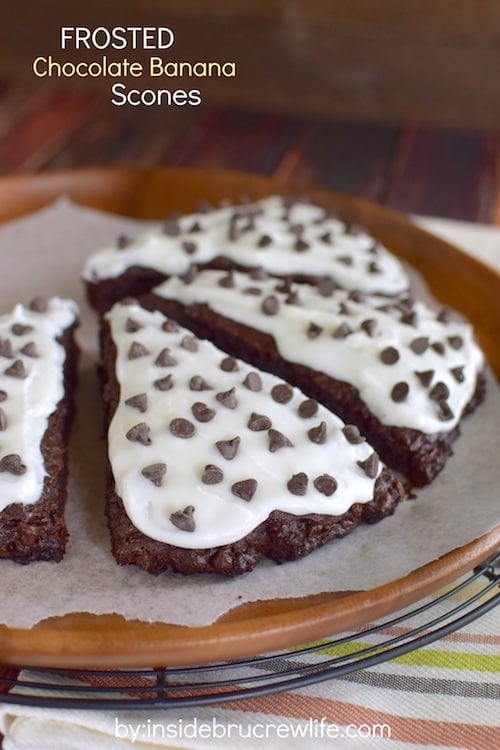 We had a few ripe bananas on the counter, so I decided to take the recipe for these Triple Chocolate Scones and these Banana Toffee Scones, and merge them into one delicious breakfast treat. My daughter loves when she wakes up and sees she can have chocolate for breakfast.
These chocolate scones really do not have much sugar in them. The sweetness comes from the ripe bananas in them. Ok fine, the mini chocolate chips and frosting add more sugar too. Minor detail 😉 Those can be optional, just not in our house. I would hear about it if I left the chocolate chips out of these scones.
The dough will be sticky when you pat it onto the tray. Do not try to move the scones until they are completely baked. After they come out of the oven, cut through them right away and let them cool. Then frost them and store in a sealed container. If you have chocolate lovers in your house, they won't last long at all.
I am one of the breakfast contributors for Food Fanatic. Head over there to print the Frosted Chocolate Banana Scones recipe for later.