These soft and delicious Banana Toffee Scones taste like banana bread. They are a great way to use up some of the ripe bananas you have on your counter.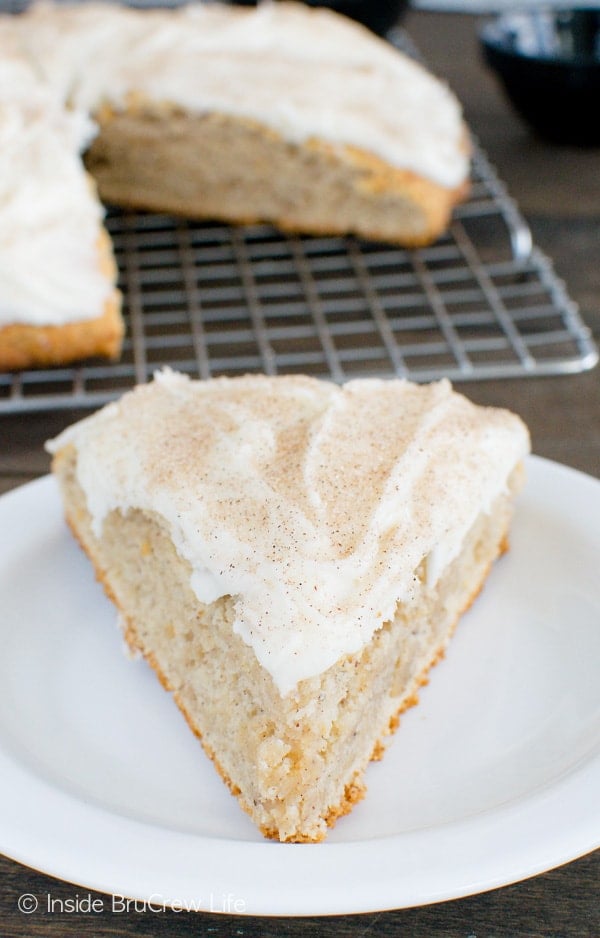 CLICK HERE TO PIN THIS RECIPE NOW!
Yes, it's true. I have a banana buying addiction.
I can't just buy one bunch at a time. But of course, they all turn brown and spotty before I can eat all of them because I'm a green banana snob. Ripe bananas totally gross me out.
But...that just means I can be a crazy baker for a few days once they turn yellow and brown. If I can get to them before everyone else in the house that is.
Now that our oldest is home from college the bananas on the counter disappear at a much faster rate, so I have to be quick if I want to bake with them.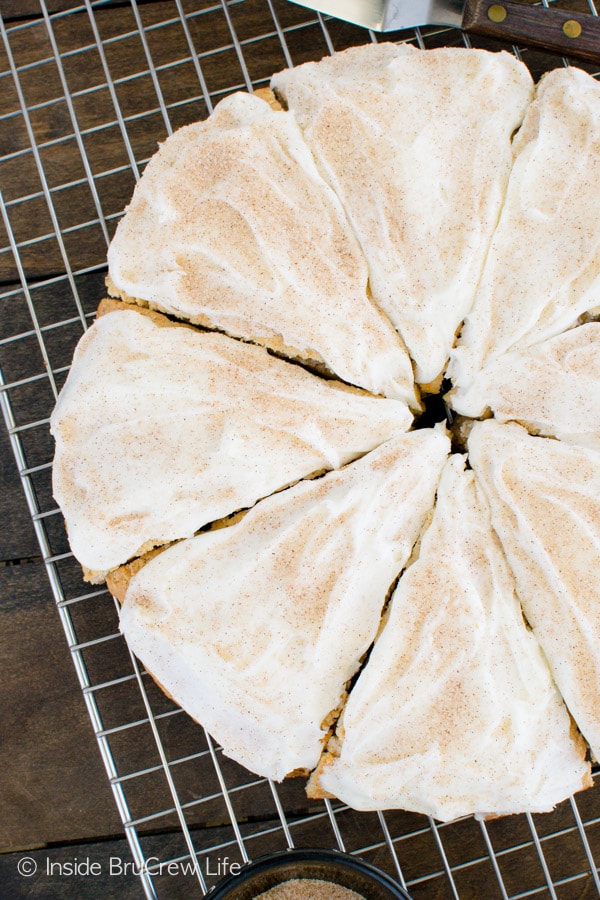 This past week we made these Loaded Banana Butterfinger Muffins and this Banana Split Cheesecake for us to enjoy. And I'm not tired of that yellow fruit yet.
I still have a few more bananas to use up in some recipes this week. Like I said I go crazy buying a bunch at a time. But for now, let's talk about these easy homemade scones.
You need them in your life because they taste like banana bread but in a traditional scone form. And of course, I threw toffee bits into the dough because ever since I made this Banana Toffee Cake I love the flavor of toffee bits with banana.
If you like nuts in your banana recipes, use walnuts or pecans in place of the toffee bits and enjoy some delicious banana nut scones.
Of course, once the banana scones were cool I got the great idea to add frosting to the top. I mean a layer of frosting and cinnamon sugar is never a bad idea, right?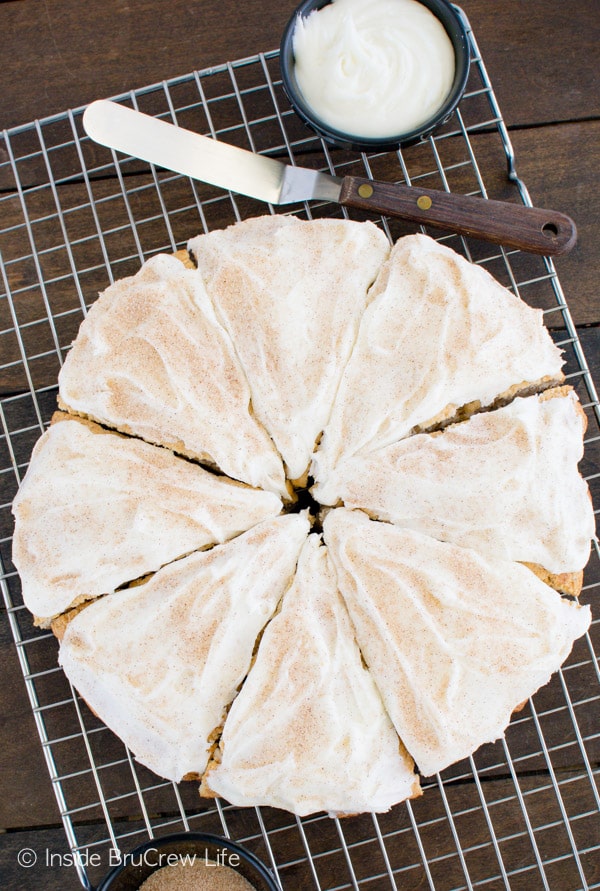 Another great thing about this easy scones recipe is that you only need a bowl and a fork to create the dough. I love when I don't have to dirty 10 million pots and pans to make one thing.
How to make Banana Toffee Scones:
Stir together the dry ingredients in a bowl. Add the butter and use a fork to cut cold butter into the dry ingredients until you have a bunch of little butter pieces. Try to do this quickly so the butter doesn't get too warm.
The key to good scones is using cold butter and keeping your mixture cold too. These little bits of butter will melt as the scones bake creating delicious flakey scones.
Create a hole in the center of the ingredients in the bowl. Pour the heavy cream, banana, and vanilla into the center. Use the fork to pull all the ingredients together quickly until a soft dough forms.
Go ahead and refrigerate the dough for 30-45 minutes. Like I said, you want to keep the mixture as cold as possible to keep the dough from spreading as they bake.
Place the dough on a baking sheet with a Silpat or parchment paper and pat it into an 8 inch circle that is about 1 inch thick. Again do this quickly so the heat of your hands doesn't warm up the dough.
Bake for about 24 minutes. Remove and let the scones cool for 5 minutes before cutting them into wedges.
Once the scones are cool, top with frosting and cinnamon sugar, if desired.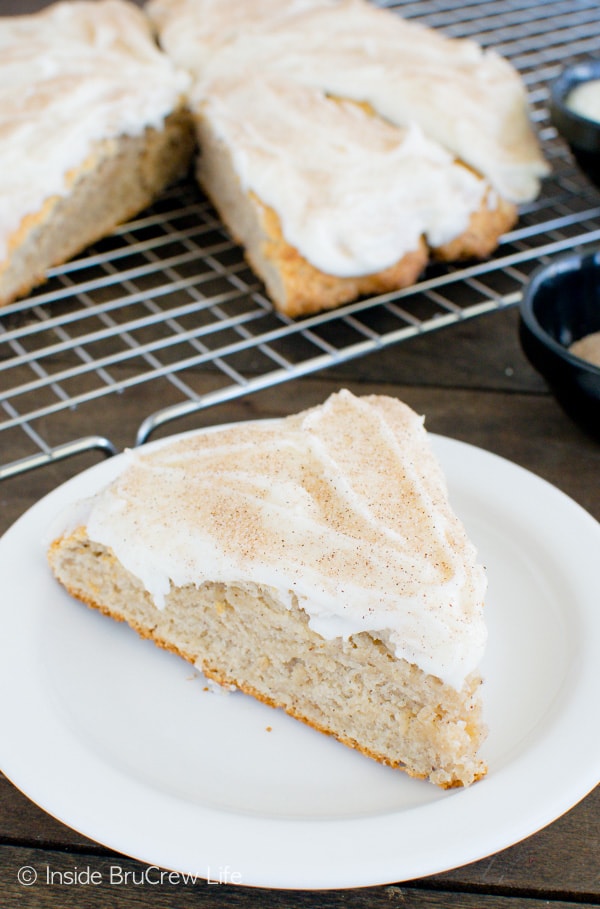 Other banana recipes you may like:
These Butterscotch Banana Muffins are the perfect breakfast or afternoon snack. Use the ripe bananas on the counter to make a batch to munch on all week long.
This Banana Split Fluff Salad is an easy ambrosia salad that is loaded with all your favorite banana split toppings. Stir everything into one bowl, and it is ready to go.
Hot fudge frosting and banana slices makes this the Best Banana Cake you will ever have. Trust me, and use the bananas on your counter to make it today.
Swirls of peanut butter and chocolate chips make this Peanut Butter Banana Ice Cream a healthy treat to indulge in when you are craving something sweet.
Tropical Banana Bread loaded with cherries, pineapple, and coconut makes this sweet bread a favorite in our house.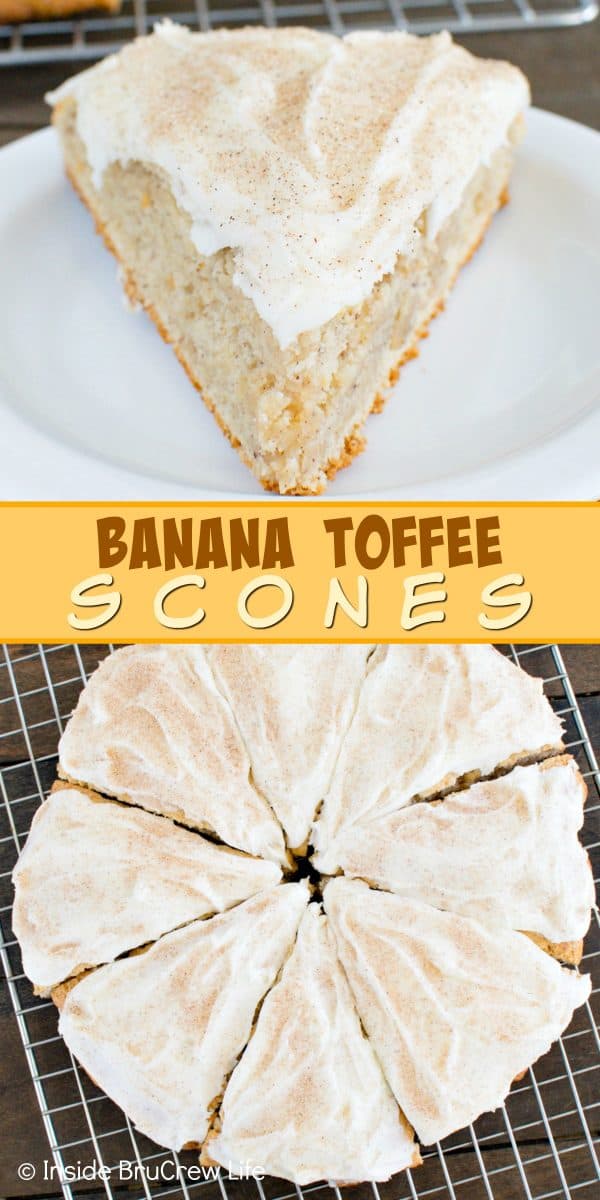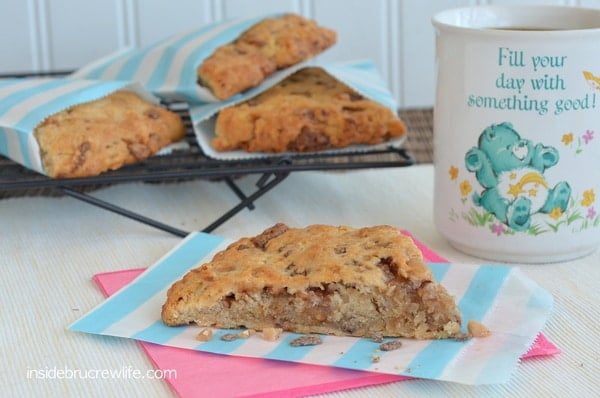 (original photo from January 2013)
*The post for Banana Toffee Scones was first published on January 8, 2013. The photos and recipe have been updated and republished on May 13, 2019.