These light and fluffy Banana Toffee Scones taste like banana bread.  They are a great way to use up some of the ripe bananas on the counter.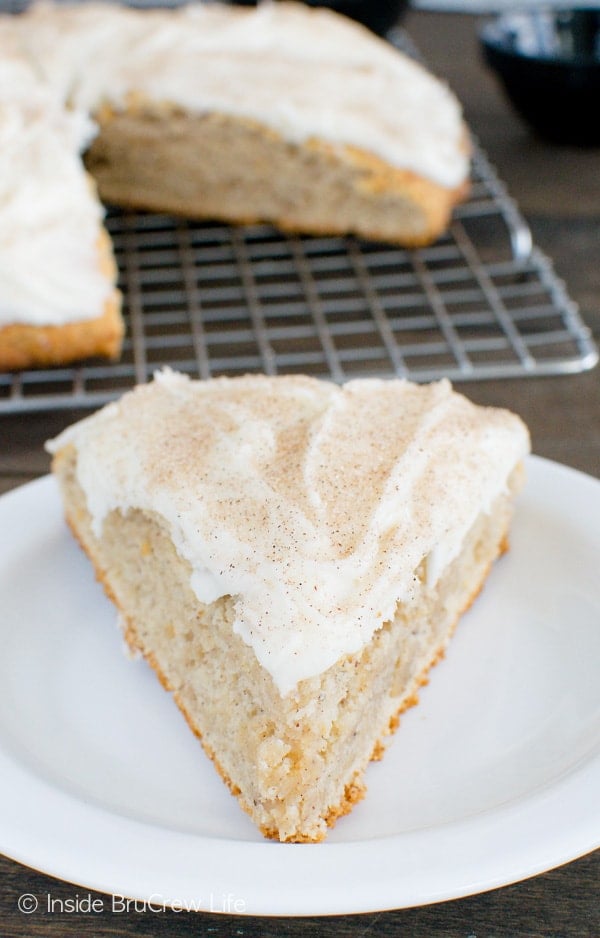 (photos updated May 2016)
PIN IT NOW TO SAVE THE RECIPE FOR LATER!
Yes, I have a banana addiction.
I can't just buy a few at a time.  But of course, they all turn brown and spotty before I can eat all of them.  I'm a green banana snob.  Ripe bananas totally gross me out.  But…that just means I can be a crazy baker for a few days.   If I can get to them before everyone else in the house that is.
I realize that this is the third recipe in a row with banana in it.  Please don't hate me.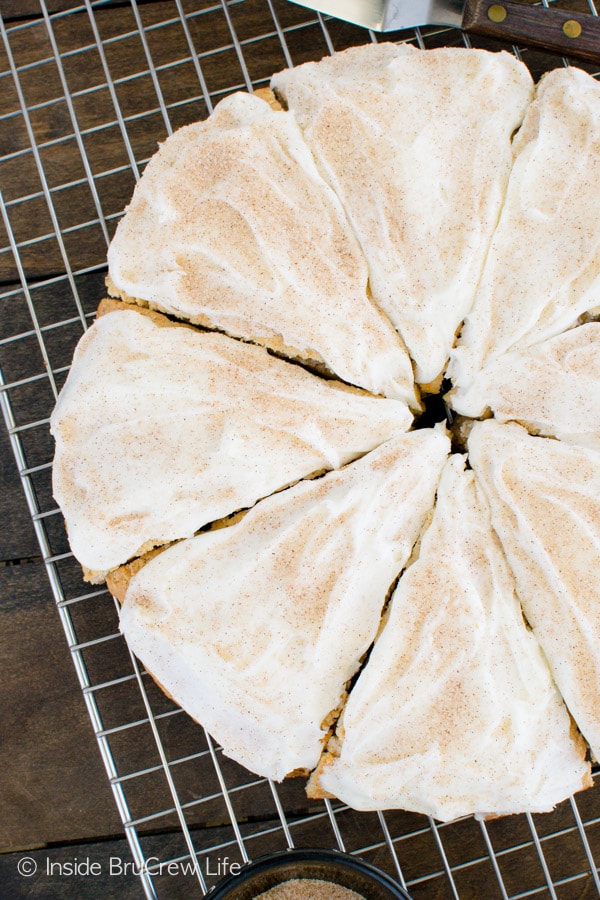 I have made loaded banana butterfinger muffins and banana split cheesecake so far in just one week.   Are you tired of the yellow fruit yet?  Please say no, please say no!  I still have a few more bananas to use up in some recipes…like I said I buy a bunch at a time.  I  promise to wait a little bit before the next one though. Maybe…I'm not promising anything!
But for now, let's talk about these scones.  You need them in your life because they taste like banana bread but in a traditional scone form.  And of course I threw toffee bits into the dough because, well, because I love toffee bits.  And a layer of frosting and cinnamon sugar is never a bad idea either…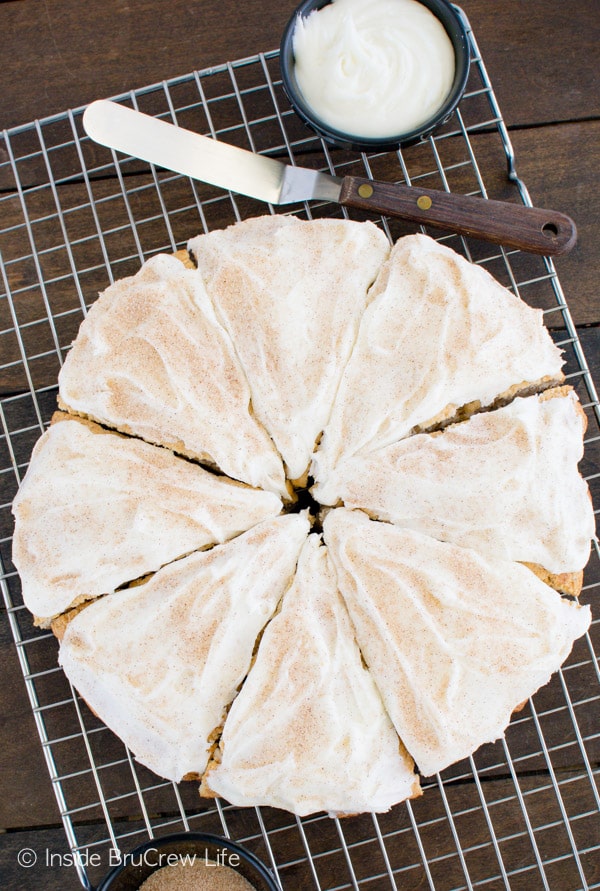 And you guys are pretty fond of candy in baked goods too.  Am I right?
Another great thing about these banana toffee scones is that you only need a bowl and a fork to create the dough.  I love when I don't have to dirty 10 million pots and pans to make one thing.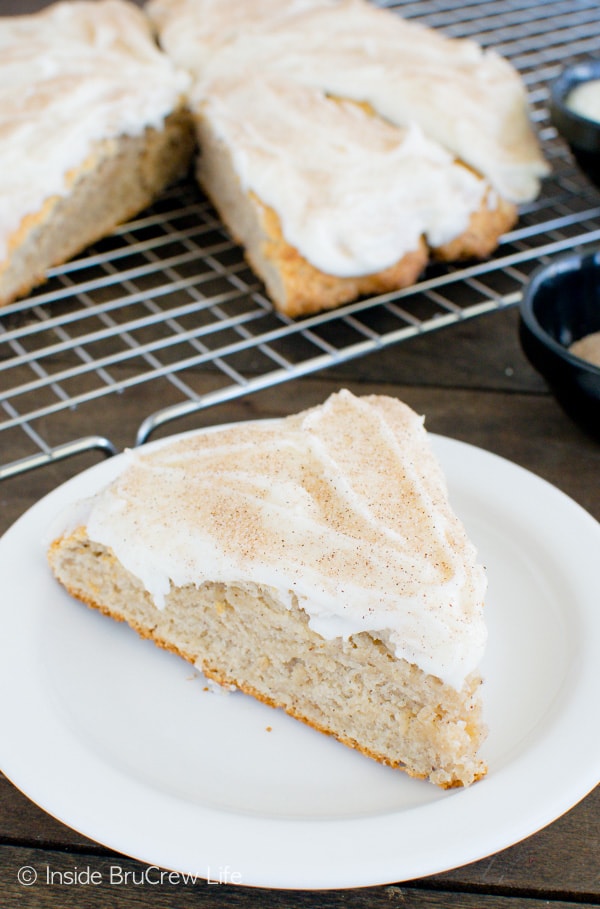 What are you waiting for?
Go bake up some scones with those bananas on your counter!!!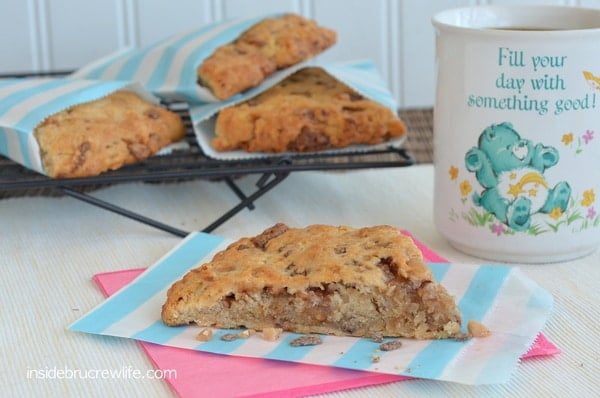 (original photo from January 2013)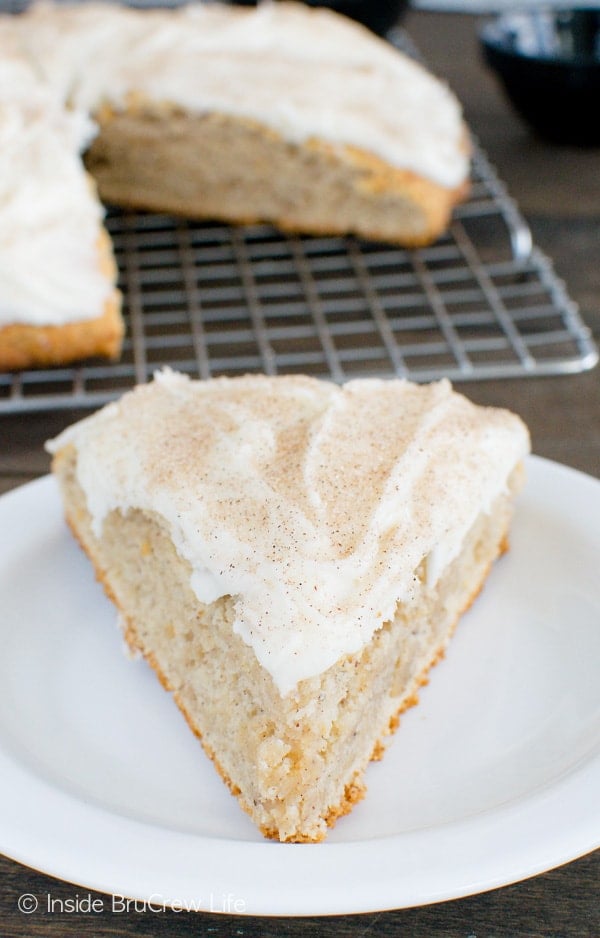 These Banana Toffee Scones are light and fluffy and taste like banana bread. The cinnamon sugar frosting adds a fun sweetness, if desired.
Ingredients
2 cups flour
1/4 cup sugar
1 1/2 teaspoon baking powder
1/4 teaspoon salt
1 teaspoon cinnamon
6 Tablespoons butter, cold
1 teaspoon cinnamon
3/4 cup heavy cream
1/2 cup smashed ripe banana
1 teaspoon vanilla
1/2 cup toffee bits
For the Frosting

2 1/2 cups powdered sugar
2 Tablespoons butter, melted
1/3 cup heavy whipping cream
cinnamon sugar
Instructions
Preheat the oven to 400 degrees.
Combine all the dry ingredients in a bowl. Add the butter and cut in with a fork until well mixed. Create a well in the center and add the cream, banana, vanilla, and toffee bits. Gently mix until soft dough forms.
Place the dough on a non-stick baking sheet and pat into an 8-inch circle that is about 1 inch thick. Bake for 23-25 minutes. Let cool about 5 minutes, and then cut into 8 wedges.
Beat the frosting ingredients until light and fluffy. Spread on the cooled scones. Sprinkle with cinnamon sugar, if desired.
Store in a sealed container for 4-5 days. Makes 8 scones.
https://insidebrucrewlife.com/banana-toffee-scones/
Copyright Inside BruCrew Life