Frosted Orange Poppy Seed Bread is a delectable twist on the classic. Perfect for summer brunches!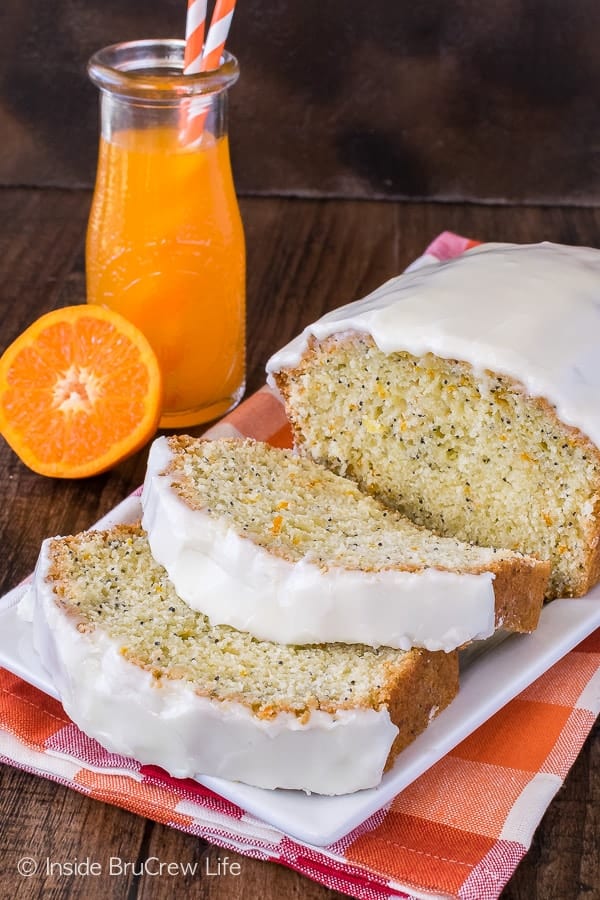 We are now a few weeks into summer break, and so far our two youngest kids have been doing a good job at staying busy. Of course, I think that is mostly due to the fact that their friends are home from Puerto Rico right now.
They have been playing zombie tag at the church and swimming at the pool every single day. I have a feeling when their friends leave to go home, I'm going to here a lot of "I'm bored" and "what can we do today?"
For now I'm going to enjoy the peace and quiet that comes when they are out of the house. Don't get me wrong. I do love having our kids home during the summer. It's the whining and complaining that I can do without.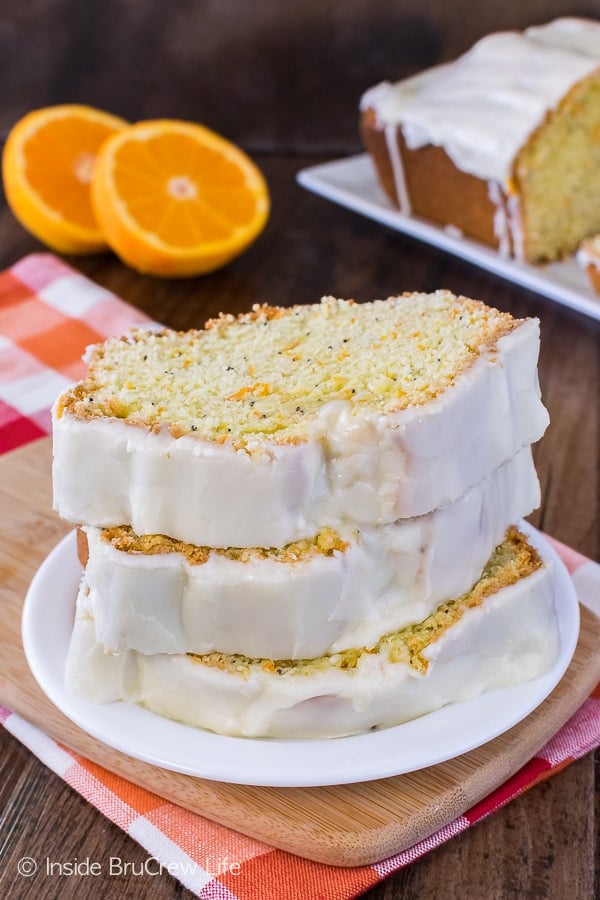 It was so much easier to entertain them for hours when they were smaller. Hours at the park, day trips to the zoo, or going on walks were some of the things we would enjoy. Then they became teenagers and those kinds of things just aren't cool anymore.
They just want to sleep in until noon, and then do nothing all day long. And by nothing I mean sit in front of the tv or computer. Not going to happen though. We have some summer rules that they will have to get used to.
Getting up earlier, eating breakfast before noon, chores, and reading some books are just a few things on the daily summer list.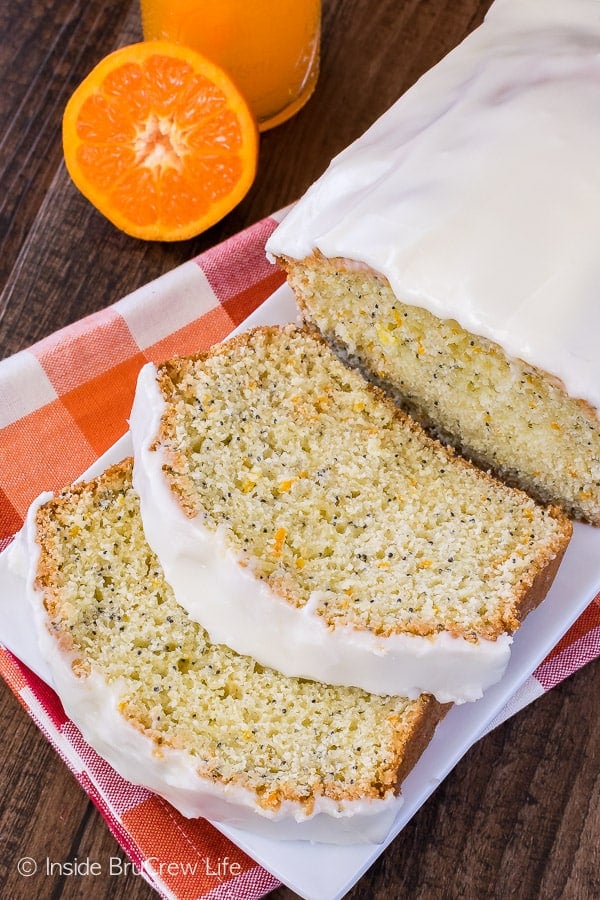 Of course, that means I need to be on my A-game when it comes to breakfast. Since these orange blueberry muffins and orange glazed muffins are always a hit, I decided to try something else orange.
I have had a jar of poppy seeds sitting in the pantry waiting for just the right recipe. At first I thought about using them in another muffin, but then I decided on a loaf of sweet bread.
What should have been an easy bread turned into quite the fiasco. I tested about 6 different batches trying to find one that I liked. The first couple loaves were gummy, then the next few were too dry.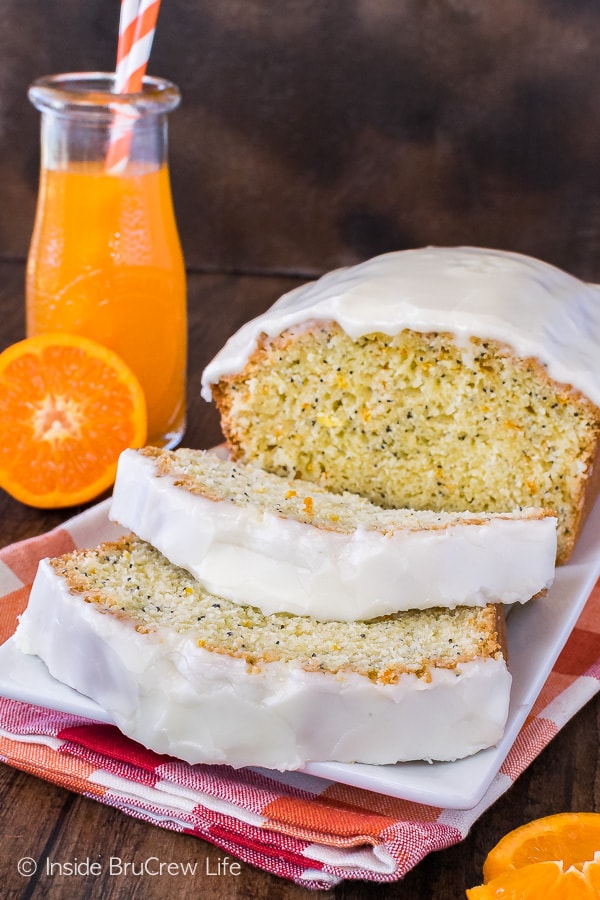 At that point, I gave up on the orange and made another loaf of tropical banana bread instead. After a few weeks, I came back to the frosted orange poppy seed bread. I couldn't let the recipe get the best of me.
Plus, we had more oranges in the fridge that were just begging me to try again. Actually, I think they were taunting me, but hey, whatever gets you back in the kitchen, right?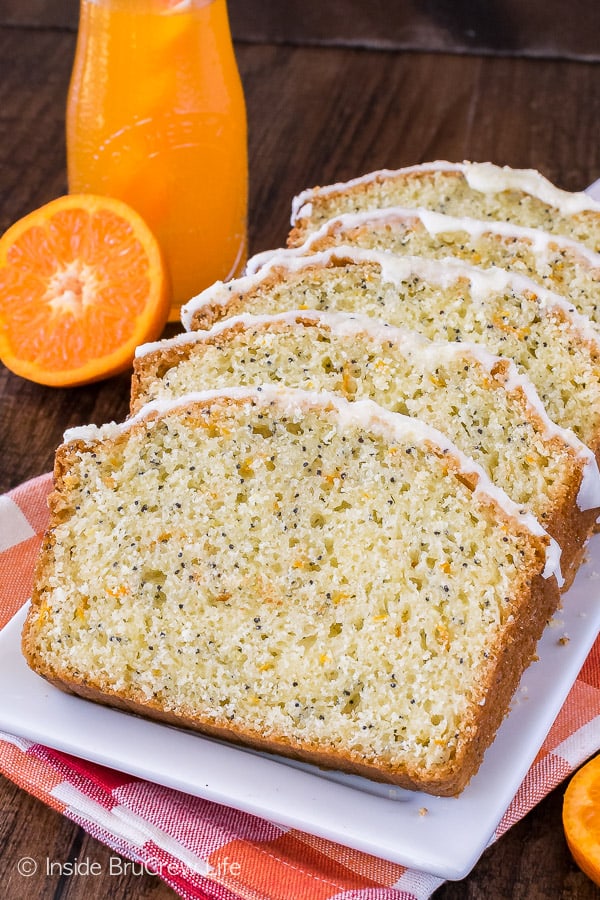 I tweaked a few things on my current recipe, and it was pretty good. But not perfect. I had one other thing I wanted to try before I could share the recipe.
A little bit of sour cream added to the batter added just a little bit more moisture and softness to the sweet bread. Finally, I conquered the orange bread! Yes, I may have patted myself on the back a few times.
And now I can add expert orange juicer and zester to my resume because I squeezed quite a few oranges to be able to have a recipe that I was happy with.
Of course, my kids are now quite tired of orange bread, so I need to move onto another flavor this summer. Anyone have any ideas?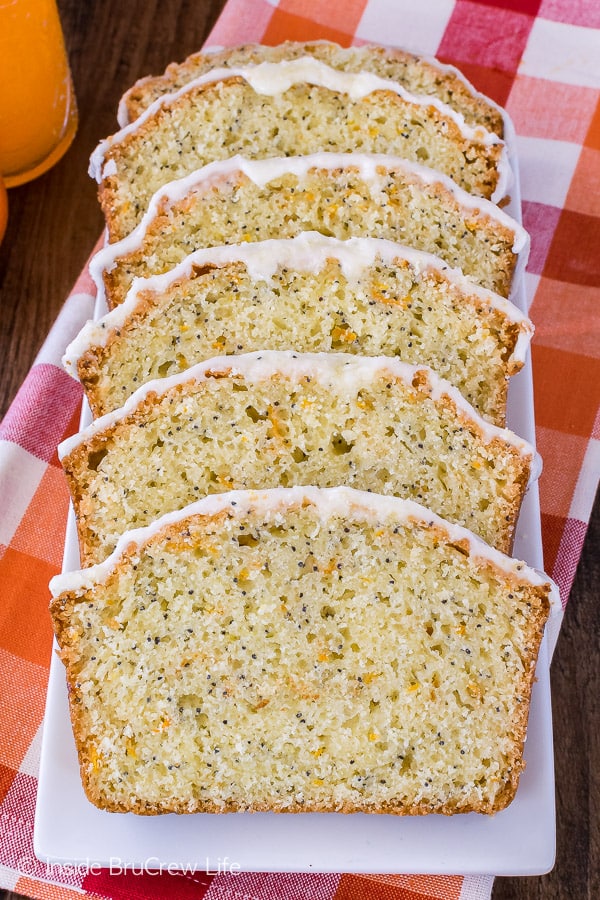 Make sure you head over to Food Fanatic to print this Frosted Orange Poppy Seed Bread recipe.