Eating healthy is all about moderation and food choices. These Fruit Salsa Yogurt Cups are a great way to enjoy a healthy dessert.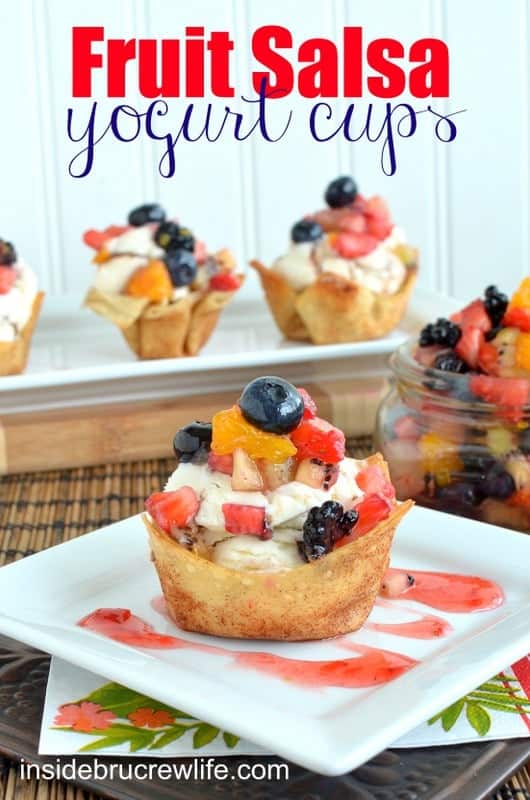 Having a dessert blog definitely has it's challenges when it comes to eating healthy. I get so many comments and emails asking how I stay healthy and fit with so many cookies and brownies in my kitchen. The biggest thing I have to say is moderation and lots of exercise.
Moderation is eating just one brownie, even though you really want to chow down on 4 more. I think that as long as you eat healthy throughout the day there is nothing wrong with a small treat, but that is definitely the key. I have found that keeping track of what I eat helps me stay on track.
Life here gets busy between work, school, sports, baking, blogging, and church activities. But I know that taking time each day for daily exercise and drinking plenty of water helps me be healthier, and it also helps me be a better mom and wife. This winter we bought everyone updated bikes, and we are looking forward to lots of trail riding this summer. It will be fun to share this "fun" exercise with our children. I want them to learn healthy eating and exercise habits early in life.
Staying active is definitely a big part of being healthy, but you also need to eat healthy foods. My metabolism has definitely slowed down as I have gotten older. That means it is even more important to watch and record what I put into my body. I have to keep my sweet tooth in check more often.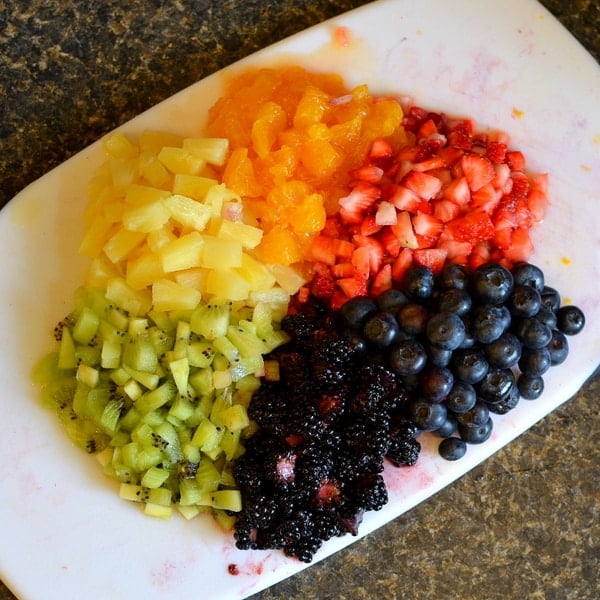 Our children definitely have developed their sweet tooth with all the baking that I do. They are ready to eat everything in sight when they get home from school. Most days we limit them to fruit or vegetables, but I do like to surprise them with this fun Apple Snickers Cake every once in a while.
Keeping the counter and refrigerator well stocked with the bright colored things they are allowed to eat helps keep them from grabbing all the candy and chips.
Combining all the colors of the rainbow into a fun fruit salsa makes a great treat for them to snack on. It can be eaten plain, with baked cinnamon chips, or on yogurt.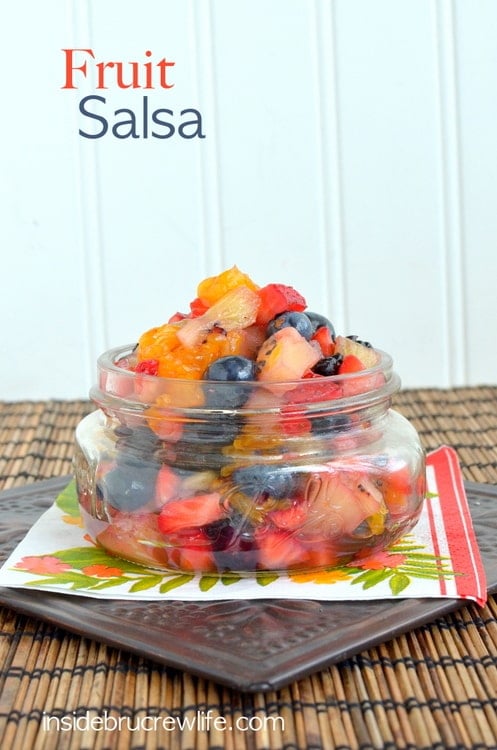 How to make Fruit Salsa:
Open and drain a can of pineapple tidbits and mandarin oranges. Cut the oranges into smaller pieces, then dump both into a large bowl. (full recipe at bottom)
Add a container of fresh blueberries to the bowl.
Peel and dice the kiwis and add to the bowl.
Remove the stems and cut the strawberries into small pieces, then add to the bowl.
Whisk together the honey and lime juice. Pour over the fruit. Stir until everything has been coated, then refrigerate until chilled.
Add the cut up blackberries right before serving.
This fresh fruit salsa was the perfect addition to the fudge swirl yogurt cups in our freezer. The containers were the right size to fill each Cinnamon Sugar Dessert Cups with.
Our kids loved ending our day with these little Fruit Salsa Yogurt Cups.