These Cinnamon Sugar Dessert Cups can be used for a variety of desserts. They make an easy and impressive little treat for after dinner.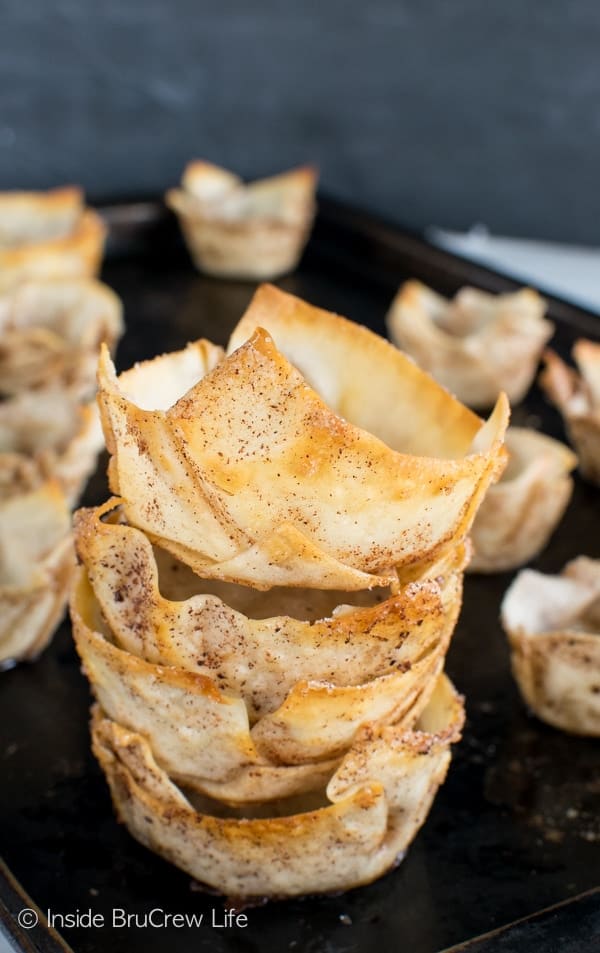 Summer is now in full effect around here. With school being finished for this year, sleeping in, doing nothing, and all around being lazy is what it looks like around here.
But that is only going to be allowed for a short time. I'll give the kiddos one week of recovering from all those early school mornings, but I think a 9 am wake up call needs to be instituted from here on out.
Chores and being outside are all things they need to keep up with on a daily basis. I think a "no electronics before 3 pm" rule is going to have to be enforced because I know they will be reaching for them right away.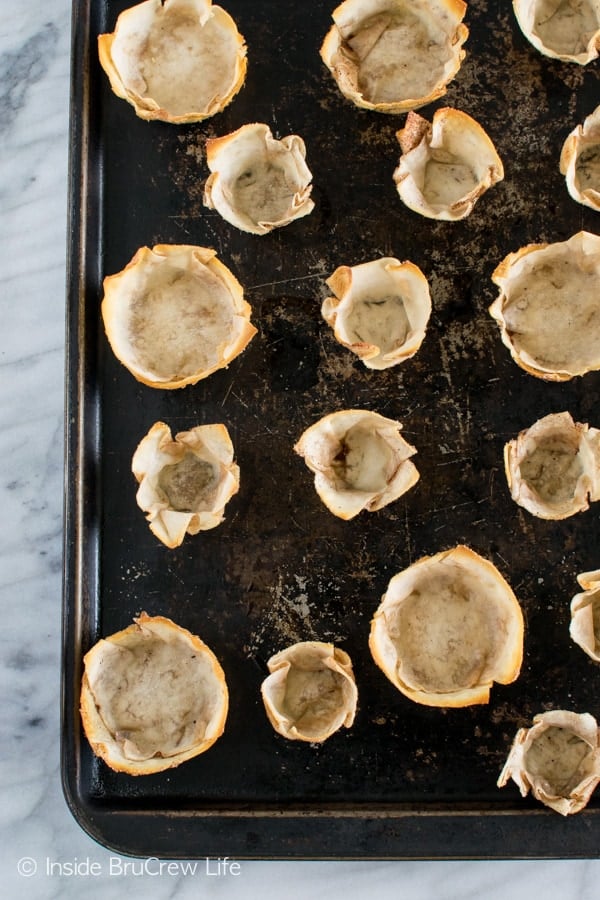 Of course, that means I probably should get up early and have all my computer work done before they get up. I have a feeling they will give me grief for working on an electronic device when they can't use theirs. All these years of me working from home, and they still think I'm just surfing and playing online.
I also think sharing easy desserts are in order for this summer. I'm all about keeping it low key, but impressive when it is hot outside. More Nutella No Bake Cookies are in our future for sure.
These little dessert cups are an easy treat that you can make up ahead of time and use throughout the week for different desserts. Gotta love a little snack that is entirely edible, right?
Fill them with pudding, fruit, cheesecake, or frozen yogurt like I did with these Fruit Salsa Yogurt Cups.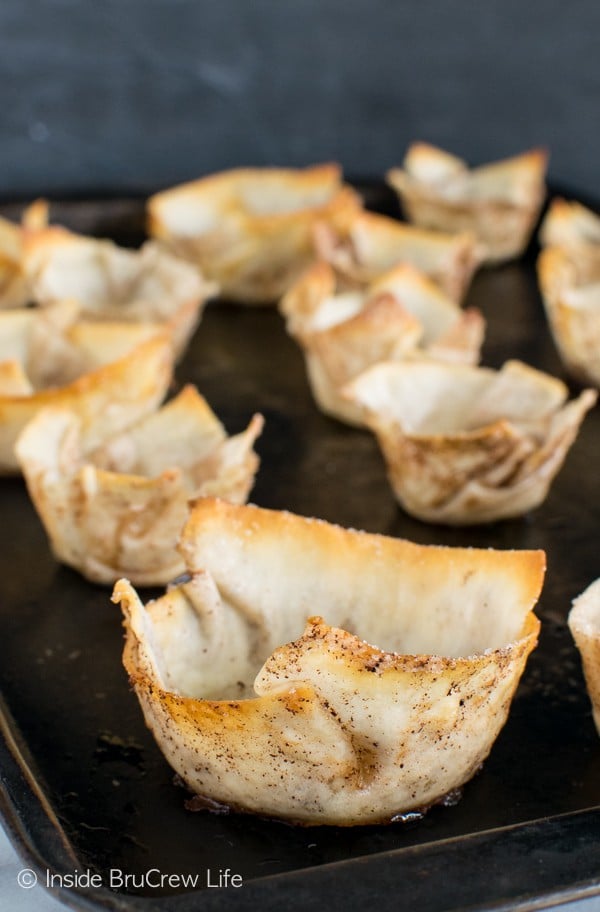 Three ingredients, two plates, and muffin tins are all you need for these easy little cups.
Lay the wonton wrappers on a plate, spray both sides with non-stick baking spray, and then lay it on another plate and sprinkle it with Cinnamon Sugar. You could do it all with one plate, but I found it made a big mess doing it that way. Trust me and use two plates.
Make two different sizes based on what you what to use the cinnamon sugar dessert cups for. Use one wrapper and press it into a mini muffin tin, or press two wrappers into a regular sized muffin tin. Either way works. I usually make both sizes when I make a batch.
If you are filling them with cheesecake, I recommend the mini cups. We all know bite-sized treats like these Lemon Mousse Dessert Cups are best…because you can eat more and not feel guilty about it. For ice cream and frozen yogurt, I prefer the larger cups.
These little cups are perfect for filling and handing to the kids when they come in hot from playing outside. Plus, their friends will think you are the coolest mom ever for serving ice cream in such a fun and edible snack cup.