The gooey layers of chocolate, coffee, and cookies in these Tiramisu Brownies will have you reaching for more dessert in a hurry.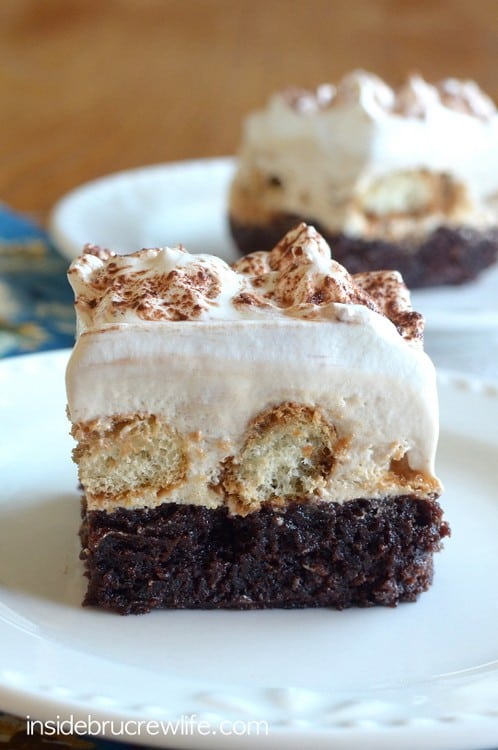 I might need to make another pan of these Tiramisu Brownies...to make up for the story I am about to share with you! Good thing brownies topped with coffee cheesecake and coffee soaked cookies is my husband's favorite dessert.
(Honey, if you are reading...you might want to skip this post)
My husband's car broke down about a month ago because it needed a fancy expensive piece.
With Christmas break and the kids being out of school, we really didn't have a huge need for 2 vehicles, so he waited to purchase the piece. Last week he ordered the piece and anxiously waited for it because he really does like driving his cool red car.
But when this piece was finally arrived and he put it in. The car still didn't run.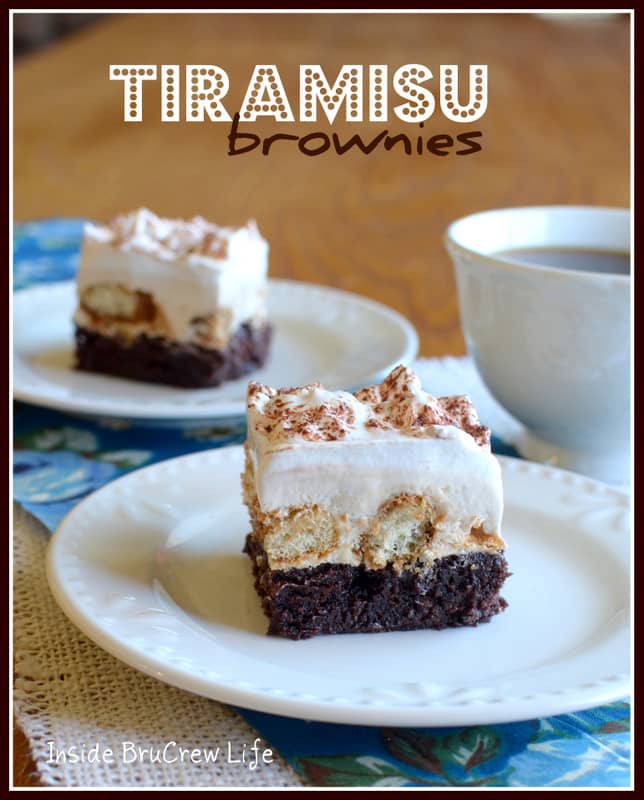 Wanna know why? The gas gauge is also broken.
It turns out the car was just out of gas.
He says he tweaked a few wires while he was out there filling up the gas tank...just in case that was it. But it was 15* out and dark...kinda hard to see said wires!
I'm going with the "it was just out of gas" option because it started right up after that.
Oh boy, he is never going to live this one down!!! Lots of laughing has been going on over here.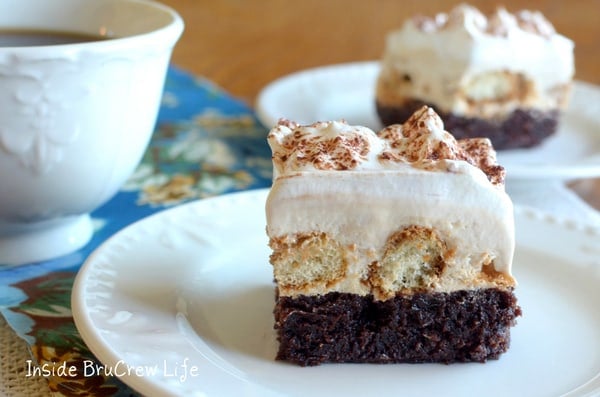 I'm totally going to remember and savor this moment! Even if it costs me a hundred more pans of these tiramisu brownies!
It's good to have one of these moments on my side because he has way too many of my "moments" on his side.
Tiramisu Brownies recipe: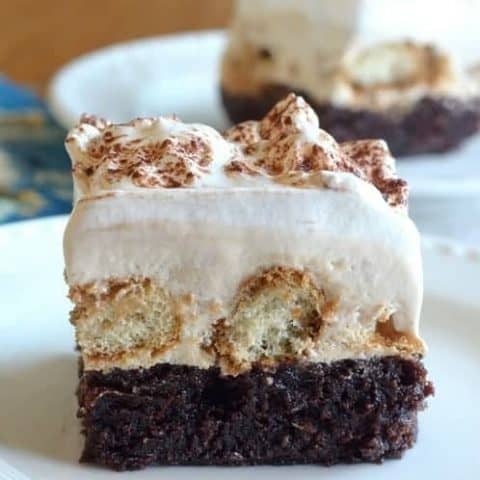 Tiramisu Brownies
These Tiramisu Brownies are topped with a no bake coffee cheesecake and coffee soaked cookies. Perfect ending to any meal!
Ingredients
1 - 9x13 size brownie mix
½ cup milk
4 Tablespoons instant coffee, divided
1 cup sour cream
1 - 3.4 ounce box cheesecake pudding
1 - 8 ounce package cream cheese, softened
1 - 16 ounce container Cool Whip, thawed & divided
2 ½ cups hard lady finger cookies, broken into chunks
½ cup hot water
cocoa powder
Instructions
Bake brownies according to the package directions. Let cool completely.
Dissolve 2 Tablespoons coffee in the milk. Whisk in the pudding mix and set aside.
Beat the cream cheese in another bowl. Add the sour cream and beat again on low speed.
Fold in the pudding mix and half of the Cool Whip.
Dissolve the other 2 Tablespoons coffee in the hot water and drizzle over the cookie chunks.
Spread half of the pudding mix over the cooled brownies. Lay the cookie chunks on top of the pudding. Cover with the rest of the pudding mixture.
Top with the remaining Cool Whip. Dust with cocoa powder. Refrigerate until time to serve. Store in a sealed container.
Notes
*I used a hard coffee cookie in place of the lady fingers. I found them at our local Meijer...the brand is Stella D'oro-Margherite cookies. I have seen them at Walmart as well.
**Ladyfingers are usually sold in the pasta aisle of most grocery stores.
*