Hot fudge, mint Oreo cookies, and Andes mint chips make these Fudge Mint Gooey Brownie Bars seriously a chocolate explosion in your mouth. These are for the chocolate lover in all of us.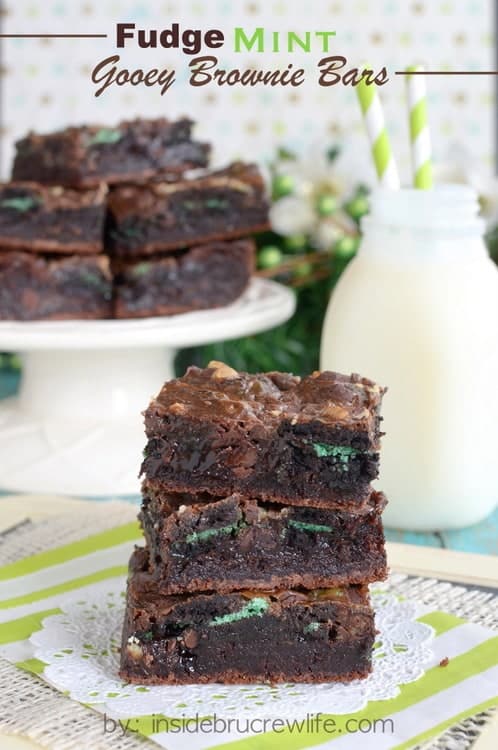 These gooey brownie bars need to happen in your kitchen ASAP.
I mean look at the layer of hot fudge coming out of it. What is stopping you from making these?
So the other day, I got an intense craving for mint and chocolate. I had most of the stuff in my cupboards to make these right away…just had to run to the store for the mint Oreos. Now here's the kicker! I can't even eat these.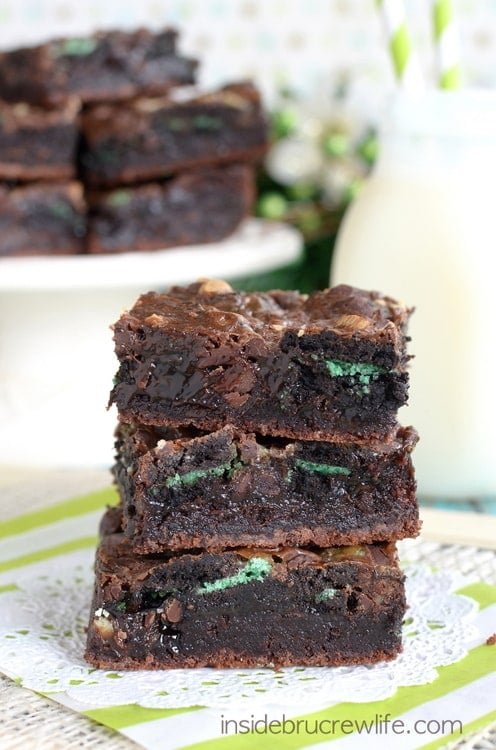 For the past week my husband and I have been eating clean. Only fruits, veggies, and protein. We have a goal of 24 days to meet, and so far so good. That means that no matter how much I was craving mint and chocolate, it couldn't happen.
That didn't stop me from getting in the kitchen and making mint brownie magic though. My husband had a deacon's meeting at the church, and I love to make fun desserts to send with him. So at least I got to have fun in the kitchen.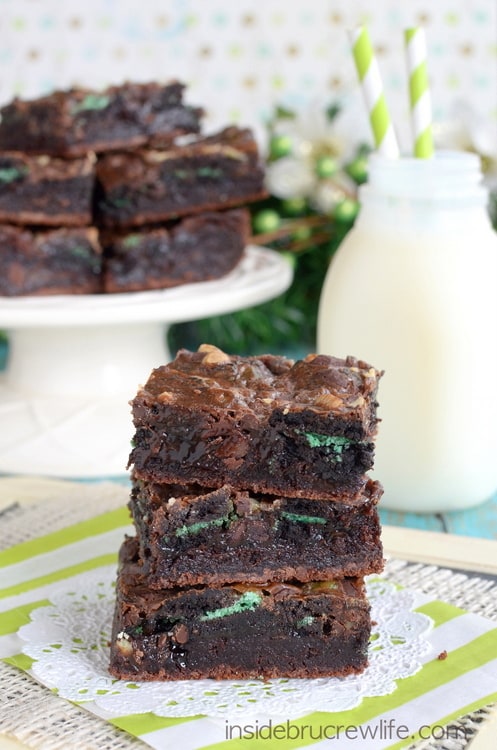 These gooey bars start with a brownie mix. Just one egg and a stick of butter makes a great dough for the bottom of the bars. Then I spread hot fudge over the dough, sprinkled in some mint Oreos and Andes mint chips. Oh, and some chocolate chips because clearly there wasn't enough chocolate going on in these bars 😉
Now like most gooey bars, I used sweetened condensed milk, but I wanted it to bake dark, so I added more hot fudge to that too. Yes, this is chocolate overload people!!! The smell when it came out of the oven was enough to drive this veggie ridden girl crazy!!! Lucky for me, it has to cool completely before you can even cut into it. That saved me that night.
Now the true test was cutting these into bars the next day, and doing a photo shoot with that ooey gooeyness staring back at me! It was so hard. True confession…I had two small bites when I got done. But I only chewed and then spit. I know, I am as shocked as you. Usually the minute I get a taste for chocolate, I go nuts and can't stop.
Maybe this whole eat right thing does work. Maybe after the 24 days I won't even want to have chocolate in my house. Hahahahahahahahaha! Yeah, I don't think so either.
No matter what happens, these bars will be made again when I can devour one (or two). My son keeps telling me how good they are. He also keeps telling me to just have one bite. Oh, he knows me too well. But for now I am holding strong. I will win this challenge.
And then I will eat brownies!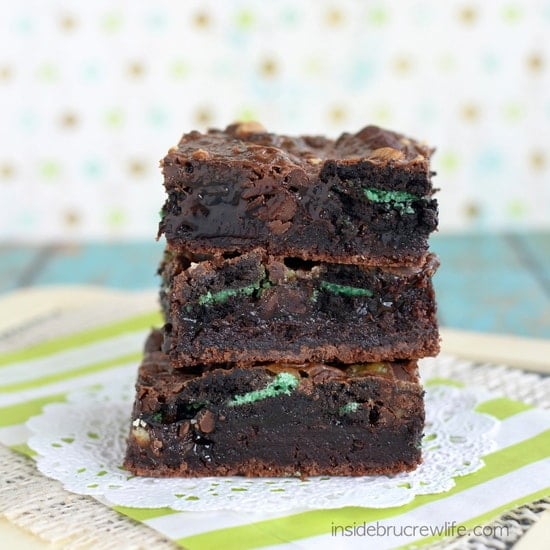 Stay up to date on all the BruCrew baking here:
FACEBOOK | PINTEREST | GOOGLE+ | TWITTER | INSTAGRAM | BLOGLOVIN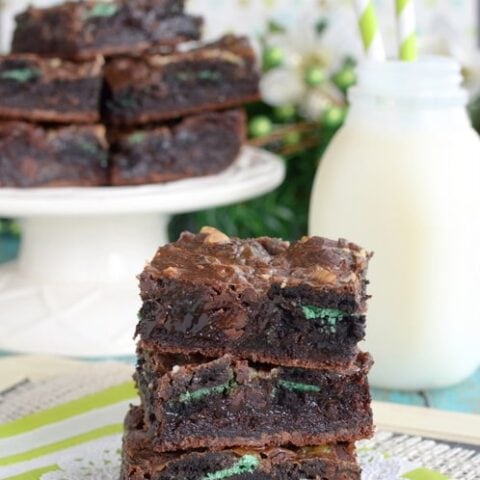 Fudge Mint Gooey Brownie Bars
Hot fudge, mint Oreos, and mint baking chips make these brownies a chocolate delight for dessert.
Ingredients
1 brownie mix (for a 9x13 pan)
1/2 cup unsalted butter, softened
1 large egg
1 teaspoon vanilla extract
3/4 cup hot fudge, divided
1 1/4 cups mint Oreo cookie chunks
2 cups Andes mint chips, divided
1/4 cup chocolate chips
1 cup sweetened condensed milk
Instructions
Preheat the oven to 350 degrees.
Combine the dry brownie mix, butter, egg, and vanilla. Mix until it forms a soft dough.
Spray a 9x13 pan with non stick spray. Press the dough evenly into the pan. Spray your hands with the non stick spray to make it easier.
Spread 1/2 cup hot fudge over the dough. Sprinkle with the mint Oreo chunks, 1 cup mint chips, and chocolate chips.
Stir together the sweetened condensed milk and the extra 1/4 cup hot fudge. Drizzle over everything in the pan. Spread it out gently to cover everything.
Sprinkle with the extra 1 cup mint chips. Bake for 35 minutes. Remove from the oven and let cool completely. *This must be cooled all the way before cutting into 24 squares.
Store in a covered container on the counter.
Nutrition Information:
Yield:

24
Serving Size:

1
Amount Per Serving:
Calories:

286
Total Fat:

13g
Saturated Fat:

8g
Trans Fat:

0g
Unsaturated Fat:

4g
Cholesterol:

27mg
Sodium:

87mg
Carbohydrates:

40g
Fiber:

1g
Sugar:

29g
Protein:

3g
Nutrition facts are an estimate and are not guaranteed to be accurate. If you need special diet advice, please see a registered dietician.
More great recipes for when you are craving chocolate and mint!