Green Chile Egg Taquitos make breakfast a tasty grab-and-go affair! The whole family will love these easy time savers.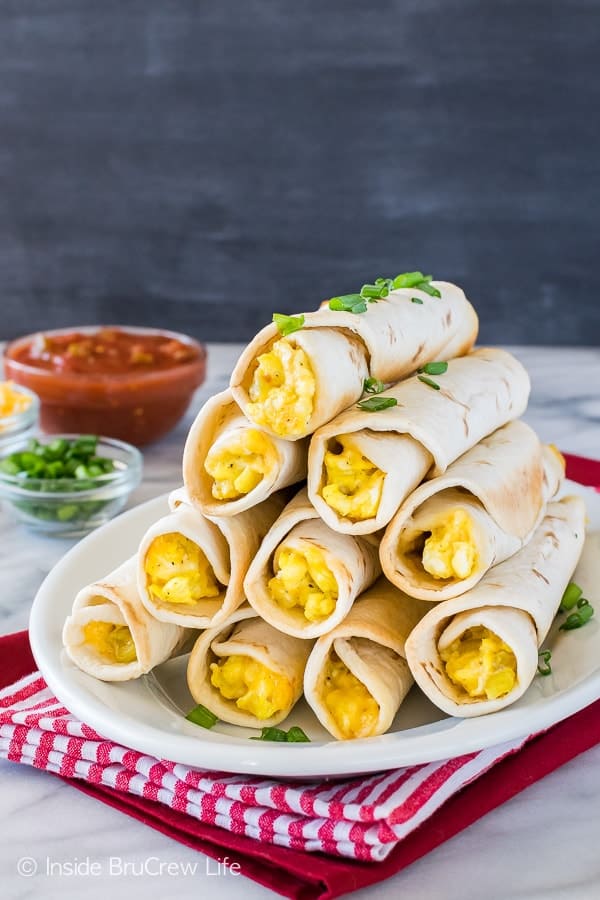 CLICK HERE TO PIN THIS RECIPE FOR LATER!
We are on the home stretch for the end of school. The kids are on a countdown now. They are all pretty much checked out since there is less than a month of school to go. They just want summer and sleeping in to be here now. I can't believe that in three weeks that will be happening.
Since our oldest is graduating high school, I'm totally pretending that is not a reality because I'm not ready to have my baby be that old. Excuse me while I go have an ugly cry while I look at baby pictures.
Ok, I'm better now, but let's not talk about the end of school again. Let's talk about keeping the kids going strong the last few weeks.
Over the past few years, we have really tried to stress the importance of starting the day out right with breakfast. Not that we didn't feed our kids breakfast before, but they are finally getting it.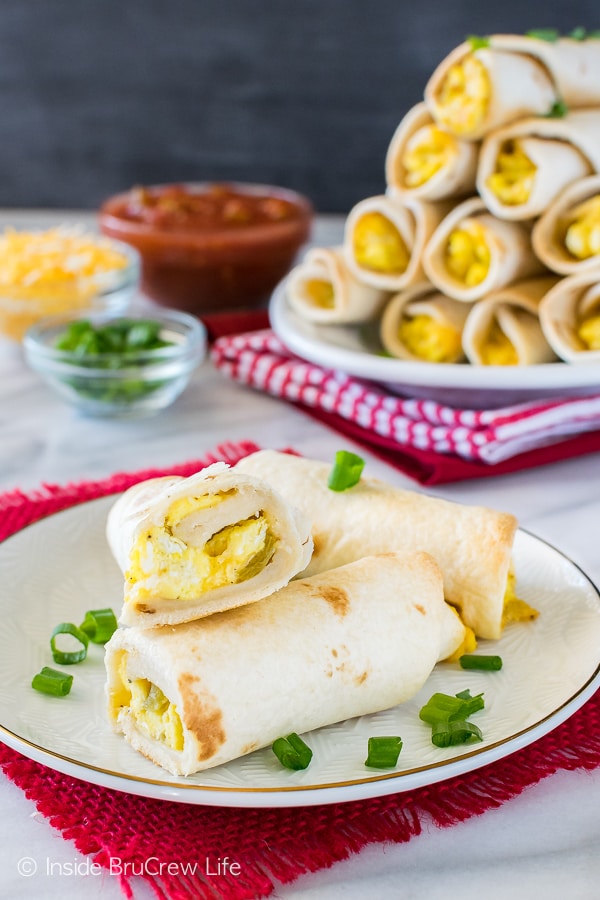 Our oldest two always have something to eat before they head out the door. Of course, with their lunch being around 2 pm, they had to eat or starve all day.
The youngest still needs some encouragement to eat a healthy breakfast. He just doesn't like to eat first thing in the morning, so I usually pack a granola bar for him to snack on a little later. I have found that I can usually tempt him with scrambled eggs though. Add some cheese and some easy homemade salsa, and he will usually down a plate before he leaves.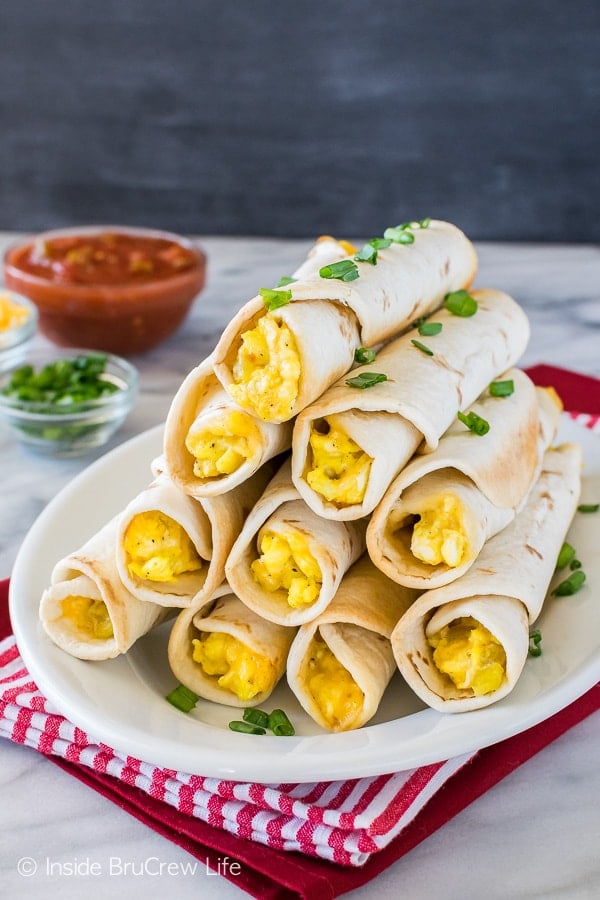 The problem is that I'm not a morning person. At all!!! So, I am always trying to find different ways to prepare eggs ahead of time because then I can just warm them up in the microwave. That's definitely my preferred way to cook early in the morning.
A few months ago I made these bacon egg breakfast tacos, and the kids devoured them. I had no idea they would be so crazy for scrambled eggs that way. The best part is that I can make everything ahead of time, and then just microwave the eggs in the morning.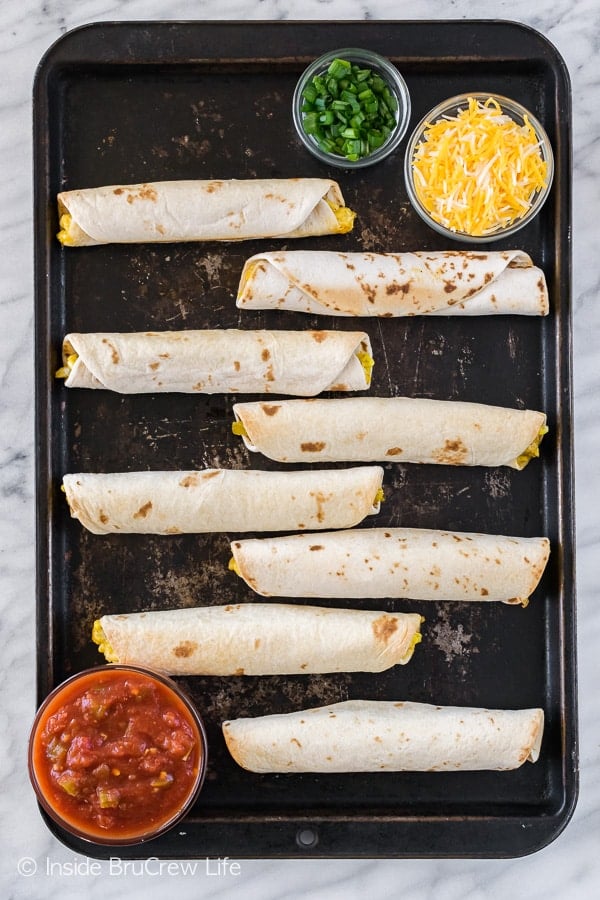 It got me thinking what other taco related things I could make with eggs. They love taquitos, so I decided to add some green chiles and cheese and roll them up in a tortilla. All three of the kids gave these two thumbs up when I tested them for an after school snack.
My favorite thing about these green chile egg taquitos is that I can make a batch or two ahead of time and keep them in a bag in the freezer. Just lay them on a wax paper lined tray and freeze them for thirty minutes before you bake them. After they have frozen slightly place them in a freezer bag. It makes it so easy to have a hot homemade breakfast ready in no time at all. As long as you remember to set your alarm early enough to bake the frozen eggs...
Make sure you head over to Food Fanatic to print the green chile egg taquitos recipe.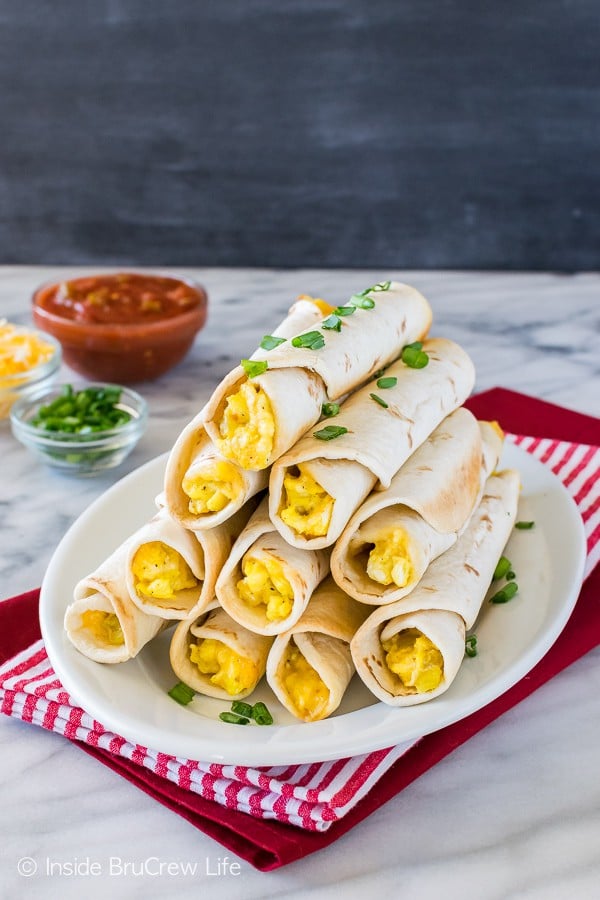 Love having easy breakfasts in the morning? Check out these recipes from some of my friends.