Spooky parties this year need a batch of these Creepy Crawly Brownie Pizzas. Kids go crazy for the fun bones and worms on top of individual brownie pizzas.
**Make sure you sign up for the BruCrew email, so you see these recipes in your inbox each morning.**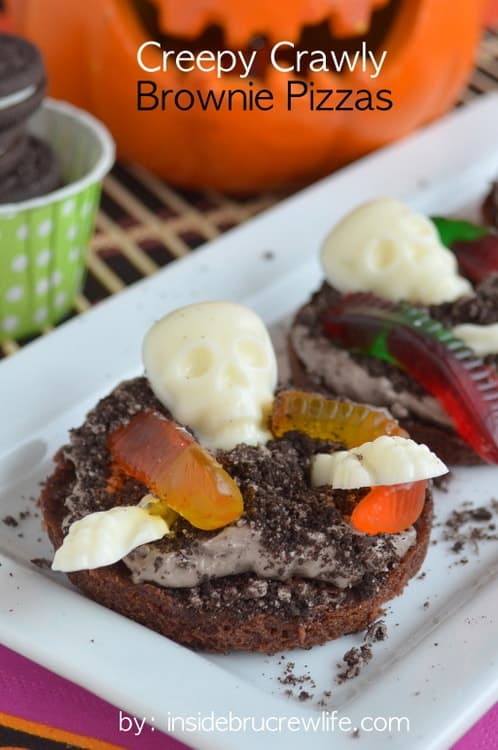 I have one last minute Halloween treat to share with you guys.
Actually I thought about holding off and saving it for next year since I am getting this up so close to the actual holiday. But you and I both know that I will totally forget about this come next year.
And since these were so very good, I figured you wouldn't mind another creepy treat before we dive into holiday goodies. Am I, right?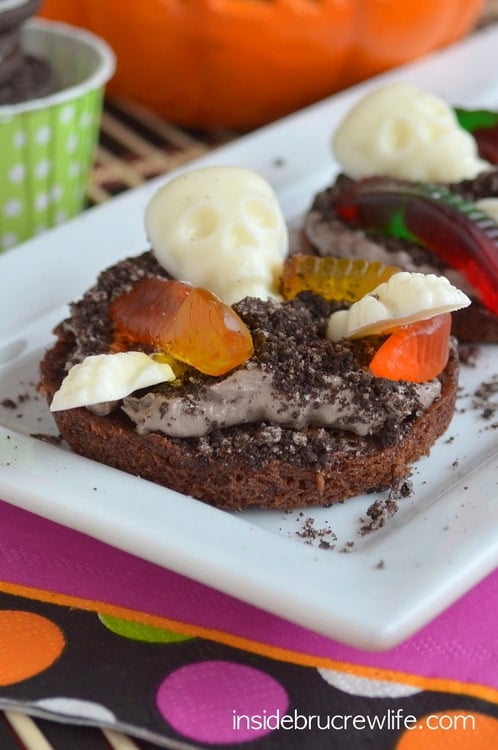 These brownie pizzas are a the love child of these Pudding Filled Dirt Cupcakes and these Brownie Fruit Pizzas. Delicious fudge brownies baked up in a whoopie pie pan and then topped with a cookie cream cheese layer are definitely the way to go this Halloween.
You can also top them with any kind of spooky gummies or candies. We used gummy worms and this skeleton bones candy mold.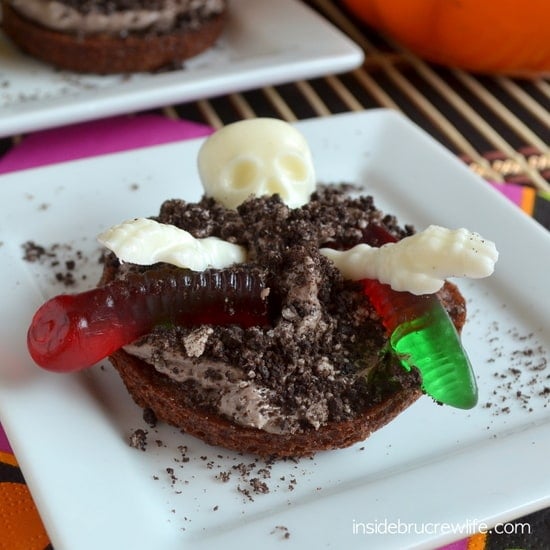 Don't have a whoopie pie pan? You can just bake your brownies in a regular baking pan and top with the filling. Then add your candies to each piece that you slice.
Either way works. I just like pulling out my different baking pans, so my hubby sees that I do actually need all these pans that I keep buying.
Now that I have our treats figured out I need to get cracking on the kids costumes. Anyone have any ideas for a homemade werewolf costume? Yeah, me either.
I guess I better go ask my best friend Google.
Sign up to receive an email in your inbox for each new recipe:
EMAIL SUBSCRIPTION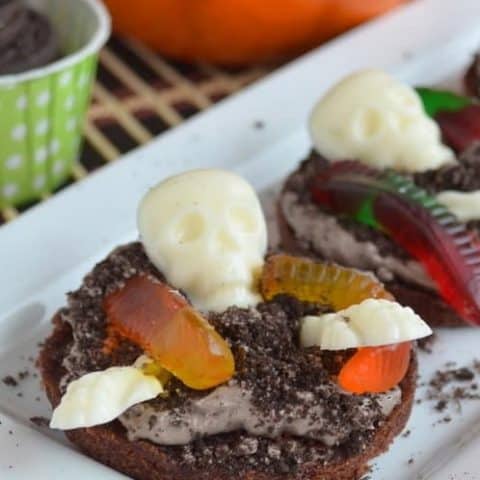 Creepy Crawly Brownie Pizzas
Yield:
20 miniature pizzas
Mini brownie pizzas with a cream cheese cookie filling on top and spooky candies! Kids go crazy for these creepy brownies!
Ingredients
1 - 9x13 box brownie mix
4 ounces cream cheese, softened
1/4 cup sugar
1/2 teaspoon vanilla
1/2 cup Cool Whip, thawed
3/4 cup chocolate cookie crumbs, divided
gummy worms and candy bones
Instructions
Preheat the oven to 350 degrees. Spray the whoopie pie pan with nonstick spray.
Mix brownie mix according to package. Spoon 1 Tablespoon brownie batter into the prepared pan cavities. Bake for 10 minutes.
Let the brownies sit 3-4 minutes in the pan before removing them gently to a wire rack to cool completely.
Beat together the cream cheese, sugar, and vanilla.
Stir in the Cool Whip and 1/2 cup cookie crumbs.
Top each mini pizza with a spoonful of filling and sprinkle with the rest of the cookie crumbs.
Decorate with gummy worms and candy bones, if desired.
Recommended Products
As an Amazon Associate and member of other affiliate programs, I earn from qualifying purchases.
*This post contains affiliate links. Inside BruCrew Life may receive a small percentage from sales made through these links. Thank you for letting us share products we use and love this way.