These Oreo Bats are the perfect treat for Halloween parties! They're perfect for topping cupcakes or adding to a dessert tray. Plus, they can be ready in just a few minutes.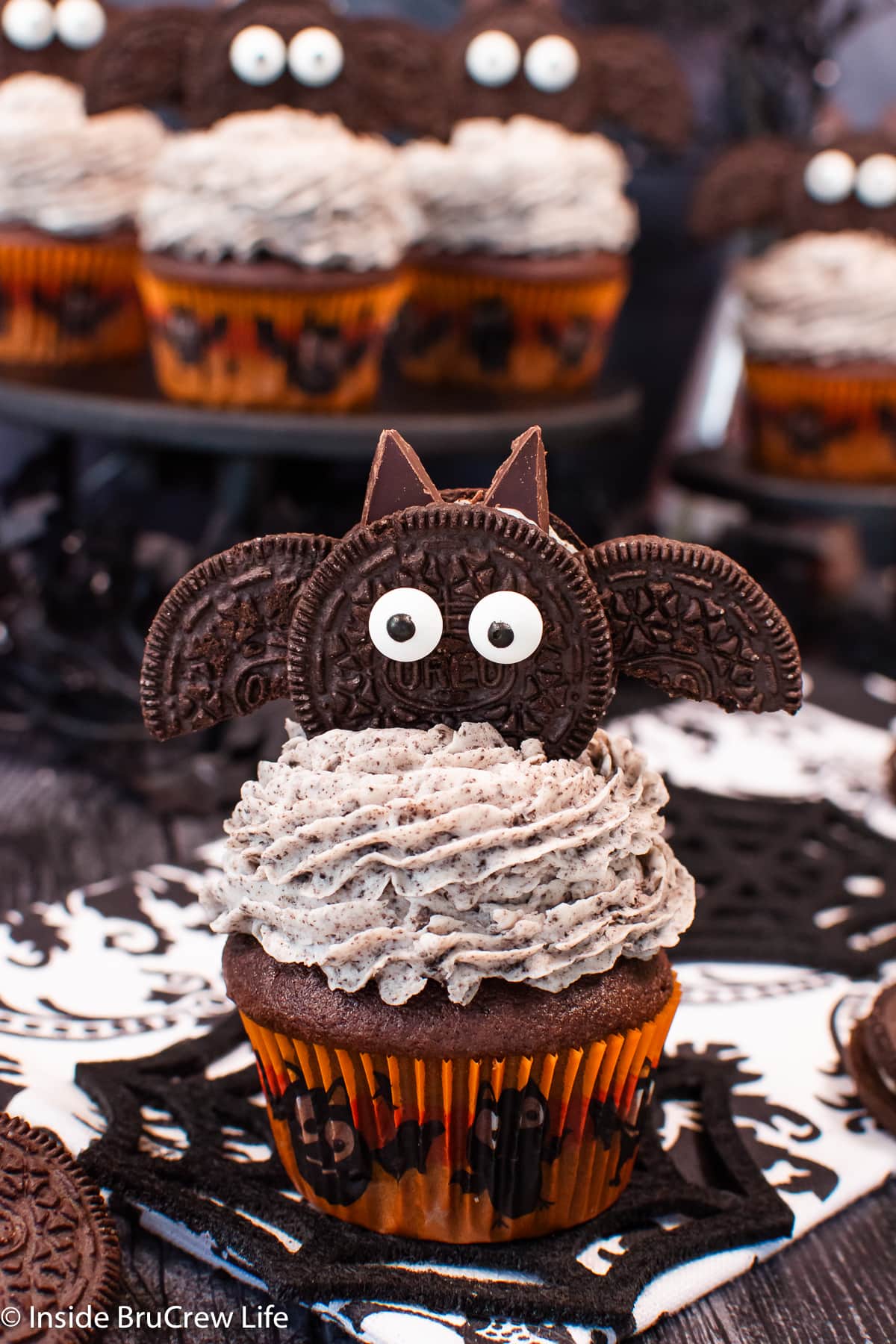 Try these Oreo bats if you need an easy Halloween treat this year. Transform your favorite chocolate sandwich cookies into bats by adding cookie wings, candy eyes, and chocolate ears.
They're easy to make and add so much fun to any party. These no bake cookies are perfect for your dessert table, along with peanut butter monsters, spider donuts, and owl cookies!
Jump to:
Why You Will Love This Oreo Bats Recipe
This is a quick and easy Halloween recipe idea! It's such a simple treat, and it gets countless oohs and awws as the bats come to life!
Easy to make. Don't bother turning the oven on. This easy recipe requires a microwave and a little cutting and stirring. They're so cute for so little effort!
Adorable topper. These Oreo bats are a great addition to a Halloween party! Enjoy them on their own, or use them as spooky cupcake toppers.
Perfect for kids. Get the kids involved! This simple Halloween activity would be perfect for a class party! Just cut all the ingredients at home and bring extra Oreos in case some disappear.
Key Ingredients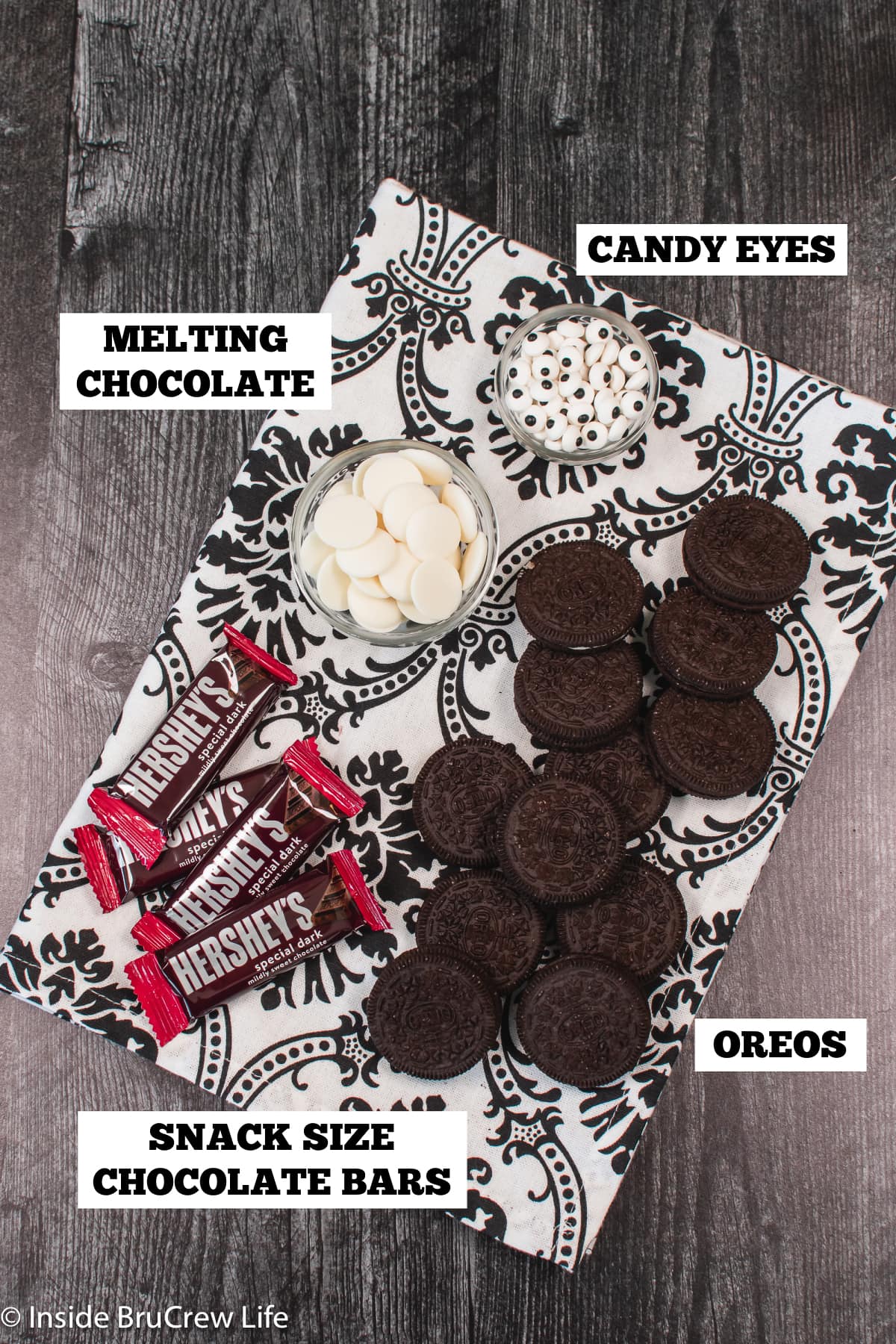 These adorable bat treats are easy to make with four simple ingredients.
Oreo Cookies - Start with classic Oreo cookies. You can also use the Halloween ones for extra fun.
Hershey Chocolate Bars - You'll need a few snack-sized bars to cut out bat ears.
Candy Melts - Melted chocolate helps glue the eyes and ears to the cookies.
Candy Eyes - Buy edible candy eyeballs from the baking section of most stores.
BruCrew Tip: Use the extra eyes to make ghost cookies or cauldron cupcakes.
How to Make Easy Oreo Bats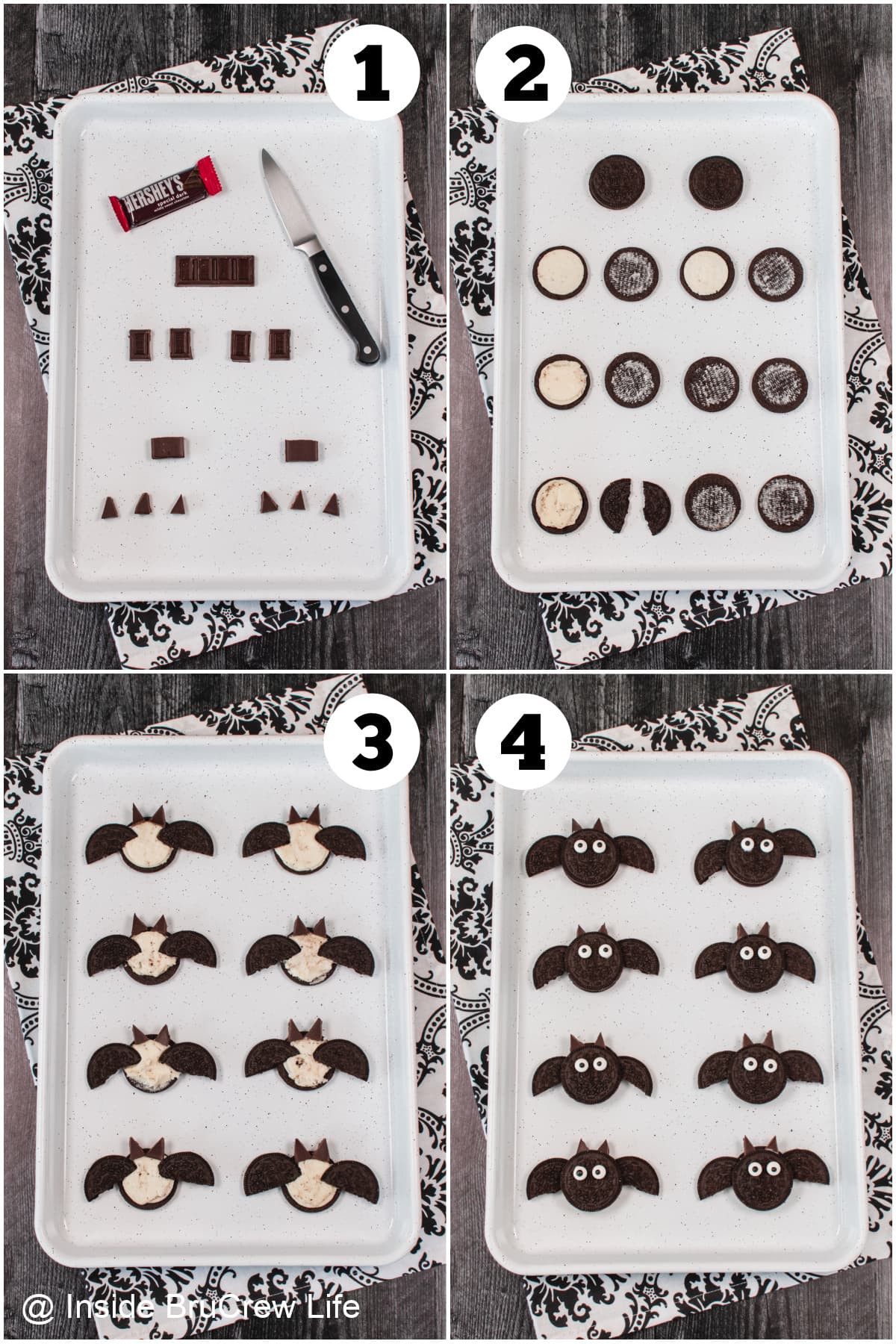 These cute little bats will be ready before you know it! The best part is that they're easy enough to have the kids help. They always turn out adorable!
Unwrap three chocolate bars and cut them into four smaller bars. Use a sharp knife to cut three triangles from each smaller bar for ears.
Separate 24 cookies. To increase the cream filling on 12 cookies, use the cream from the other 12 cookies. However, if you use Double Stuffed Oreos, you can skip this step because they already have thicker frosting.
Use a serrated knife to cut 12 cookie sides without frosting in half for wings. You will have an extra 12 cookie halves to use in case some break when cutting.
Press two small chocolate ears into the top of the cream filling. Push two cookie halves into the sides of the Oreo at a slight angle so they resemble bat wings. Use melted chocolate to secure them in place, if needed.
Add a drop of melted chocolate to the center of the cookie. Then, place a cookie without frosting on top and press very gently.
Use a toothpick to add chocolate to the back of the eyeball candies. Glue them on the front of the bats.
BruCrew Tip: To prevent cookies from cracking, use a serrated knife to gently saw through them on a cutting board.
Storage Recommendations
Store your little chocolate bats in an air-tight container at room temperature for 4-5 days.
Please do not add them to the top of frosted cupcakes until ready to serve them. The frosting will cause the Oreo cookie to become very soft.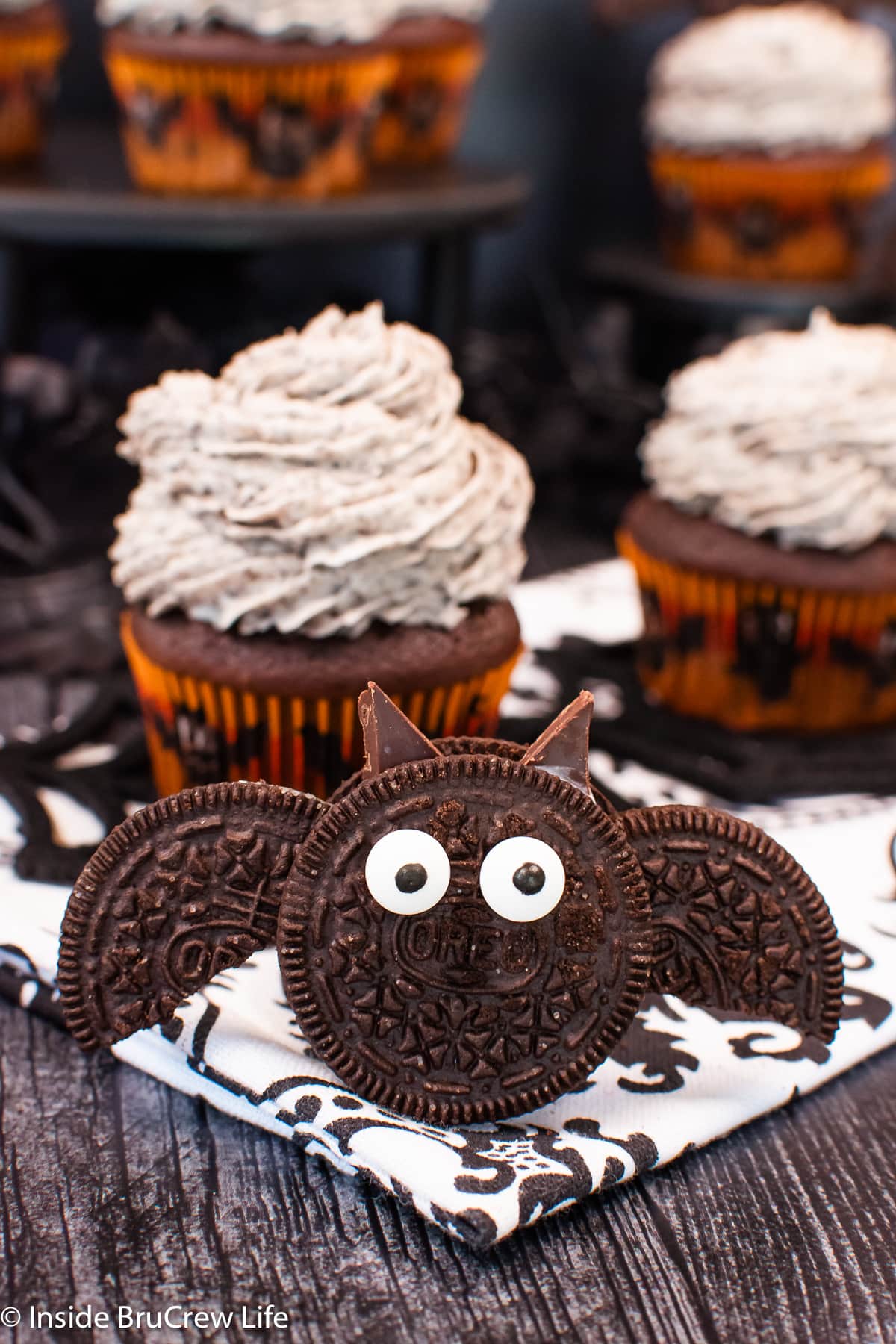 Tips and Tricks
Prep everything ahead of time. Cutting all the ingredients beforehand will make the assembly process quick and easy.
Use a sharp knife. Use a sharp knife to cut the chocolate quickly and avoid cracking for best results. Run your knife under hot water, then dry it off to help it cut smoothly.
Be gentle. The cream filling needs to be intact for the chocolate to hold. Avoid moving or wiggling the "wings" too much!
Keep things tidy. These treats can be messy, with cookies and chocolate everywhere. Place parchment paper on a baking sheet to keep things neat. Plus, you can easily transport them, while the chocolate firms.
Variations
Chocolate Covered Bats - Dip the cookies in melted dark chocolate, then add the wings, ears, and eyes.
Oreo Bat Cupcakes - Make cookies and cream cupcakes and top them with these cute little bat treats. Perfect for the Halloween season!
Bat Cake Pops - Mix chocolate cake with Oreo frosting, then roll out cake pops. Dip them in chocolate, then stick the cookie halves on the side for wings!
Bat Oreo Pops - Sandwich a popsicle stick and melted chocolate inside the Oreo cookie before attaching the top cookie.
DIY Bat Eyes - Can't find sugar eyes for these fun treats? Pipe melted white chocolate onto the bat's body and add mini chocolate chips with the pointy side down. Let them firm up before moving.
Bat Oreo Truffles - Skip the cookies and make bat truffles instead! Just prepare Oreo truffles, dip them in melted dark chocolate, and attach the wings, ears, and eyes. The cookie balls will be so cute!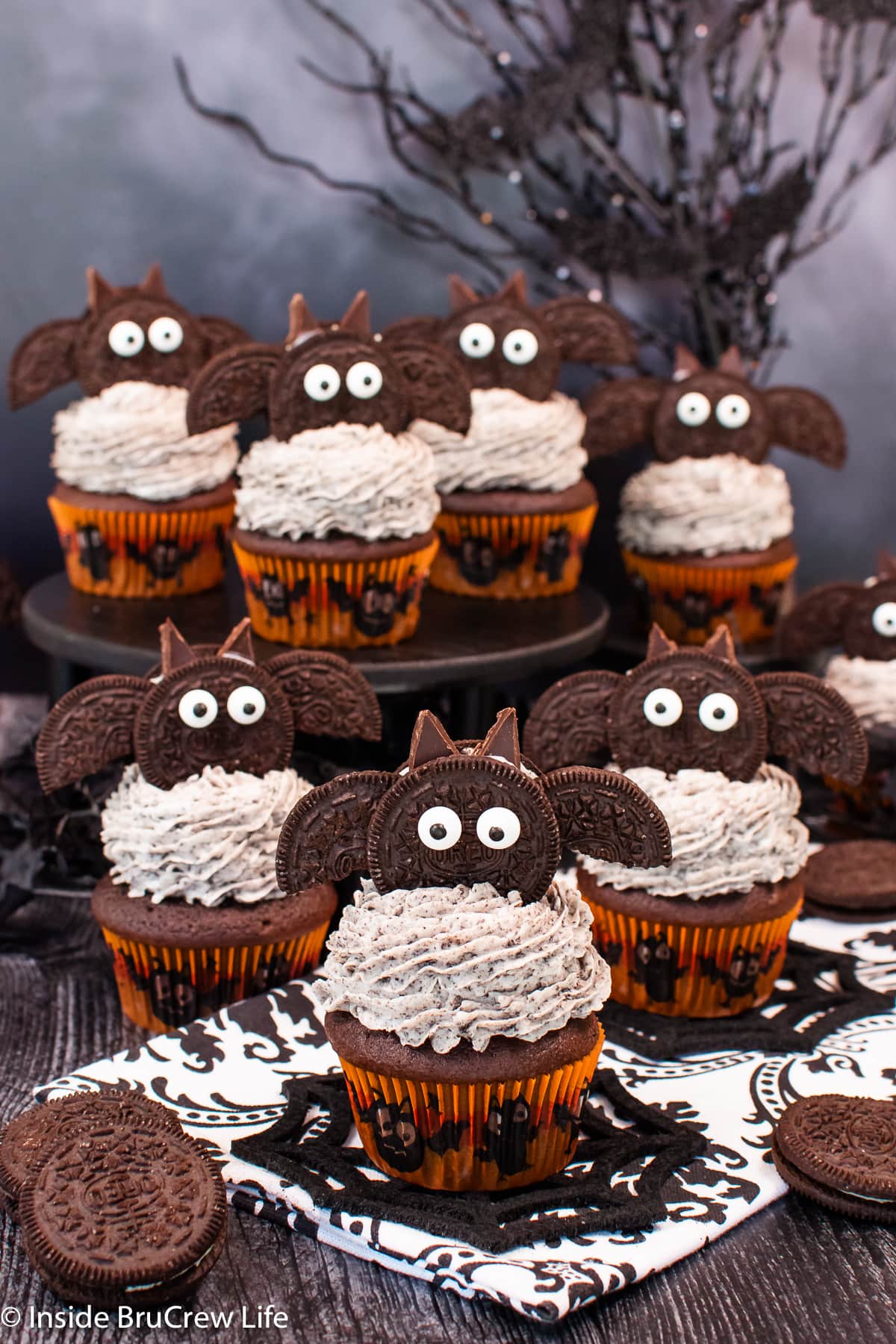 FAQs
How do you cut Oreos without breaking them?
You can score the cookies with a serrated knife, then saw through them or cut quickly with a sharp chef's knife. Another option is to freeze the Oreos first. This solidifies the cookies to make them a little less crumbly.
Which type of Oreo is best for bat Oreos?
You can use regular Oreos or even Double Stuffed ones. The Halloween Oreos are perfect for the spooky season!
How do you attach candy eyes to treats?
There are several options to attach the eyes. One of the easiest options is to melt chocolate chips or candy melts and use them as glue.

You can also use store-bought icing gel or make royal icing. Let the "glue" dry thoroughly so the eyes do not slide off the cookies.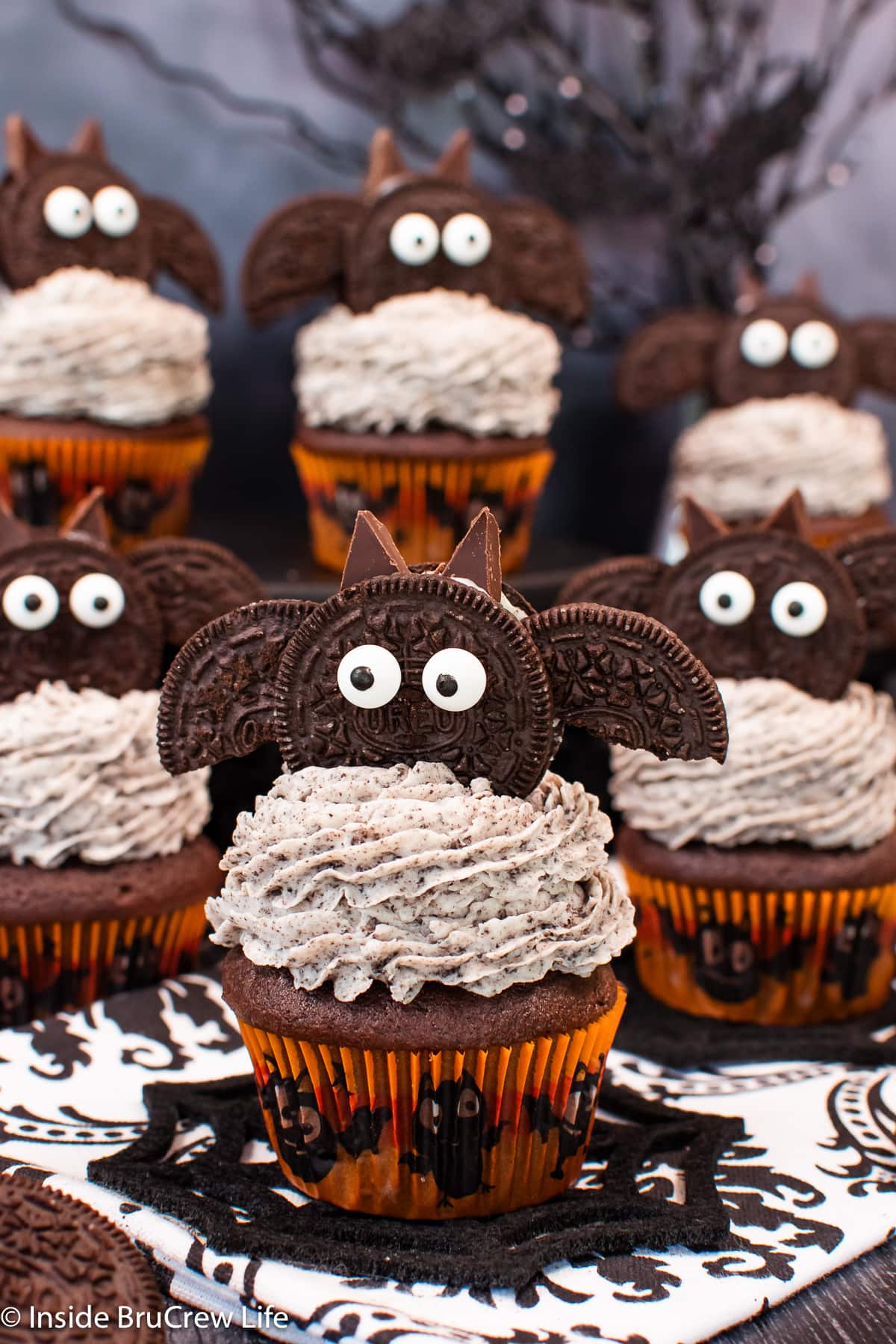 Other Adorable Halloween Treats
Do you love a recipe you tried from Inside BruCrew Life?
Please leave a 5-star ⭐️ rating and a review in the comments section below.