This easy Ham and Tomato Egg Bake is the perfect breakfast or brunch casserole. It is full of veggies and protein and tastes delicious.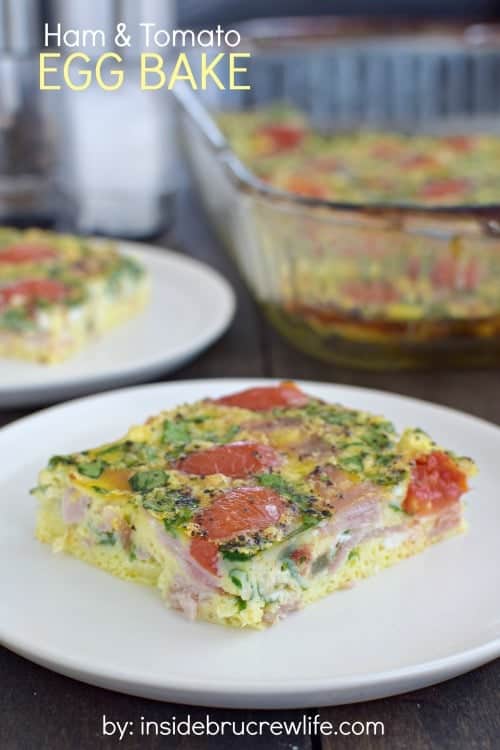 Have you made some healthy eating goals this year? Notice I didn't say resolutions. Why is it that goals seem easier to work for than sticking to a resolution? If I set goals, I tend to reach for them harder. A resolution seems to be something that I do not follow through with as well.
Over the past year, my husband and I have been trying to eat healthier and stick to a good gym routine. When I started, I never thought I would say I liked working out. Shhhhh! Don't tell my hubby that! I like to pretend I'm mad at the world when I'm throwing those 20 pound balls around and lifting weights and kettle bells. It just makes it a little bit easier to get through the work out of the day.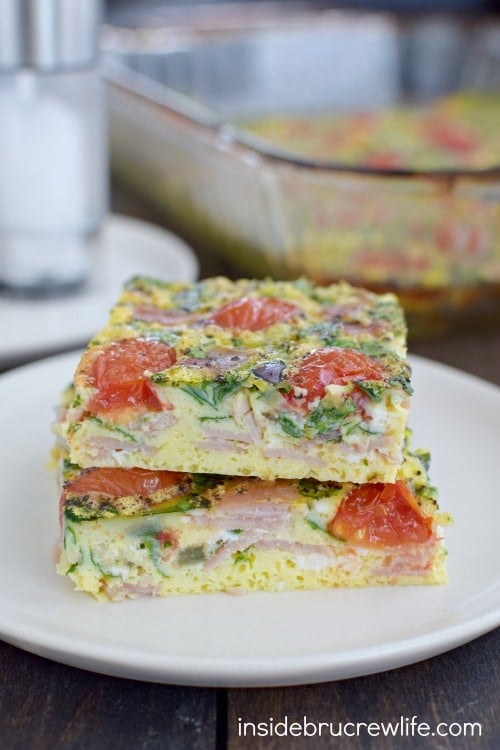 Along with working out, comes eating better. Another thing I have to admit is that when I eat better, I do feel better. Now don't get me wrong there are still the occasional homemade brownies and pudding cookies that call out to me and have to be devoured. These days though I am working more on moderation in what I eat, instead of cutting entire food groups out. One brownie isn't going to derail my daily eating like a whole pan would.
One thing that we like to keep on hand each week is an egg bake. This is an easy breakfast to make at the beginning of the week and have ready all week long. Usually I make mine in a 9x13 pan and cut it into 12 squares. It's the perfect amount for both my husband and I to divide up for the week. These eggs also freeze really well. Place them on a parchment paper lined tray for about an hour, and then transfer each square into individual Ziploc bags.
Egg bakes are great because you can chop up any veggie or protein and whisk it into the eggs. Perfect for keeping those veggies in your fridge used in a timely fashion. I can't be the only one who "loses" veggies each week into that black hole called a crisper. This Broccoli and Cheese Egg Casserole is another one of our favorites to change up what goes into our eggs.
Healthy eating definitely is something you have to work at, but the benefits and results are worth it.
Make sure you visit Food Fanatic to print the recipe for this Ham and Tomato Egg Bake.