Add this fresh and Healthy Pizza Zucchini Salad to your summer picnics and barbecues this year. You are only a few ingredients away from a healthy side dish that everyone will love!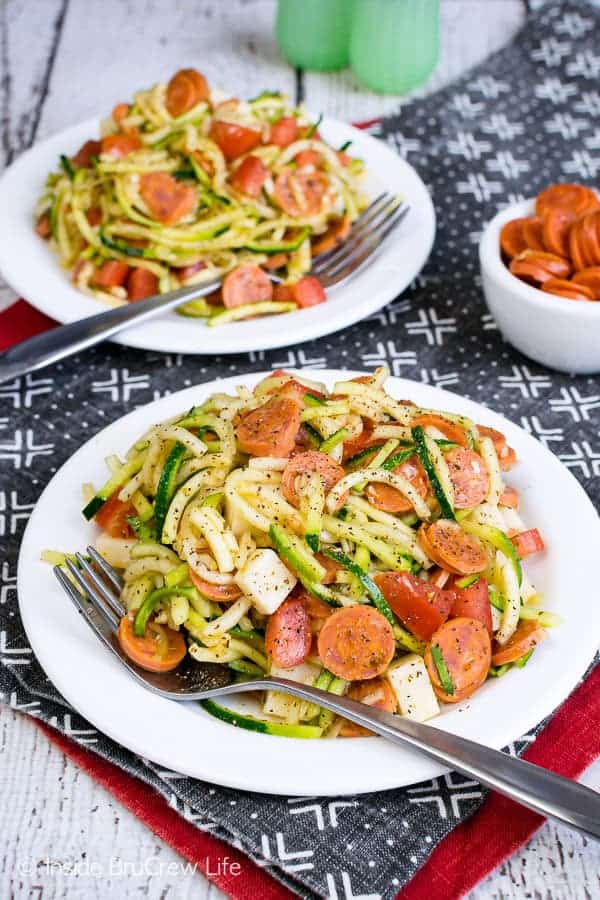 I want to introduce you to my newest food obsession. At the current moment I cannot get enough of these zoodles.
Give me a zucchini, and I'm going to run it through the spiralizer and make salad out of it. The past week we have had this Healthy Pizza Zucchini Salad and another zucchini salad on repeat for every dinner.
And I'm still not tired of it.
Part of me is a little confused though because normally every summer I try to hide these greens in things like Dark Chocolate Zucchini Bread or Double Chocolate Zucchini Muffins.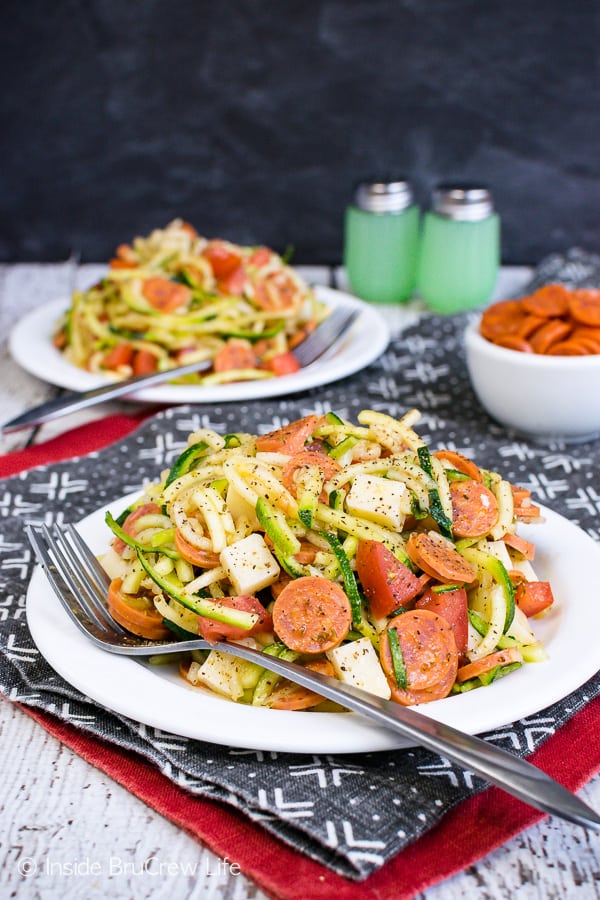 Don't get me wrong. My brain is still going crazy with a few sweet zucchini recipes to share in the next month.
But if I had to choose a way to eat raw zucchini at this very moment, it would be in a healthy salad.
What has happened to me because that doesn't sound like me at all. Me choosing a salad over chocolate? That's just crazy talk.
I blame all the craziness on these Parmesan Garlic Shrimp Zucchini Noodles. Every since I made that for dinner last fall, all I want is savory zucchini.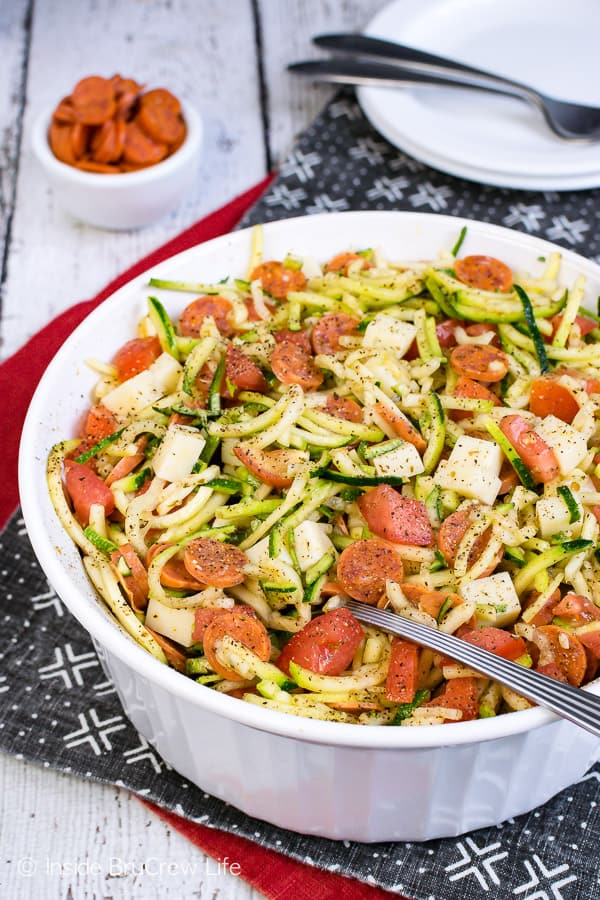 The best part of the salad besides the taste and how quick it is to make is that our kids ate and enjoyed it.
Well, all but the youngest. He snubbed his nose at this green salad. I don't take it personally anymore because he snubs his nose at most things.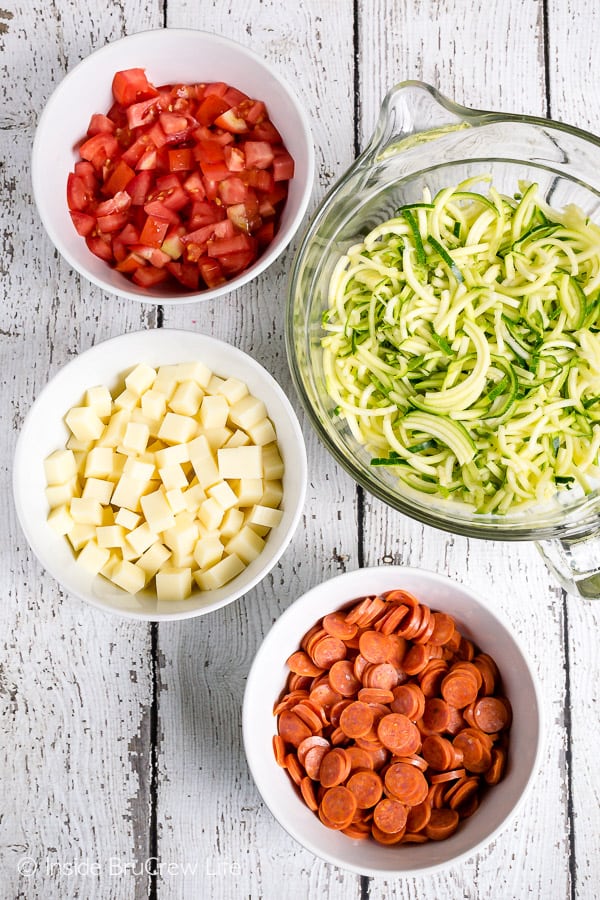 How to make a Healthy Pizza Zucchini Salad:
Spiralize two medium zucchinis. If you don't have a spiralizer, you can also buy zoodles at the grocery store. Most grocery stores sell them in the refrigerated section of the produce section now. You can also use a grater and shred the zucchini.
Use a knife and chop the noodles slightly. Not too much, just enough so they aren't long like spaghetti. (There is no need to chop them if you shred the zucchini.)
Dice a few Roma tomatoes and cube a block of mozzarella cheese.
Stir the tomatoes, cheese, and a bag of mini pepperonis into the zucchini noodles.
Whisk together some oil, vinegar, and oregano and pour it over the noodles. Toss to coat. Refrigerate until dinner time.
Season to taste with salt and pepper right before serving this Healthy Pizza Zucchini Salad for dinner.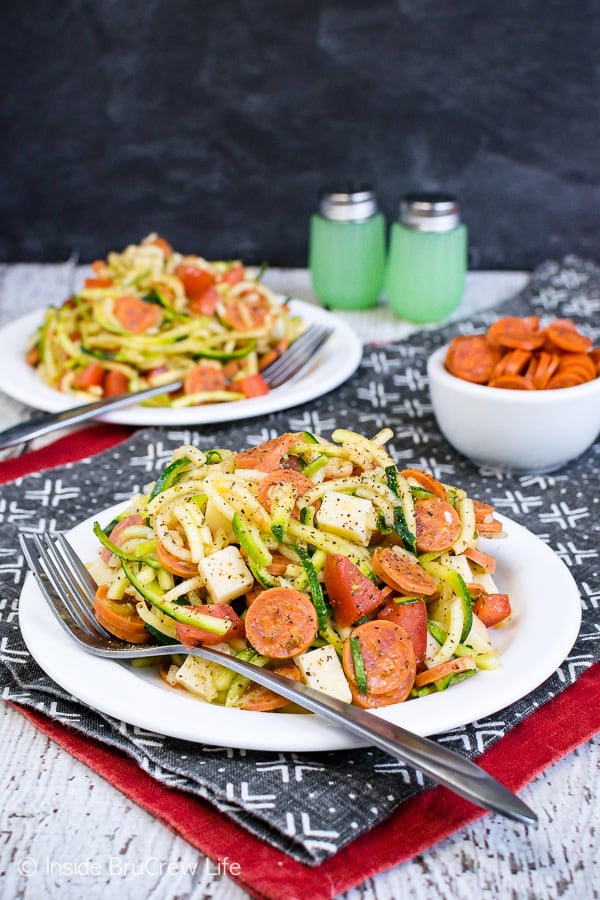 More savory Zucchini Recipes:
The sweet fruit and salty nuts in this Cranberry Zucchini Slaw makes it a refreshing summer side dish for picnics.
Change up taco night with these stuffed Taco Zucchini Boats from Belly Full. I love the fun edible container that a hollowed out zucchini makes.
These Salt and Vinegar Zucchini Chips from Sugar Free Mom are a great snack option when you are doing low carb.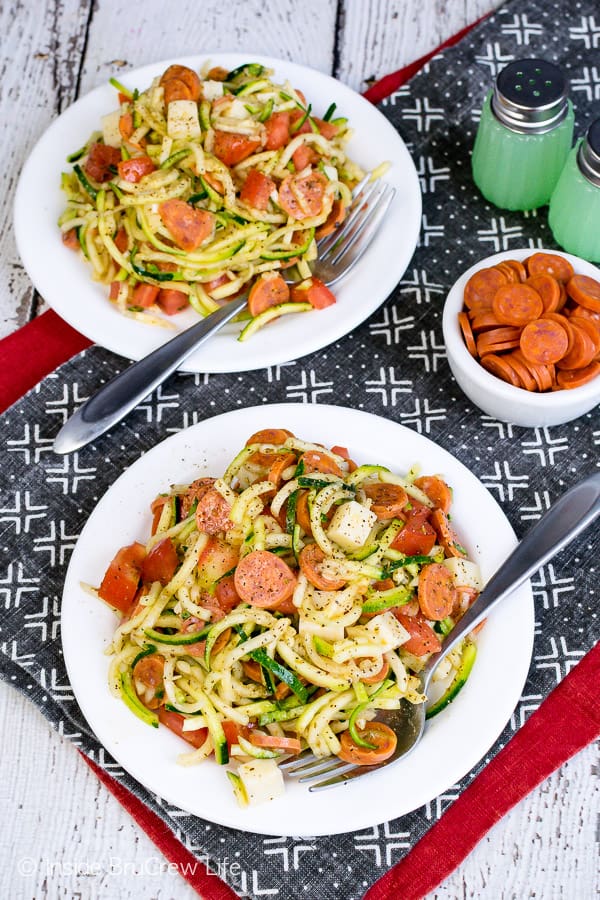 Healthy Pizza Zucchini Salad Recipe: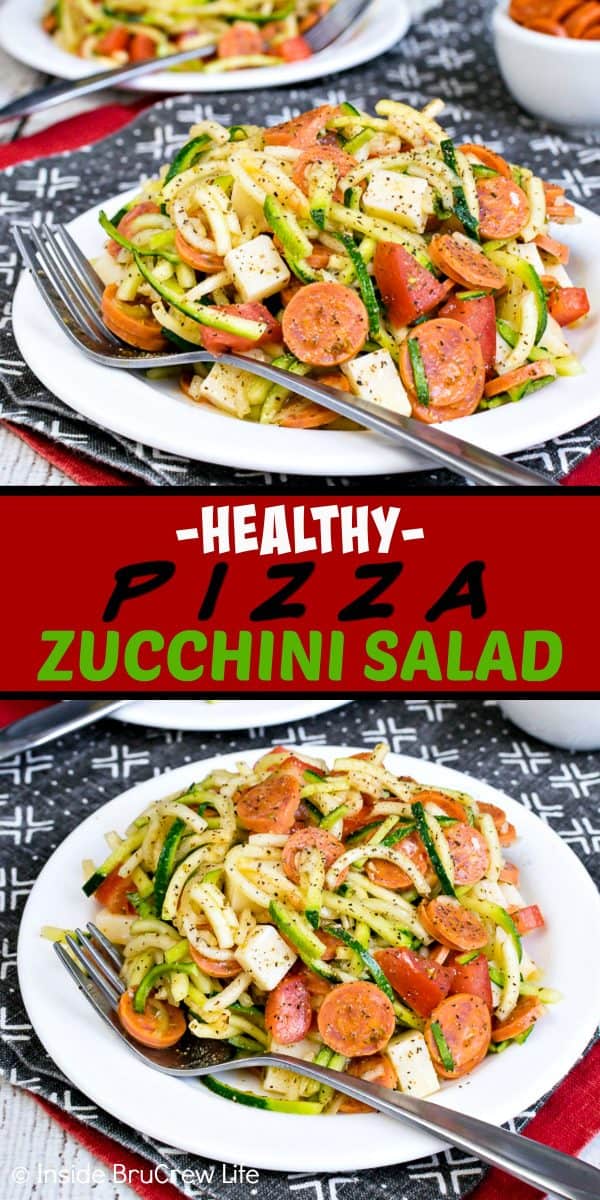 *This post contains affiliate links. Inside BruCrew Life may receive a small percentage from sales made through these free links. As always, these links do not cost you any extra. Thank you for letting us share products we use and love.