These Parmesan Garlic Shrimp Zucchini Noodles are a great choice for dinner when you are eating healthy. This easy low carb meal will keep you on track with your healthy eating goals.
Yes, I totally realize that there is a plate of veggies staring you down right now. Yes, you are on the right blog.
For the past few months we have been doing a different food plan and losing some stubborn pounds by saying no to things like this Snickers Cheesecake Brownie Cake.
When you hit a certain age, those pounds are even more stubborn and like to hang on. But thank goodness my hubby has found a calling in health coaching.
We both have gone through the food program and dropped a total of about 45 pounds together. Later thunder thighs!
We have adopted healthier eating habits for our main meal of the day as part of our journey to get healthy. Most of our lean and green dinners consist of salad and a protein. Sure I could blog it, but it would be very boring.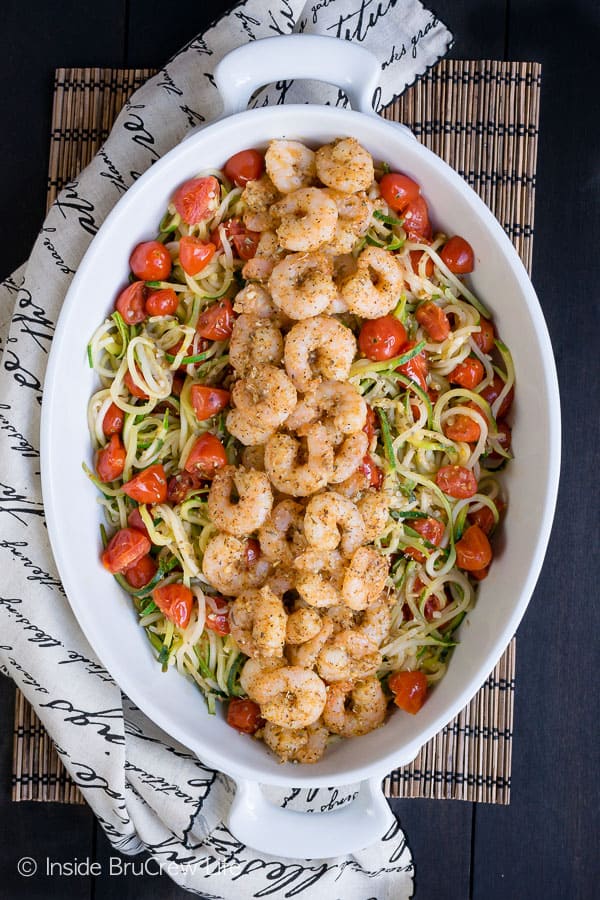 Until today that is. A few years ago I bought a spiralizer. I had every intention of using it right away. Yeah, that was a lie I told myself, just so I wouldn't feel guilty buying a fad kitchen item. That poor little machine sat in our basement for years until we moved.
Then it sat in the laundry room at our new house for another year and a half. Want to know how many times I used it in that time frame?
Once. One stinking time. I finally felt so bad about buying it that I pulled it out and made this Cranberry Zucchini Slaw. Which turned out amazing, so I don't know why I haven't made it more often?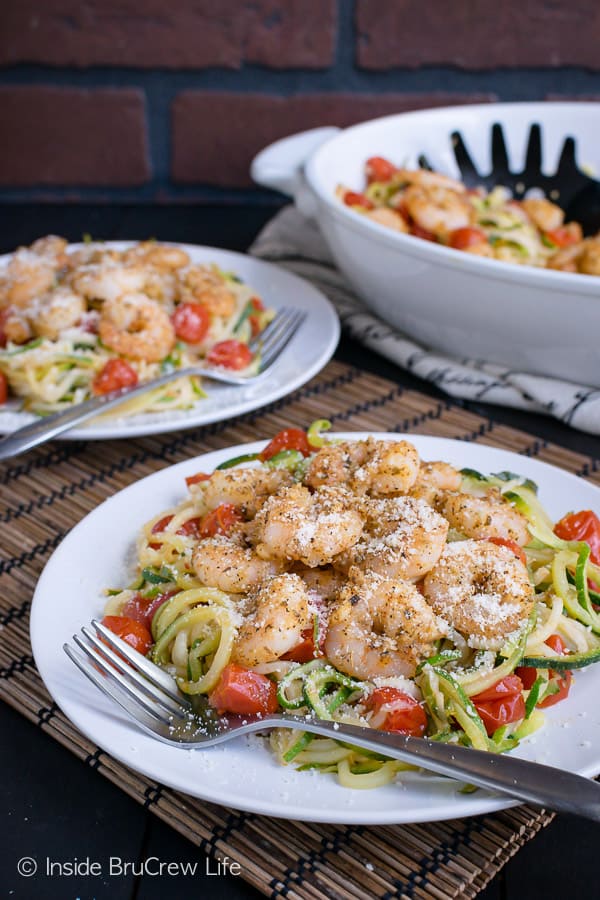 When I got this crazy awesome idea to make a low carb dinner with zucchini noodles, I couldn't wait to pull the spiralizer out of a tote.
Yes, it made another move with us. Although, my hubby tried to put it in the Goodwill box a few times along the way, but I rescued it every time.
And it's a good thing because these Parmesan Garlic Shrimp Zucchini Noodles rocked my world. I'm going to be honest, I wasn't sure how I was going to feel about veggie noodles. But I have to say I was very, very pleasantly surprised.
No, they are not the same as pasta if you are wondering. Not at all. But they were delicious and satisfying, and I'm totally craving them again. True story!
This entire healthy low carb dinner is so easy and can be on your table in less than 30 minutes. I like to prep all my ingredients right before starting to cook anything.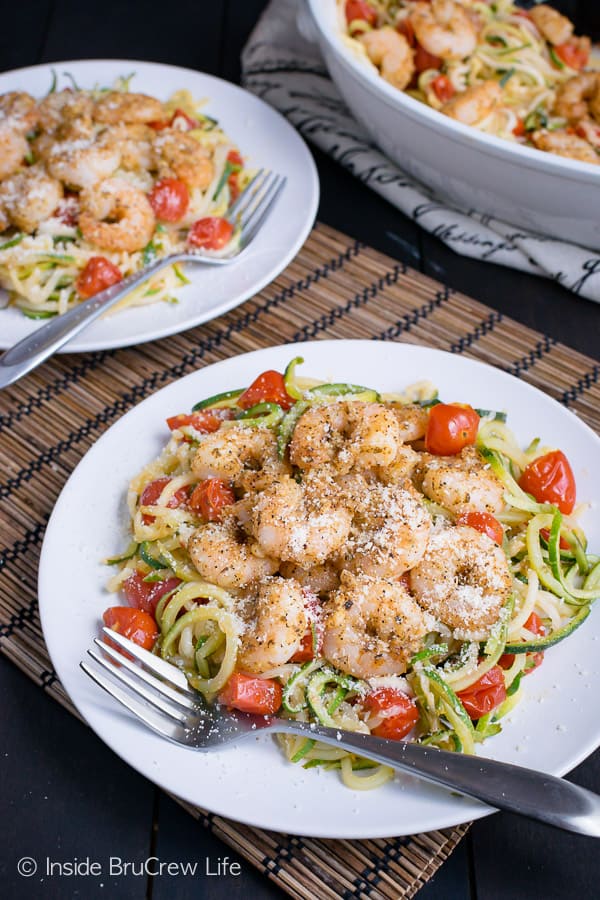 Tips for making Parmesan Garlic Shrimp Zucchini Noodles:
Place the frozen shrimp in a colander and run cool water over them as you cut the veggies.
Cut the tomatoes in half and set aside.
Run the zucchinis through the spiralizer and set them aside too.
Mix together the seasonings for the shrimp.
Now drain and dry the shrimp. And by dry, I really just mean pat them with a paper towel. You just want to remove some excess water.
Place the shrimp in a bowl and toss with the oil and garlic. Then toss it with the cheese and seasonings. Pour on a tray and put it in the oven.
Sauté the veggies in a large skillet while the shrimp is cooking. Make sure to heat your oil up for a minute or two first though.
Both parts of the dinner will finish about the same time. You can drop the shrimp in the skillet and serve it all right from there.
Or get fancy and put the veggies in a nice white serving tray and place the shrimp on top all nice and pretty like. Either way it tastes amazing and gets rave reviews.
This easy lean and green meal has been made a few times at our house, and everyone devours it down. Well, everyone but the picky 13 year old boy who only likes Ramen. I guess you can't please everyone.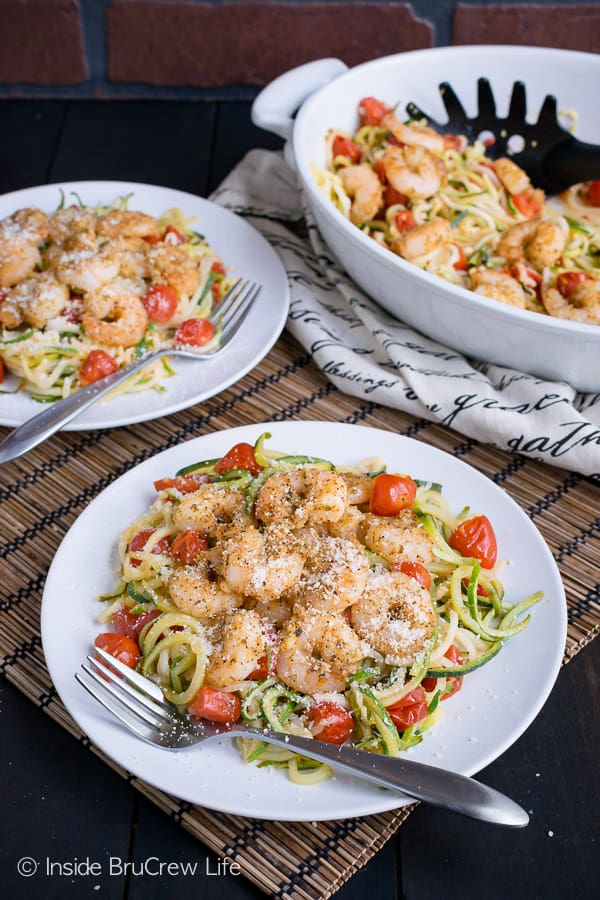 CLICK HERE TO PIN THIS RECIPE FOR LATER!
More easy low carb dinner recipes:
Connect with Inside BruCrew Life! Be sure to follow us on our social media, so you never miss a post.
FACEBOOK | PINTEREST | TWITTER | INSTAGRAM | BLOGLOVIN | EMAIL SUBSCRIPTION
I also created a fun new Facebook group, and I would love for you to join. It's a group where you can share your favorite recipes, ask questions, share photos, and see what's new with the BruCrew. If you would like to check it out, you can request to join HERE.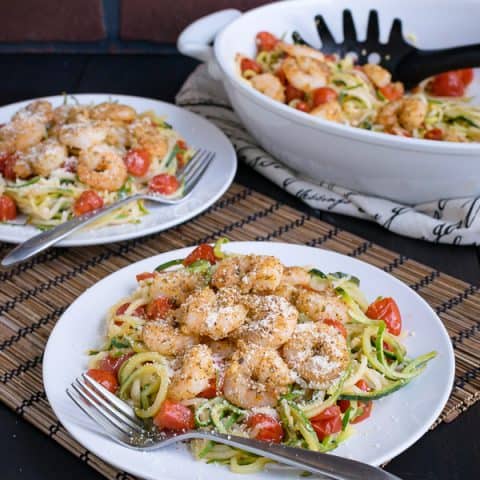 Parmesan Garlic Shrimp Zucchini Noodles
This easy dinner is loaded with lots of fresh veggies and shrimp. These Parmesan Garlic Shrimp Zucchini Noodles are a great lean and green meal to have when you are eating healthy.
Ingredients
16 ounces frozen uncooked medium shrimp
1 cup cherry tomatoes, cut in half
8 cups zucchini noodles (3 medium)
3 Tablespoons olive oil, divided
2 Tablespoons minced garlic, divided
1/2 cup grated Parmesan cheese
1 teaspoon dried oregano
1/2 teaspoon chili powder
1/2 teaspoon salt
1/2 teaspoon pepper
Instructions
Preheat the oven to 400 degrees. Line a large sheet pan with foil.
Place the frozen shrimp in a colander and run cool water over them for 5 minutes to thaw.
Stir together the parmesan cheese, oregano, chili powder, salt, and pepper.
Drain the shrimp and pat them dry with a paper towel. Place in a bowl. Pour 1 Tablespoon oil and 1 Tablespoon garlic on the shrimp and stir to cover.
Sprinkle 1/2 the cheese mixture on the shrimp and stir to coat. Sprinkle the remaining cheese on top and stir again. Pour the shrimp onto the prepared pan and spread out so they are lying flat. Place in the oven for 8-10 minutes.
Pour the remaining oil and garlic in a large skillet. Heat for one minute, then stir in the zucchini noodles and tomatoes. Toss to coat. Continue stirring and tossing the noodles as they saute for about 6-8 minutes.
Serve the hot veggies and shrimp right away. Sprinkle with extra parmesan cheese, if desired.
Nutrition Information:
Yield:

4
Serving Size:

1
Amount Per Serving:
Calories:

333
Total Fat:

16g
Saturated Fat:

4g
Trans Fat:

0g
Unsaturated Fat:

11g
Cholesterol:

250mg
Sodium:

1595mg
Carbohydrates:

14g
Fiber:

3g
Sugar:

7g
Protein:

33g
Nutrition facts are an estimate and are not guaranteed to be accurate. If you need special diet advice, please see a registered dietician.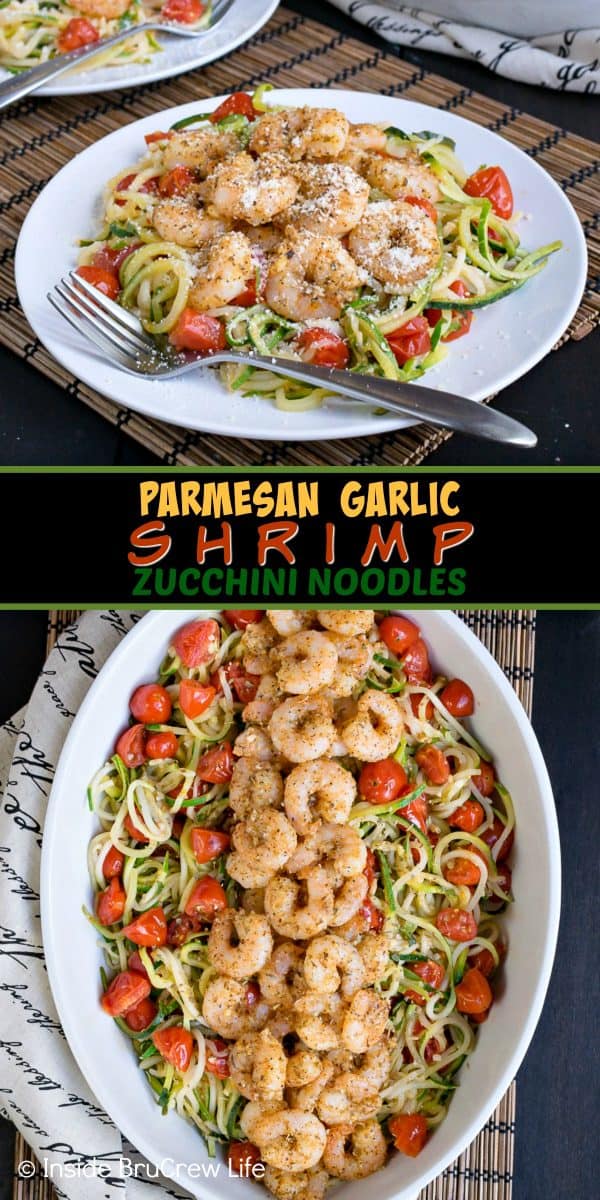 *This post contains an affiliate link. We may receive a small percentage from sales made through these links, but they do not cost you any extra. Thank you for letting us share products we use this way to support our blog.
SaveSave
SaveSave
SaveSave