Chocolate chips and cocoa powder make this Double Chocolate Zucchini Bread so rich and delicious. Plus, it's secretly packed with hidden veggies! Moist and fudgy, it's a delicious way to get your greens without anyone suspecting a thing.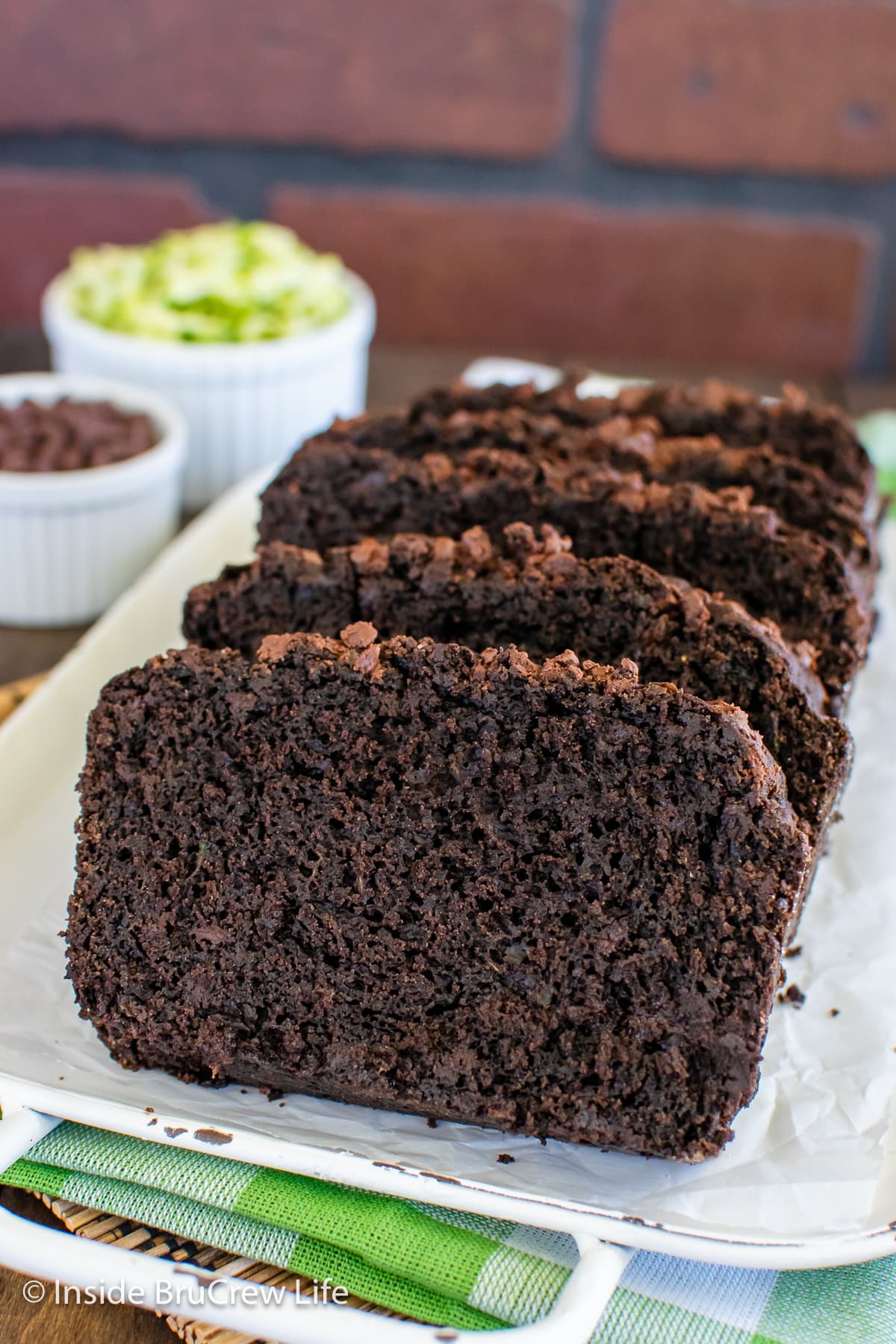 Jump to:
One of my favorite parts about summer is all the fresh zucchini that is available. While I enjoy eating zoodles all year round, I have a special fondness for baking with zucchini.
Zucchini adds moisture to baked goods. It really makes gives chocolate recipes a rich and fudgy texture. I still can't get over how amazing this chocolate zucchini cake is.
I bought a few zucchinis last week with every intention of making a chocolate chip zucchini bread again. But at the last minute, I got a chocolate craving and decided to add cocoa powder. Best idea of the week!
Why This Chocolate Zucchini Bread Recipe Works
We love this double chocolate zucchini bread and so will you. My expert advice is to make two loaves. One to eat today, and one to eat tomorrow. No one will ever suspect veggies are hiding inside this awesome chocolate bread.
Double the chocolate! Dark cocoa powder and chocolate chips make the bread super chocolatey.
Great texture. Zucchini adds moisture to the bread, making it incredibly soft and tender. This sweet bread bakes up moist, dense, and so delicious.
Tastes like cake. The mild taste of the green veggie goes great with the chocolate, making it like a chocolate cake.
Great way to use up zucchini. Zucchini is abundant during the summer months. So, zucchini bread is a fantastic way to use up extra veggies from gardens or farmer's markets.
Main Ingredients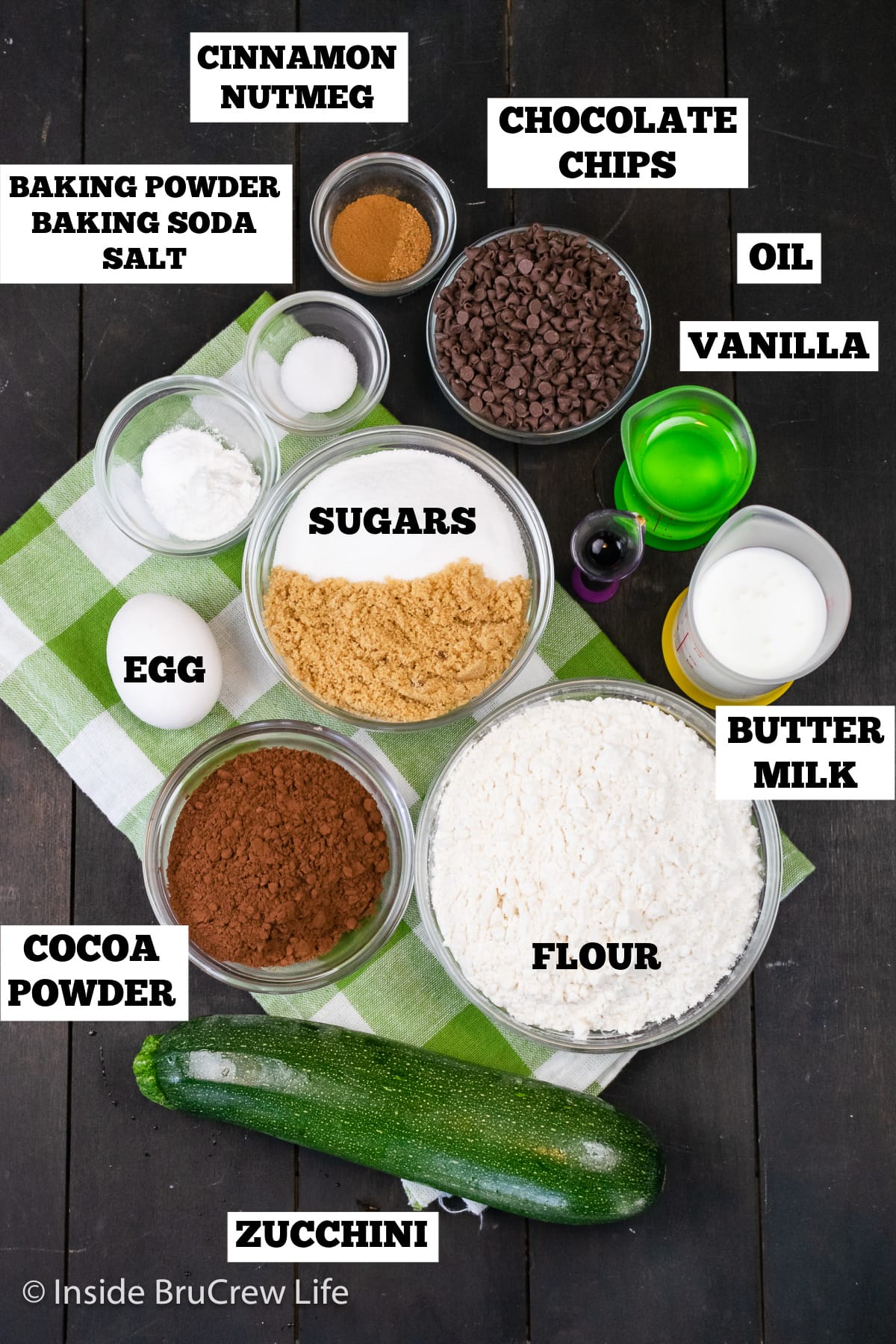 This chocolate chocolate chip zucchini bread is made with basic ingredients you may already have in your kitchen. Adding extra chocolate chips on top means this chocolate bread recipe doesn't need a glaze or frosting.
Sugars - A mixture of granulated sugar and brown sugar makes it sweet.
Canola Oil - Helps make the zucchini bread moist.
Egg - Adds moisture and richness and also helps the bread rise.
Vanilla Extract - Adds flavor. I like to use a pure vanilla, but imitation would be fine.
Zucchini - Use a box grater to grate the zucchini. I like to use the smallest holes, so the pieces disappear into the bread easily. No need to peel the zucchini.
Flour - I use all purpose flour. Any other flour will work, but make sure you follow the substitution recommendations on the package.
Cocoa Powder - Hershey's dark cocoa powder gives this bread a rich chocolate flavor and a dark color.
Baking Powder & Baking Soda - A mixture of these two helps the bread bake tall and puffy.
Spices - Cinnamon and nutmeg add a lovely spice to the chocolate flavor.
Salt - Brings out the flavors and balances the sweetness.
Buttermilk - Adds moisture and also a great flavor.
Chocolate Chips - Use miniature chocolate chips so there are lots of melty chocolate pockets inside the bread. I also like to sprinkle some on the top before baking.
How to Make Chocolate Zucchini Bread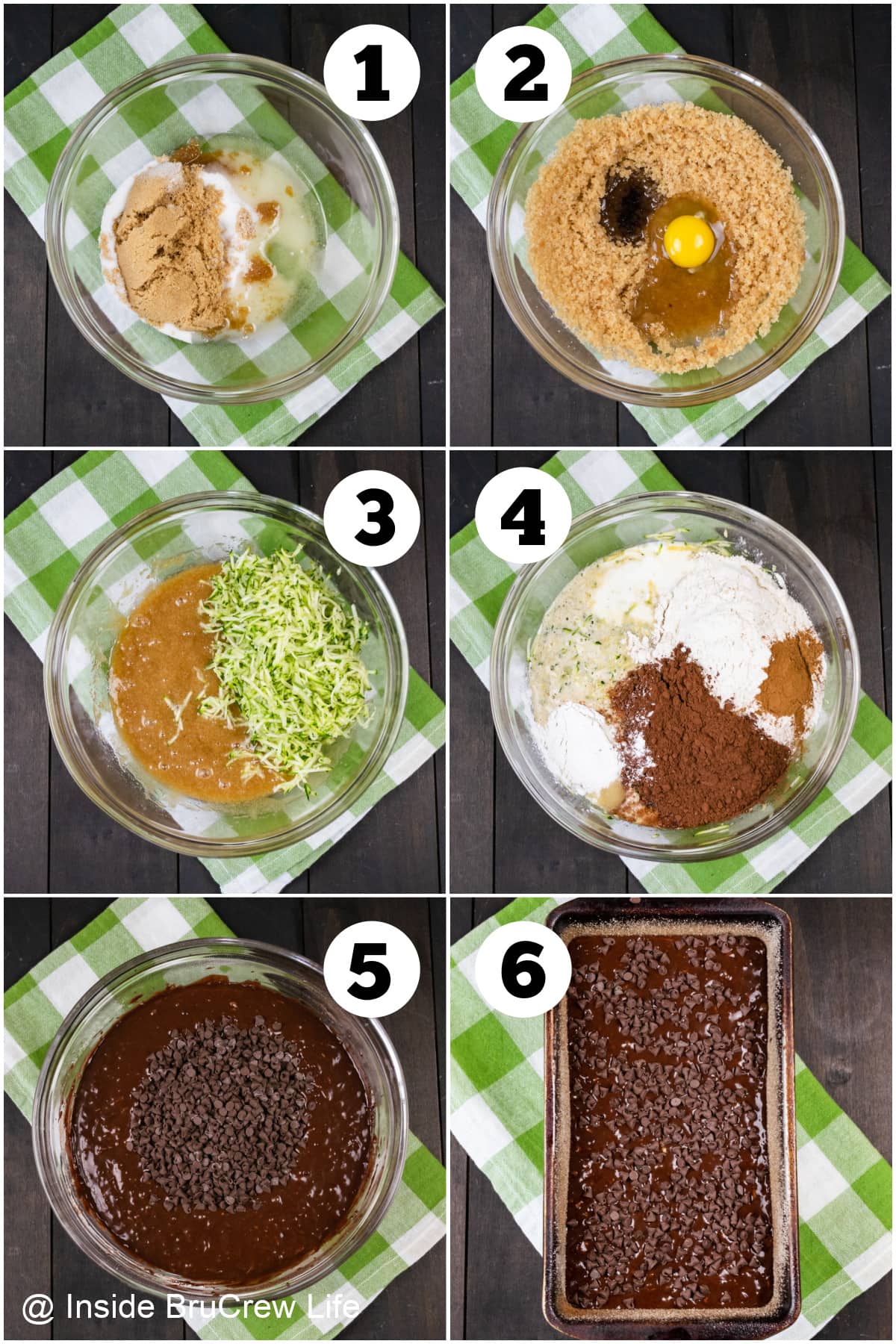 I love this double chocolate zucchini bread because it is so easy to make. The batter comes together in less than 10 minutes. An hour later a decadent, rich, and fudgy chocolate bread is ready to be devoured.
Mix together the oil and sugars in a large bowl until it looks like wet sand.
Add the egg and vanilla and mix again.
Stir the grated zucchini into the wet ingredients.
Add the dry ingredients and buttermilk alternately until a soft batter forms.
Stir in the chocolate chips gently.
Pour the batter into a greased loaf pan and sprinkle with more chocolate chips. Bake for one hour or until done.
BruCrew Tip: Cool the bread on a wire rack for a few minutes, then flip out onto a plate and continue cooling. Make sure to flip the bread back over quickly. This way the chocolate chips do not stick to the plate.
Storage Recommendations
On the Counter - Zucchini bread will keep for 2-4 days on the counter. Make sure to wrap it tightly in plastic wrap or place it in a sealed container.
In the Freezer - Make sure the bread has completely cooled, then wrap it tightly in plastic wrap and foil. Place in a freezer bag and freeze for 2-3 months. Thaw in the fridge overnight before serving.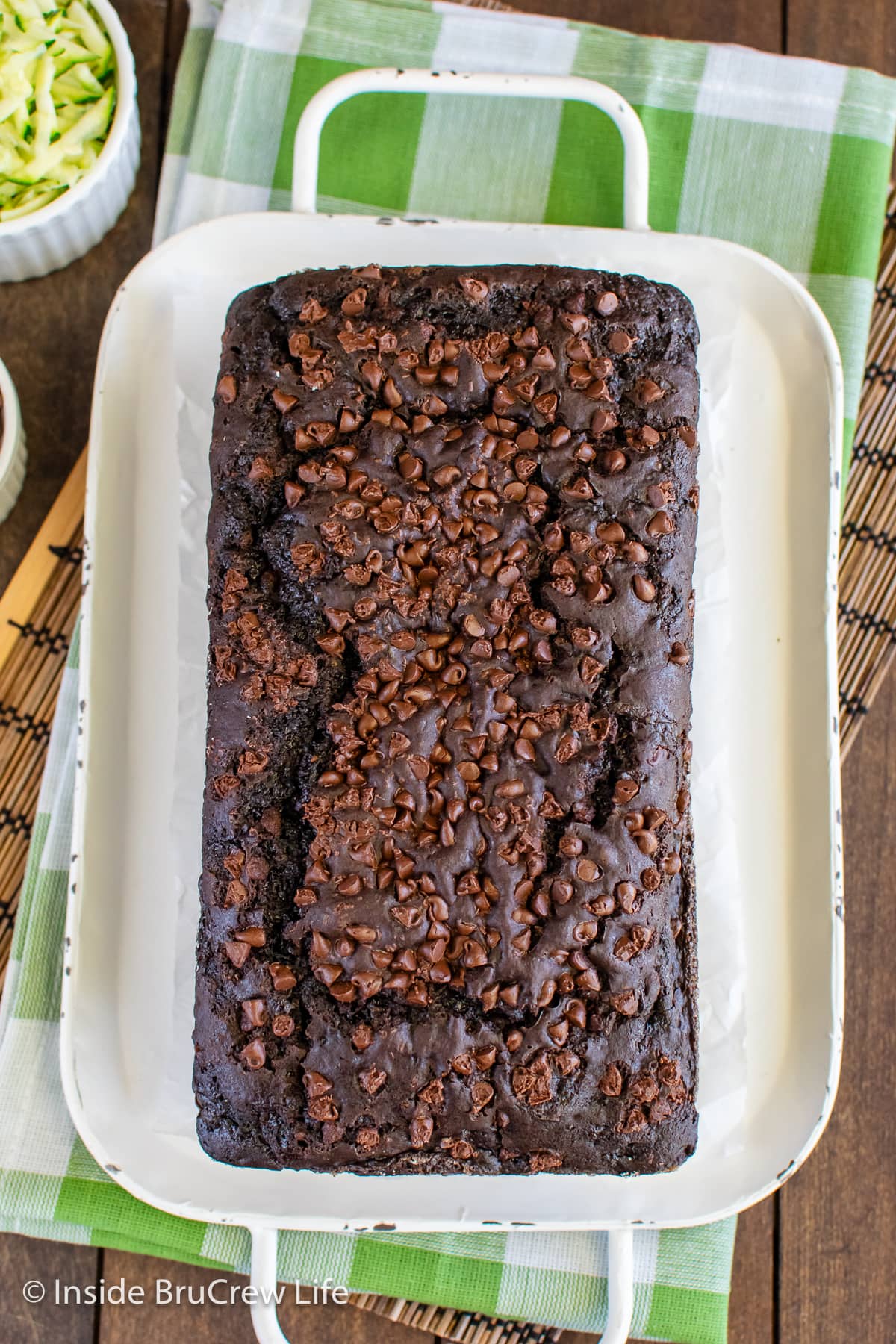 Tips and Tricks
Do not over mix the batter. Stir or mix everything just until combined. Once the dry ingredients have been incorporated, stop the mixer.
Keep the zucchini bread from sticking to the bread pan by using a nonstick baking spray with flour in it.
Sprinkle the greased bread pan with a little bit of cinnamon and sugar. It adds a little bit of crunch to the outside crust of the zucchini bread. Trust me, it's so good.
Do not let the bread completely cool in the pan. Let the quick bread cool in the pan for 10-15 minutes, then flip it out onto a wire rack.
Variations - Add shredded coconut, chopped nuts, or regular chocolate chips to the batter before baking. Milk, semi-sweet, or dark chocolate are all great.
Check the zucchini bread when it gets close to being done. Insert a toothpick in the center. It should have moist crumbs on it, but not raw batter.
FAQs
What is the best way to grate zucchini?
My favorite way to grate or shred zucchini is with a box grater. Most have different sized holes, so you can choose the size of the zucchini pieces. I prefer to use the smallest holes, so the pieces are smaller.
Do you peel zucchini for bread?
No, it's not necessary to peel the zucchini because it magically "melts" into the zucchini bread as it bakes. The pieces are what gives the bread the moist texture.
Why is my zucchini bread dry?
Zucchini bread usually ends up dry from not measuring ingredients properly or over baking the bread.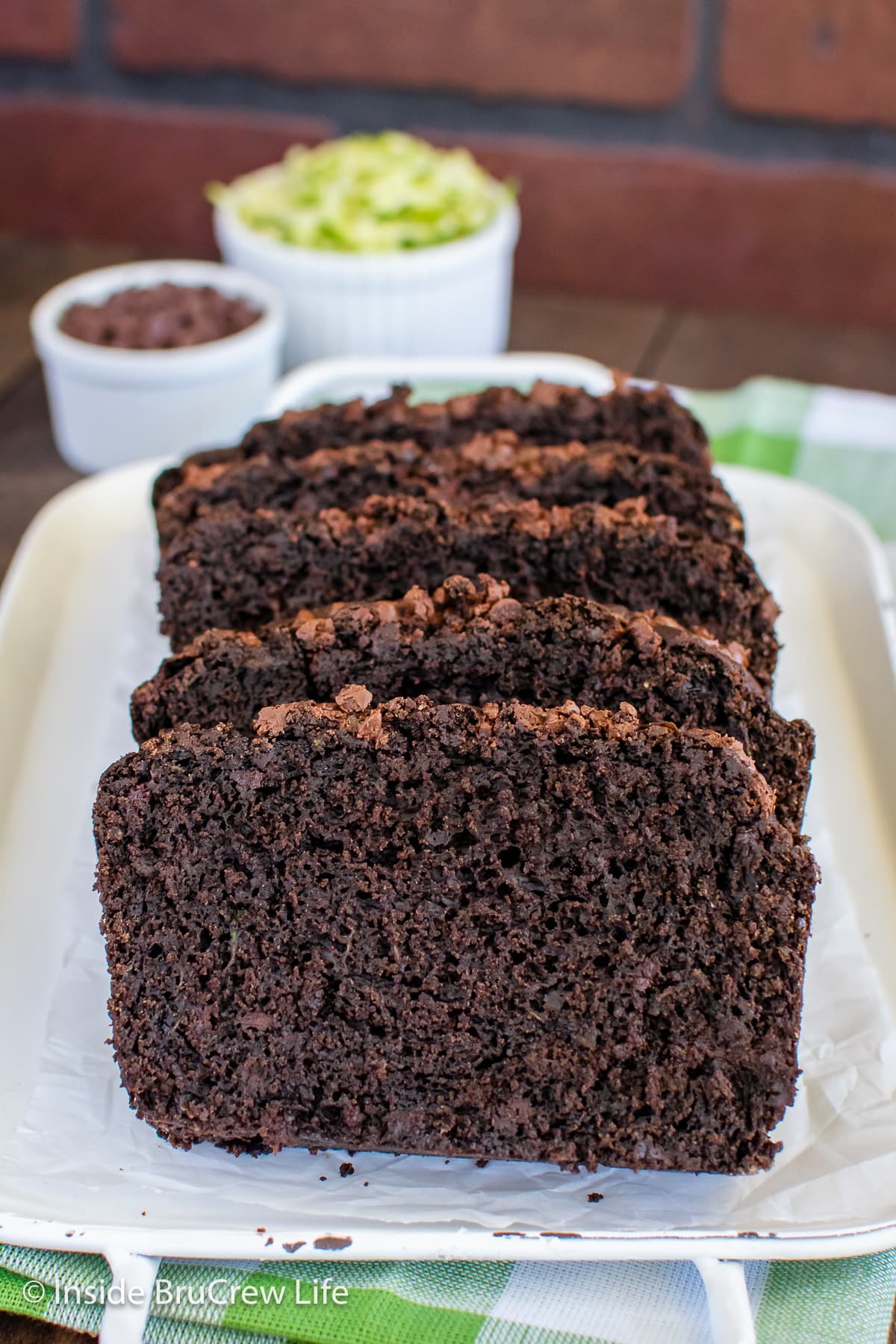 Other Chocolate Zucchini Recipes
Do you love a recipe you tried from Inside BruCrew Life?
Please leave a 5-star ⭐️ rating and a review in the comments section below.
*This post was first published July 2016. It was updated and republished August 2023.