Serve these tart No Bake Mini Key Lime Pies at every summer party or picnic and watch them disappear. Easy bite-sized desserts always make everyone smile.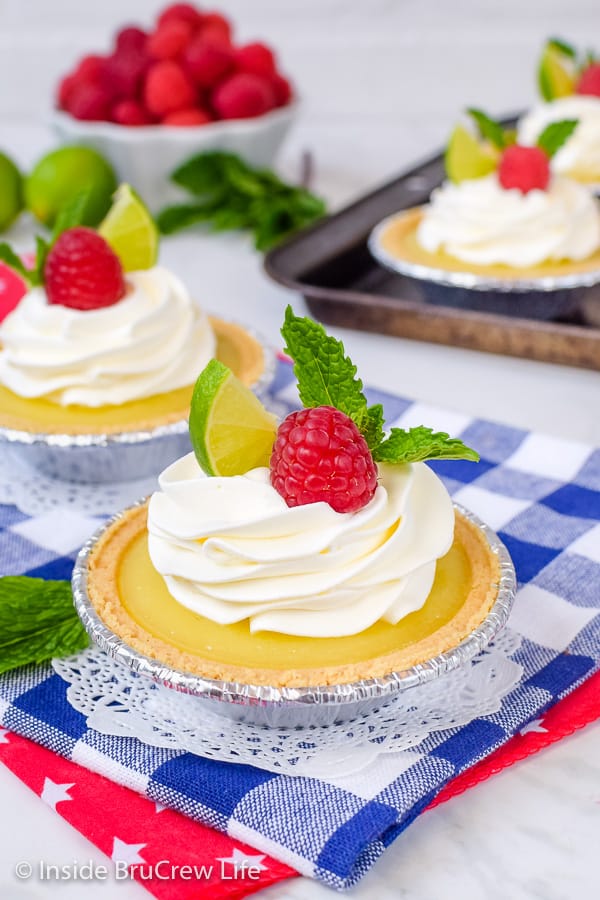 CLICK HERE TO PIN THIS RECIPE FOR LATER!
What is it about key lime that just screams summer and Florida? Oh, yeah, because it's kind of a big deal here. Key lime pie has been the official state pie of Florida since 2006. Just a fun little useless fact for ya.
My first time trying key lime pie was on our honeymoon in Key West many, many years ago. So of course when we were Exploring Key West in a Day last summer, I had to have more key lime pie!!!
And now I'm totally craving it again…maybe it's time for another road trip? Ok, maybe not, so I'll just be in our kitchen making more of these No Bake Mini Key Lime Pies and these Key Lime Bars to satisfy my taste buds.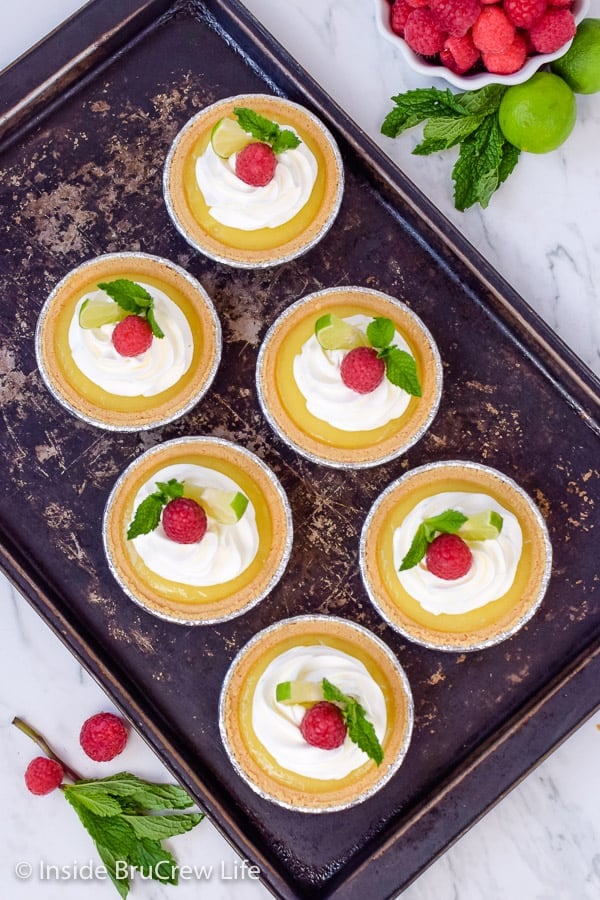 The past few weeks have been crazy hot here, so I haven't been baking as much as I usually do. Our air conditioner has a hard enough time keeping up when the temps outside are over 95 degrees, so I don't want to stress it out by adding more heat inside the house.
Since I still love being in the kitchen and creating delicious recipes, I decided to focus on a few more no bake desserts for right now.
The idea for these easy no bake pies came from these Mini Strawberry Pies. Ok, ok, the ready made crusts were actually my inspiration.
What other crusts can you use for these Mini Key Lime Pies?
Well, obviously to keep this a no bake pie the store bought graham cracker crust is my first choice. You can also make a homemade graham cracker crust and press it in cupcake liners or a tart pan.
An Oreo crust would also be a great option for the key lime curd filling. I think the Golden Oreos or the regular chocolate Oreos would be amazing with this recipe.
Another easy crust would be to buy the mini phyllo shells at the grocery store. Thaw them out and add the filling and toppings.
If you just have to have a flakey pastry crust, go ahead and either buy a refrigerated pie crust or make your own homemade version and bake it ahead of time. Just remember this will take away the no bake part of this recipe.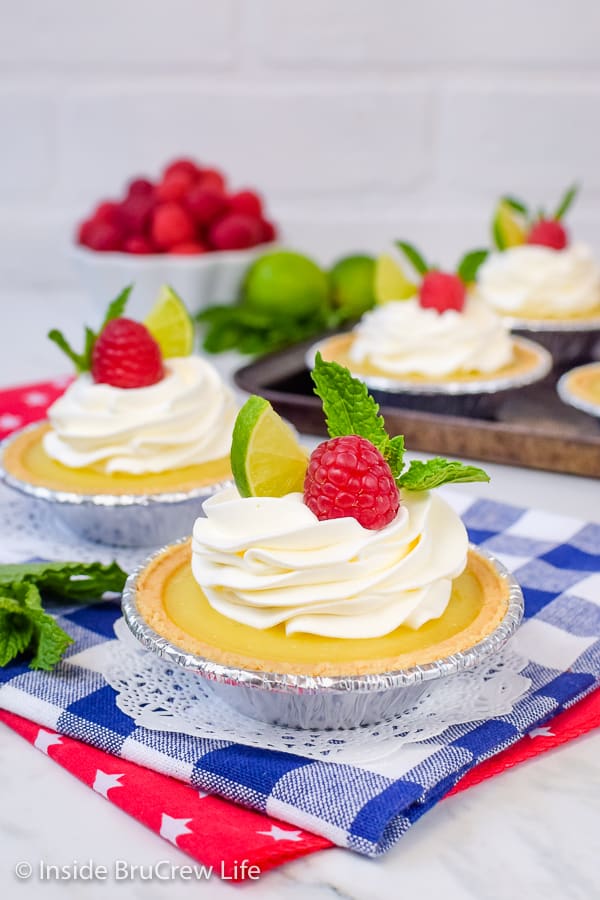 After you have your crust all picked out, it's time to move on to making key lime curd. It's actually quite simple to make it on the stove top.
Most curd recipes only use egg yolks, but when I was working on Cheesecake Love, I was determined to make a lemon curd that used the egg white too. After a few test batches, I finally made one I loved enough to include in the book.
I used a similar recipe and technique to make an easy key lime filling for these mini pies.
Fun Fact: Most people think key limes are green. They are green when they are picked, but ripe key limes are actually yellow. Key lime juice is also yellow, which is why an authentic key lime pie is yellow not green.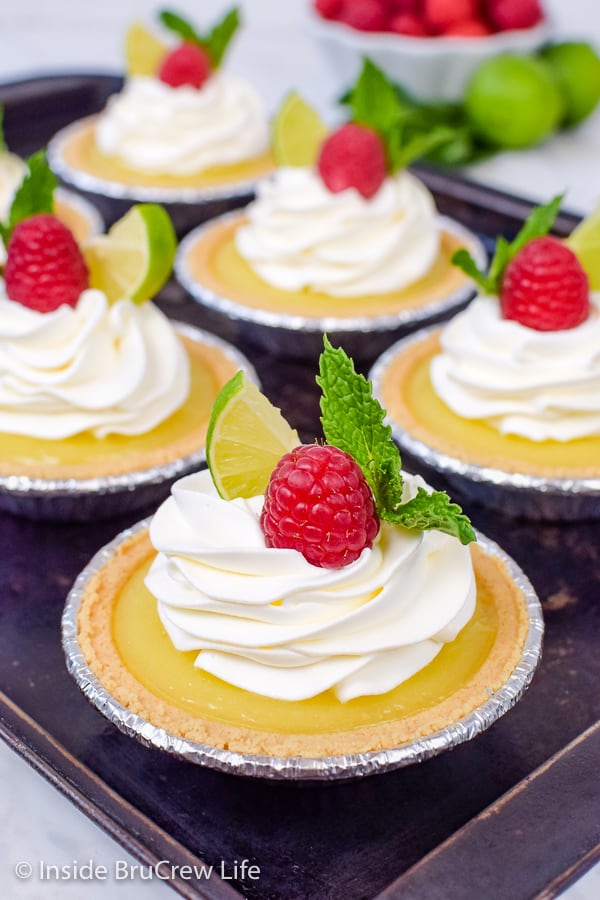 How to make No Bake Mini Key Lime Pies:
Whisk: Mix the eggs, sugar, and juice in a heat proof bowl until well blended.
Simmer: Place the bowl over a pot of simmering water. Make sure the bowl sits high on top of the pan. The bottom of the bowl should not touch the water, and no steam should be coming out around the sides of the bowl. Cook and stir the mixture until it thickens or reaches 180 degrees. This can take anywhere from 5-8 minutes.
Stir: Remove the bowl from the heat and stir in the butter until it is nice and smooth. Butter makes it so silky and creamy.
Pour: Spoon or pour the hot mixture into your mini pie crusts. Place a piece of plastic wrap directly on the surface of the warm key lime curd, the place the pies in the refrigerator until they are completely chilled.
Garnish: Swirl homemade whipped cream or Cool Whip on top of each mini pie and top with a fresh raspberry, key lime slice, and a mint leaf.
What is the difference between lime and key lime?
Key limes are much smaller than a regular lime. They also have a stronger, floral aroma and a thinner rind than the Persian limes. It also has a unique flavor making it much different when compared to other limes.
Can you substitute lime juice for key lime juice?
You sure can. It will definitely have a little bit different taste, but the texture will be the same. A rule of thumb is to use equal portions of lemon and lime juice together in place of the key lime juice.
Do you need to refrigerate a key lime pie?
The filling in these pies is egg based making it like a pudding or custard, so I recommend refrigerating it to keep it from spoiling.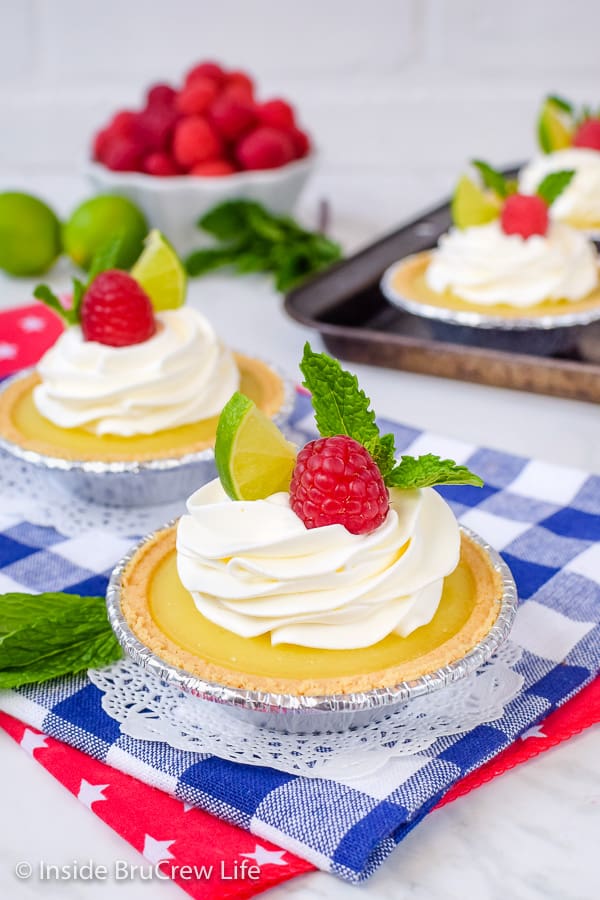 How do you eat homemade Key Lime Curd?
The first thing I usually do is reach for a spoon. It's so thick, creamy, and delicious. Kind of like eating key lime pudding!
Other ways you can eat it is spread it on toast, swirl it in yogurt, spoon it on ice cream, dip graham crackers in it, or layer it with no bake cheesecake and cookie crumbs for a pretty little parfait.
What can you make with the extra Key Lime Juice?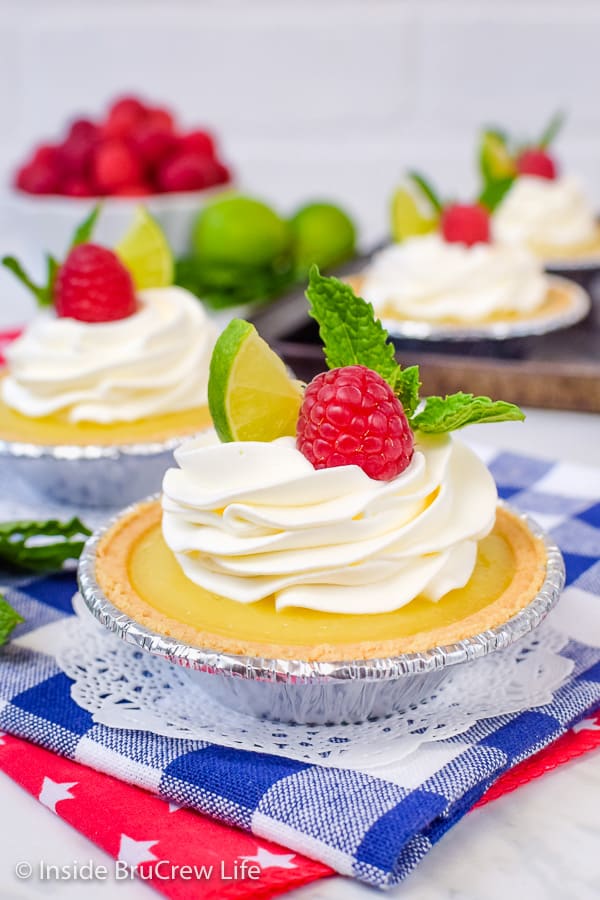 Connect with Inside BruCrew Life! Be sure to follow us on our social media, so you never miss a post.
FACEBOOK | PINTEREST | TWITTER | INSTAGRAM | BLOGLOVIN | EMAIL SUBSCRIPTION
I also created a fun new Facebook group, and I would love for you to join. It's a group where you can share your favorite recipes, ask questions, share photos, and see what's new with the BruCrew. If you would like to check it out, you can request to join HERE.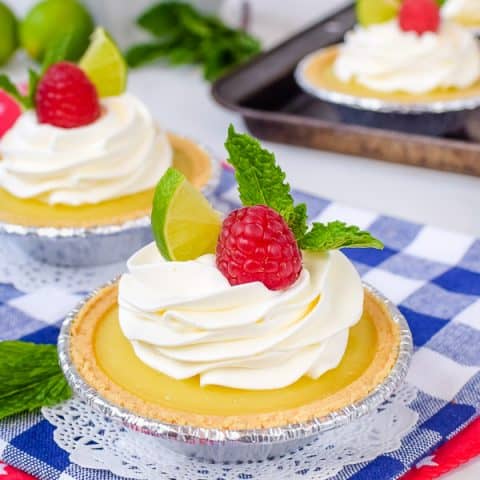 No Bake Mini Key Lime Pies
Serve these tart No Bake Mini Key Lime Pies at every summer party or picnic and watch them disappear. Easy bite-sized desserts always make everyone smile.
Ingredients
2 large eggs
2/3 cup granulated sugar
1/2 cup key lime juice
1/4 cup butter
1 package Keebler Ready Crust Mini Graham Cracker
1 cup Cool Whip
1 fresh key lime, cut into slices
6 raspberries
mint leaves
Instructions
Place a small saucepan with water on the stove and heat to a low boil.
Whisk together the eggs, sugar, and key lime juice in a glass bowl.
Place the bowl over the top of the simmering water. Make sure the bowl fits tightly, so the steam doesn't come out.
Stir the mixture constantly until it reaches 180 degrees and thickens.
Remove from the heat and stir in the butter until smooth.
Spoon the key lime curd evenly into the mini graham cracker crusts. Press a small piece of plastic wrap on top of each pie, directly on the surface. Refrigerate until chilled.
Remove the plastic wrap. Use a piping bag and icing tip 1M to swirl Cool Whip on top of each pie.
Top with a key lime slice, raspberry, and mint leaves right before serving.
Nutrition Information:
Yield:

6
Serving Size:

1
Amount Per Serving:
Calories:

338
Total Fat:

17g
Saturated Fat:

9g
Trans Fat:

0g
Unsaturated Fat:

4g
Cholesterol:

82mg
Sodium:

207mg
Carbohydrates:

43g
Fiber:

2g
Sugar:

32g
Protein:

3g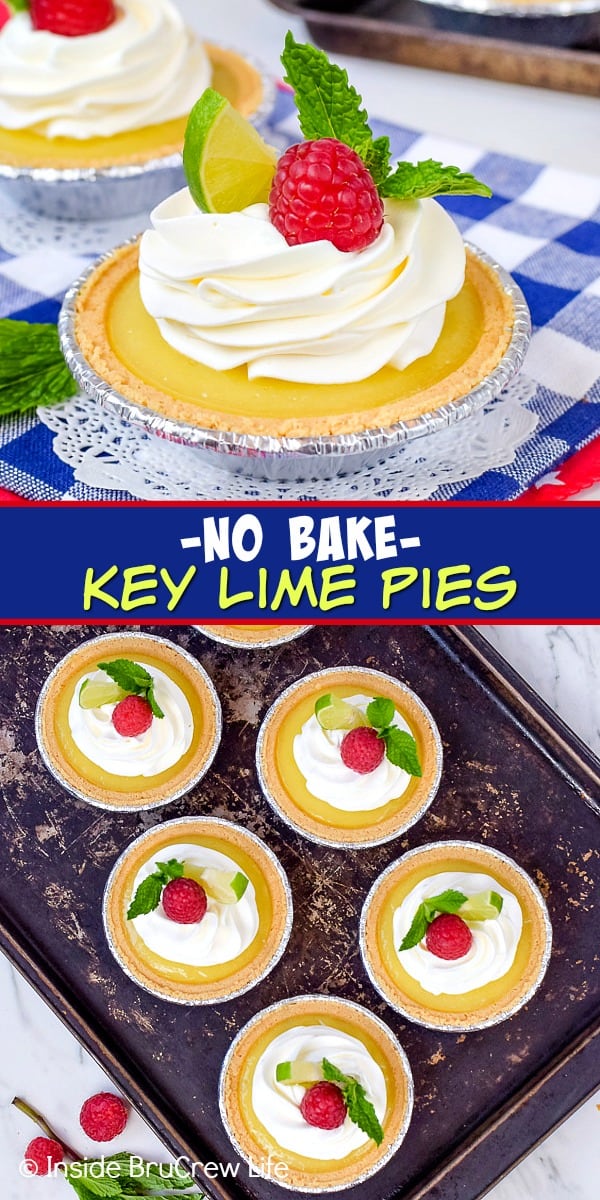 *This post does contain affiliate links. Inside BruCrew Life may receive a small percentage from sales made through these links. As always, these free links do not cost you any extra. Thank you for letting us share products with you this way.