Serve these pretty no bake Mini Key Lime Pies at every spring or summer party and watch them disappear. The sweet yet tart flavor is perfectly balanced with a swirl of whipped cream and berries.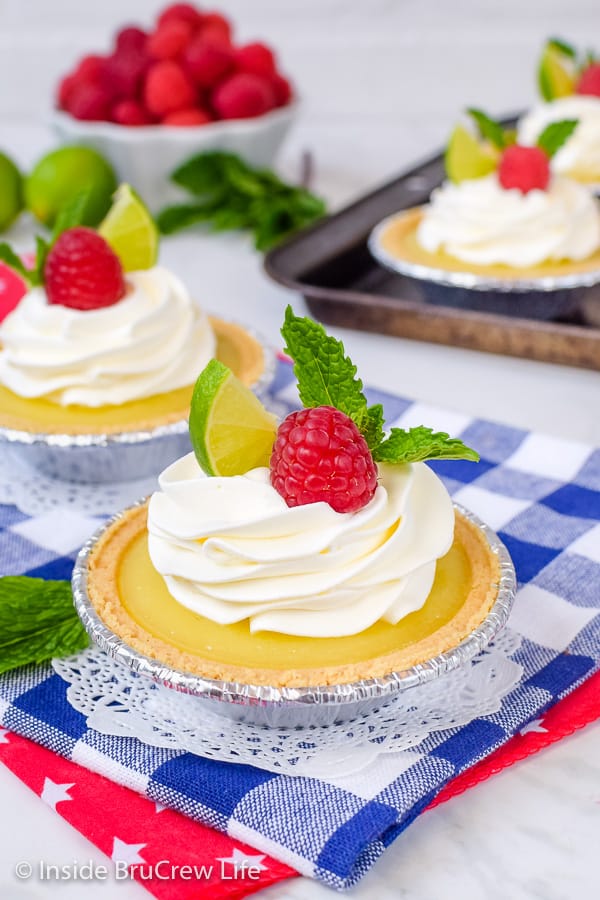 What is it about key lime that just screams summer and Florida? Oh, yeah, because it's kind of a big deal here. Key lime pie has been the official state pie of Florida since 2006.
When it is hot outside, I enjoy making no bake desserts, so we don't have to turn the oven on. Some of our favorites are these fruit parfaits and this pina colada fruit dip.
I found a package of store bought crusts and a bottle of key lime juice in our pantry the other day. So I decided to make a fun little no bake pie with them.
These mini no bake strawberry pies always get rave reviews, so I decided to make a key lime version.
Fun Fact: Most people think key limes are green. They are green when they are picked, but ripe key limes are actually yellow. Key lime juice is also yellow, which is why an authentic key lime pie is yellow not green.
Why You Will Love This Recipe
The tart lemon curd is easy to make on the stove top with just a few ingredients.
Using a store bought crust saves time and energy. All you do it pour the filling into them and let them chill.
A swirl of Cool Whip, fresh fruit, and mint leaves makes the little key lime pies so pretty. They will definitely be the first dessert that everyone will grab at parties and picnics.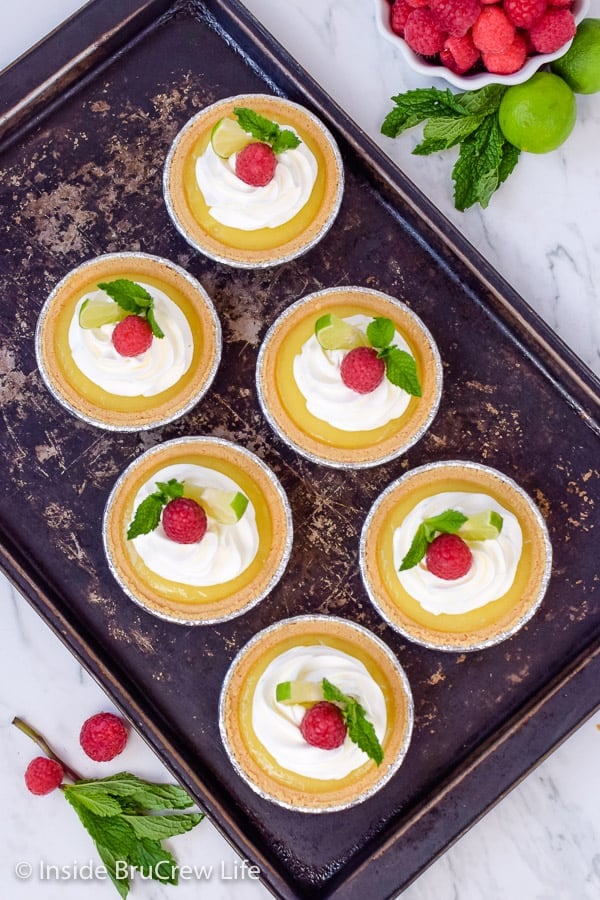 What You'll Need
With just a few simple ingredients, you can make a batch of mini pies for dessert. Don't forget the whipped cream and raspberries for a pretty garnish.
Granulated Sugar - Sweetens the tart filling.
Key Lime Juice - Our favorite is Nellie & Joe's Key West Key Lime Juice. You can find it in most grocery stores in the juice aisle.
Eggs - You are going to use two whole eggs for this key lime curd. No need to separate or waste ingredients.
Butter - Unsalted butter adds a rich, creamy texture to the curd.
Graham Cracker Crusts - Feel free to buy a package of ready made crusts or use this graham cracker crust recipe and press it in cupcake liners or a tart pan.
Toppings - A swirl of Cool Whip, fresh raspberries, key lime slices, and mint leaves make these mini pies so pretty. Feel free to make this home made whip cream, if you prefer.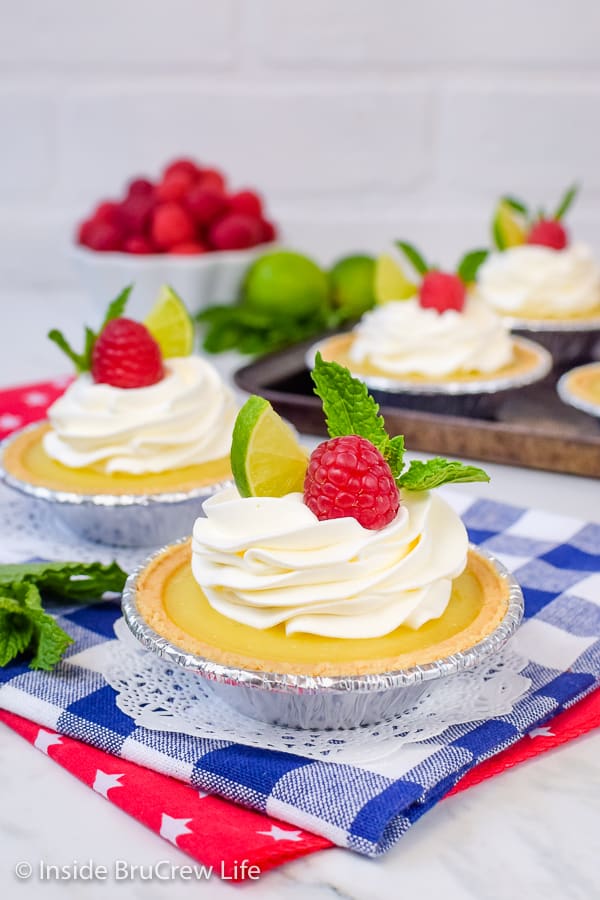 How to make Mini Key Lime Pies
Whisk: Mix the eggs, sugar, and juice in a heat proof bowl until well blended.
Simmer: Place the bowl over a pot of simmering water. Make sure the bowl sits high on top of the pan. The bottom of the bowl should not touch the water, and steam should not come out around the sides of the bowl. Cook and stir the mixture until it thickens or reaches 180°. This can take anywhere from 5-8 minutes.
Stir: Remove the bowl from the heat and stir in the butter until it is nice and smooth. Butter makes it so silky and creamy.
Pour: Spoon or pour the hot mixture into your mini pie crusts. Place a piece of plastic wrap directly on the surface of the warm key lime curd, the place the pies in the refrigerator until they are completely chilled.
Garnish: Swirl homemade whipped cream or Cool Whip on top of each mini pie and top with a fresh raspberry, key lime slice, and a mint leaf.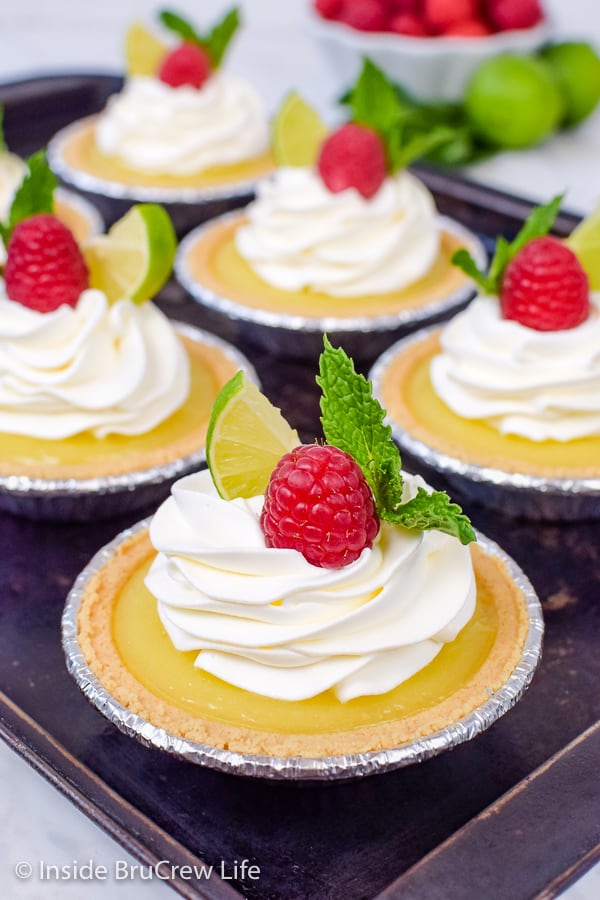 FAQ'S
What is the difference between lime and key lime?
Key limes are much smaller than a regular lime. They also have a stronger, floral aroma and a thinner rind than the Persian limes. It also has a unique flavor making it much different when compared to other limes.
Can you substitute lime juice for key lime juice?
You sure can. It will definitely have a little bit different taste, but the texture will be the same. A rule of thumb is to use equal portions of lemon and lime juice together in place of the key lime juice.
What other crusts can you use for these mini pies?
To keep this a no bake pie the store bought graham cracker crust is my first choice.
An Oreo crust would also be a great option for the key lime curd filling. The Golden Oreos would taste amazing with the key lime curd.
Another easy crust would be to buy the mini phyllo shells at the grocery store. Thaw them out and add the filling and toppings.
If you just have to have a flakey pastry crust, go ahead and either buy a refrigerated pie crust or make your own homemade version and bake it ahead of time. Just remember this will take away the no bake part of this recipe.
Do you need to refrigerate this key lime pie?
The filling in these pies is egg based making it like a pudding or custard, so I recommend refrigerating it to keep it from spoiling.
How do you eat homemade key lime curd?
The first thing I usually do is reach for a spoon. It's so thick, creamy, and delicious. Kind of like eating key lime pudding!
Other ways you can eat it is spread it on toast, swirl it in yogurt, spoon it on ice cream, dip graham crackers in it, or layer it with no bake cheesecake and cookie crumbs for a pretty little parfait.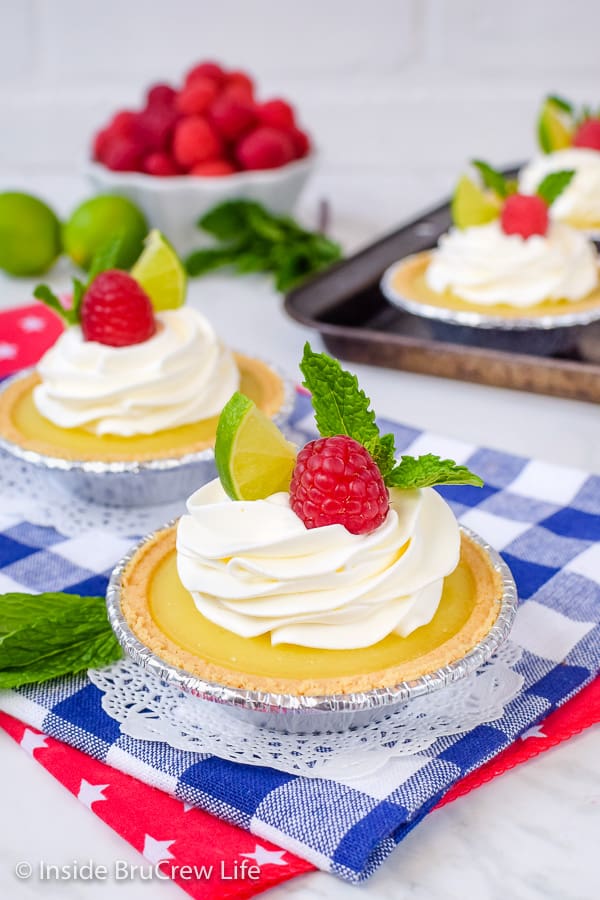 More Key Lime Desserts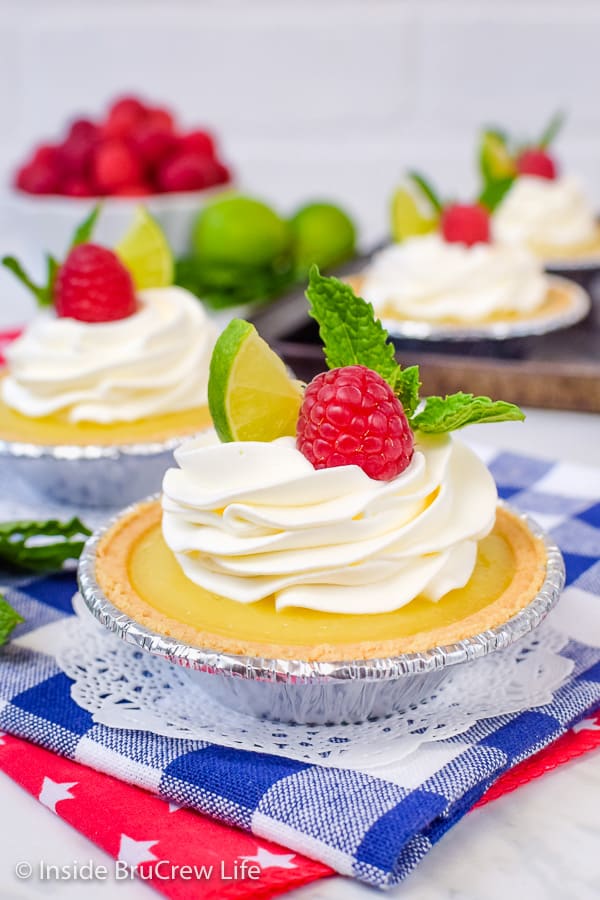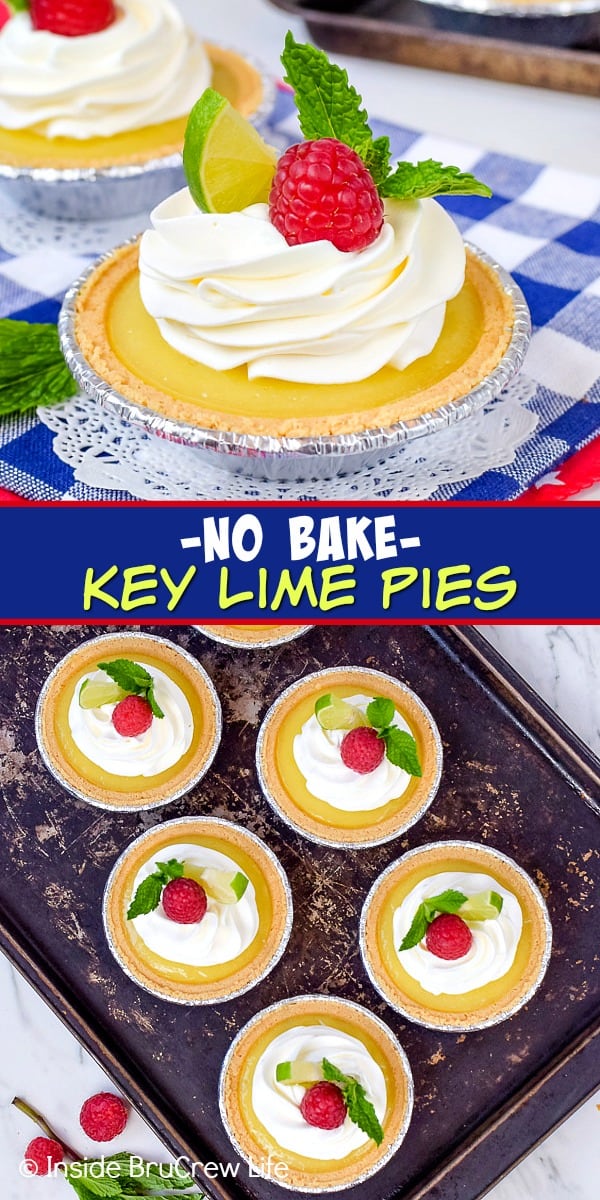 *This post does contain affiliate links. Inside BruCrew Life may receive a small percentage from sales made through these links. As always, these free links do not cost you any extra. Thank you for letting us share products with you this way.