This recipe for No Bake Strawberry Cheesecake is a keeper for all those hot summer days.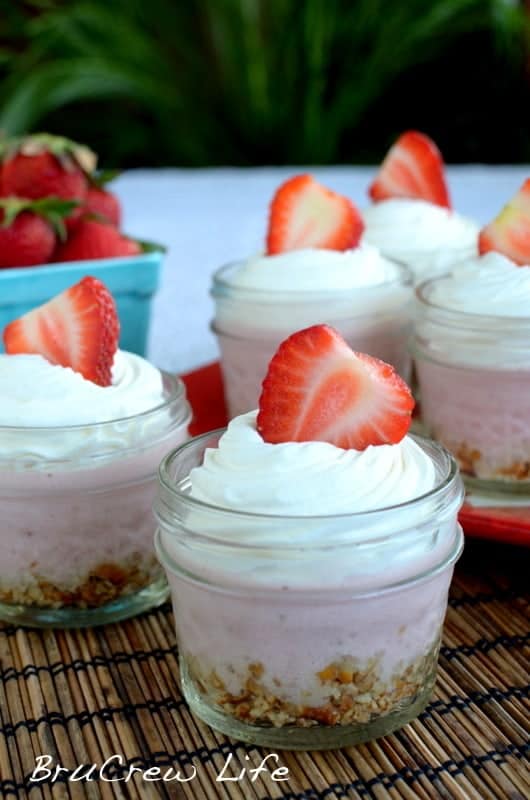 Can it really be the end of March already???
This month is flying by.
And it is time for another SRC.
The blog I was assigned this month for the Secret Recipe Club
I had so much fun going through her blog.
She had so many awesome adventures and pictures to enjoy.
I was in awe of the gorgeous scenery and flowers in her pictures!!!
AND she is amazing in the kitchen too!!!
One day I will make "real" food…
but it is the desserts that speak the most to me!!!
The peach cobbler looked so yummy!
But then so did the chocolate bread pudding.
How do I narrow down the choices?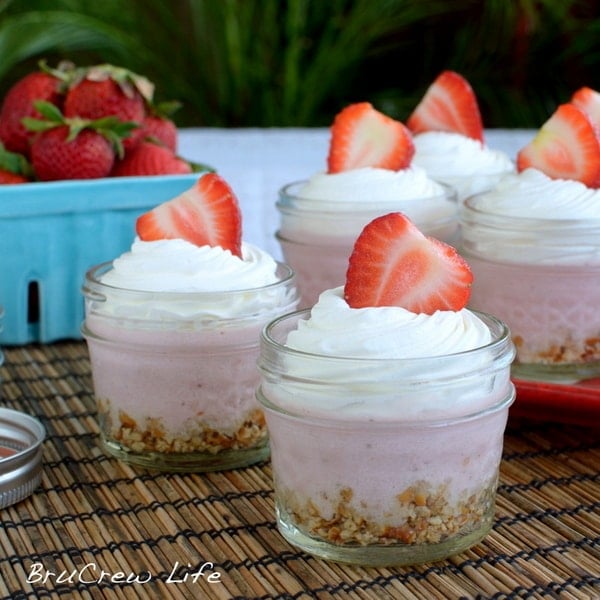 My kitchen is torn apart,
so that had some say in what recipe I could make this time.
(mainly because I waited until the last weekend to finish this…procrastinate much?)
I decided on the no bake strawberry cheesecakes
mainly because I love strawberry, because I love cheesecake,
and mostly because I love that
this recipe only uses a blender!
Who needs an oven anyway
when you can make fun layered jello desserts in cute jars!!!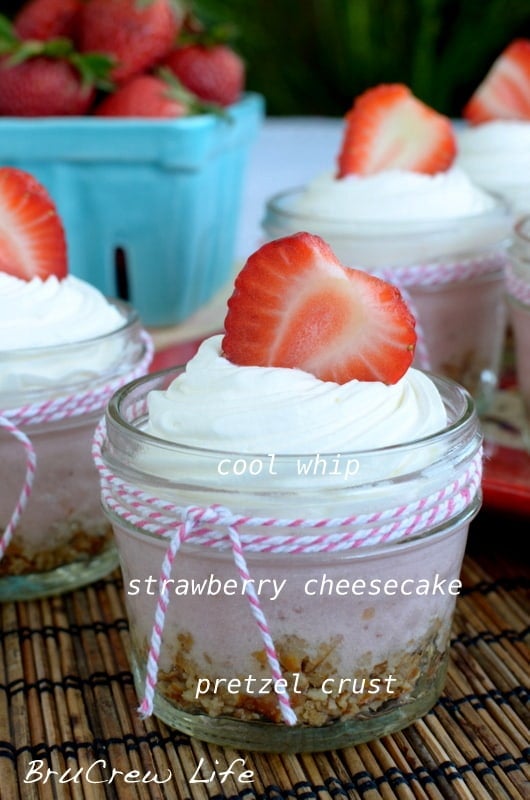 I followed the recipe as much as I could,
but there were a few things I didn't have.
So I substituted with what I could find packed in my boxes.
This will teach me to procrastinate!
Strawberry salad with a pretzel crust is one of our fav summer desserts,
so it just seemed right to have a pretzel crust.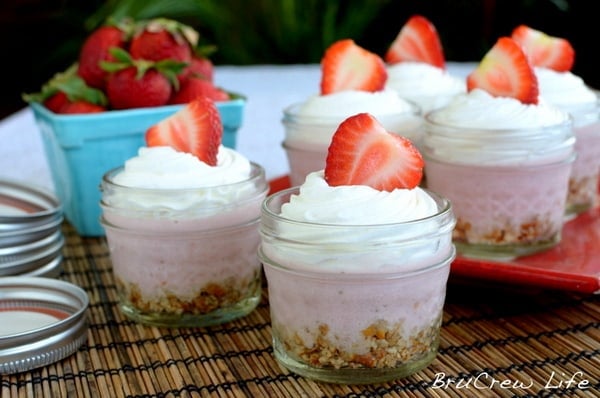 I also modified the ingredient amounts a little bit too,
and added some vanilla.
The end result:
A delicious light dessert in a fun little jar!
It got two thumbs up from all the kids!!!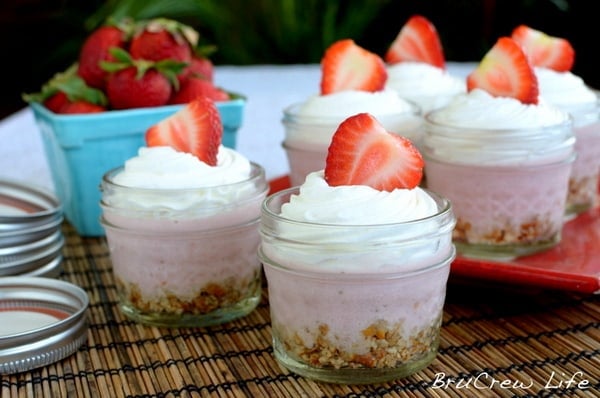 No bake strawberry cheesecakes made with only a blender. Perfect for those hot summer days.
Ingredients
For the Crust

1 c. pretzels, crushed
6 Tbsp. butter, melted
1 Tbsp. sugar
For the Cheesecake

1 Tbsp. plain gelatin (1 pkt. Knox)
1/4 c. warm water
1 1/4 c. fresh strawberries, sliced
1 1/4 c. cottage cheese
1/4 c. vanilla yogurt
1/2 c. sugar
1/2 tsp. vanilla
Instructions
Combine crushed pretzels, melted butter, and sugar in a bowl. Spoon into 10 small glass jars (4 oz. Mason jelly jars) and press into the bottom. Set aside.
Combine the gelatin and warm water in a small bowl. Stir until dissolved. Set aside.
Place the strawberries in a blender and pulse until finely chopped. Add the sugar, yogurt, vanilla and cottage cheese and blend until creamy. Add the gelatin water and blend again. Pour into prepared jars. Refrigerate overnight. It will be a soft set cheesecake. You could also freeze for a thicker consistency. Serve with Cool Whip and strawberry slices, if desired.
https://insidebrucrewlife.com/no-bake-strawberry-cheesecake-src/
Copyright Inside BruCrew Life