These sweet little Matcha Green Tea Cheesecakes are a refreshing treat on a warm, sunny day. The creamy and delicious sweet green tea flavor with a crunchy cookie crust will have you smiling in no time at all.
Not sure green tea is your thing? I suggest trying these Hot Chocolate Cheesecakes for now.
*Love these recipes? Be sure to sign up for the BruCrew email to have these recipes delivered to your inbox each time a new recipe is shared.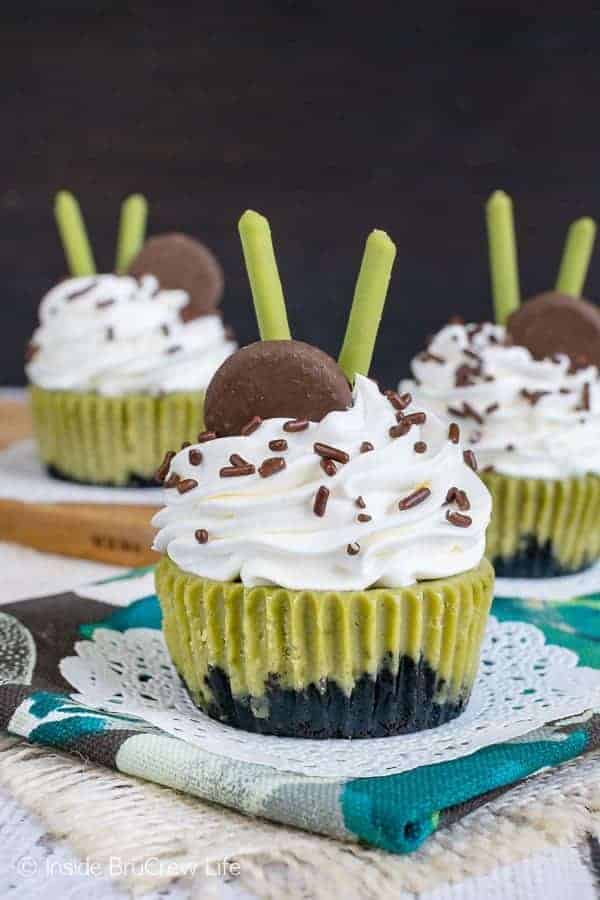 CLICK HERE TO PIN THIS RECIPE FOR LATER!
Say hello to my newest "favorite" thing. Green tea is the newest obsession in our house. Please please please tell me that your favorites change all the time too. Whenever I say something is my favorite my husband just rolls his eyes at me because he knows it will usually be short lived.
Clothes, style, trends, food, and drinks are all subject to being my "favorite" of the moment. A few years ago I was loving layered tanks and cardigans all the time.
I have been purging all the cute cardis that I have accumulated over the past few years. Partly because it's way to warm to wear them in Florida, but partly because my clothing style has change again. Now you will usually find me in flip flops, jeans or shorts, and a t-shirt or tank top because it's comfortable.
I think styles and tastes change and evolve with the current trends too. At least mine do. Anyone else out there with me? Please let me know I'm not the only crazy one who changes things up every year or so.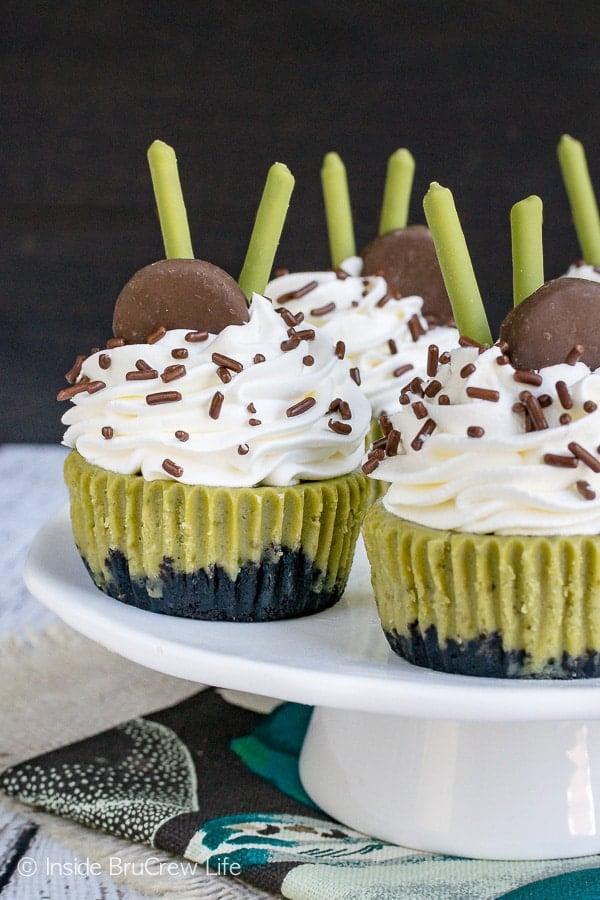 My first introduction to matcha green tea was in a drink from my favorite coffee shop. If you haven't tried this flavor yet, let me assure you. It does taste like green tea because that's the main ingredient. There is no hiding that flavor.
To be honest, I wasn't sure what to think after my first sip. Before you know it though, the drink was gone, and I was sold on the flavor.
So what exactly is Matcha?
Matcha is a powdered green tea that is grown and produced in Japan. (for the most part) The leaves are carefully shaded during the last few weeks of the growing process which increases the chlorophyll content and produces a dark green leaf. These leaves are then ground down into the fine, bright green powder.
Some benefits to drinking matcha tea include energy, calmness, antioxidants, weigh loss, healthy heart, focus and concentration, and healthy skin.
Matcha powder can be used in teas, smoothies, or baking. The powder is extremely potent because it is ground directly from the leaves, so you want to use it sparingly in your recipes.
Have you ever used tried matcha? If so, what is the most unique way you've enjoyed it???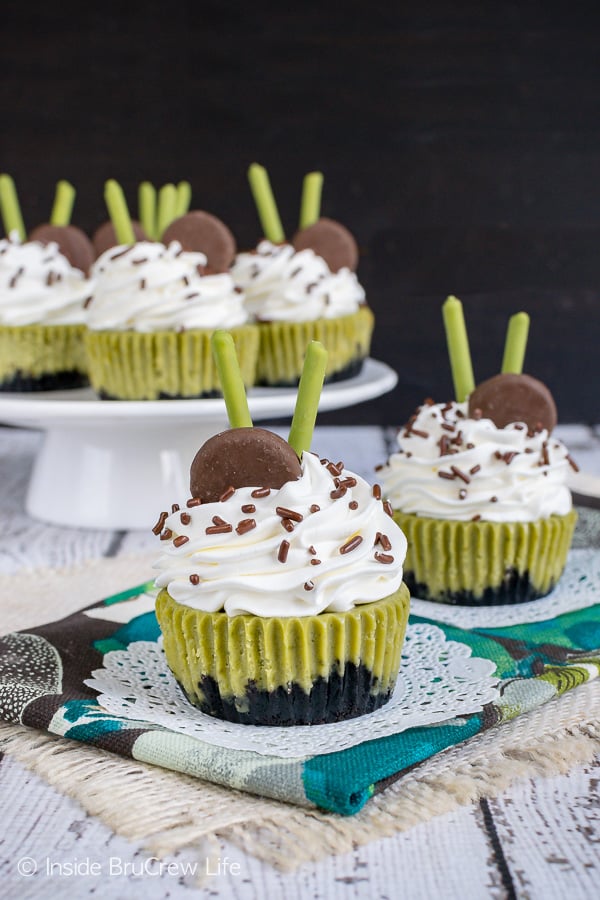 A few weeks ago I found a bag of Matcha powder at Walmart in the baking aisle. Of course, I had to bring it home with me. My first thought was actually to transform this Dark Chocolate Latte into a creamy matcha latte.
But then my cheesecake brain took over, and I knew I had to do mini Matcha Green Tea Cheesecakes first. Aren't you glad that I'm still obsessing over making cheesecake? That is one favorite that will never change. Since we love the "tea" flavor of these Chocolate Chai Cheesecakes, I was excited to start baking.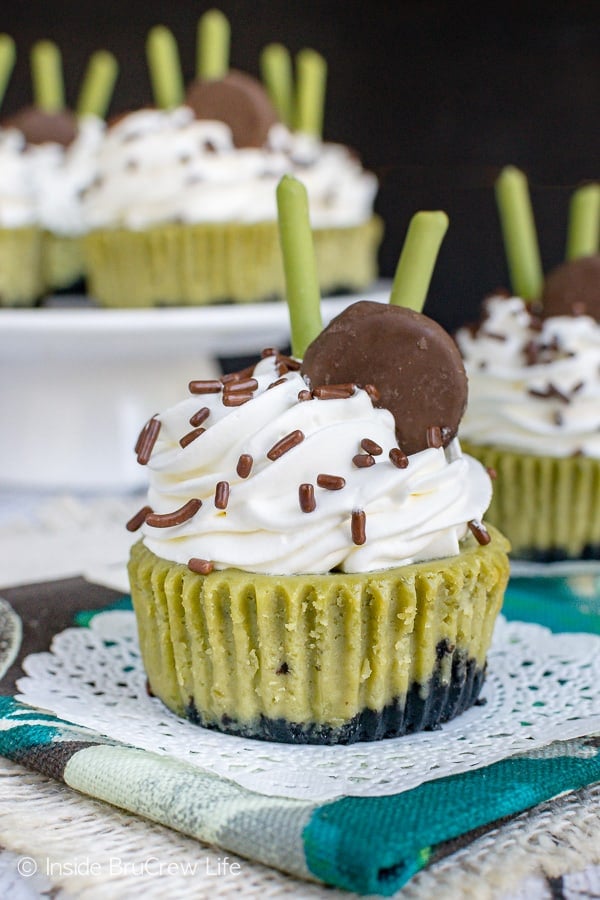 Tips for making these Matcha Green Tea Cheesecakes:
Place a large baking sheet on the bottom rack of your oven and fill it half way with water. Preheat the oven with this pan in there. The steam from the water will cause your cheesecakes to bake smooth and creamy.
Set out your cream cheese ahead of time. I say it all the time, but softened cream cheese is much easier to beat into a creamy cheesecake batter.
Once your cream cheese and sugar is creamy, add the heavy cream, Matcha powder, honey, and flour. Beat again until everything is mixed in. Over mixing cheesecake batter is one reason why cheesecakes crack. Add the eggs and beat gently one more time.
Crush your cookies in a food processor and add butter to the crumbs. Spoon into 12 cupcake liners in a pan and press the crumbs down firmly.
Spoon the cheesecake batter onto the crusts. The liners will be pretty full, but don't worry because they will bake perfectly this way.
Remove the pan from the oven when the timer goes off and place it on a wire rack. Let the cheesecakes cool for 15 minutes in the pan, then gently lift them out and place on the wire rack.
Chill in the fridge for a few hours. Adding toppings and enjoy.
Other Matcha green tea recipes you may enjoy: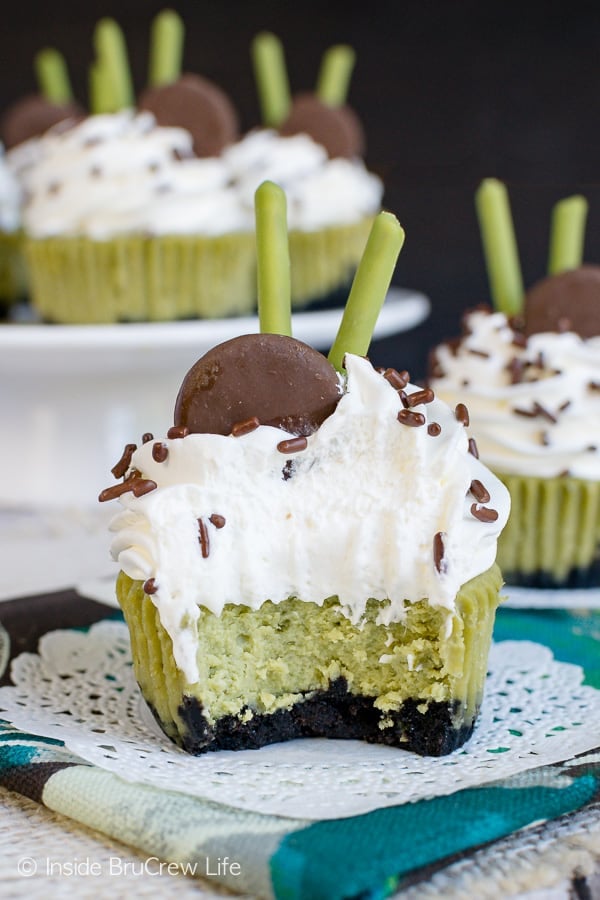 Connect with Inside BruCrew Life! Follow us on our social media, so you never miss a post.
FACEBOOK | PINTEREST | TWITTER | INSTAGRAM | BLOGLOVIN | EMAIL SUBSCRIPTION
I also created a fun new Facebook group, and I would love for you to join. It's a group where you can share your favorite recipes, ask questions, share photos, and see what's new with the BruCrew. If you would like to check it out, you can request to join HERE.
Tools used to make these Matcha Green Tea Cheesecakes: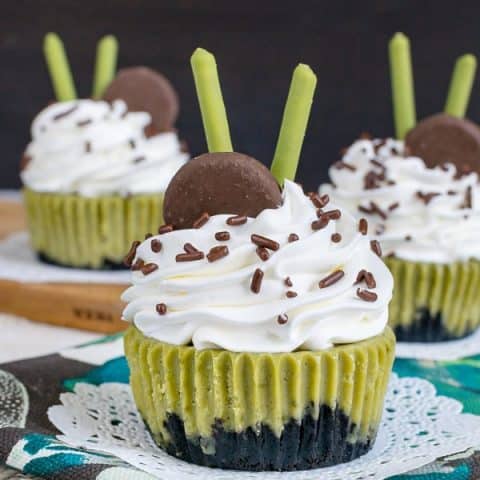 Matcha Green Tea Cheesecakes
These sweet little Matcha Green Tea Cheesecakes are a refreshing treat on a warm, sunny day. The creamy and delicious sweet green tea flavor with a crunchy cookie crust will have you smiling in no time at all.
Ingredients
10 Oreo cookies
2 Tablespoons butter, melted
2 - 8 ounce packages cream cheese, softened
½ cup sugar
¼ cup heavy cream
2 Tablespoons honey
2 Tablespoons flour
2 Tablespoons matcha green tea powder
2 eggs
1 - 8 ounce container Cool Whip, thawed
chocolate jimmies
matcha covered Pocky sticks
12 fudge covered mini Oreo cookies
Instructions
Place a large baking sheet on the bottom rack of your oven. Fill it halfway with water.
Preheat the oven to 350 degrees. Line a cupcake pan with 12 cupcake liners.
Crush the cookies (filling included) in a food processor. Stir the butter into the crumbs. Spoon the mixture evenly into the cupcake liners. Press the crumbs into the bottom using a tart shaper.
Beat the cream cheese and sugar until creamy. Add the heavy cream, honey, flour, and matcha and beat again.
Add the eggs and beat until just mixed in.
Spoon the cheesecake batter into the prepared liners. (The liners will be filled almost to the top.)
Place the pan on the oven rack directly above the rack with water. Bake for 22 minutes. Remove the pan immediately from the oven and place on a wire rack.
Let the cheesecakes cool for 15 minutes in the pan, then gently remove them and place them on the wire rack for an hour. Refrigerate for a few hours until completely chilled.
Use a piping bag and icing tip 1M to swirl Cool Whip on the tops. Garnish with the Pocky sticks, jimmies, and fudge covered Oreo cookies right before serving, if desired.
Store in a tightly sealed container in the refrigerator.
Recommended Products
As an Amazon Associate and member of other affiliate programs, I earn from qualifying purchases.
Nutrition Information:
Yield:

12
Serving Size:

1
Amount Per Serving:
Calories:

428
Total Fat:

27g
Saturated Fat:

17g
Trans Fat:

0g
Unsaturated Fat:

8g
Cholesterol:

82mg
Sodium:

222mg
Carbohydrates:

43g
Fiber:

1g
Sugar:

36g
Protein:

5g

*This post contains affiliate links. Inside BruCrew Life may receive a small percentage from sales made through these free links. As always, these links do not cost you any extra. Thank you for letting us share products we use and love this way.