A cookie crust, chocolate cheesecake, and spice topping make these Chocolate Chai Cheesecakes a delicious treat for fall dessert tables. The three flavors blend together so well to create a show stopping cheesecake cupcake.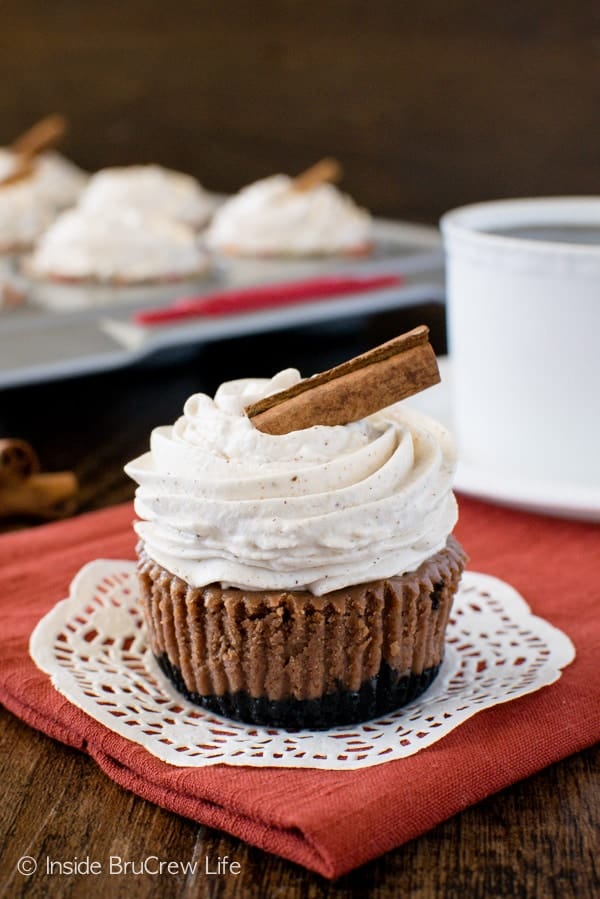 Can you believe we are getting ready to dive into the busiest season of the year? Our calendar is already filling up quickly with programs, games, school & work parties, dinners, family events, and traditions.
It is easy to become so busy that we forget to stop and remember the things that we are thankful for. Even amidst the busy times, I want to be able to pause and be content with where we are in life.
It's not always sprinkles and roses and happy times. We all have our moments of bad or negative things that happen.
It's how we respond and act on these things that matter the most because it shapes who we become.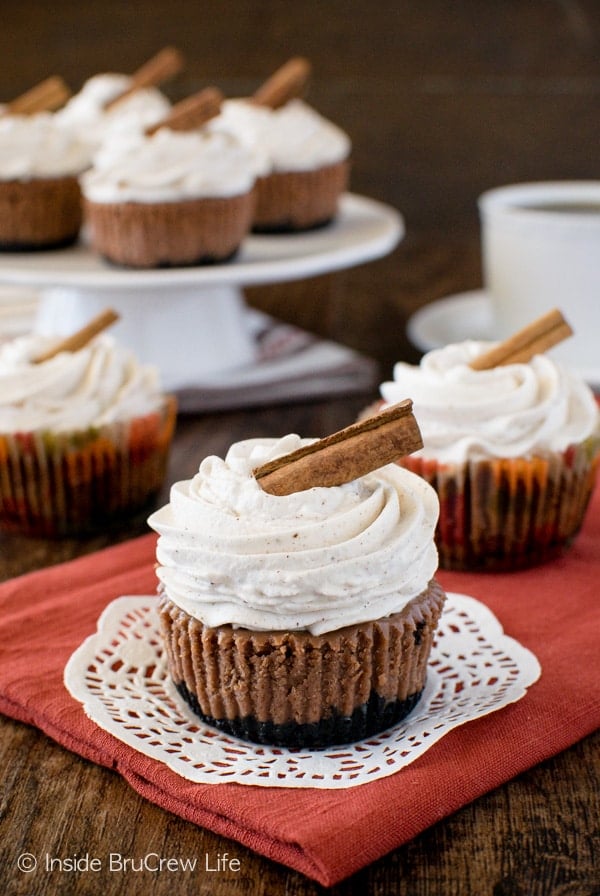 We need to remember to enjoy our lives no matter what is happening at the moment. It's ok to slow down and relax a little more when the busy starts to creep in. I think that's when we need it the most.
I know I always feel better after taking a break during those crazy days. It can be something as small as sitting outside with a good book and a Coconut Nutella Latte or going for a walk in the sunshine while counting your blessings.
These little pauses in life can brighten your outlook. We may not be able to control all the things that happen in life, but we can control our thoughts and actions.
We can share love and joy with everyone we come in contact with. That can be as easy as a smile as you walk past others, or it can be a helping hand to someone in need.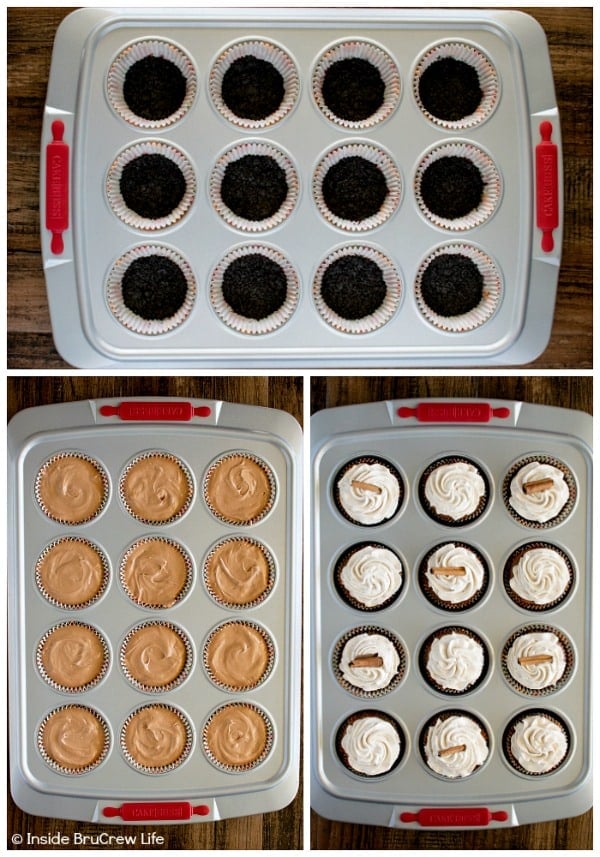 Baking is one of those things that I like to do when things get crazy. Something about being in the kitchen surrounded by dishes and ingredients relaxes me.
Creating new recipes is one of my favorite things to do. Since I love to make cupcakes and cheesecake, I headed to the kitchen to create a mini cheesecake in a muffin pan.
Mini cheesecake bites are perfect for parties because they are small and perfect for eating with your hands.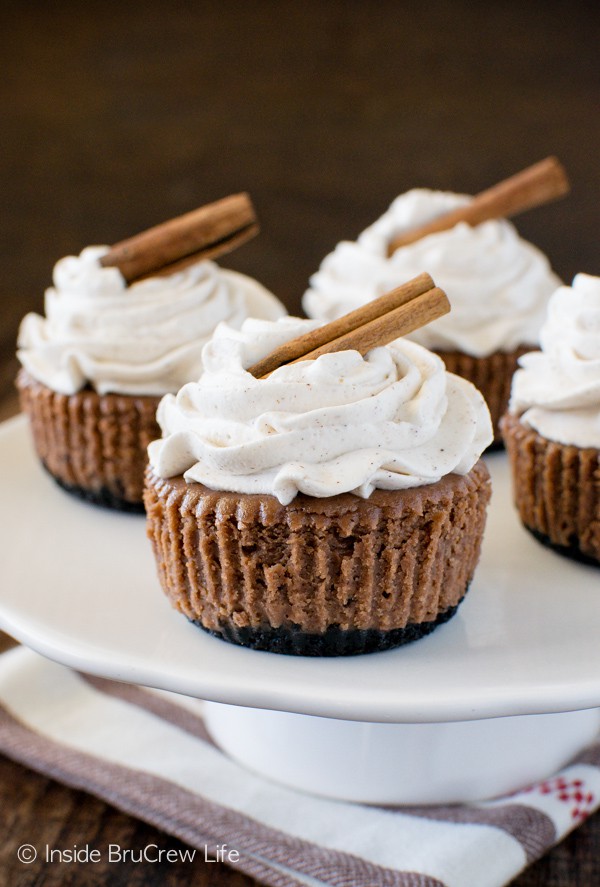 Chocolate will always hold the number one spot in my life, so I gave these Triple Chocolate Cheesecakes a fun fall twist with a sweet homemade Chai Whipped Cream.
The creamy cheesecake, crunchy cookie crust, and spiced topping paired so well in these mini cheesecake cups.
How to make Chocolate Chai Cheesecakes:
Chill your bowl and whisk attachment when making the whipped cream.
Set out your cream cheese ahead of time, so it creams better. You can also unwrap it and microwave it for 20 seconds to warm it up if you forget.
Do not over beat your cheesecake batter. Overheating adds air to the batter causing cracks more likely to happen.
Fill the cupcake liners full. The cheesecake cupcakes will puff up as they bake, but they will settle flat as they cool.
Use a disposable piping bag and a large tip to swirl on the homemade whipped cream.
Share with friends and family and watch the mini cheesecakes disappear in a hurry.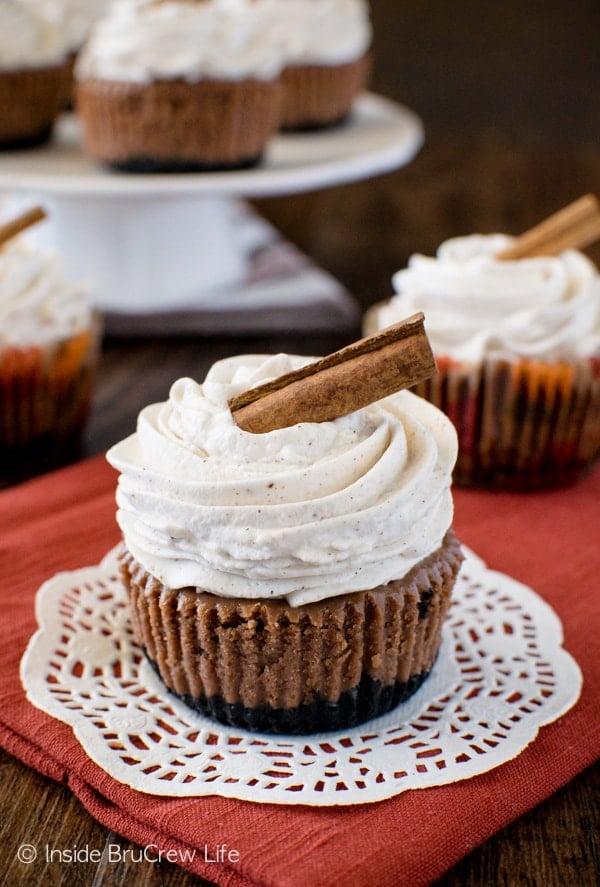 Other easy cheesecake cupcakes recipes you may like: