Satisfy your salad cravings with this Mexican Street Corn Chicken Salad. This easy salad comes together in minutes, and everyone will love the flavors in this healthy dinner recipe.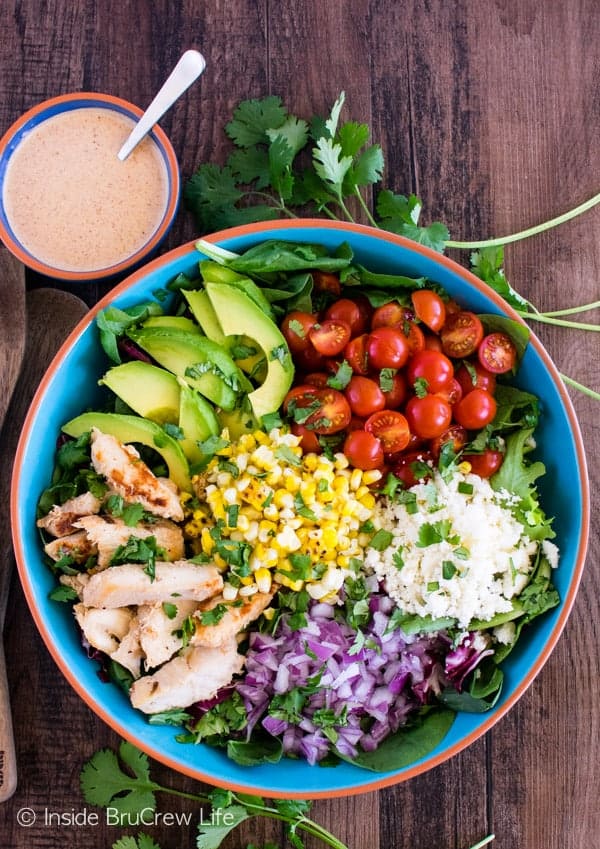 Hello, my name is Jocelyn, and I am a dessert lover. So when I get a craving for a giant salad for dinner, I run to the store ASAP for the ingredients we need.
Me wanting salad in the middle of the day is not normal...at all. Craving peanut butter bars is much more of a real thing.
Maybe all the workouts we do in our garage gym and all the meal replacement shakes are finally triggering some need to eat healthy. At least for today anyway. I just really wanted salad for dinner, and for some odd reason it had to have grilled corn on it. I don't know what was up with my tastebuds, but I went with it.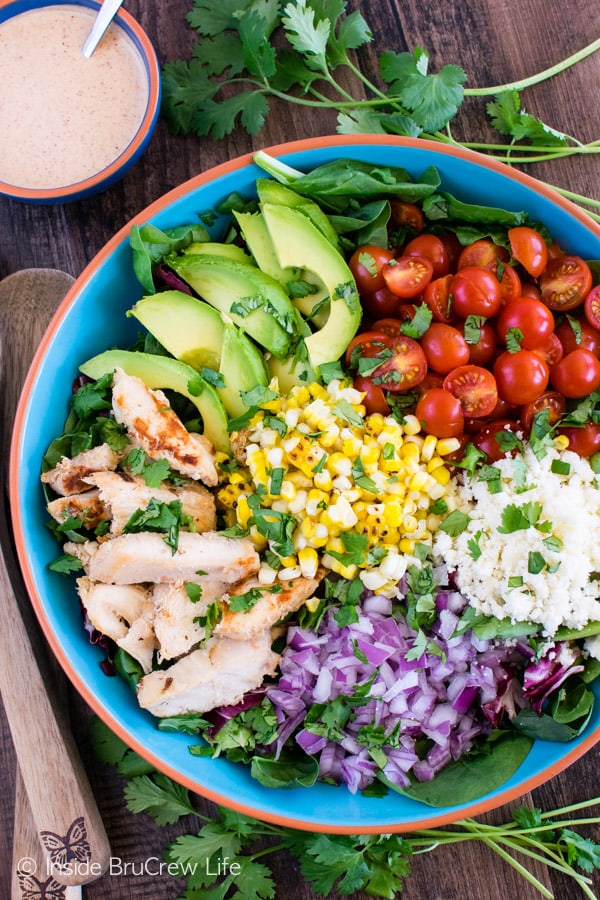 I have actually never had grilled corn smothered in mayo and cheese. One of these days I'm going to be brave and try it, but until then butter and salt is all my corn gets.
This Mexican street corn chicken salad has all the the grilled corn flavor in a bowl of greens and veggies with chicken.
Since my husband might go postal on me if I actually used mayo for a dressing, I opted for ranch dressing with some chili powder and lime juice stirred into it. He has this weird phobia of mayo.
LOL! Sometimes it's funny to use mayo in a recipe, let him eat it, and then tell him later. Haha!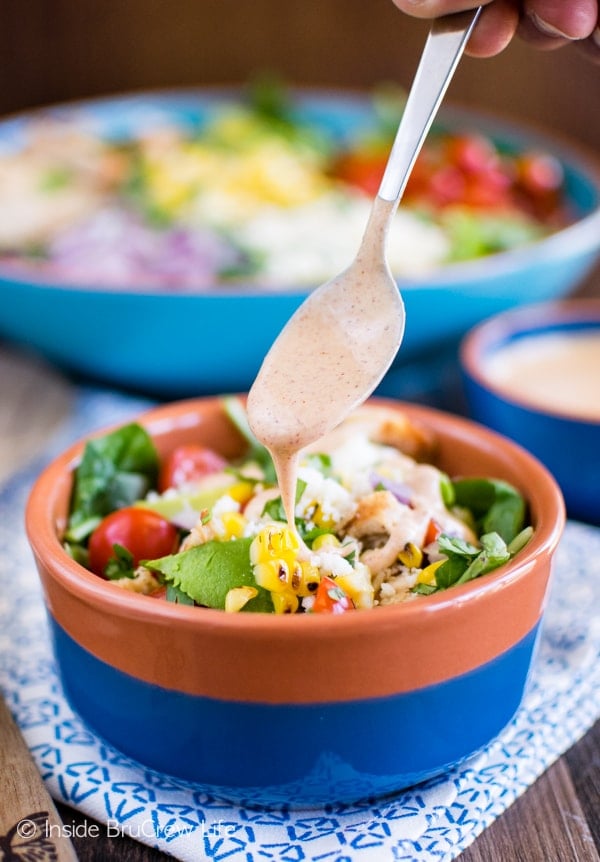 To save some time in the kitchen, I bought a bag of frozen grilled chicken that I heated up in a skillet. Sometimes a shortcut like that is necessary when I need to get dinner on the table in a hurry.
My husband helped me out by grilling the corn while I prepped the rest of the veggies and dressing. Make sure you soak the corn in the husks for at least 15 minutes before you put them on a hot grill because you do not want them to burn.
Grill the corn for about 10 minutes, rotating sides, and then peel back the husks and put it back on the grill to get some awesome grill marks. (You can also cut the kernels off the corn and fry it in a skillet until browned too.)
This giant bowl of Mexican street corn chicken salad disappeared quickly at dinner time. Maybe my family is trying to tell me that salads should be a regular addition to our weekly meal menu...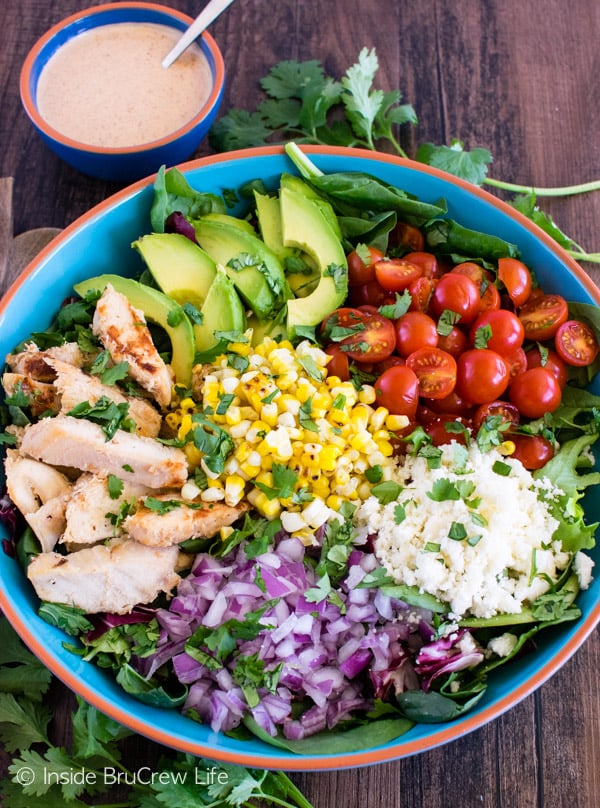 More delicious salad recipes that our family enjoys: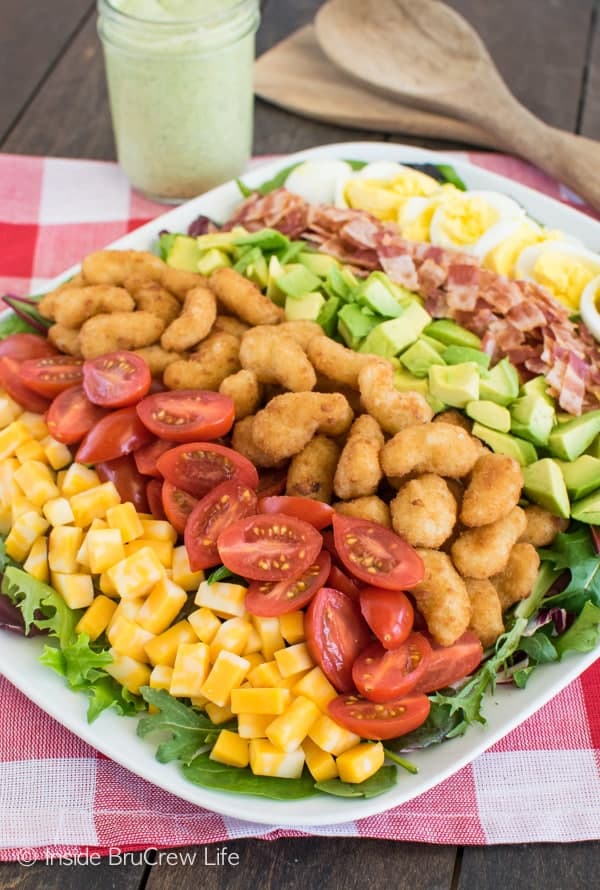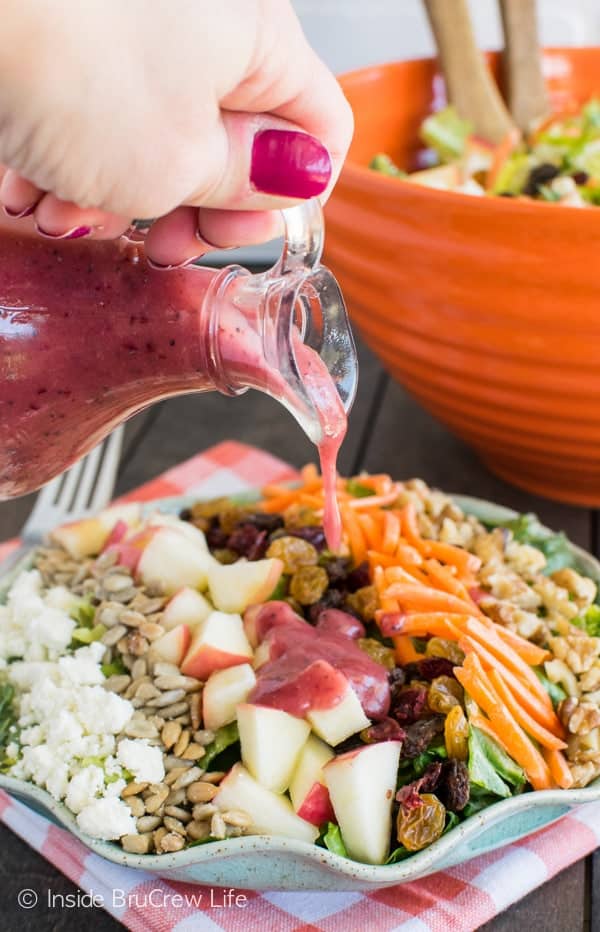 Cranberry Poppyseed Apple Salad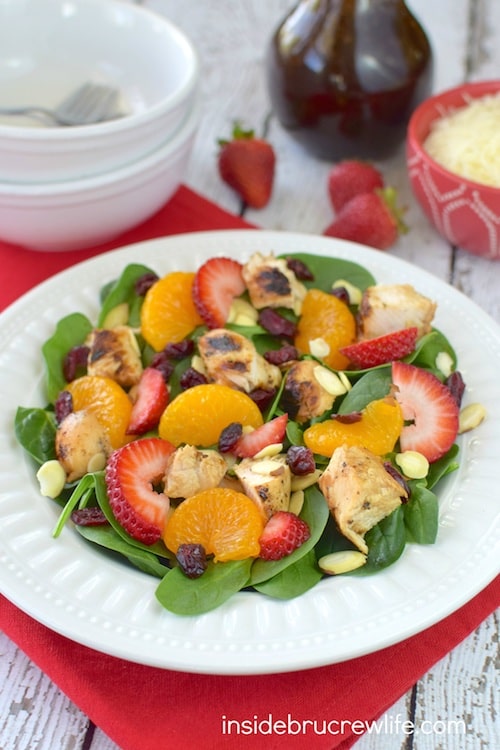 Strawberry Orange Spinach Salad
*This post contains an affiliate link. We make a small percentage of sales made through these links. Thank you so much for letting us share products that we use and love.