White chocolate and mint candies makes this Mint Grinch Popcorn a fun treat to munch on while you wrap gifts or watch holiday movies. It's also a fun snack mix to wrap up and give to friends and family!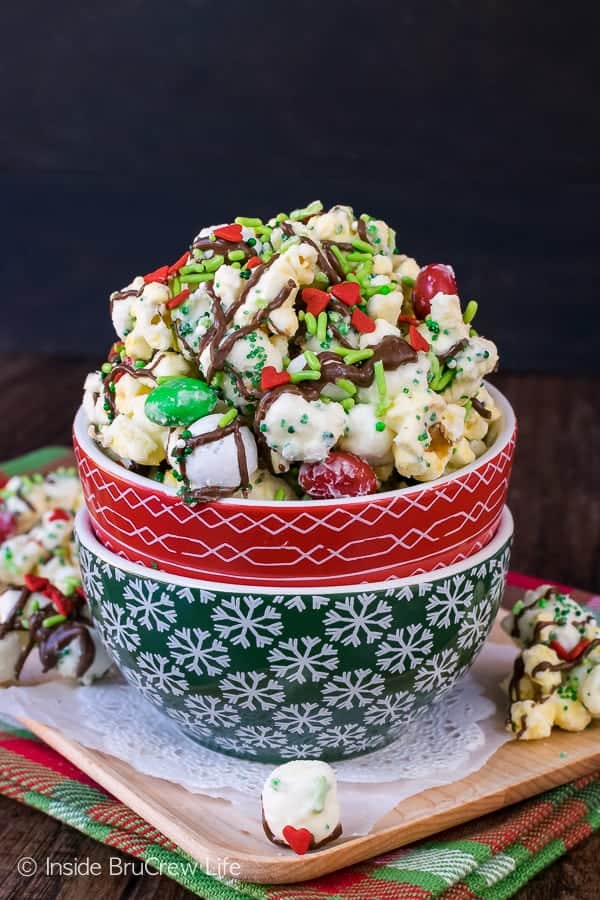 So, my husband talked me into doing another Facebook live video the other night. I guess he didn't really "talk" me into it because I agreed pretty easily. We did one last week sharing holiday traditions, and it was so easy and fun that we decided to do one on holiday baking tips. I'm kind of enjoying being on the other side of the camera.
Ok, I never in a million years thought I would say that! But so far so good. Nothing embarrassing has happened to me on screen, so I think we might just keep doing them. What kind of things would you like to see next? We are definitely open to suggestions. I think I want to do a few baking segments, but I'm trying to decide what recipe and how to do it in our kitchen. I'm thinking something easy like this Reese's popcorn, Nutella no bake cookies, or these Christmas blondies!
We are also trying to keep the videos shorter than 20 minutes because I know you guys are just as busy as us. Ain't nobody got time for watching all that jazz. Am I right? Apparently we didn't get the memo last night though because we jabbered on for over 20 minutes.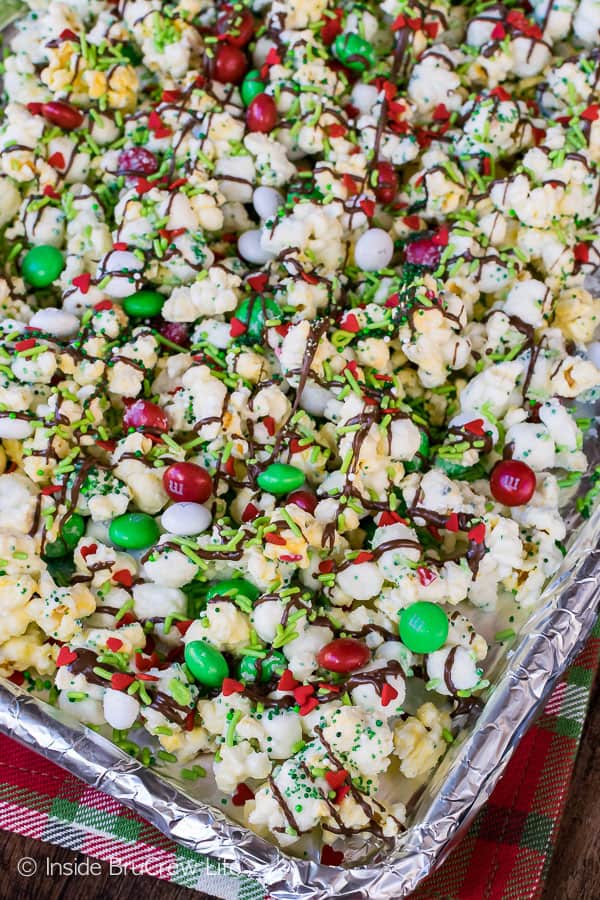 Ok, now I would absolutely love to have you watch and give feedback, but I know that's probably not going to happen. So, I'm going to share the top 5 holiday baking tips that I shared live last night.
Be organized. Make a list of what treats you want to make. Then go through your pantry and cupboards to see what ingredients you already have. Make another list for the grocery store.
Once you decide on a recipe, get out all the ingredients for that particular recipe and set them on your counter. Make sure to set out butter and cream cheese at least an hour before starting.
Turn your oven on first, so that it can come to full temperature before you need to put things like cookies or cake into it.
Line your pans with foil. This makes it so easy to lift brownies or cheesecake out of the pan. Plus, later you can just ball it up and throw it away. Easy, peasy clean up!
Now I realize that after all those easy tips, disasters are still going to happen. Egg shells end up in the dough or on the floor. Flour gets sprinkled everywhere. The butter and cream cheese is still in the fridge when we need them. And a mountain of dishes will be in the sink after everything is made.
But that's the fun of baking during the holidays. Just get in the kitchen and enjoy baking with your kids. It took me a few years of being uptight when baking with our kids. Then I realized that they were having fun, and I needed to just enjoy that time with them. Who cares if things get a little messy? That's what soap and sponges are for.
Oh, and never, ever, EVER store your finished cookies, popcorn, and chocolate covered pretzels in the oven for safe keeping. One year I thought I was being smart hiding all our finished holiday treats from the dog while we ran errands. Yeah...I totally forgot they were in there and turned the oven on to make another batch of cookies.
As soon as I smelled plastic bag melting into the treats, I remembered putting everything in there. It wasn't funny at the time. Ok, it's still not funny. But at least now I can laugh about it a little.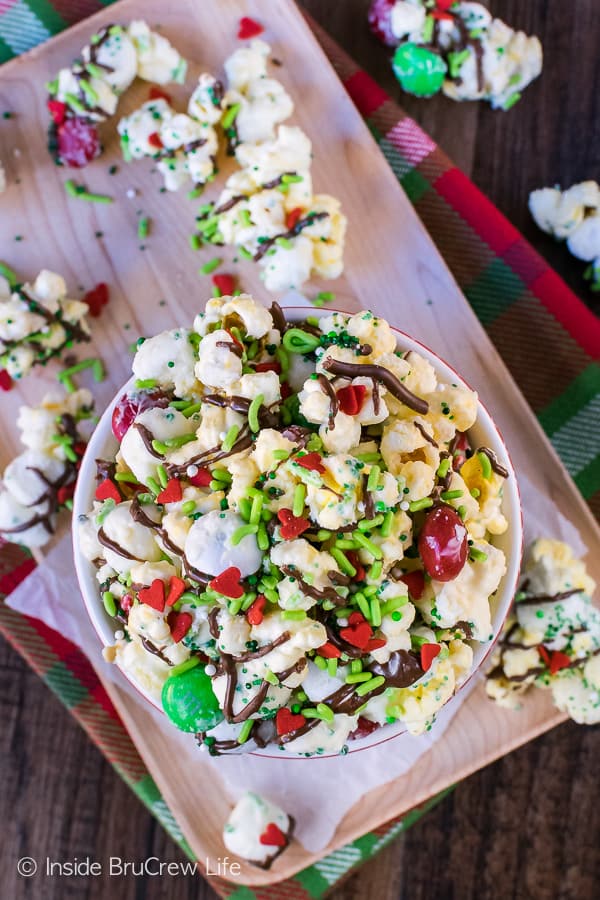 A batch of this mint grinch popcorn is such an easy treat to make for any party, or just for munching on while you watch your favorite holiday movie.
My favorite holiday show is The Grinch that Stole Christmas. It was the one cartoon we watched every.single.year when I was growing up, and it's still my favorite. So, I added lots of green sprinkles, red hearts, and some holiday mint M&M's to a batch of white chocolate covered popcorn. It's an easy snack that won't last long at all when you make it.
We have two different popcorn makers that we use from time to time, but most times I just grab a bag of microwave butter popcorn and coat it in chocolate, sprinkles, and candy. Gotta love a treat that's ready to snack on in 5 minutes!!!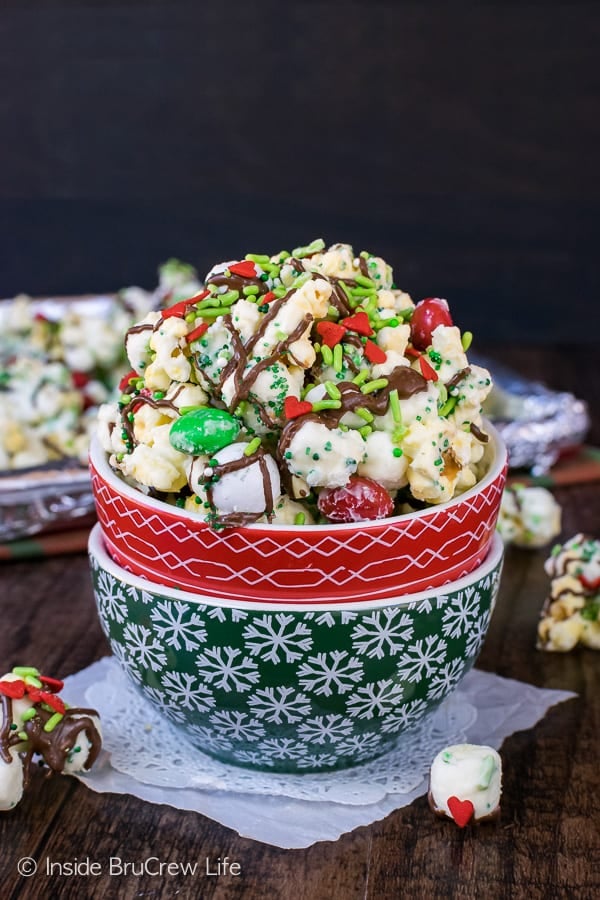 More fun Grinch treats to make this holiday season
CLICK HERE TO SAVE THIS RECIPE FOR LATER!