These soft mint Shamrock Shake Sugar Cookie Bars are a fun and easy treat for St. Patrick's Day. White frosting, green sugar, and a cherry make this sugar cookie bar recipe look like the popular McDonald's shamrock shake.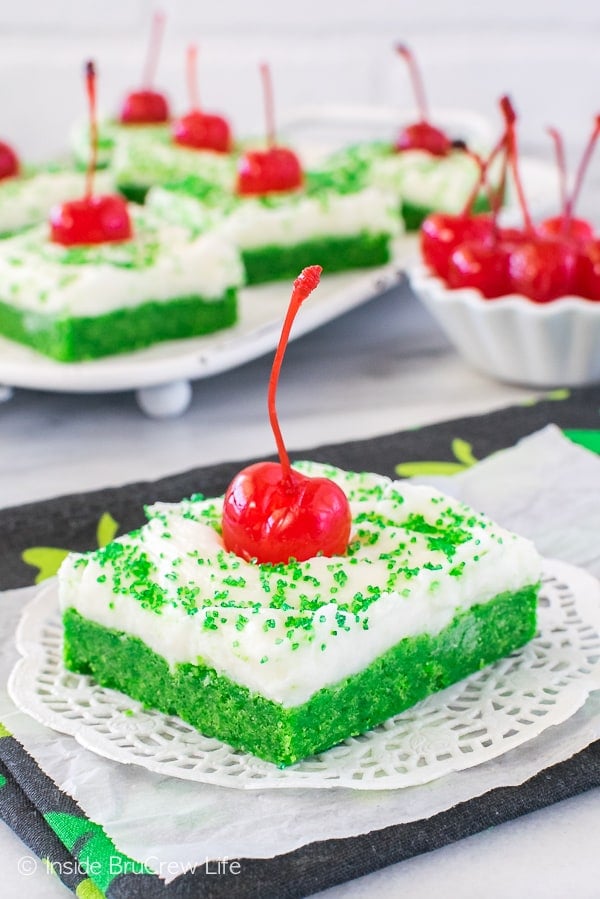 Ok, so I realized that I just shared a sugar cookie bar with you recently. But this weekend I was scrolling through Facebook, and I saw a few different posts for shamrock shakes.
Want to know something? I don't think I have ever had one before. Can you believe that? Please tell me I am not the only one. I've been too busy making and drinking a Homemade Mint Latte instead.
And in 8 years of blogging I have never made any sort of shamrock dessert. I'm definitely a fly by the seat of my pants kind of blogger.
Usually on a whim, I get crazy ideas for food that I can't rest until I make. This was one of those moments!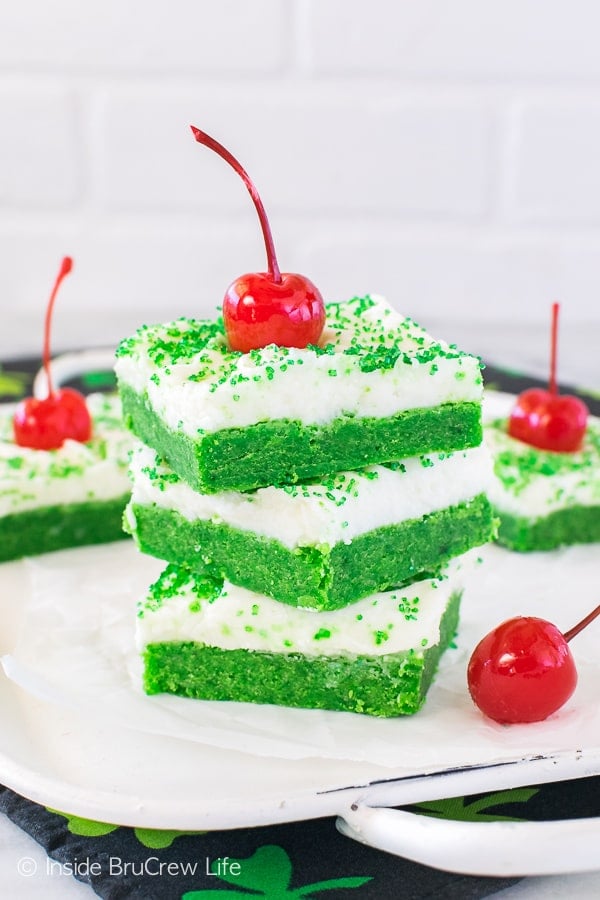 Since shamrock shake recipes have been done and done again, I wanted to make a new recipe that was totally different. Something unique, but equally as delicious.
My mind went right away to these Sugar Cookie Bars. Everyone loves the bright colors, so what if I made them bright green and gave them some mint flavor?
Ingredients for Mint Sugar Cookie Bars
Unsalted Butter - Make sure to set it out ahead of time, so it creams easily with the sugar. If all you have is salted, you can use that and use less salt in the recipe.
Sugars - a mixture of granulated and brown sugar give these cookie bars a chewy texture
Egg - Add structure and liquid to the recipe
Vanilla and Mint Extract - the mixture of these two extracts give this dessert the authentic McDonald's shake flavor
Flour, Baking Powder, Salt - gives the cookie bars structure, lift, and balances the flavor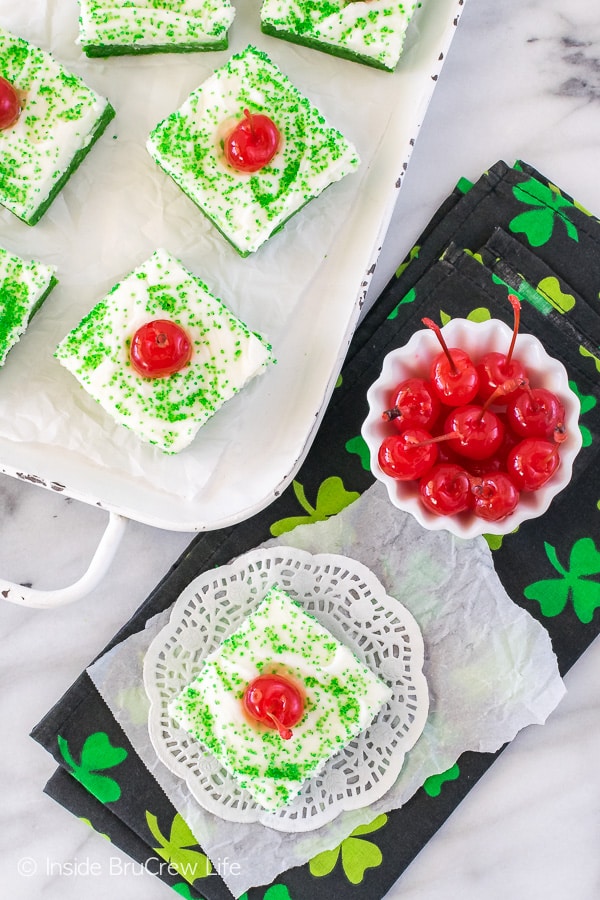 Two batches of green cookie bars and fluffy white frosting later. Green sugar and a cherry made these sugar cookie bars look like those popular shamrock shakes!
How to make Shamrock Shake Cookie Bars
Beat the butter and sugars until light and creamy.
Add the egg and extracts and beat again.
Stir in the dry ingredients and mix until a stiff dough forms.
Add green gel food color to the dough and work in until you get the color you like.
Press the dough evenly into the bottom of a greased 9x13 pan.
Bake and cool.
Frost with vanilla buttercream frosting. Add green sanding sugar and a maraschino cherry to each one right before serving.
Tips and Tricks
Make sure you set out the butter ahead of time. Soft butter is much easier to work into cookie dough.
Use mint extract in this recipe. Peppermint is a Christmas flavor, so using that will yield a different taste. Mixing vanilla and mint extract will keep it from tasting like toothpaste!
Add the dry ingredients in slowly. The dough will be very stiff, yet crumbly.
If you use a hand mixer to make the cookie bars, you WILL need to work the dough longer. I recommend using a stand mixer with a paddle blade.
Add your green food coloring sparingly because a little bit does go a long way. Slowly add a little at a time until you get to the color you want.
Let the cookie bars cool completely before spreading on the frosting. If the cookies are warm, the frosting will melt.
Dry the cherries off with paper towels before putting them on the bars. If the cherries are wet, they will melt the green sugar and you will have a green streaky mess.
Storage
Keep the frosted cookie bars in a tightly sealed container for 4-5 days. They will actually get softer the longer they sit.
The unfrosted bars can be frozen for later. Wrap them tightly in plastic and then again in foil. Freeze for up to 2 months. Let thaw at room temperature before adding frosting and decorations.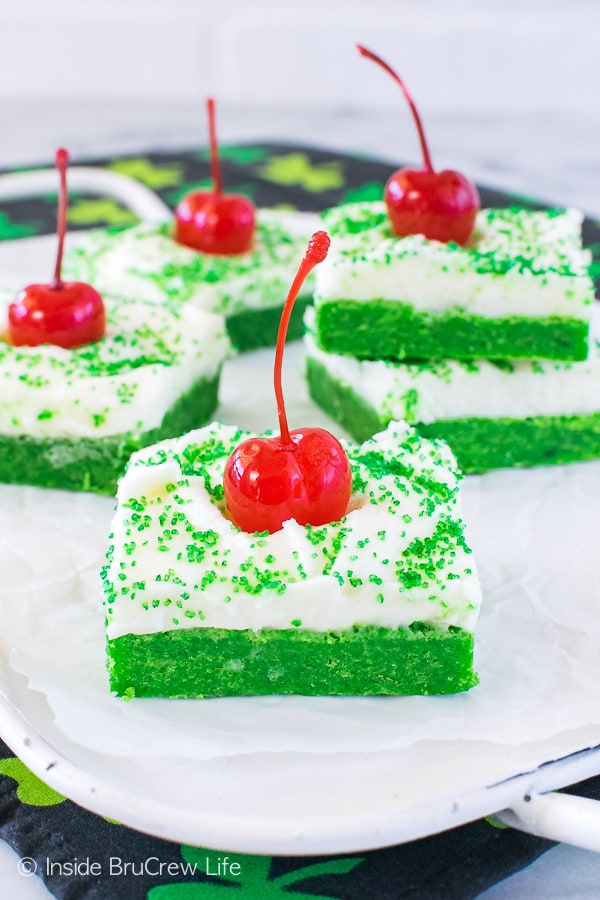 More mint desserts
Other easy desserts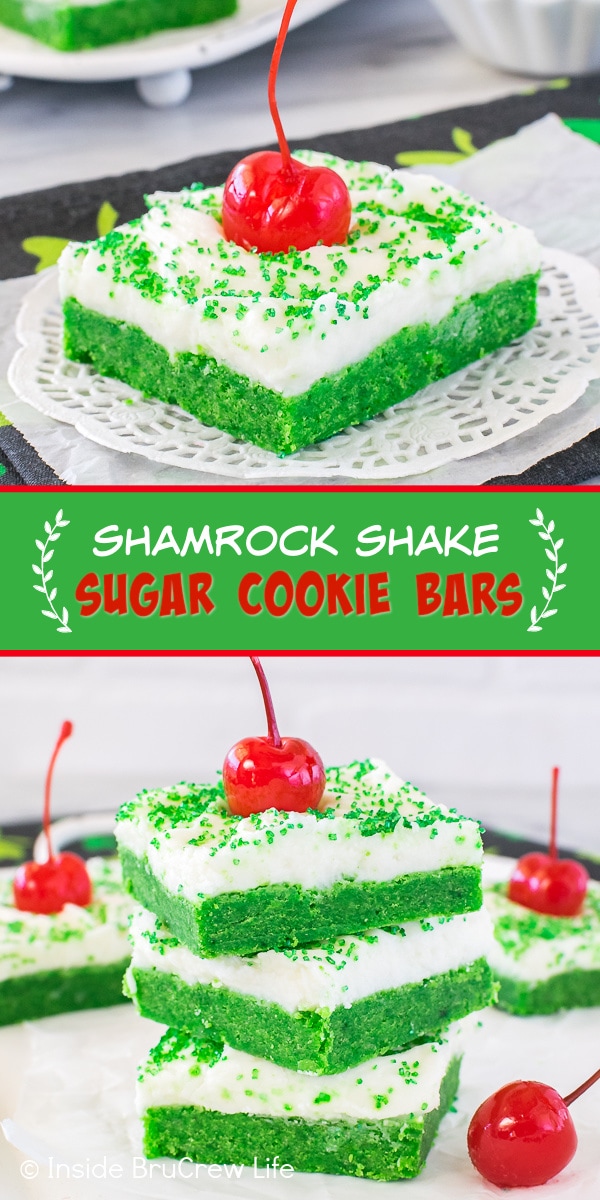 *The post for Shamrock Shake Sugar Cookie Bars was first published March 6, 2017. The post was updated and republished March 4, 2021.