Three times the mint candies and cookies and marshmallows make these Mint S'mores Brownies a dream come true for chocolate and mint lovers.
Love these recipes?  Be sure to sign up for the BruCrew email to have these recipes delivered to your inbox each day.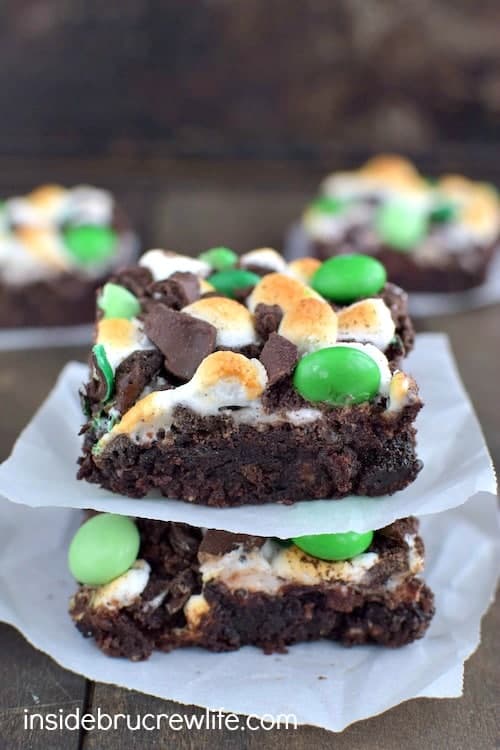 Our poor puppy dog is getting old.  Lately she has been having trouble getting up when she is lying down, and she gets tired out very fast when playing ball.
But the other day, my husband dropped a piece of chicken on the kitchen floor.  Let's just say our dog made it into the kitchen faster than I have seen her move lately.  We were all laughing at how motivated she was to get into the kitchen for that piece of chicken.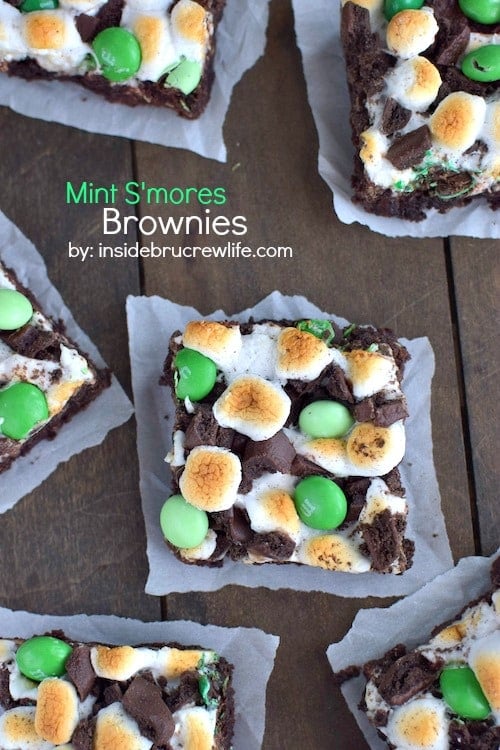 Then my husband started laughing again.  He said, "Let's put brownies in front of you and see what happen." He's right…I would probably move a little faster to get up too.
The funnier thing was that our daughter was in the living room and only heard brownies. She yelled out, "I want brownies too."
So what was I to do…make brownies of course. Duh!
Feel free to make homemade brownies if you like, but this time I used a box mix because we had one in the cupboard. And because I have a thing for crazy jazzed up treats, I baked Andes mint chips in the brownies, and then toasted mint cookies and marshmallows on top. Then some mint M&M's added some fun green color after they came out of the oven.
These Mint S'mores Brownies were so ooey, gooey and so delicious!!!  Let's just say I had no problem getting up and digging into a few of these brownies. You know you would too!!!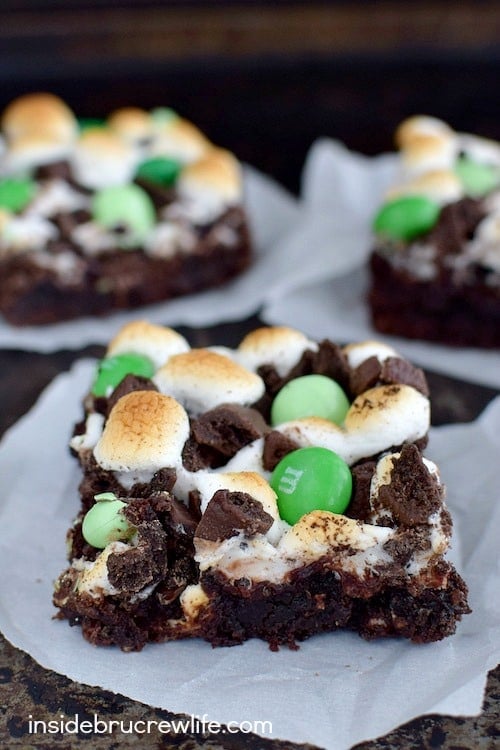 Stay up to date on all the BruCrew baking here:
FACEBOOK | PINTEREST | TWITTER | INSTAGRAM | BLOGLOVIN
 Sign up to receive an email in your inbox for each new recipe:
EMAIL SUBSCRIPTION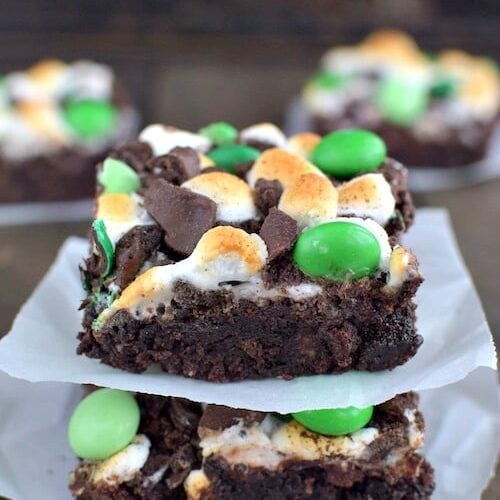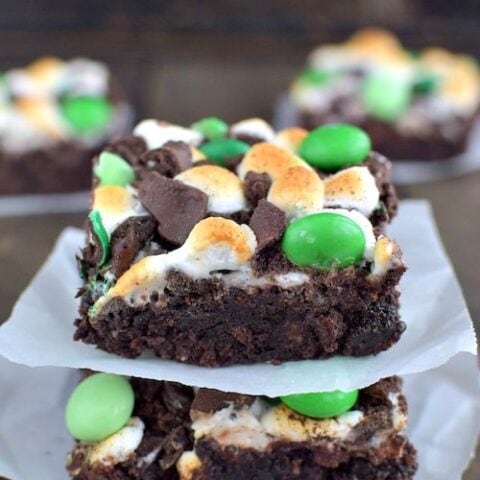 Mint S'mores Brownies
Three times the mint candies and cookies and marshmallows turn these brownies into a mint lovers dream dessert.
Ingredients
1 brownie mix (for a 9x13 pan)
1/2 cup Andes Mint Baking Chips
3 cups miniature marshmallows
2 cups chopped Thin Mint cookies
3/4 cup mint M&M candies
Instructions
Combine the marshmallows and cookie chunks in a bowl and set aside.
Mix the brownies according to the package directions. Stir in the Andes chips. Bake in a 9x13 pan at 350 degrees for 4 minutes less than the time called for on the package.
Remove the pan of brownies from the oven. Top with the marshmallow cookie mixture. Place back in the oven for 4 minutes longer. Turn the oven to broil. Broil for 30 seconds to 1 minute, watching very carefully. Remove as soon as the marshmallows start to turn golden.
Press the M&M's into the warm marshmallows. Let cool completely.
Use a wet knife to cut the brownies into 24 squares. Store in a sealed container on the counter.
Notes
*You can also use Keebler Grasshopper cookies in this recipe if Thin Mints are not in season.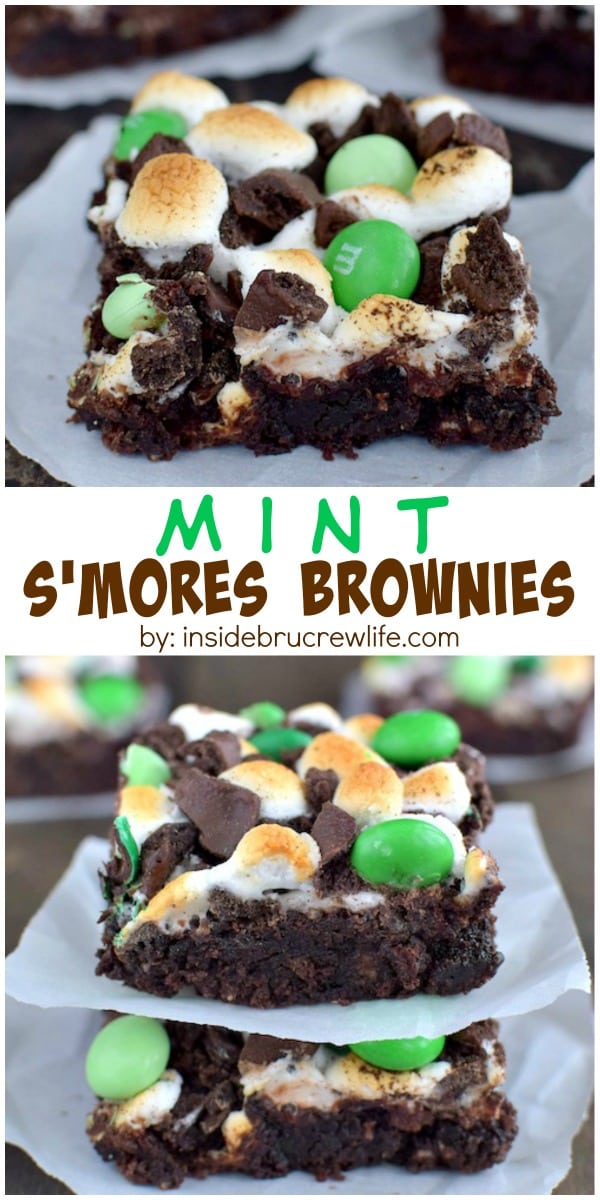 More chocolate and mint treats that we enjoy: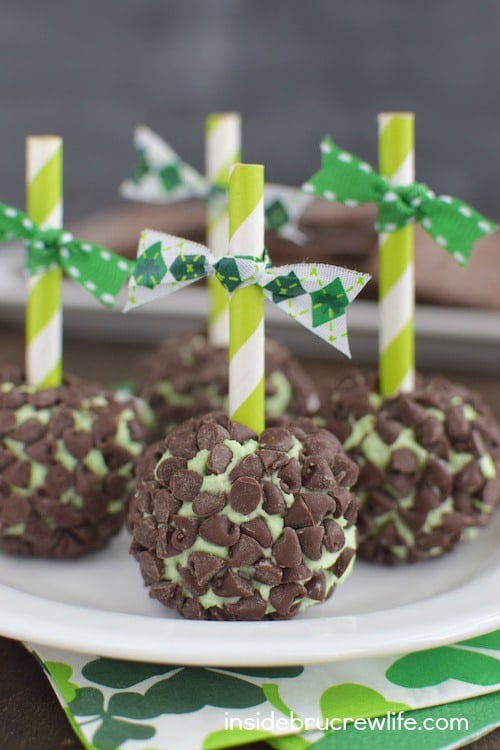 Mint Chocolate Chip Cheese Balls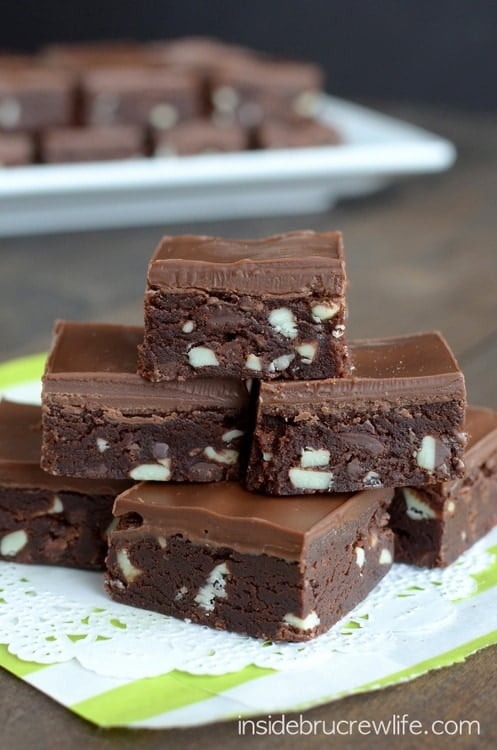 Andes Mint Cookie Dough Truffle Bars