Add a batch of these Mint Chocolate Chip Cheese Balls to your next game or party day. These mini cheese ball bites are covered in mini chocolate chips and are a fun and delicious treat that will make everyone smile.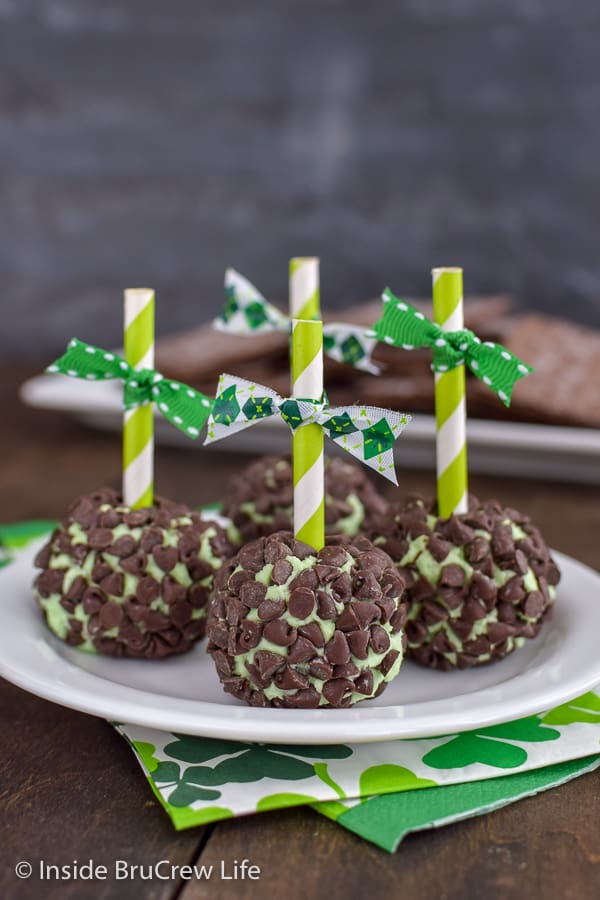 All of sudden I can't get enough chocolate and mint treats in my life! I think all the Shamrock shakes and mint desserts I keep seeing are what did it to me.
There I was minding my own business and then bam!!! A mint explosion occurred.
What was I to do? Nothing, but jump on board with some crazy mint goodness of my own!!! You need to try this homemade Thin Mint Latte. Seriously, it's so good that I have been making them all week.
And then I made some Mint S'mores Brownies and these sweet mini cheese balls. It's official. I'm bonkers for minty goodness.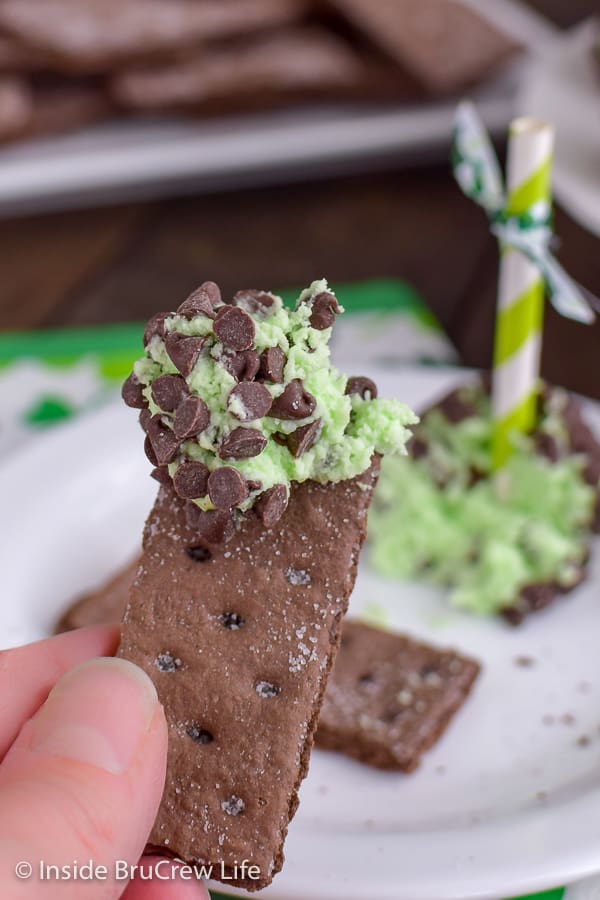 Originally, I planned on making a mint version of this Cherry Chocolate Chip Dip from last year.
Then I was going to make a giant chocolate chip covered cheese ball, but at the last minute I had this mind blowing idea to make mini cheese balls on a stick. Instead of a stick though, I used small paper straws.
Tiny food is so much cuter to eat when it is on a stick, right?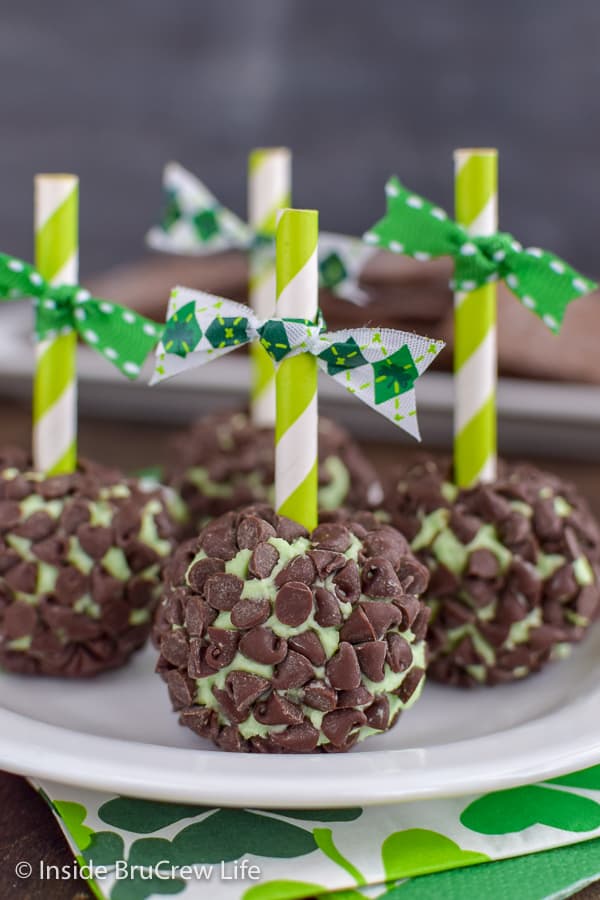 Mint is one of those crazy flavors that you either like or you don't like. Some people think it tastes like toothpaste, and others think it tastes awesome. It really all depends on your genetic make up.
Make sure to add the mint extract a little bit at a time, so it isn't too strong. You don't want it to taste like toothpaste. If you mix it up and think it could/should be mintier, add a small drop at a time until it tastes how you prefer.
How to make mini Mint Chocolate Chip Cheese Balls:
Beat the cream cheese, butter, and extracts until creamy.
Slowly mix in the powdered sugar.
Add a little bit of green food coloring at a time until you get your desired color.
Mix in the mini chocolate chips.
Refrigerate the mixture for 30-60 minutes or until you can roll it.
Use a spoon to drop 16 blobs onto a tray. Roll each one into a ball and roll in more mini chocolate chips.
Refrigerate until time to serve. Right before serving, gently press a straw into the top of each one.
The straws and ribbon aren't necessary, but they totally make these little cheese ball appetizers look so adorable.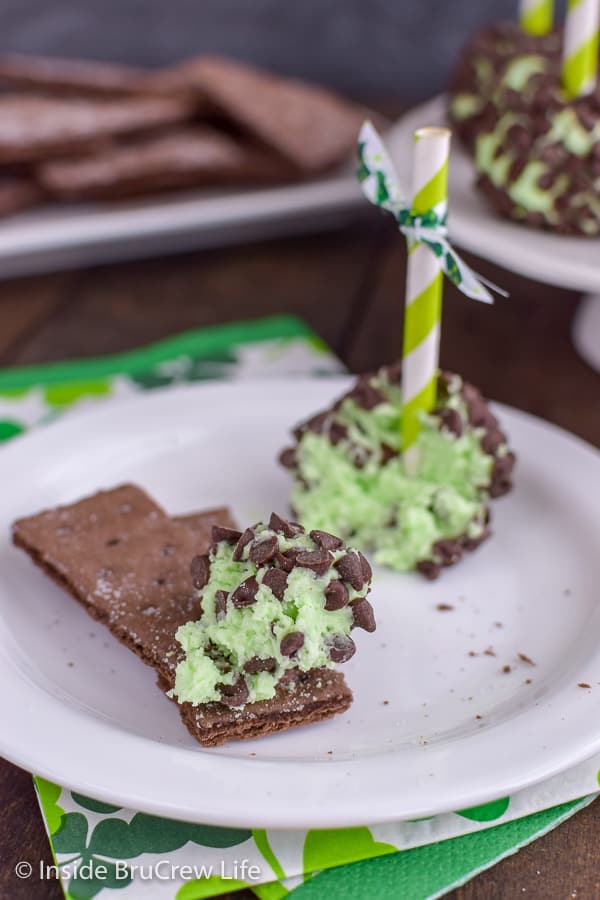 If you like mint chocolate chip ice cream and you like cheese balls, you are going to love this fun dessert mash up!!!
We ate these mini cheese ball bites with a box of chocolate graham crackers, but you could totally just pop them in your mouth. That's kind of what I have been doing.
What to serve with a Mint Cheese Ball:
Chocolate Graham Crackers
Oreos
Chocolate Animal Crackers
Chocolate Chip Cookies
Chocolate Wafers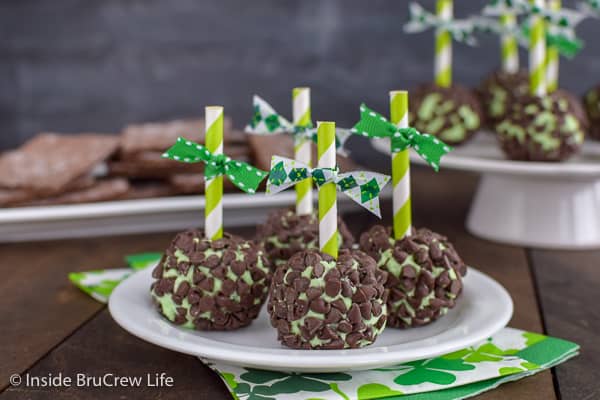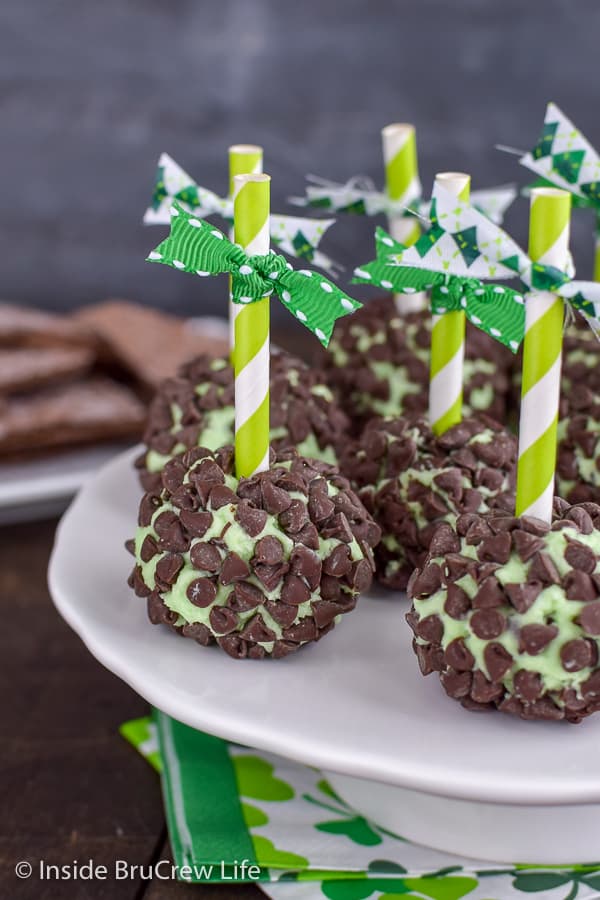 Other mint chocolate desserts:
More fun finger food desserts: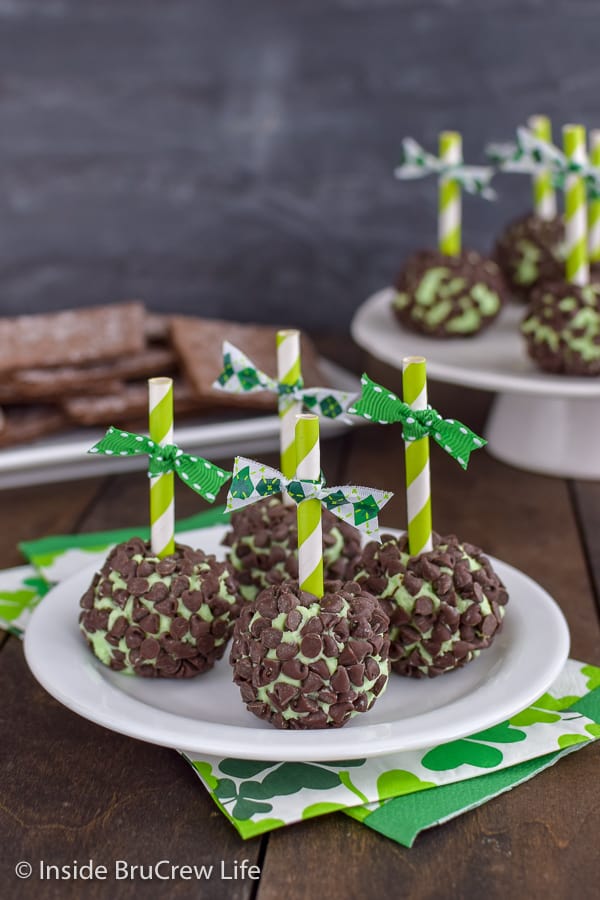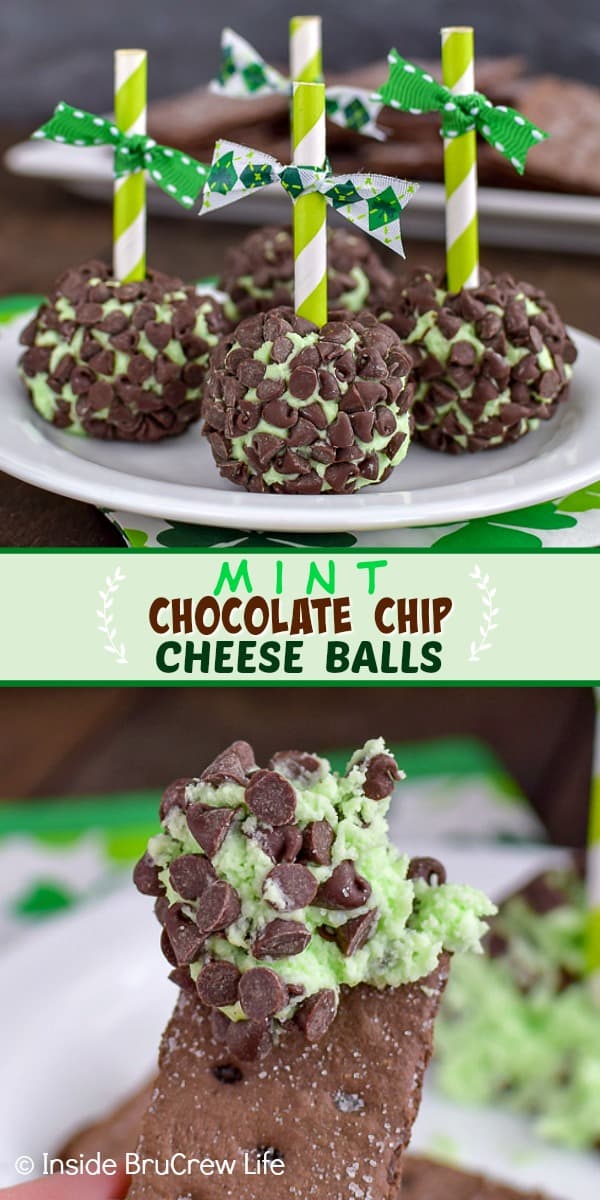 *The post for Mint Chocolate Chip Cheese Balls was first published on March 6, 2015. The photos and post were updated and republished on March 12, 2020.