Making your own personal sized cheese ball is such a fun treat idea.  Try these Mint Chocolate Chip Cheese Balls for the next game or party day.
*Love these recipes?  Be sure to sign up for the BruCrew email to have these recipes delivered to your inbox each time a new recipe is shared.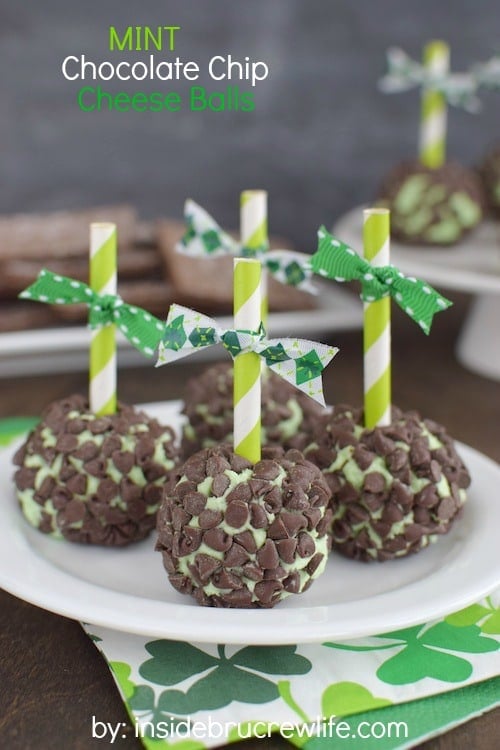 All of sudden I can't get enough chocolate and mint treats in my life! I think all the Shamrock shakes and minty desserts blowing up my Pinterest feed is what did it to me.  There I was minding my own business and then bam!!! a mint explosion occurred.
What was I to do?  Nothing but jump on board with some crazy mint goodness!!!  Did you see the Thin Mint Latte from earlier this week?  Seriously it's so good that I have been making them all week. And then I made some brownies and these cute little mint cheese balls.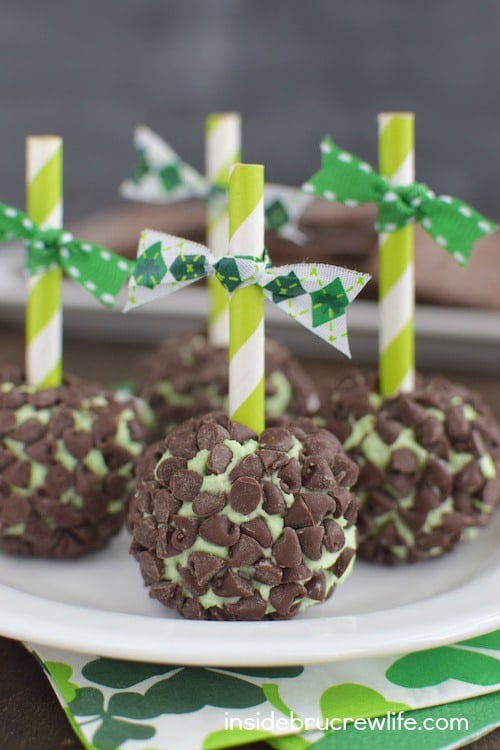 Originally I had planned on making a mint version of this cherry chocolate chip dip from last year.
Then I was going to make a giant chocolate chip covered cheese ball, but at the last minute I had this mind blowing idea to make mini cheese balls with cute little straws in them.
Because all food is so much cuter to eat when it is tiny and on a stick, right?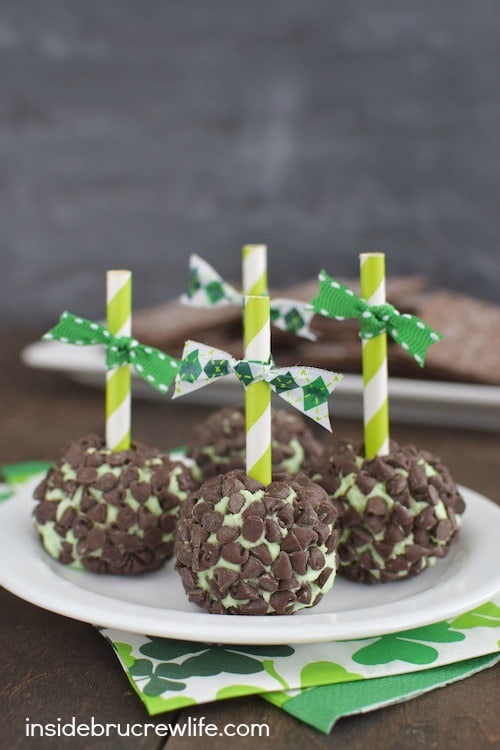 Just a few tips for you as you get cheese ball making…
1.  Make sure you have all your ingredients on hand when you want to make these mini cheeseballs.  I had to make a grocery store run for more mini chocolate chips and green ribbons.  Ok, ok, the ribbon wasn't necessary, but it totally turned out so cute 🙂
2.  Let the cheese ball mixture set up in your refrigerator, until you can roll it.  I may or may not have been scooping soft cream cheese into blobs and freezing them until I could roll them into balls.  #foodbloggerproblems
3.  Add the mint extract to your liking.  I did a little less than one teaspoon because I didn't want to have it be too strong and taste like toothpaste.  If you mix it up and think it could/should be mintier, add a small drop at a time until it tastes how you prefer.  Even with the small amount my hubby and youngest said it was toothpaste-like…but they are crazy like that!  I thought they tasted awesome and so did my other son and daughter.  Three against two…we win!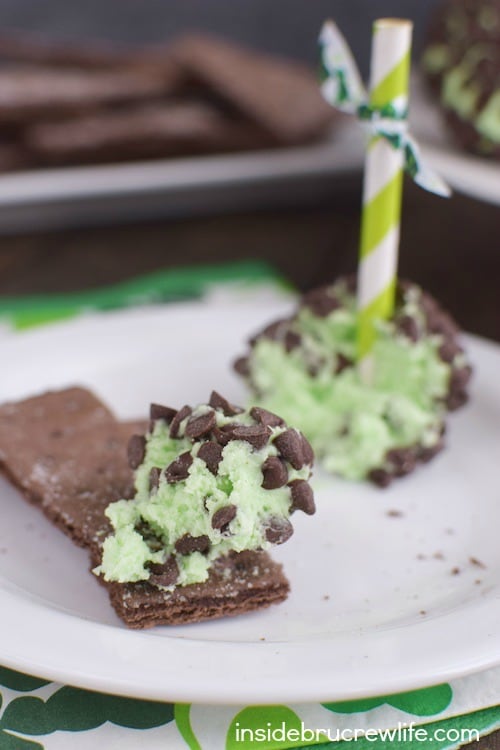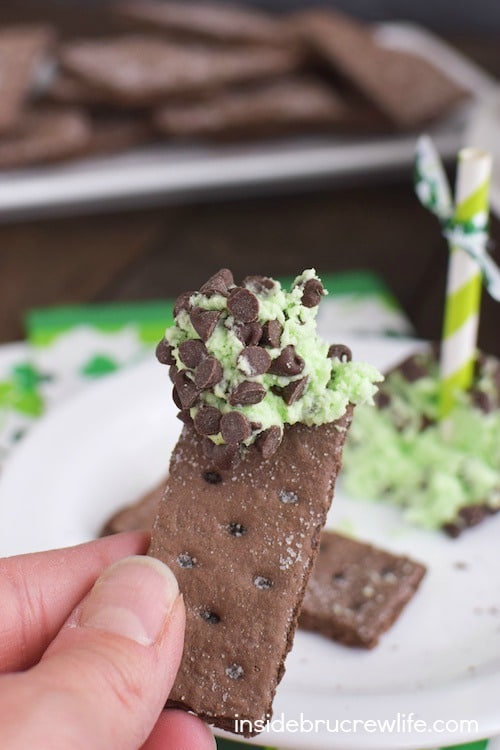 If you like mint chocolate chip ice cream and you like cheese balls, you are going to love this fun dessert mash up!!!
We ate these cute little mint chocolate chip cheese balls with a box of chocolate graham crackers.  Feel free to dip whatever you have on hand into them.
Or just pop them into your mouth without any dippers.  That's kind of what I have been doing.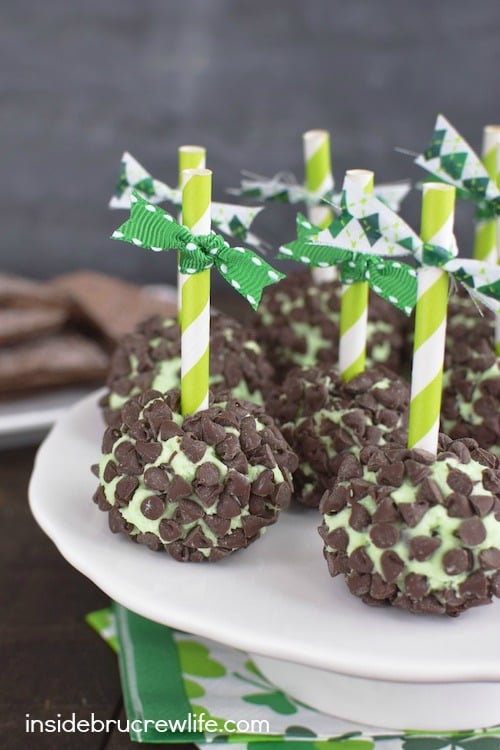 Stay up to date on all the BruCrew baking here:
FACEBOOK | PINTEREST | GOOGLE+ | TWITTER | INSTAGRAM | BLOGLOVIN
 Sign up to receive an email in your inbox for each new recipe:
EMAIL SUBSCRIPTION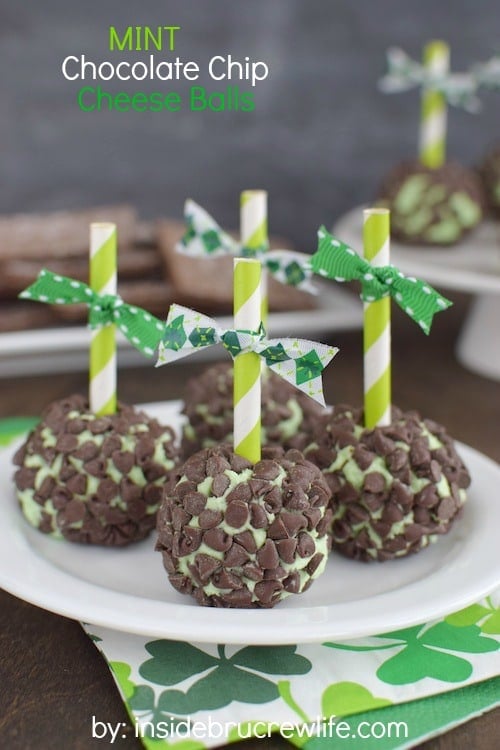 Small bite sized cheese balls are such a fun way for everyone to have their own at the party. These mint chocolate chip cheese balls are perfect for serving with chocolate graham crackers.
Ingredients
1 - 8 ounce package cream cheese, softened
1/2 cup butter, softened
3/4 teaspoon mint extract
1/2 teaspoon vanilla extract
1 1/4 cups powdered sugar
green food coloring
1 1/2 cups mini chocolate chips, divided
chocolate graham crackers
Instructions
Beat the cream cheese, butter, and extracts until creamy. Slowly add in the powdered sugar.
Add a few drops of green coloring until it is the color you like. Stir in 1/4 cup miniature chocolate chips.
Refrigerate the mixture until it is firm enough to roll into balls.
Roll into 16 balls and roll each ball in the remaining chocolate chips. Serve with chocolate graham crackers. Makes 16 individual cheese balls. Store in a covered container in the refrigerator.
Notes
*Add the mint extract a little at a time until it is the taste you prefer. If you like it stronger, add more than the amount in the recipe.
https://insidebrucrewlife.com/mint-chocolate-chip-cheese-balls/
Copyright Inside BruCrew Life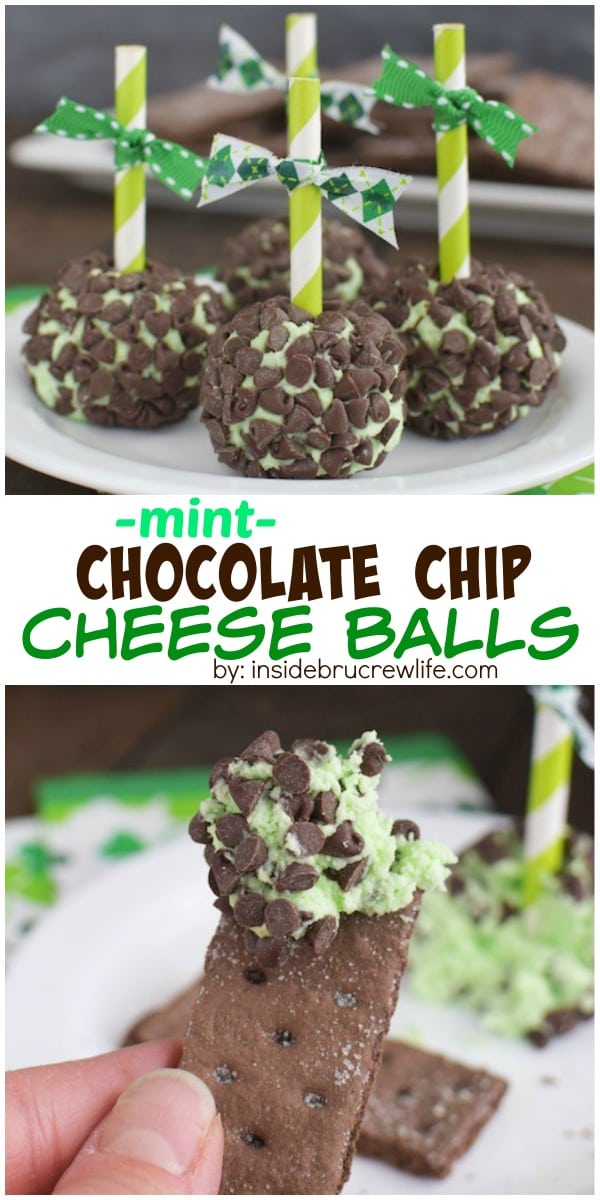 More chocolate and mint treats we love: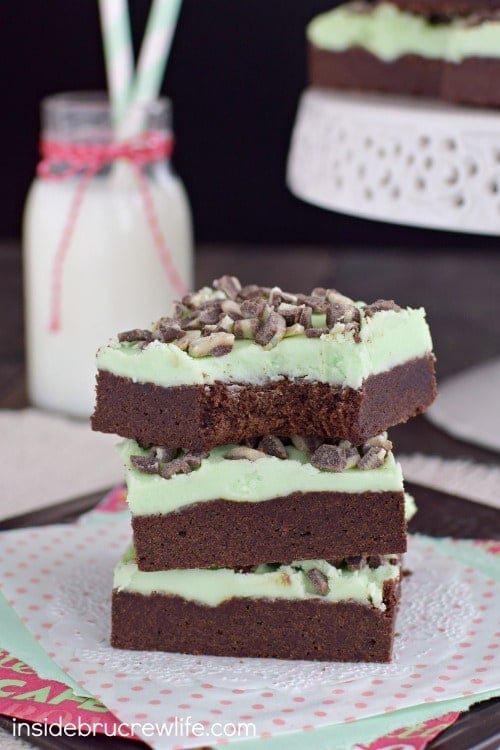 Chocolate Mint Sugar Cookie Bars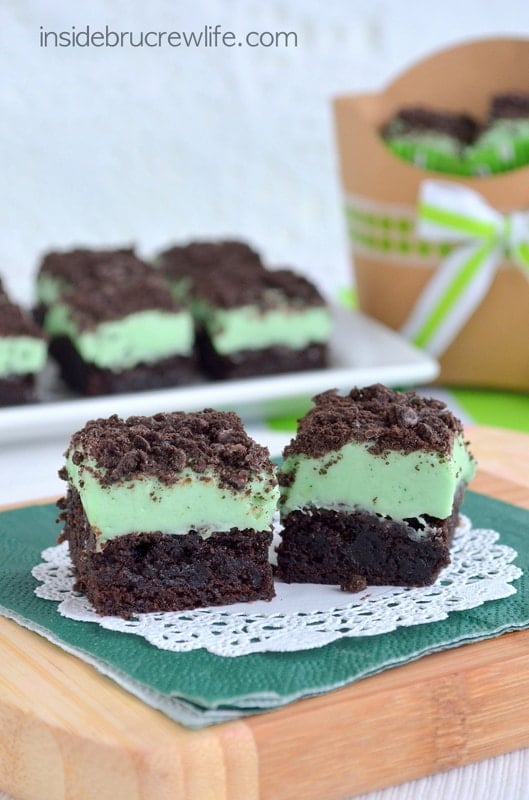 More mint goodies from friends:
Chocolate Mint Fudge Crumb Bars from Mom on Timeout
Mint Oreo Dessert from Mandy's Recipe Box
Bailey's Mint Chocolate Cream Pie from Grandbaby Cakes