These soft, chewy M&M Blonde Brownies are a fun snack any time of day. Try packing them into your kid's lunch boxes or snacking on them after school with a glass of milk.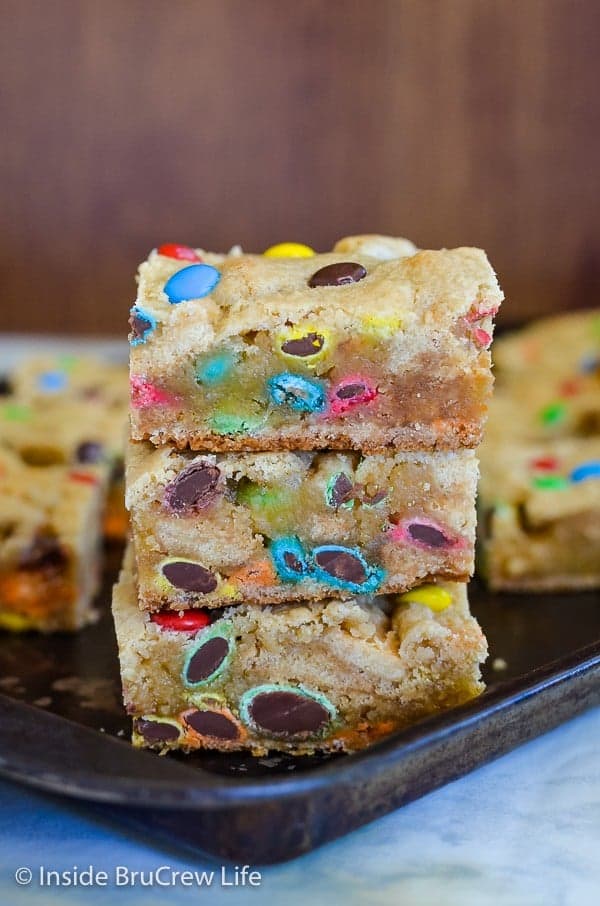 Today I am slightly dragging a little. I have discovered that boys are much louder than girls. And by boys, I really mean grown men.
Last night my hubby had game night at our house. Seriously I think 5 grown men huddled around a board game are much louder than any group of women for sure. Loud voices and laughing do not make going to sleep very easy.
Usually they set up the game in the basement, but last night it was upstairs in the dining room. Of course, it was the room without carpet, so it just echoed through out the entire house. I did stay up for a bit doing some computer work in the office.
All I heard was laughing and talking about which army was going to destroy the rest. I finally waved the white flag and went to bed even though they were still going strong on their game at midnight. Thank goodness the closed door blocked some of the sound.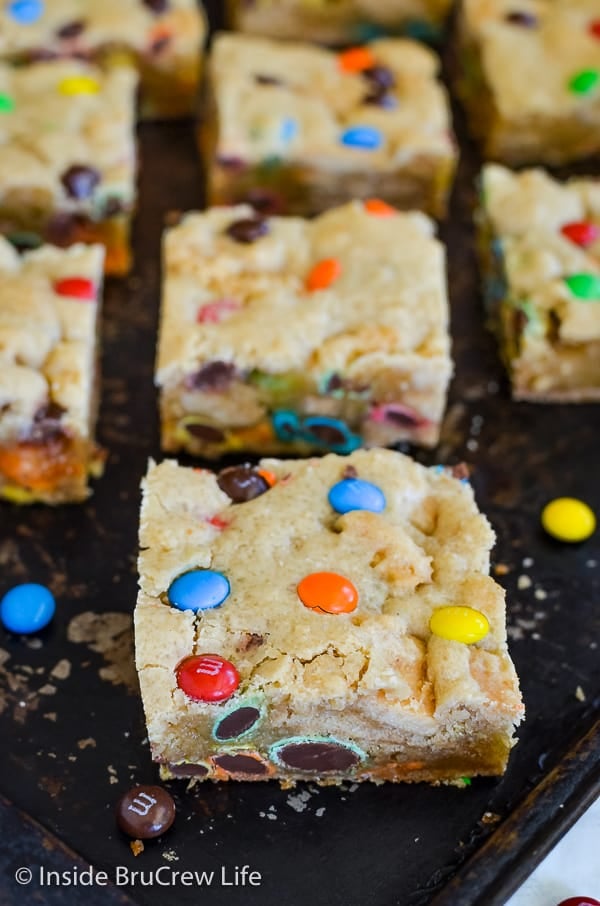 Next time I am baking more pans of M&M's Brownies and Peanut Butter Cup Cookies for them.
My thinking is that if they are busy shoving food in their mouth, they can't laugh and shout at the game plays.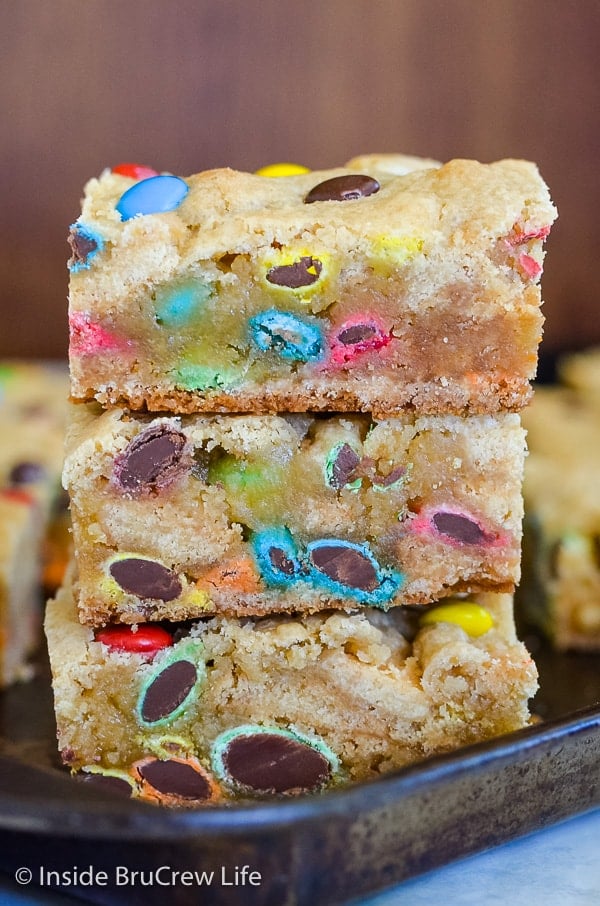 Baking Blonde Brownies
These M&M's cookie bars are one of my family's favorite treats. I almost always under bake ours slightly because we like the soft, chewy, and sometimes gooey texture. 22 minutes is just the way we like them.
Feel free bake your bars a few minutes longer than that if you like blonde brownies that are a little more done. Just be careful and watch them closely as they bake. It is easy to over bake these bars.
These chewy blonde brownies WILL look undone when you pull them out of the oven, but they will set up as they cool. Just trust me on this! If you bake them too much, they will be hard when you cut into them later.
If you are making these cookie bars for a bake sale, I do recommend baking them the full 25 minutes. Gooey under baked treats are only good if you are eating them at home.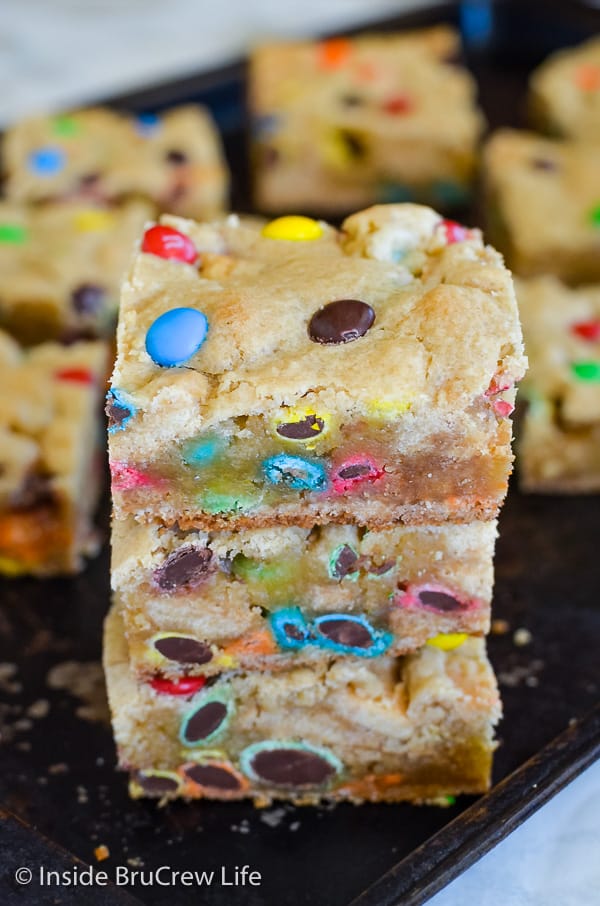 How to make M&M Blonde Brownies:
Make sure you set out your butter ahead of time. Soft room temperature butter is much easier to beat into the sugar.
Add the salt, vanilla, and eggs and beat the mixture again. Be careful not to over mix the batter at any point because that can make the top crunchy and crackly. Which is not really a bad thing, but it does change the texture slightly. I prefer the tops of my blonde brownies soft and chewy.
Stir in the baking powder and flour until you get a thick cookie dough.
Now comes for the fun part. It's time for adding your mix-ins. Obviously, this batch got loads of M&M candies. Feel free to use miniatures or regular M&M's. You could also do cookies, nuts, or sprinkles. Or a mixture of all the above.
Make sure you store the blondies in a sealed container. They will stay softer longer if you keep them from getting dried out. Of course, if your family is anything like mine, you will not have very many M&M Blonde Brownies to deal with.
Holiday Blonde Brownies
I love changing up the colors of the candies for different holidays. The rainbow of colors from the candies is so pretty when you cut into the M&M bars.
Pink and red M&M's would make these so pretty for for Valentine's Day.
Use mint M&M's for St. Patrick's Day.
A bag of pastel M&M's would be perfect for Easter.
Red, white, and blue M&M's would turn these into the best patriotic dessert.
Use orange, brown, and white M&M's for a Halloween cookie bar.
And of course, red, white, and green M&M's work great in these Christmas blondies!
See how easy it is to transform this easy recipe into a fun holiday dessert? You can also use any other candy in place of these M&M's. Reese's pieces are super yummy too!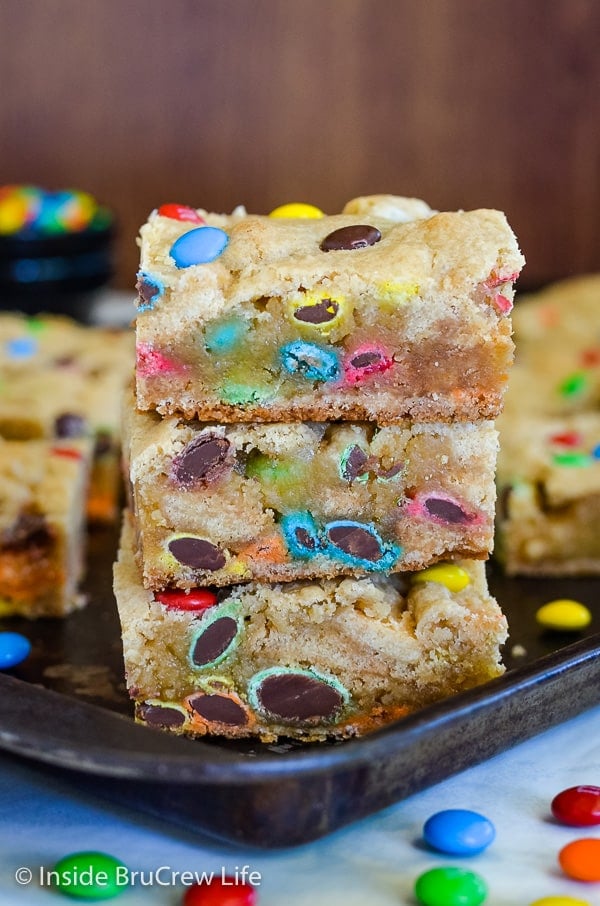 More easy cookie bars that you may enjoy:
Gooey marshmallow and Reese's Pieces candies add a sweet goodness to these Marshmallow Reese's Blonde Brownies.
Lots of candy and pretzels makes a pan of these Caramel Pretzel Peanut Butter M&M Bars disappear in a hurry.
These Nutella M&M Bars are easy cookie bars that are made in one pan.
These soft and chewy chocolate filled Congo Bars are a great recipe to make the next time you have company over.
A pan of these S'mores Sugar Cookie Bars would never last long around me. I love a good chocolate, marshmallow, and graham treat!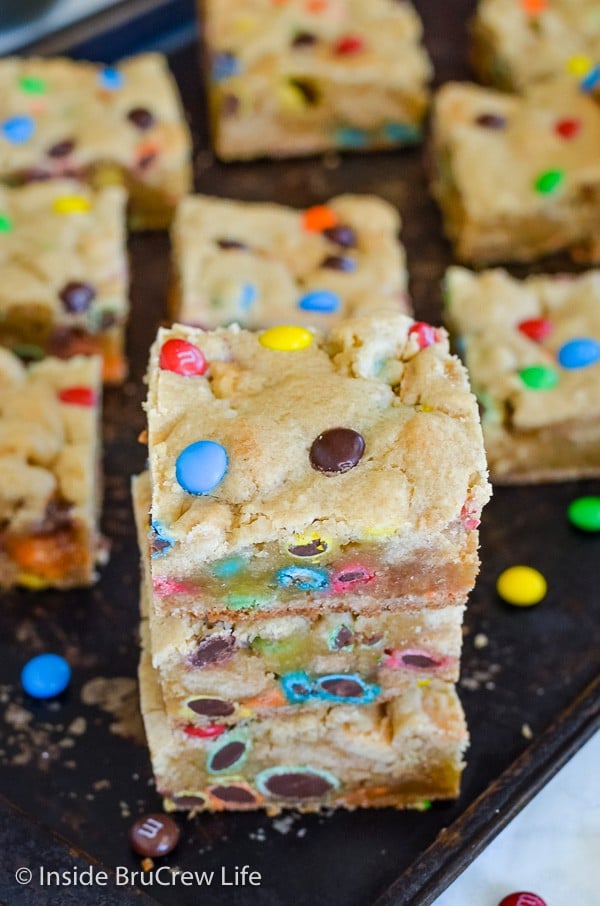 Do you love a recipe you tried from Inside BruCrew Life?
Please leave a 5-star ⭐️ rating and a review in the comments section below.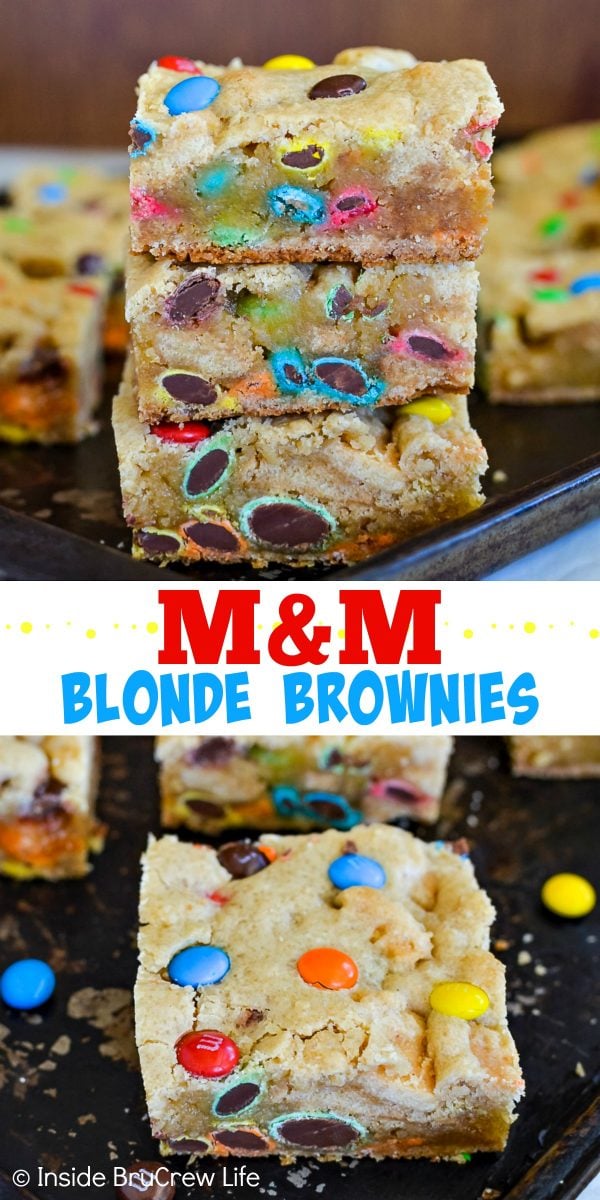 *This post for M&M Blonde Brownies was first published on March 11, 2014. It has been updated and republished on February 15, 2019.