We have the perfect treat for your! Our Peanut Butter Cup Cookies are a combination of homemade peanut butter cookies and Reese's peanut butter cups. They are so good that they will be gone in minutes. You don't want to miss out on these treats.
Looking for more Reese's treats? You will love this mini peanut butter cheesecake and these Reese's rice krispie treats.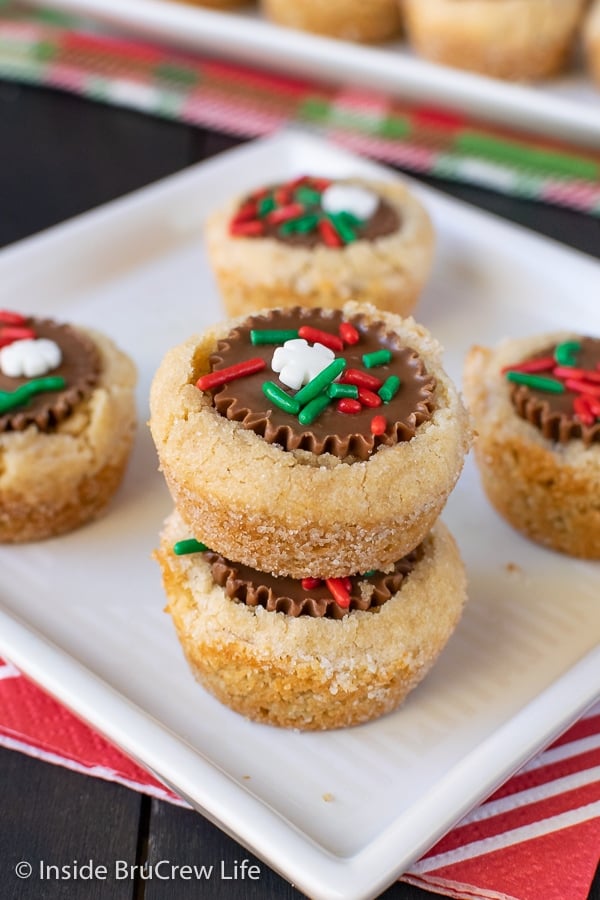 This fun little cookie cup is one that we make every single Christmas. It's just a basic peanut butter blossom cookie turned into a cute little cookie cup.
I love that these ones have a peanut butter cup candy in the center. These Reese's cookies are probably one of my top 5 cookies. That's how good they are. This peanut butter Christmas cookie never lasts very long when we make them.
So, I better plan on making a few different batches of these cookies for the holidays. I also want to make these white chocolate peanut butter balls and stack them into little snowmen. It's going to be all about the peanut butter treats on Christmas Day.
Why You Will Love these Reese's Cookies
These cookies are a delicious combination of two classic treats. They are perfect for any occasion, although they are so good you may want to keep them all to yourself.
You can enjoy these sweet treats anytime or anywhere because they travel well and stay fresh at room temperature for a while. So, whether it's lunchtime or midnight, these peanut butter cup cookies will satisfy your craving whenever it strikes.
These are also a great cookie to ship or mail to loved ones around the world. They package easily, hold their shape, and taste great when they get there.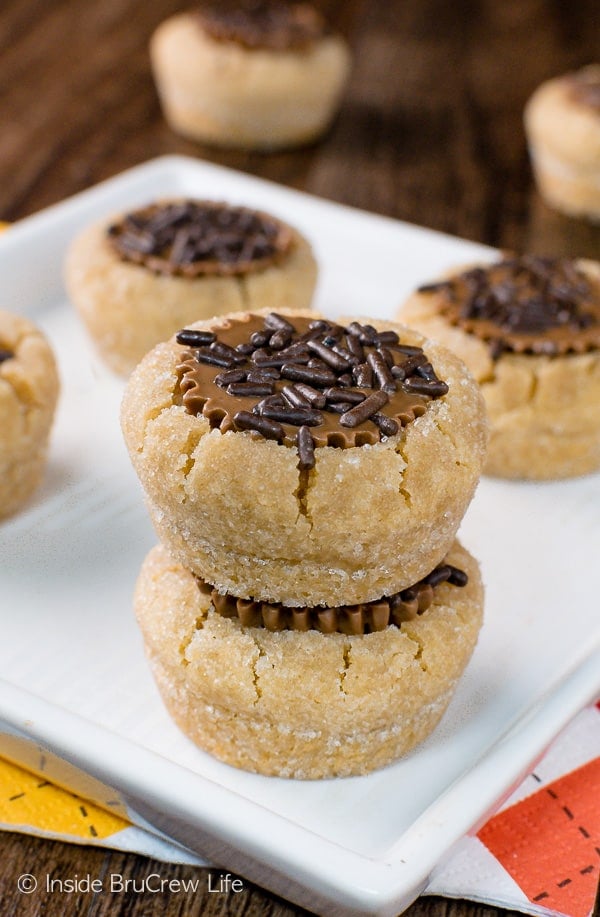 Main Ingredients Needed
These peanut butter cookies come together quickly with just a few simple pantry ingredients. Make sure you buy extra Reese's peanut butter cups because this is a recipe you will want to make over and over again.
Peanut Butter - Use your favorite brand of creamy peanut butter. If you like a crunch in your cookie, feel free to substitute crunchy peanut butter.
Vegetable Shortening - Helps the cookies hold their shape better. It also gives the cookies a softer texture.
Sugars - A mixture of granulated and brown sugar sweetens these peanut butter cookies.
Egg - Binds the ingredients together.
Flour - Gives the cookie dough structure. See how to measure flour correctly when baking.
Baking Soda - Provides the lift as the dough bakes.
Peanut Butter Cups - You will need 24 miniatures for this recipe. Please remove all wrappers before adding them to the cookies!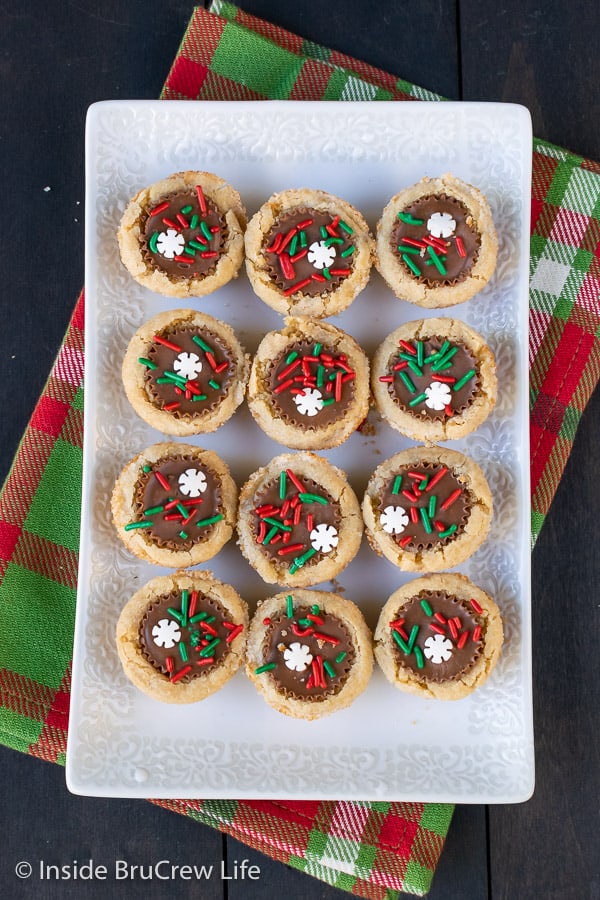 How to make Peanut Butter Cup Cookies
These easy peanut butter cup cookie recipe comes together in minutes. Just make sure to press the peanut butter cup into the warm cookie, so it holds the mini muffin shape.
Beat the peanut butter, shortening, and sugars in a large bowl until creamy.
Add the egg and vanilla and beat again.
Slowly mix in the flour, baking powder, and salt.
Roll the peanut butter cookie dough into 24 even balls. Roll each one in the extra sugar and place in a greased mini muffin tin.
When the cookies are done baking, let them cool in the pan for 2 minutes. Then press a chilled peanut butter cup into the top of each one.
Run a butter knife around the edge of the cookies and lift them out gently before the chocolate starts to melt. Place them on a wire rack to cool and set completely.
If you want to customize the cookies for a party or holiday, add sprinkles to the tops of the melted peanut butter cups before the chocolate sets.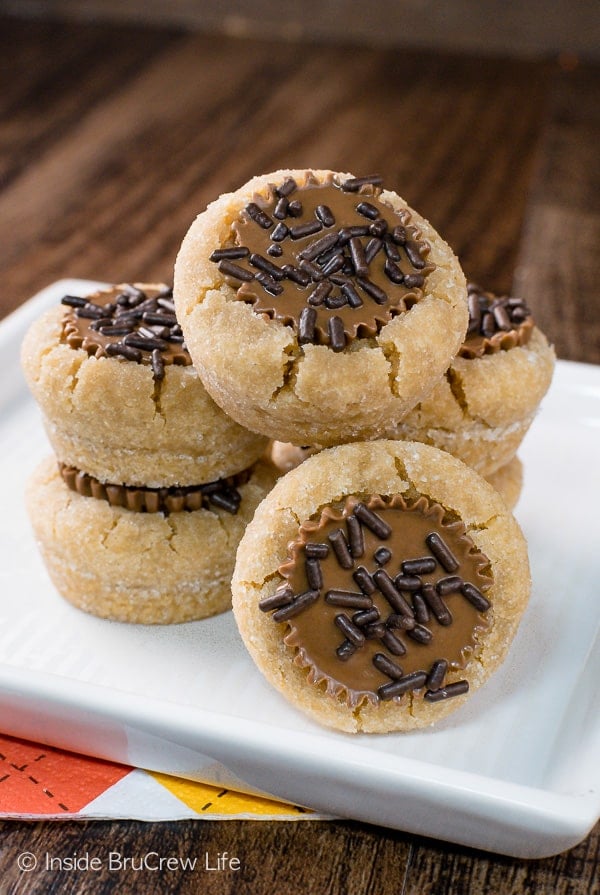 Decorating Peanut Butter Cup Cookies
Use any color of sprinkle to add some fun to the tops of the peanut butter cookies. Chocolate jimmies are a great choice for most of the year, but I like to change them up during the holidays.
They are so easy to customize for every holiday during the year.
Pink, red, and white sprinkles for Valentine's Day
Green and white for St. Patrick's Day
Pink, white, and yellow for Easter
Red, white, and blue for Memorial Day and Fourth of July
Orange and black for Halloween
Brown and orange for Thanksgiving
Red, white, and green for Christmas
You can also use the white chocolate peanut butter cups and add some little snowman faces to the tops for winter parties.
CLICK HERE TO PIN THIS RECIPE FOR LATER!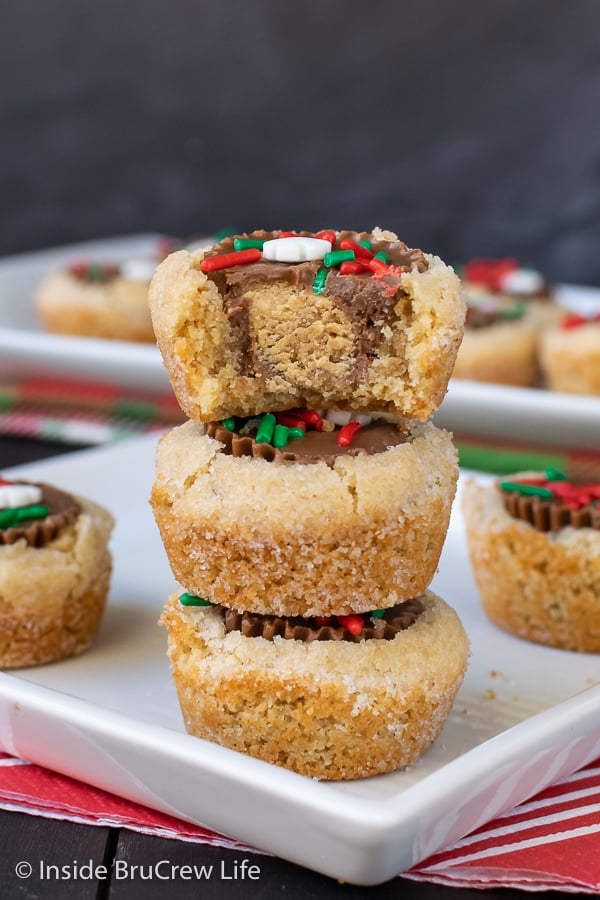 More Easy Cookie Recipes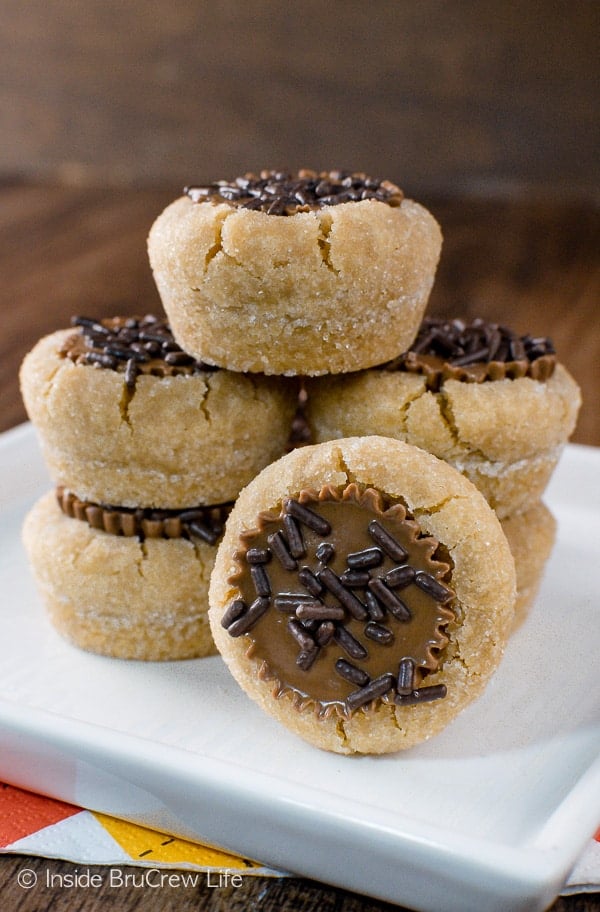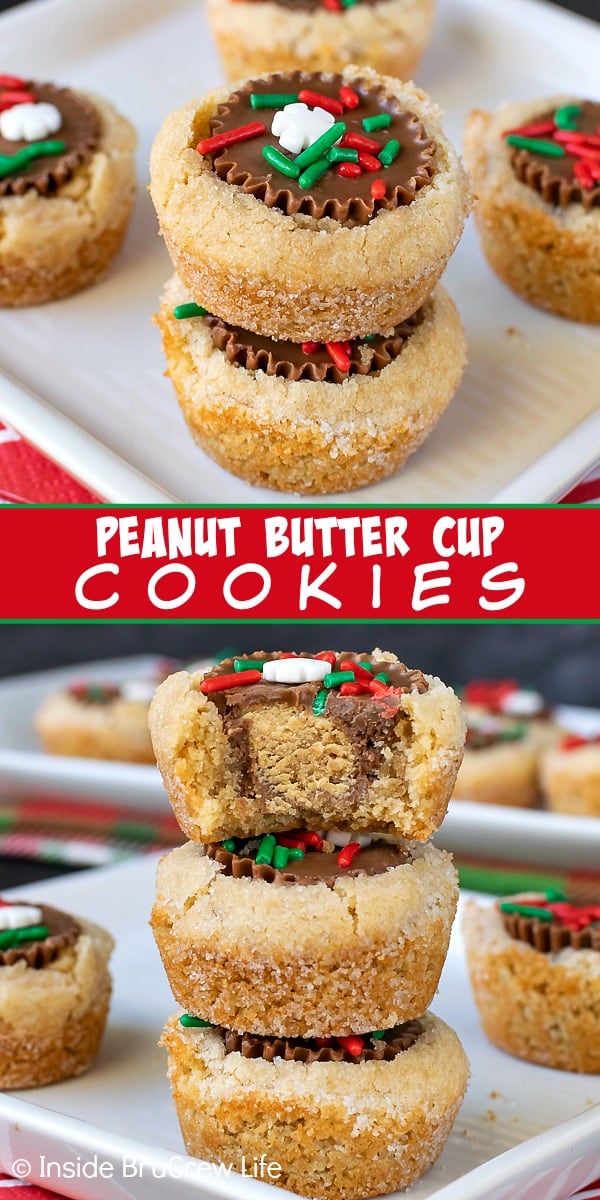 *The post for Peanut Butter Cup Cookies was first published on December 22, 2017. The post and photos have been updated and republished on November 25, 2019.