Gooey marshmallow frosting and chocolate bars make these sweet S'mores Sugar Cookie Bars a fun dessert for summer picnics and parties.
Keep in touch with us! Subscribe to our free BruCrew Life email to have it sent to your inbox.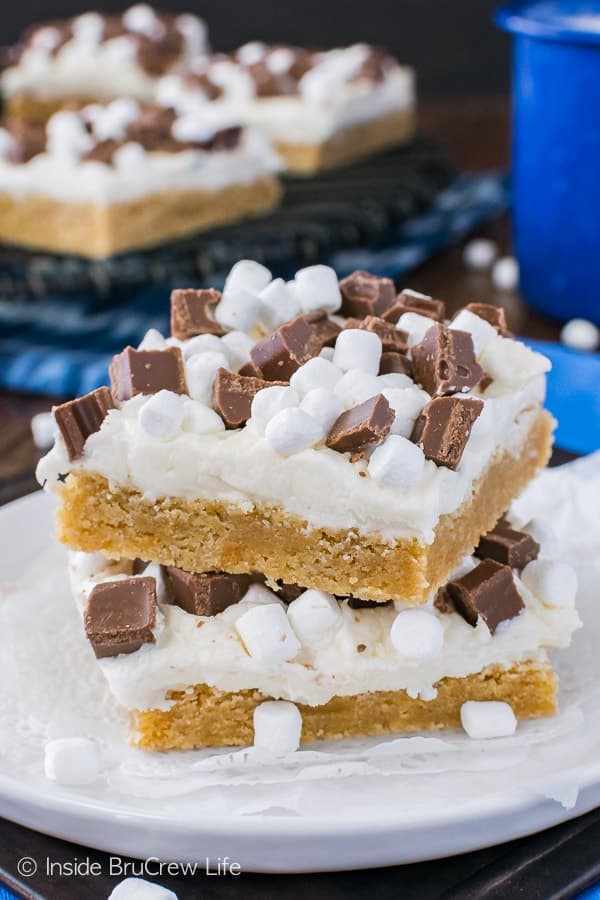 CLICK HERE TO PIN THIS RECIPE FOR LATER!
Summer is in full swing here. With all these hot blazing days we have made a few trips to the pool and Bahama Bucks. Gotta love a cup full of shaved ice with all kinds of flavored syrups.
Of course when I think of summer, I think s'mores. Ok, that's not quite true because I tend to think about s'mores all year long. I have made it my mission to include s'mores in every kind of treat.
Popcorn, cheesecake, cookies, and even breakfast have all been s'mores-itized in our kitchen. Haha! That's my new word for the month. S'mores-itized! Now to figure out what else I can add chocolate, marshmallow, and graham crackers too...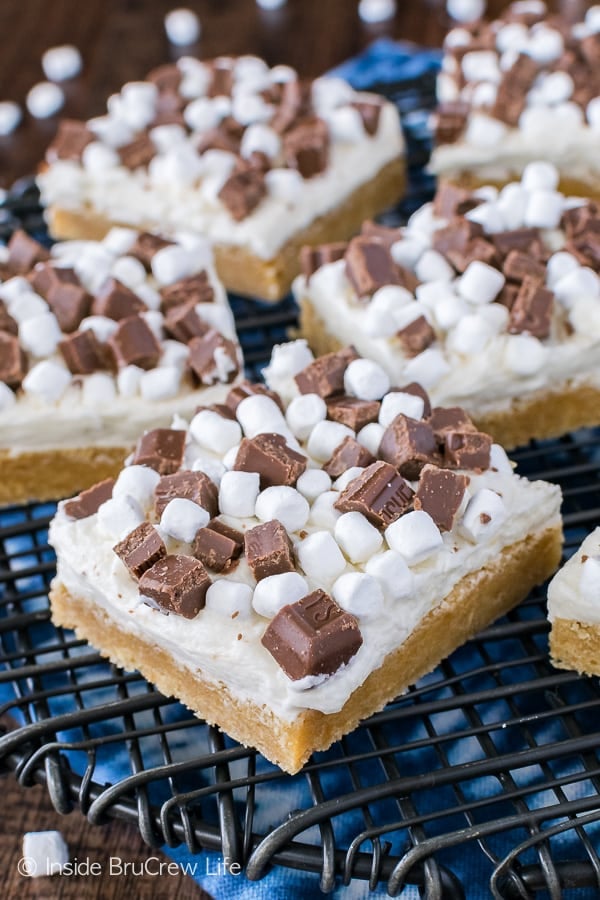 Now I know what you are thinking. Why not just go out to your backyard, start a fire, and make a normal s'mores like the rest of us. And don't get me wrong, I do love a good gooey s'mores.
S'mores were ruined for me after we had children. Sharp pointy objects topped with hot flaming sugar balls being swung around in your face would make you want to run and hide too.
Oh, and don't get me started on finding sticky marshmallow on everything. The chairs, deck, doors, and clothes always had sticky gooey on them after a bonfire night.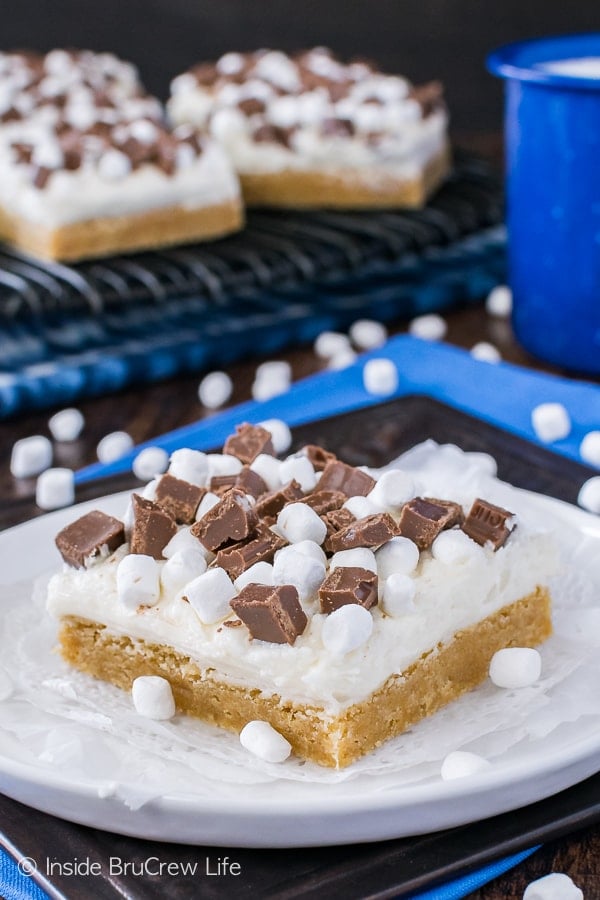 So I found other ways to enjoy the s'mores flavor from the comfort (and safety) of our kitchen. This time I decided to make more cookies.
I briefly thought about doing cut out cookies, and then I just chuckled to myself. You see ever since I made these eggnog sugar cookie bars, I haven't even opened the cookie cutter box. I love how easy sugar cookies in a pan are because you can bake and frost them in an hour. Gotta love that!
Since those first cookie bars, I have made mint, lemon, funfetti, hot chocolate, salted caramel, pumpkin, peppermint, unicorn, and shamrock.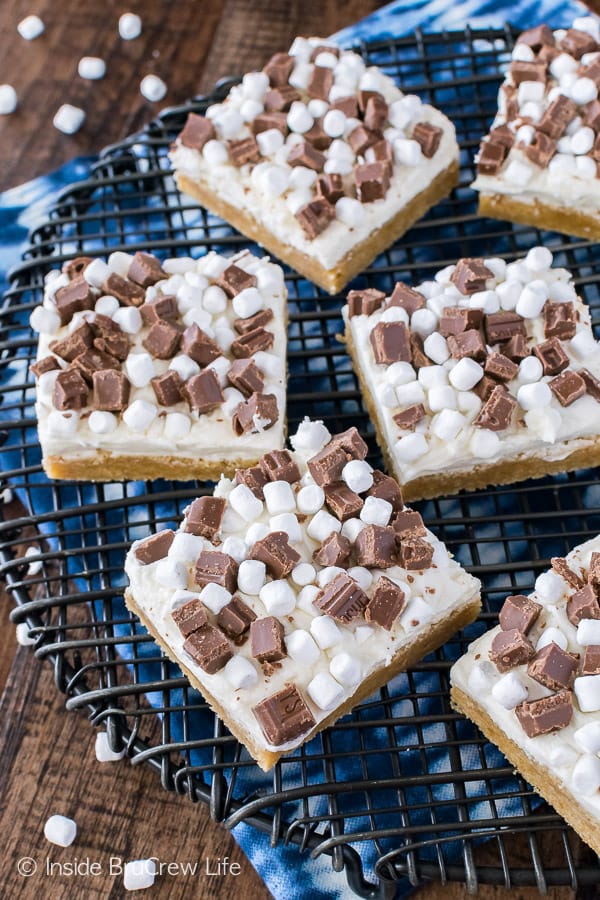 Sheesh, I've made quite a few different versions over the year. But that didn't stop me from thinking up a few new ones for the summer. Up first are these easy s'mores sugar cookie bars.
Graham cracker crumbs added to the cookie dough make these cookie bars so good. Trust me, you could just eat them plain and be perfectly happy. But...I happen to like frosting, so I added a gooey marshmallow frosting to the top.
I tossed a bunch of chocolate and marshmallows on top of the frosting because it wouldn't be s'mores without them. Oh, yeah! S'mores without the fire and the mess is how I like my gooey treats!
If you are like me and want more s'mores goodness in your life, please check out a few of these recipes from my friends. I love how gooey and delicious these Grilled S'mores Dessert Quesadillas are. Since I'm totally obsessed with owls, I love these cute little Owl S'mores. And I am totally in love with the flavor combo in these amazing looking Cherry Cola S'mores Brownies.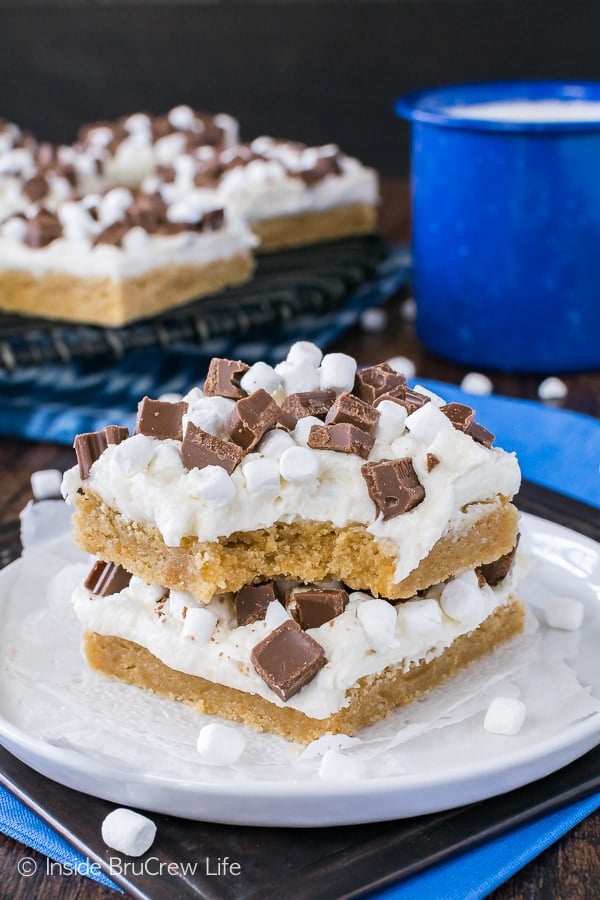 Stay up to date on all the BruCrew baking here:
FACEBOOK | PINTEREST | TWITTER | INSTAGRAM | BLOGLOVIN
Sign up to receive an email in your inbox for each new recipe:
EMAIL SUBSCRIPTION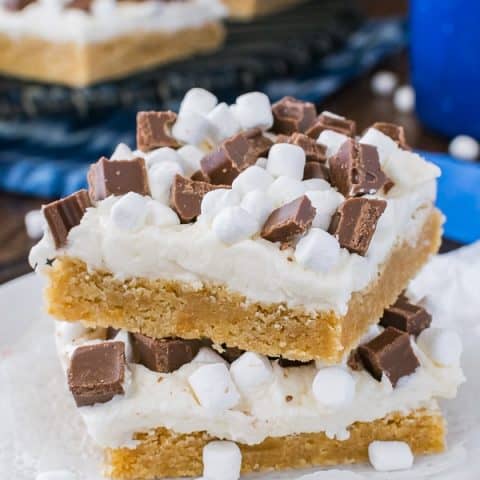 S'mores Sugar Cookie Bars
Gooey marshmallow frosting and chocolate bars make these sweet S'mores Sugar Cookie Bars a fun dessert for summer picnics and parties.
Ingredients
½ cup butter, softened
½ cup sugar
½ cup brown sugar
1 teaspoon vanilla extract
1 egg
1 teaspoon baking powder
½ teaspoon salt
1 ½ cups flour
1 cup graham cracker crumbs
⅔ cup mini marshmallow bits
12 snack sized Hershey bars, cut up
Instructions
Preheat the oven to 375 degrees. Line a 9x13 pan with foil and spray with nonstick spray.
Beat the butter and sugars until creamy. Add the vanilla and eggs and beat again.
Stir together the baking powder, salt, flour, and graham crumbs. Slowly add to the butter mixture until a soft dough forms. (If you are using a hand mixer, this may take some time.)
Press the dough into the bottom of the prepared pan. Bake for 15-16 minutes. Cool completely.
Spread the marshmallow frosting on the cooled cookie bars and top with the marshmallow bits and chocolate bars. Cut into 24 bars. Store in a tightly sealed container.
Notes
*You can also add 1 cup of graham cracker chunks to the top if you want.
Nutrition Information:
Yield:

24
Serving Size:

1
Amount Per Serving:
Calories:

337
Total Fat:

15g
Saturated Fat:

9g
Trans Fat:

0g
Unsaturated Fat:

3g
Cholesterol:

34mg
Sodium:

211mg
Carbohydrates:

49g
Fiber:

1g
Sugar:

39g
Protein:

3g