These chocolate M&M's Brownies are full of candy goodness.  They are a great fudgy snack for any time of day.  They also make great lunch box treats or after school snacks.  Add a glass of milk and you are good to go.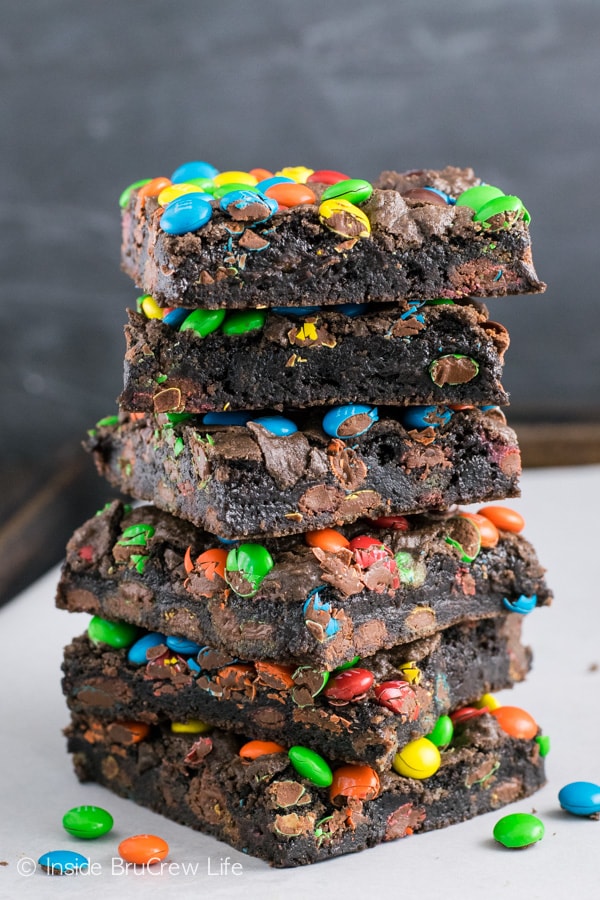 CLICK HERE TO PIN THIS RECIPE FOR LATER!
Last year we traded in our van for a little silver Prius.  I'm not going to lie.  I love that little car.  It's great on gas mileage, and it looks stylish too.  No more soccer mom van for me.
Of course there are a few down falls to the little car.  There are only 5 seats, and we have 5 family members. So, if the kids have friends over after school, my husband and I both have to drive in order for everyone to get to our house.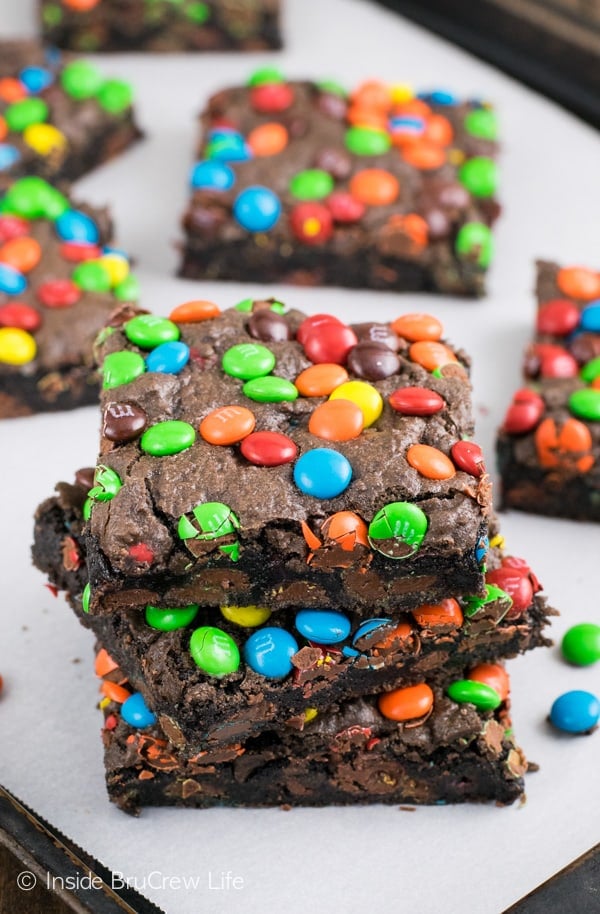 One other down fall is that in a smaller car you are lower to the ground. For whatever reason now brake lights freak me out.  I noticed it when I was driving a while ago.  Every time the cars in front of me brake, I panic and hit mine.  That's not something I ever used to do.
Of course the brake's on this car are a whole lot touchier.  I hit the brakes, my heart starts racing, and then I realize that the person in front of me is still going.  There was no reason to get so panicked.  I'm not sure what is going on with me.
And now I'm doing it with husband and son.  As soon as I see the cars in front of us hit their brakes, I'm grabbing the side of the car and commenting that we should slow down.  Who am I and when did I get to be an old person?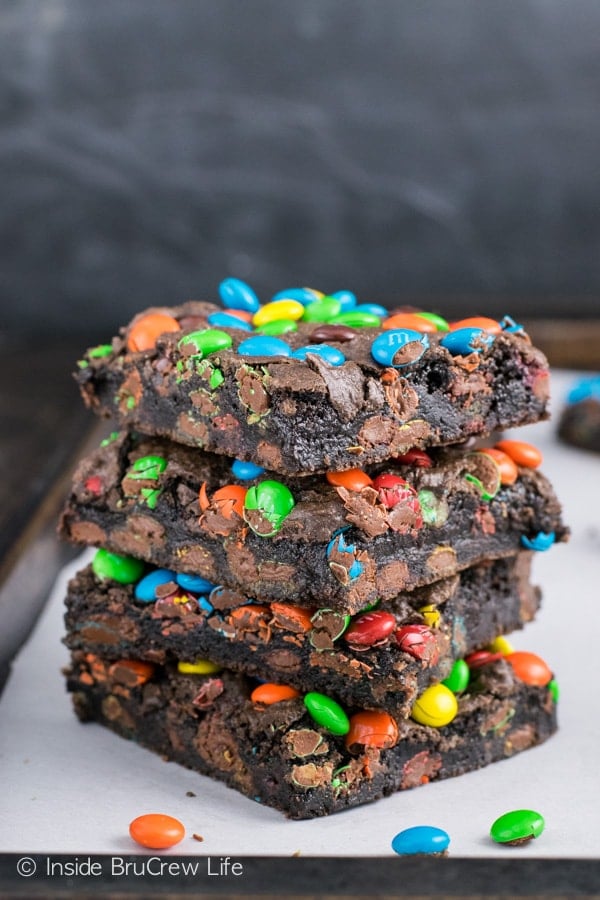 They both just look at me like I'm a freak and say they have it under control.  That doesn't stop me from doing it though.  In fact, it might be getting worse.
I blame it on the little car and being so low to the ground.  In the van, I was higher and didn't feel like I would get flattened in any type of accident.
Want to know something else that makes me freak out?  Brownies!  Not just any brownies though…brownies loaded with M&M's candies.  Those colored chocolates have been my favorites for years!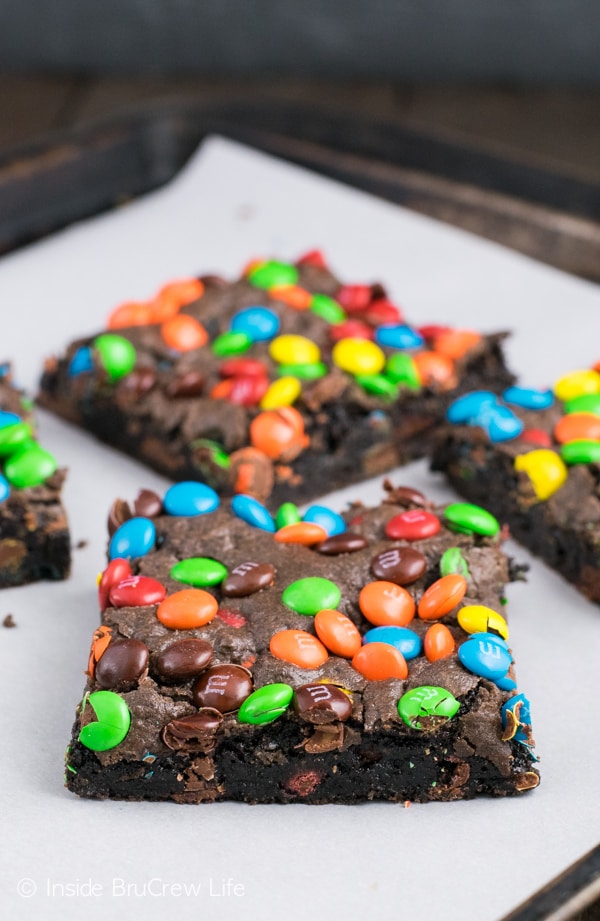 Last year I loaded up these M&M Blonde Brownies with the fun colored candies, and they have been one of my most popular recipes.  Easy, simple, and totally delicious!
That got me thinking that it would be fun to make a chocolate blonde brownie.  Then I realized that is just  a brownie.  LOL!
I used the same recipe to make these brownies, only I gave it a dark chocolate make over!  And the almond extract gave it a slightly different, but amazing flavor.  Seriously, I LOVE that stuff, but if you do not care for it, please use vanilla!  
Lots of of colorful candies inside and on top of the M&M's brownies gave them such a fun flair.
Both my husband and mother-in-law said I should have left the candy off…but don't listen to them!  I'm pretty sure they are aliens, because who wouldn't want a brownie loaded with candy?!?!?!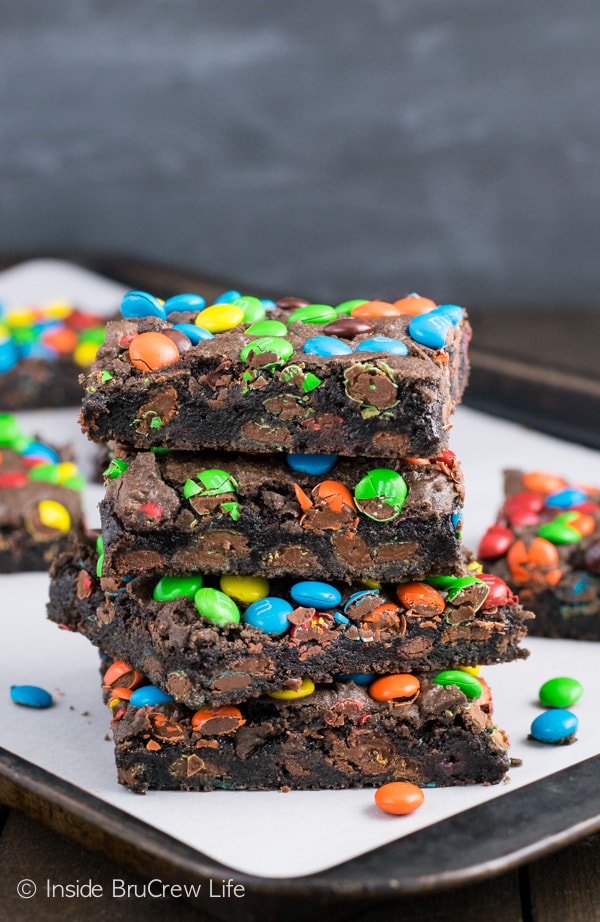 Stay up to date on all the BruCrew baking here:
FACEBOOK | PINTEREST | GOOGLE+ | TWITTER | INSTAGRAM | BLOGLOVIN
 Sign up to receive an email in your inbox for each new recipe:
EMAIL SUBSCRIPTION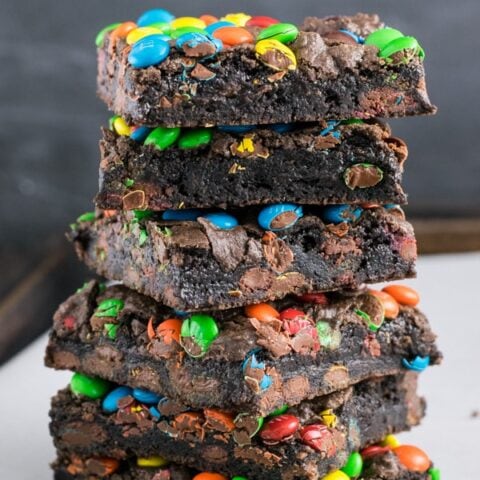 M&M's® Brownies
These easy M&M's Brownies are loaded with plenty of colorful candies inside and on top. They are a fun treat to enjoy any time of day.
Ingredients
1/2 cup butter, softened
2 cups brown sugar
2 eggs
1-2 teaspoons almond extract**
1/2 teaspoon salt
2 teaspoons baking powder
1 3/4 cups flour
1/2 cup dark cocoa powder
1 1/2 cups mini M&M's candies, divided
Instructions
Preheat the oven to 350 degrees. Spray a 9x13 pan with nonstick spray.
Beat the butter and sugar until creamy. Add the eggs and extract and beat again.
Stir together the salt, baking powder, flour, and cocoa powder. Slowly beat into the butter mixture until combined.
Add 1 cup mini M&M's and stir gently.
Spoon into the prepared dish. Top with the remaining candies. Bake for 23-25 minutes. Remove and let cool completely before cutting into 24 squares. Store in a tightly sealed container.
Notes
**If you do not care for the taste of almond extract, you can use vanilla in place of it.
More easy cookie bars to make when you are craving something sweet: