Looking for a way to start the day off with a healthy breakfast? This loaf of Blueberry Banana Bread is made with yogurt, fresh fruit, and oats. It's a delicious way to start any day.
If you like this bread, you will enjoy these Blueberry Coconut Scones for breakfast too.
*Love these recipes? Be sure to sign up for the BruCrew email to have these recipes delivered to your inbox each time a new recipe is shared.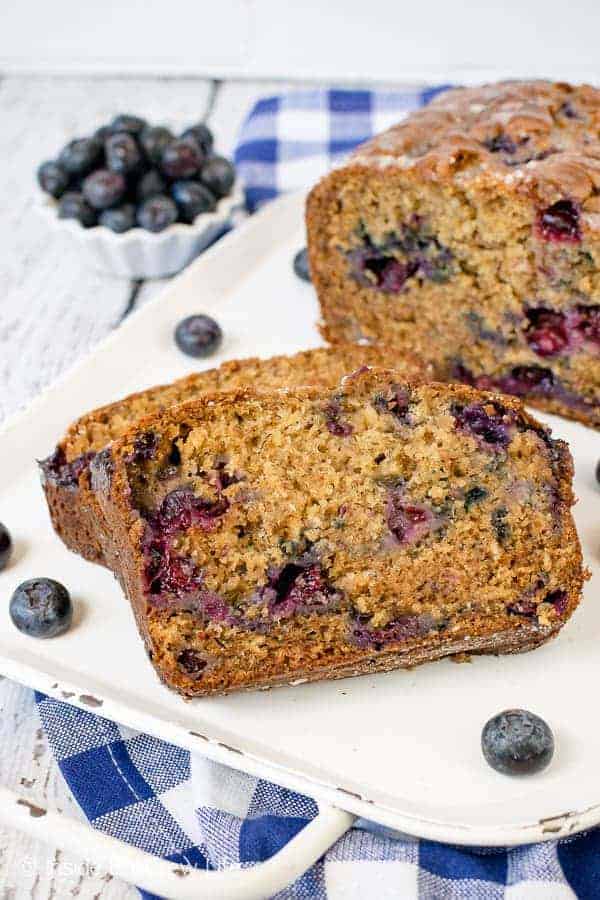 CLICK HERE TO PIN THIS RECIPE FOR LATER!
After eating candy non-stop this past weekend, I am ready for something a little bit healthier to eat. This easy banana bread recipe with blueberries, oats, and yogurt sounded like a great way to detox this week. Although, if you have candy to get rid of, this Java Twix Banana Bread is delicious option too. Just saying.
I tend to buy bananas all the time. It's a great snack to eat when you are short on time. Although, I have to admit I'm a green banana eater. Once they actually ripen, I won't get near them. Unless it's to bake Banana Nut Cinnamon Rolls or Banana Coconut Muffins.
Bananas are probably the most used ingredient in our kitchen. Mainly because we always have them on hand. The bananas we don't eat get frozen for Peanut Butter Banana Ice Cream. Gotta love a bowl of creamy banana ice cream loaded with peanut butter swirls, right?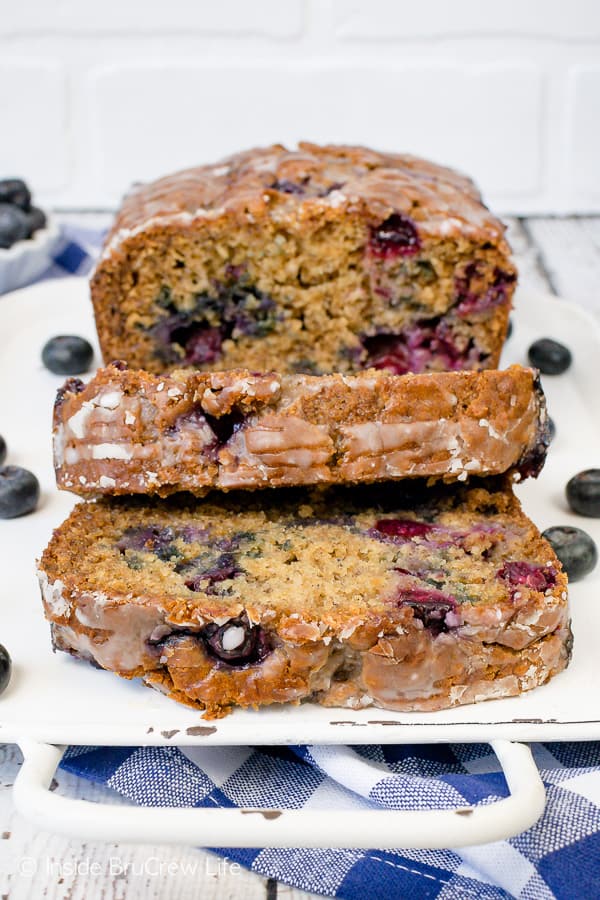 Back to the loaf of banana goodness staring at you. This Blueberry Banana Bread is full of fresh juicy blueberries in every bite.
I had a box of fresh blueberries that I used, but you can also use frozen blueberries if that is what you have on hand. Just use whatever is easiest for you to get this bread in your oven ASAP.
Banana bread makes a good breakfast or after school snack. Our kids devoured this loaf of banana bread down in one day. I guess I should not have frozen the rest of the brown bananas, huh?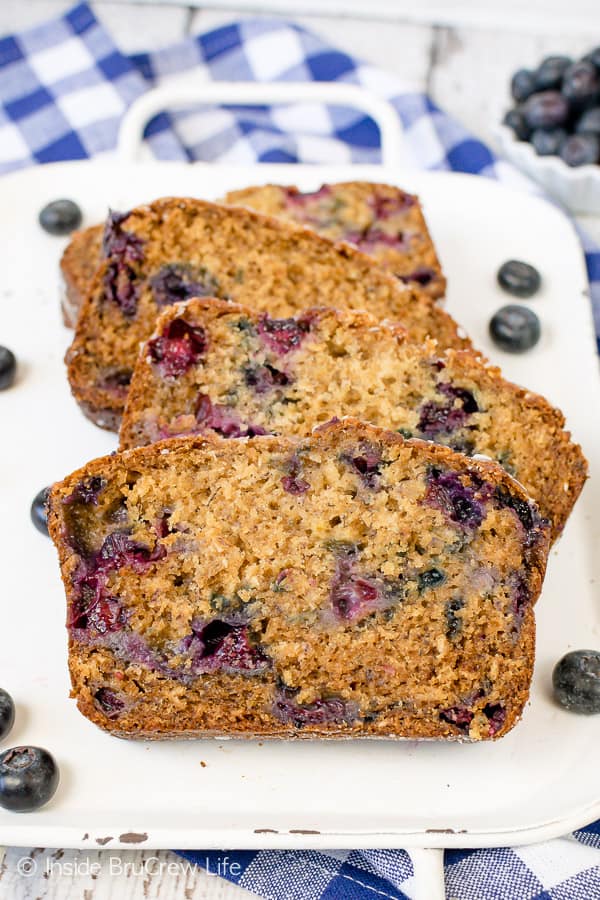 How to make Blueberry Banana Bread:
Cream the butter and brown sugar together. Then add the honey, vanilla, yogurt, and smashed bananas. Honey is a great way to keep this bread sweet without using too much sugar.
Add a mixture of flour, oats, baking powder, baking powder, cornstarch, and spices to the banana mixture along with some milk. Make sure you do not over mix the batter. Over-mixed banana bread batter will result in a loaf of bread that is dense and rubbery. Those are definitely not qualities I want in my banana bread.
To keep your loaf of banana bread light and fluffy, just mix your ingredients until they are moistened. It's even better to stop your mixer and finish mixing it by hand to ensure you do not over mix it.
Fold your fresh berries in right before you spoon the batter into your greased loaf pan. Bake the bread in a preheated oven. If your bread starts to darken, place a tin foil tent over it around the 40 minute mark, so it doesn't get too dark.
Let the Blueberry Banana Bread cool in the pan for about 10 minutes, then flip it out onto a wire rack to cool more.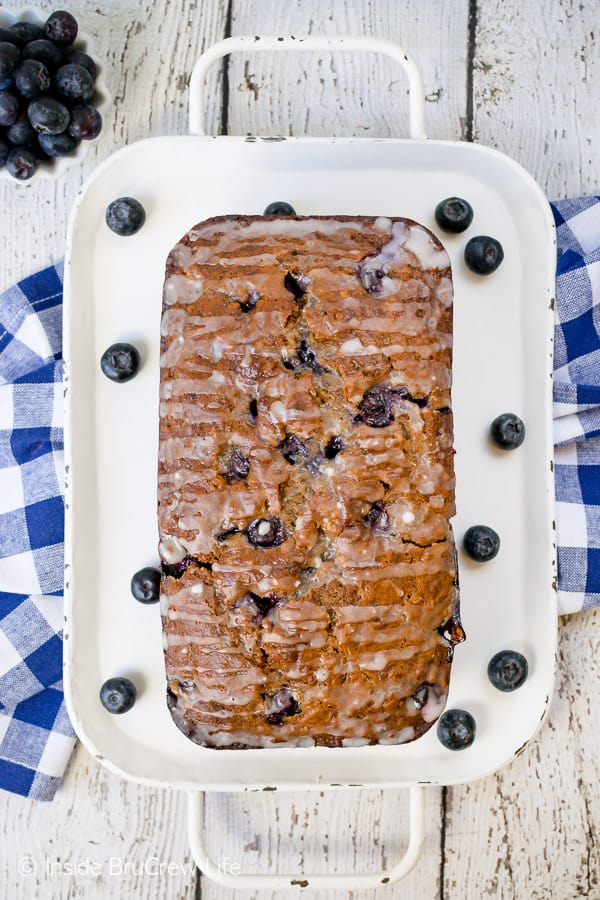 How long does Banana Bread keep?
A loaf of freshly baked banana bread will keep on the counter for a few days. You can also wrap it and keep it in the refrigerator for a week. You can also wrap it tightly and place it in a freezer bag. It should keep for 2-3 months that way. Take it out, unwrap it, and let it thaw a few hours before serving.
Banana bread is perfect for all of life's situations. Wrap up a loaf of bread for a new neighbor or a new mom. Bring a loaf to a ladies luncheon or Bible study. Or bring a loaf to a friend that is going through a tough time. There is something just comforting about a loaf of sweet bread.
A loaf of soft moist banana bread is also very versatile in how you can eat it. A slice of bread fresh out of the oven with melted butter on top is seriously delicious.
It's also great the next day cold with that slight bit of crust on it. Pop a slice in the microwave to warm it up. Drizzle honey on top. Add fresh berries. There is no wrong way to eat this bread.
One of my favorite things to add is a drizzle of sweet glaze to the top. If you don't want to add the extra bit of sugar though, feel free to leave it off.
Anyway you eat it, this is the best banana bread around!!!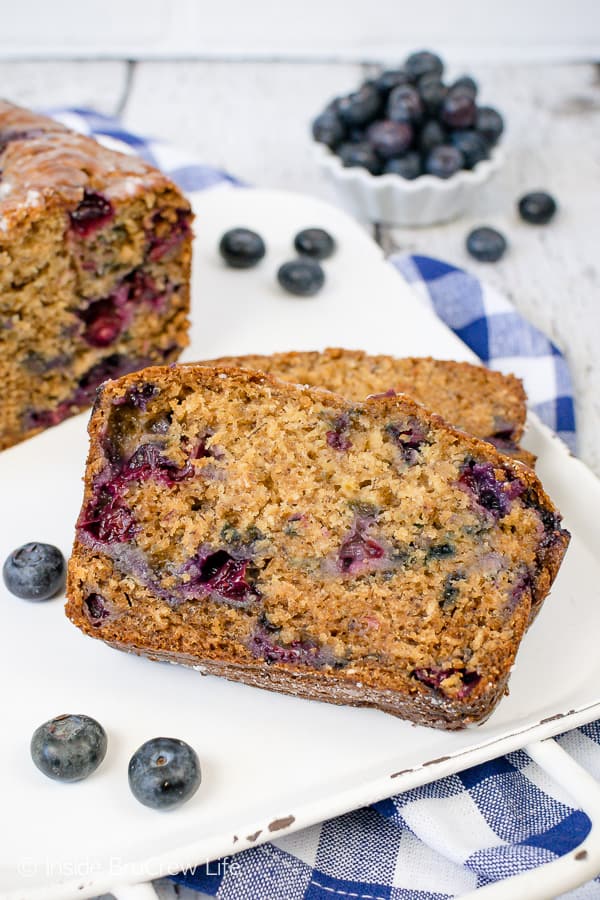 As with any banana bread, this one was definitely better the next day. My favorite thing to do is bake the bread the night before because then it is ready to be eaten first thing in the morning.
I can't wait for my bananas on the counter to get brown again. This healthy Blueberry Banana Bread is definitely going to be a regular in our kitchen.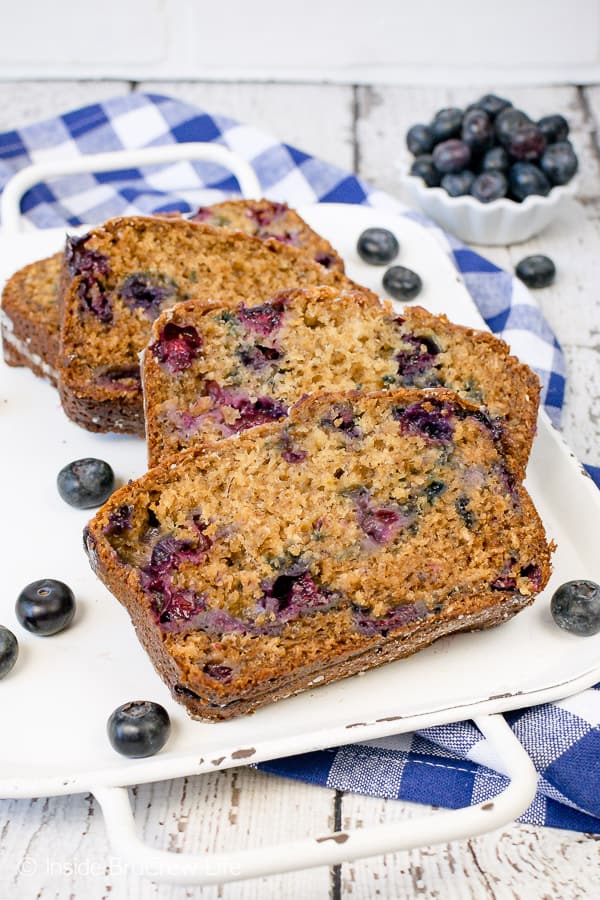 More easy banana recipes that you may enjoy:
Sweet chocolate swirls add a fun touch to these Chocolate Nutella Banana Muffins. These are a great muffin to wake up to in the morning!
This Bananas Foster French Toast is a cross between breakfast and dessert. It would be delicious for a ladies day brunch.
These light and fluffy Banana Toffee Scones taste like banana bread. They are a great way to use up some of the ripe bananas on the counter.
A batch of these Chocolate Banana Powdered Sugar Donut Holes are an easy treat to have ready in 30 minutes. Perfect for breakfast or after school snacks!
These light and fluffy Banana Toffee Scones taste like banana bread. They are a great way to use up some of the ripe bananas on the counter.
Connect with Inside BruCrew Life! Follow us on our social media, so you never miss a post.
FACEBOOK | PINTEREST | TWITTER | INSTAGRAM | BLOGLOVIN | EMAIL SUBSCRIPTION
I also created a fun new Facebook group, and I would love for you to join. It's a group where you can share your favorite recipes, ask questions, share photos, and see what's new with the BruCrew. If you would like to check it out, you can request to join HERE.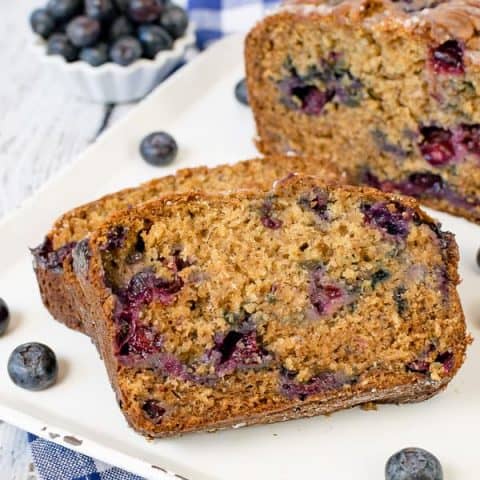 Blueberry Banana Bread
Total Time:
1 hour
10 minutes
Looking for a way to start the day off with a healthy breakfast? This loaf of Blueberry Banana Bread is made with yogurt, fresh fruit, and oats. It's a delicious way to start any day.
Ingredients
1/4 cup butter, softened
1/2 cup brown sugar
1/4 cup honey
1 teaspoon vanilla
1/2 cup Greek yogurt
1/2 cup smashed ripe banana
1 1/2 cups flour
1/2 cup quick oats
2 teaspoons baking powder
1 teaspoon baking soda
1 Tablespoon cornstarch
1 teaspoon cinnamon
1/2 teaspoon nutmeg
1/4 cup milk
1 cup blueberries
2 Tablespoons powdered sugar
1/2 Tablespoon orange juice
Instructions
Preheat the oven to 350 degrees. Spray an 8 1/2 x 4 1/2 loaf pan with nonstick spray.
In a bowl, mix the butter and sugar until creamy. Add the honey, vanilla, yogurt, and banana and cream again.
In another bowl, sift together the flour, oats, baking powder, baking soda, cornstarch, cinnamon, and nutmeg.
Add the flour mixture alternately with the milk to the banana mixture. Do not over mix.
Stir the in blueberries in by hand gently. Spoon the batter into the prepared pan. Bake for 55-60 minutes. If the top of the bread starts to darken, you can cover it with a piece of tin foil around the 40 minute mark.
The bread is done when a knife or toothpick inserted in the center comes out with a few crumbs stuck to it.
Remove and cool in the pan for 10 minutes, then flip out onto a wire rack to cool completely.
Stir together the powdered sugar and orange juice and drizzle over the top of the cooled bread, if desired.
Recommended Products
As an Amazon Associate and member of other affiliate programs, I earn from qualifying purchases.
Nutrition Information:
Yield:

14
Serving Size:

1
Amount Per Serving:
Calories:

158
Total Fat:

4g
Saturated Fat:

2g
Trans Fat:

0g
Unsaturated Fat:

1g
Cholesterol:

9mg
Sodium:

200mg
Carbohydrates:

29g
Fiber:

1g
Sugar:

15g
Protein:

3g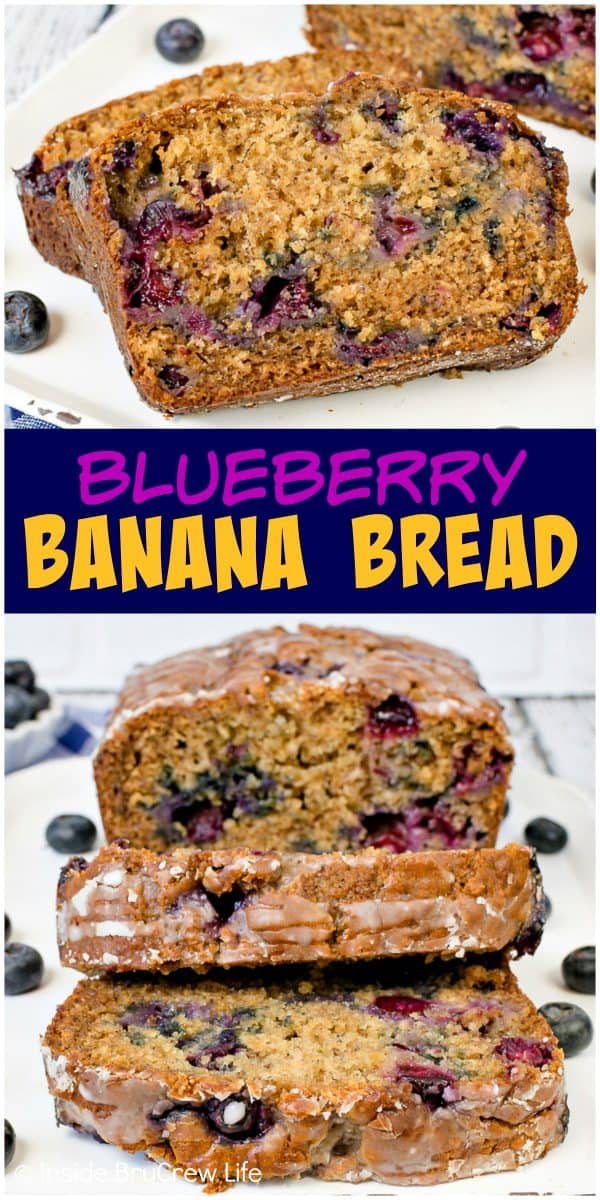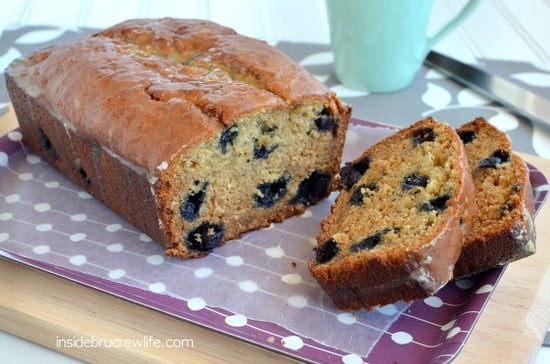 (Original Photo from March 2013)
*The Blueberry Banana Bread post was originally published on March 31, 2013. The pictures and post has been updated and republished on February 18, 2019.