Cool off this summer with these easy Mocha Fudge Milkshakes. There is nothing better than coffee, ice cream, and hot fudge in a glass. It's rich, creamy, and so delicious.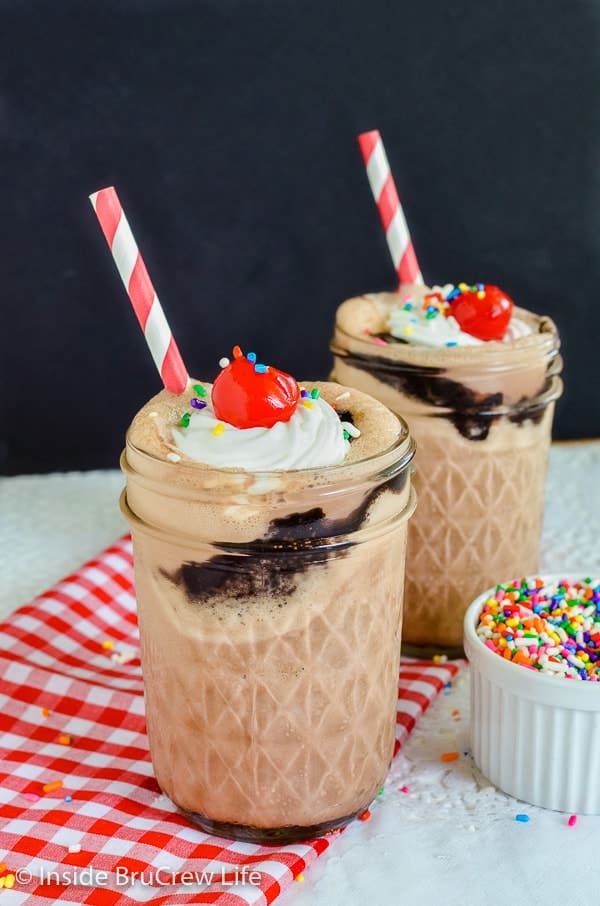 Coffee is the one thing that my husband and I drink the most. Well, after water that is. There is nothing like the smell of a freshly brewed cup of coffee to get you moving.
I am not a morning person, so I need that smell and caffeine to get my body to do what my brain is saying in the morning. Ok, so maybe need is a strong word. I want that boost to get myself ready to take on the day.
My favorite thing to do each morning is to pour a cup of hot coffee, top it with some frothed half-n-half, and sprinkle on some cinnamon. It's the perfect thing to sip on as I enjoy some quiet time on our back patio.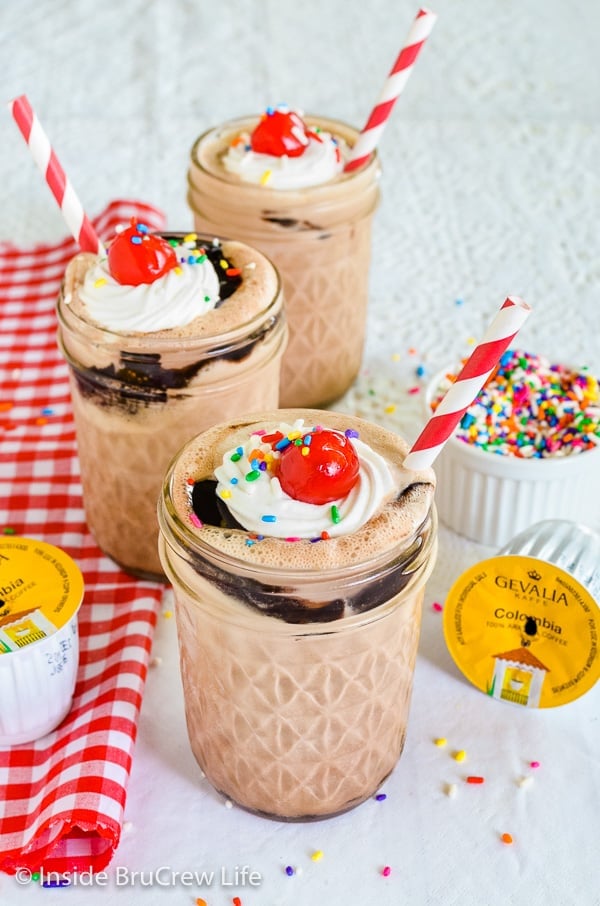 I love coffee so much that I like to refrigerate the leftover coffee because is the perfect addition to an after school milkshake. Although, lately the kids have been drinking more coffee, so there isn't much leftover after everyone has a cup.
Those are the days I have to pull out the cold brew coffee from the back of the fridge if I want to enjoy a coffee milkshake.
Our kids all love a good cup of coffee. I trained them well by taking them on "dates" to different local coffee shops over the years.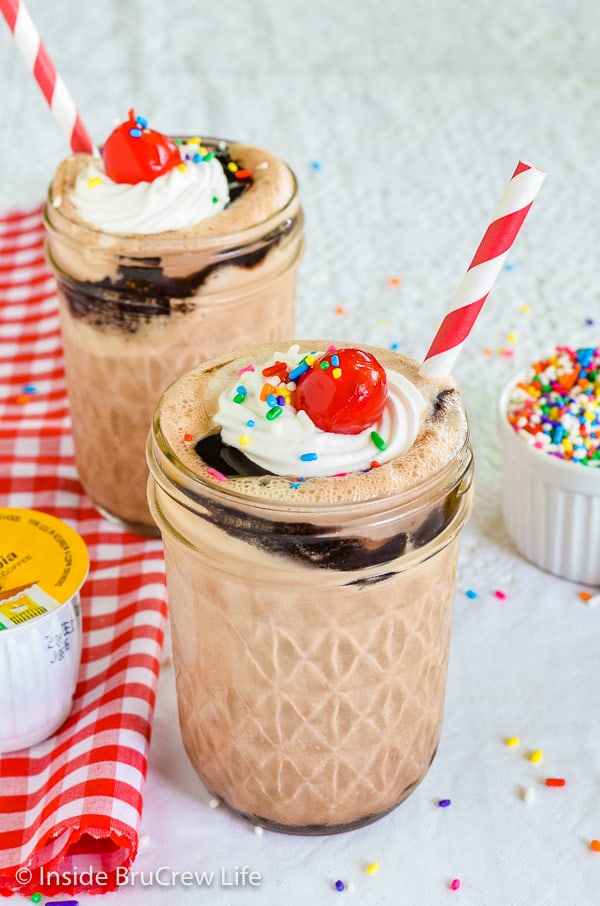 Adding coffee to ice cream is the perfect way to enjoy a quick and easy treat on a hot summer day. You can refrigerate leftover coffee to use in these shakes, or buy containers of iced coffee or cold brew coffee to keep on hand for drinks.
This Mocha Oreo Milkshake is another delicious milkshake flavor that all our kids love too.
This milkshake contains all my favorite flavors in one glass. Chocolate, coffee, and hot fudge equals bliss in a cup!!! It's so easy to make a fancy drink that tastes like a coffee shop drink.
Grab your blender and get ready to make this easy three ingredient milkshake.
How to make a Mocha Fudge Milkshake:
Add the ice cream and cooled coffee to a blender. Pulse until thick and creamy.
Pour the milkshake into glass cups. Top with hot fudge and serve immediately.
The Cool Whip, sprinkles, and cherry are optional, but I think they make these coffee milkshakes so much better.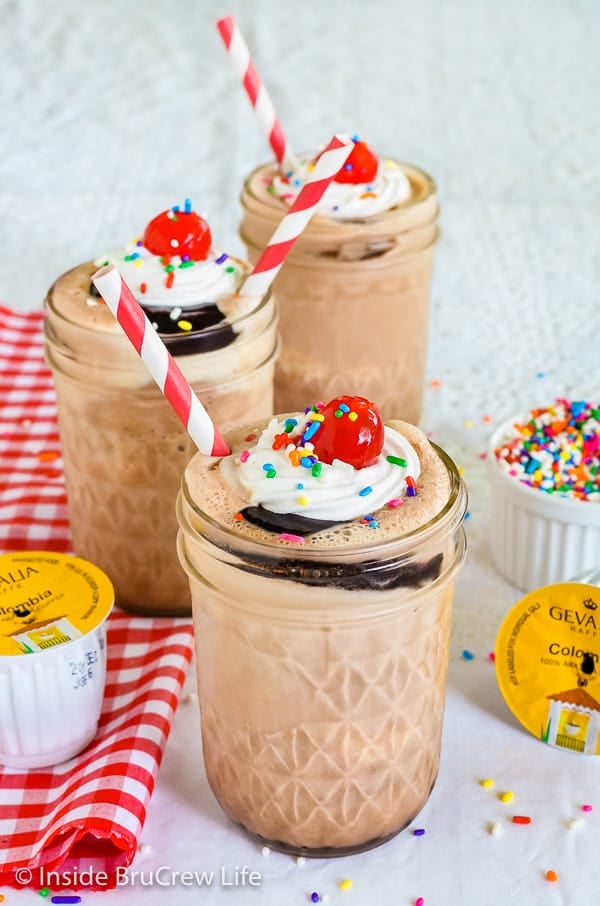 Other easy frozen dessert recipes you may enjoy:
Layers of fudge and candy make this easy Reese's Ice Cream Cake a stunning summer dessert for any party!
Swirls of strawberries and graham cracker crumbs give these Strawberry Cheesecake Milkshakes a fun flair.
Layers of homemade brownies, strawberry ice cream, and vanilla ice cream makes this Neapolitan Brownie Ice Cream Cake look so pretty!
A mug of this Frozen Salted Caramel Mocha Hot Chocolate is the ultimate treat to enjoy on a hot summer day!
Swirls of peanut butter and chocolate chips make this Peanut Butter Banana Ice Cream a healthy treat to indulge in when you are craving something sweet.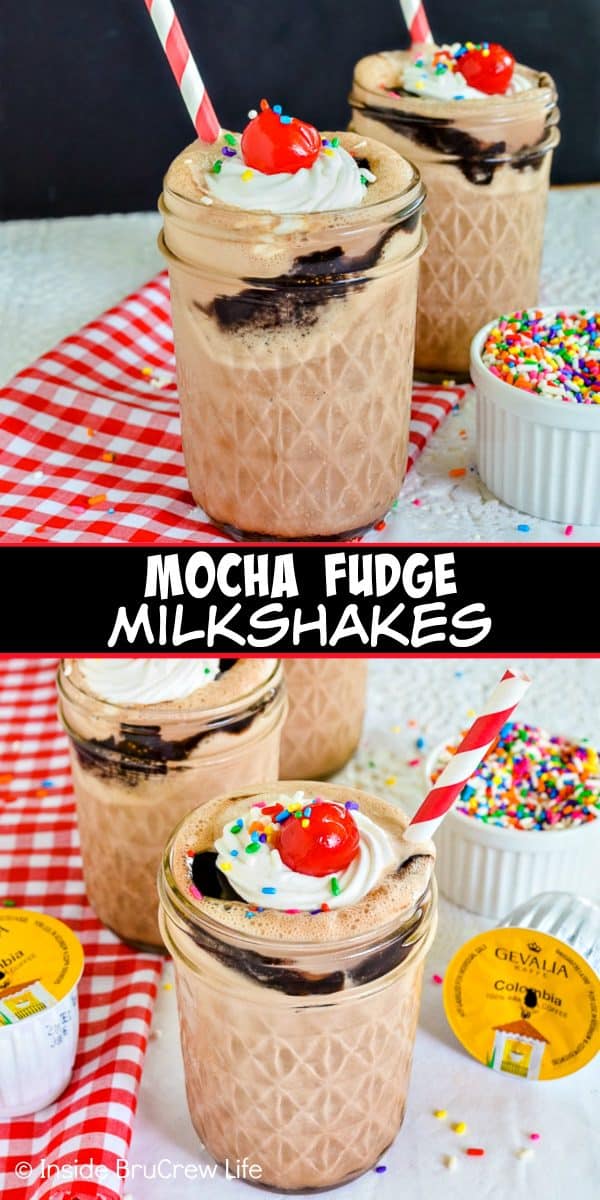 The post for these Mocha Fudge Milkshakes were first published on May 17, 2013. The photos have been updated, and it was republished on August 3, 2019.