A mug of this Frozen Salted Caramel Mocha Hot Chocolate is the ultimate treat to enjoy on a hot summer day!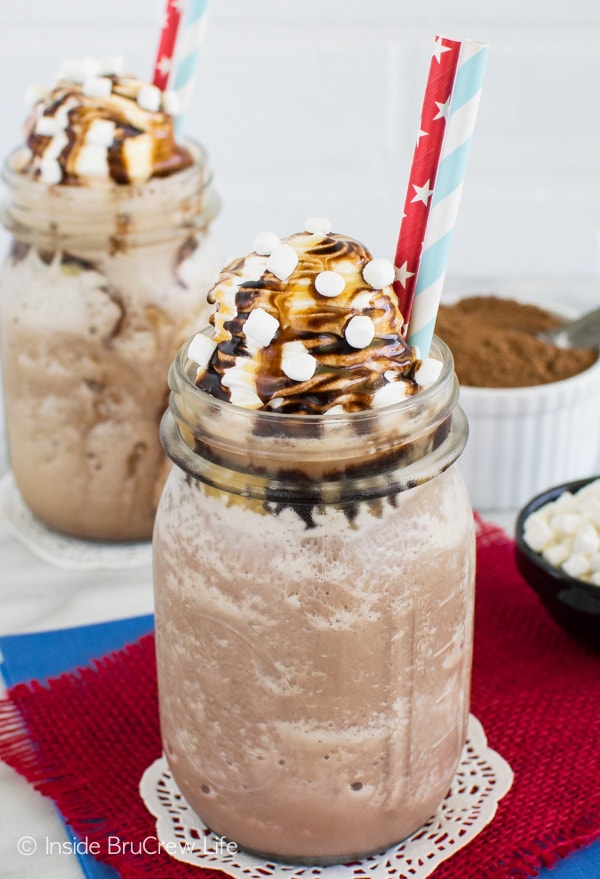 PIN IT NOW TO SAVE THE RECIPE FOR LATER!
Hello, chocolate goodness!  Frozen hot chocolate has become our new favorite drink for these hot summer days. 100 plus degrees keeps us reaching for more cold drinks!
A few weeks ago my daughter and I stopped at Dunkin' Donuts for an iced coffee.  She saw the frozen hot chocolate poster on the window and decided to try that instead of coffee.  One sip and instantly she was a big fan of that frozen drink.  I think she has asked every day if we can stop and get another one.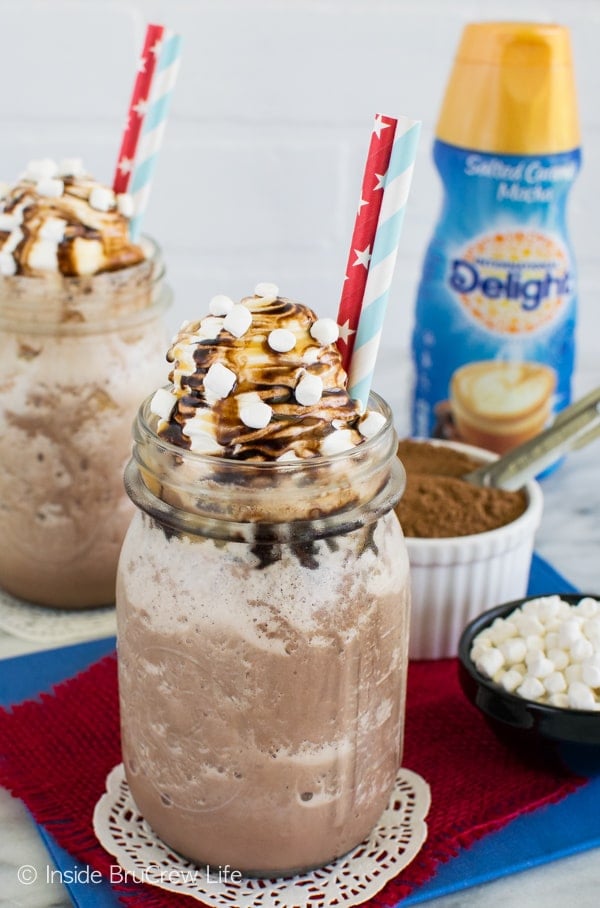 Instead of driving to the store and spending money every day, I decided to show my girlie how easy it is to make your own frozen drink in your own kitchen.
Plus, when you make it at home, you can customize your flavors.  I made two different versions. A plain chocolate one for my daughter and a fun jazzed up version for me. This salted caramel mocha latte was the inspiration for my drink.
Coffee, salted caramel creamer, and a leftover salted caramel hot chocolate packet made the most amazing drink.
Holy cow!!  Was it ever good!!! It was like a milkshake, slushie, and frosty all in one with a sweet and salty flavor!  The only thing that could make it better…having a batch of salted caramel brownie cookies to accompany this amazing drink.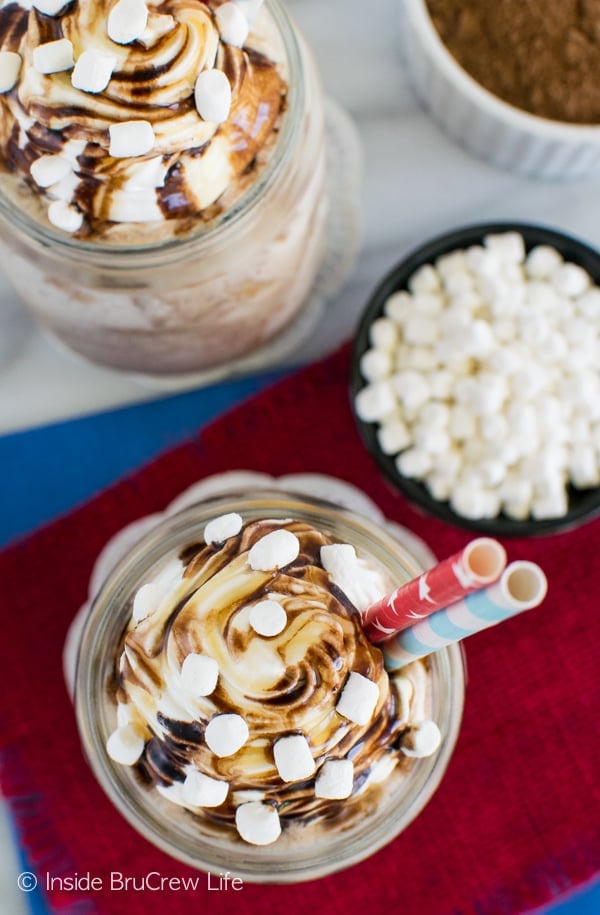 A few notes about this frozen salted caramel mocha hot chocolate recipe:
Make sure your coffee is cooled completely before you add it to everything.
Mix the coffee, creamer, and hot chocolate mix together before adding the ice.
Start with 1 cup of ice and pulse the mixture.  Add more ice if you need to thicken it.
Add Cool Whip, syrups, and mini marshmallows to make the drink look extra fancy.
Sit and relax in the shade with a big mug of chocolate goodness!
Repeat each day!
I see many more frozen hot chocolates in our future this summer!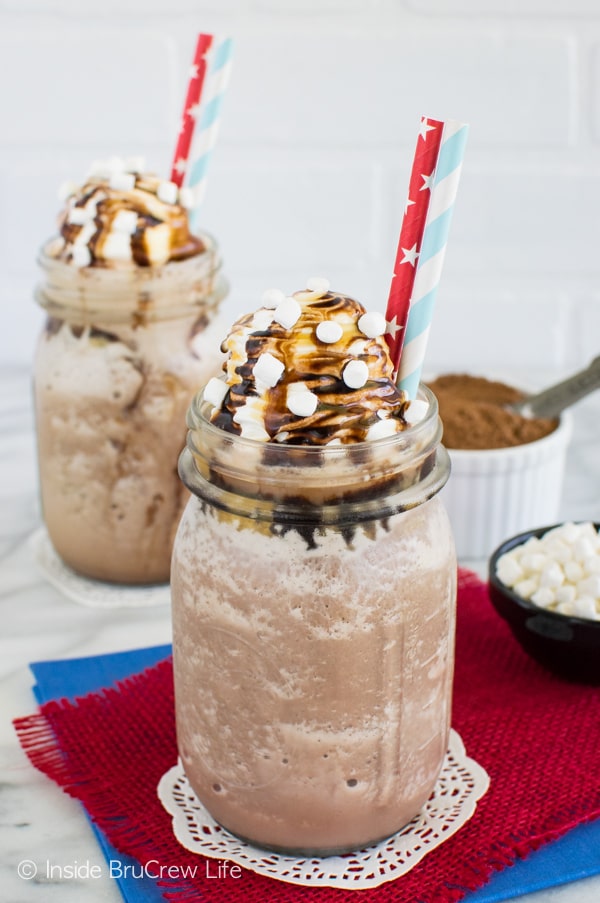 Stay up to date on all the BruCrew baking here:
FACEBOOK | PINTEREST | GOOGLE+ | TWITTER | INSTAGRAM | BLOGLOVIN
 Sign up to receive an email in your inbox for each new recipe:
EMAIL SUBSCRIPTION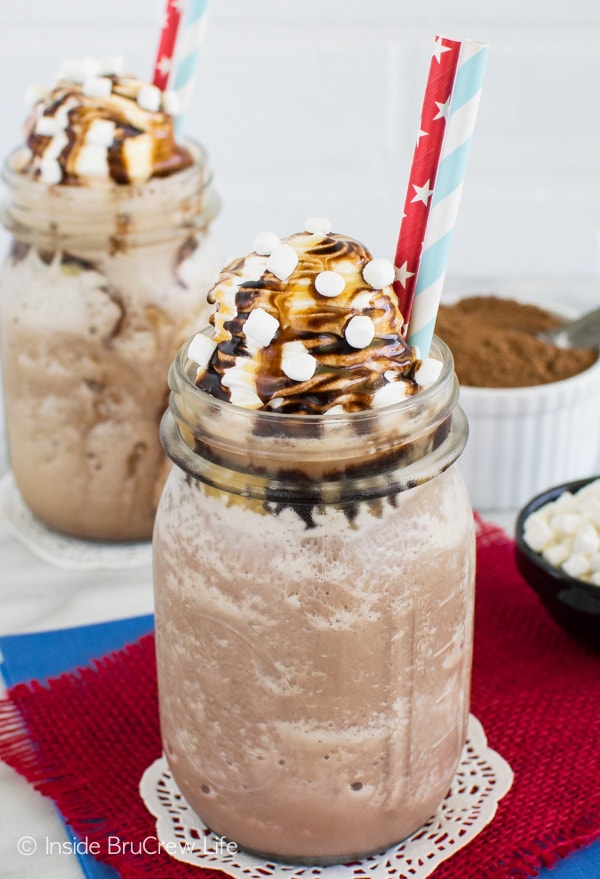 This cold and creamy Frozen Salted Caramel Mocha Hot Chocolate is a delicious drink to cool off with on a hot day. The creamer and hot chocolate mix add a great flavor to this recipe.
Ingredients
1/4 cup strong brewed coffee, cooled
1/4 cup salted caramel mocha coffee creamer
1 packet salted caramel hot chocolate mix
1-2 cups ice (depends on the size of your cubes)
Cool Whip
chocolate & caramel syrup
mini marshmallows
Instructions
Place the coffee, creamer, and hot chocolate mix in a blender. Pulse until mixed together. Add 1 cup of ice and pulse until creamy and thick. Add more ice if needed to get the right consistency.
Pour into a glass and top with Cool Whip, syrups, and mini marshmallows. Serve immediately. Makes 1 drink.
Notes
*Use your favorite creamer and hot chocolate flavor to add your own flair to this drink.
https://insidebrucrewlife.com/frozen-salted-caramel-mocha-hot-chocolate/
Copyright Inside BruCrew Life