Layers of fudge and candy make this easy Reese's Ice Cream Cake a stunning summer dessert for any party! So easy to customize with your favorite candies!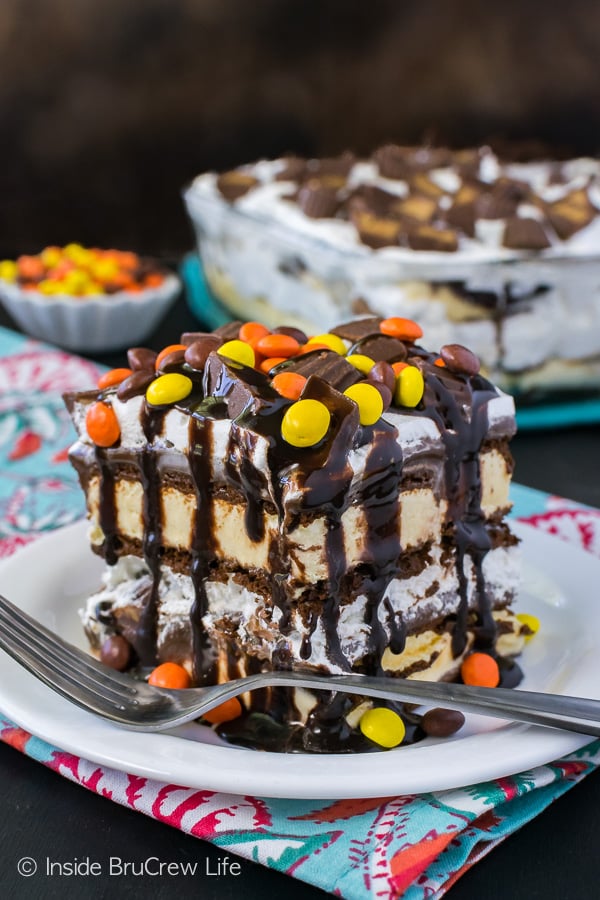 (photos updated July 2018)
CLICK HERE TO PIN THIS RECIPE FOR LATER!
This old recipe is such an easy dessert to put together for summer parties. Over the years I have learned so much about photography, so this delicious frozen dessert needed a photo update. You can see the old picture from 2010 at the bottom of the post.
Every year our daughter asks for an ice cream cake for her birthday.  Over the years she has requested this Vanilla Mint Chip Ice Cream Cake and this Chocolate Chip Cookie Dough Ice Cream Cake. We have had so much fun making and devouring these easy cakes together.
Layering ice cream sandwiches, hot fudge, Cool Whip, and candy bars makes an even easier cake for summer parties! Plus, they can be customized to your flavor satisfaction.
We like to use hot fudge and peanut butter cups because that's how we roll around here. But just think of all the combos you could do!  Caramel and Snickers. Marshmallow and Three Musketeers.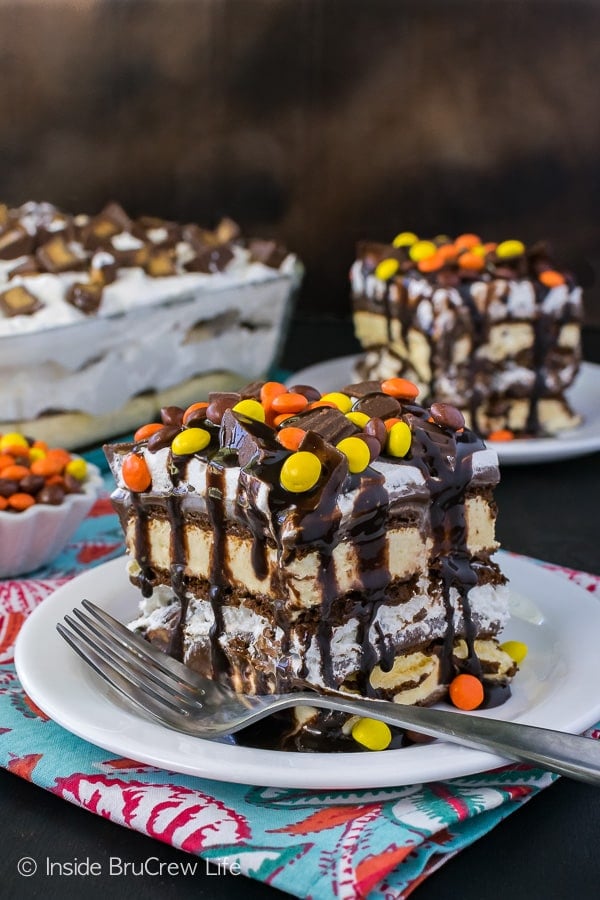 How to make this Reese's Ice Cream Cake:
The hardest part about this ice cream cake is unwrapping all the ice cream sandwiches and layering them in the pan before they start to melt.
I suggest just getting 8 sandwiches out of the freezer at a time.  Unwrap those and spread a layer of fudge, Cool Whip, and candy and then freeze it for a few minutes before you start working on the next layer.
Once you have it all layered together, cover it and put it back in the freezer.  Yeah, more waiting time is involved in this easy ice cream sandwich cake recipe.
I mean, you could just grab a fork and dive in, but the layers wouldn't be as pretty.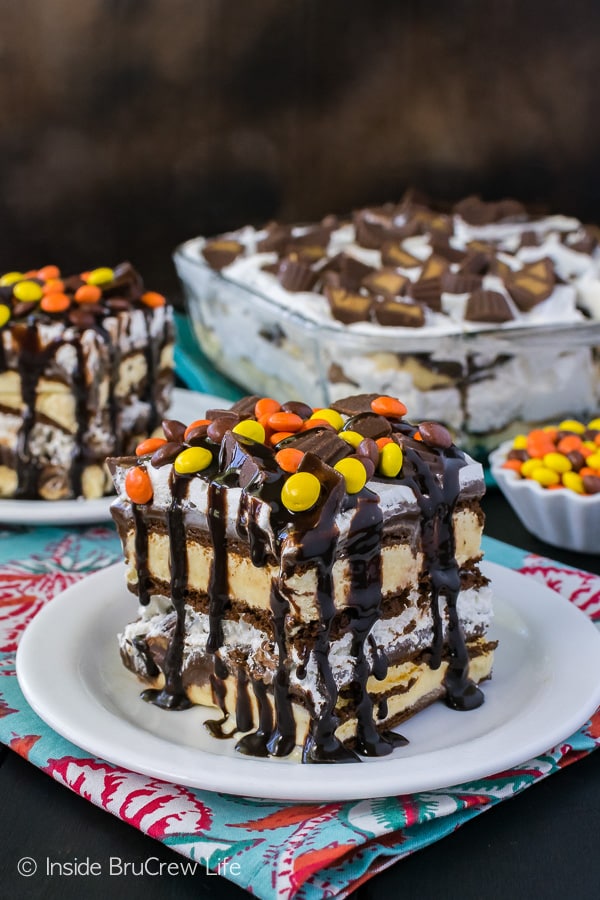 After a few hours everything freezes together, so that you can cut out pretty squares of frozen goodness!
We like to drizzle our ice cream cakes with more chocolate and sprinkle it with some mini Reese's pieces.  More peanut butter and chocolate is never a bad idea in my world!
A big slice of this Reese's Ice Cream Cake is a great way to cool off on a hot summer day!
More easy Reese's recipes that we love: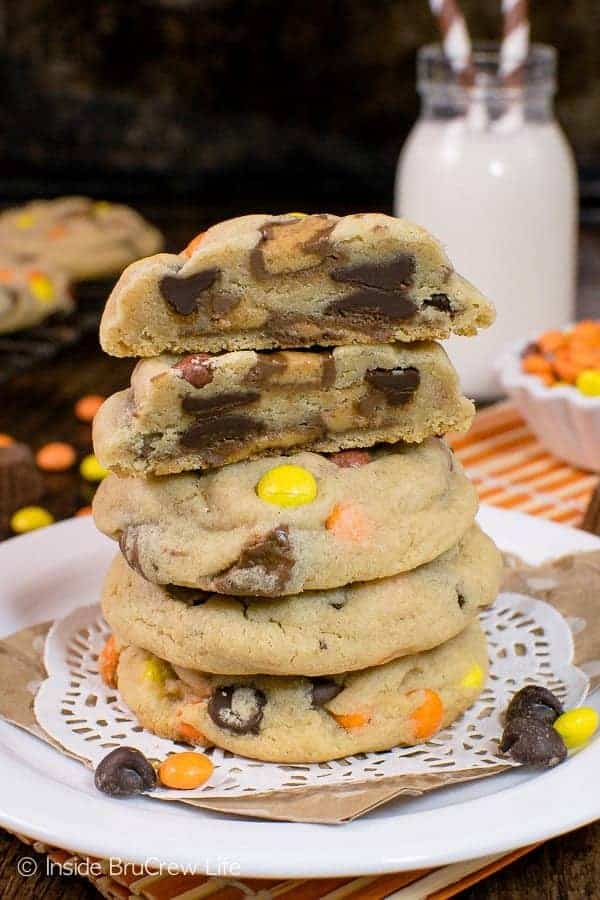 Reese's Peanut Butter Pudding Cookies – these soft and chewy homemade cookies are loaded with Reese's candies and chocolate chips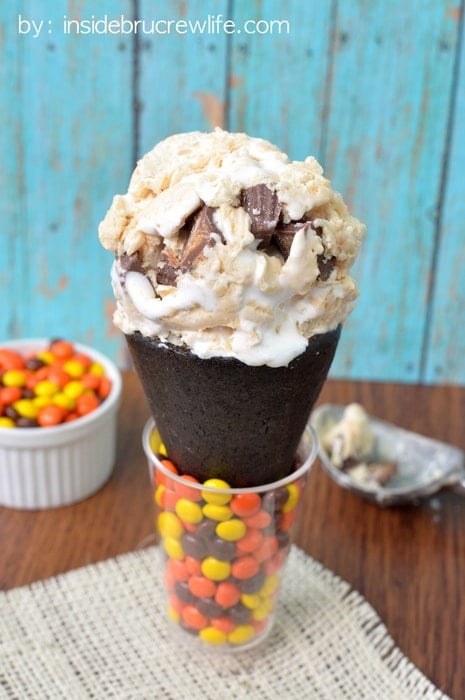 Reese's Fluffernutter Ice Cream – this easy peanut butter ice cream only requires 5 ingredients and a mixer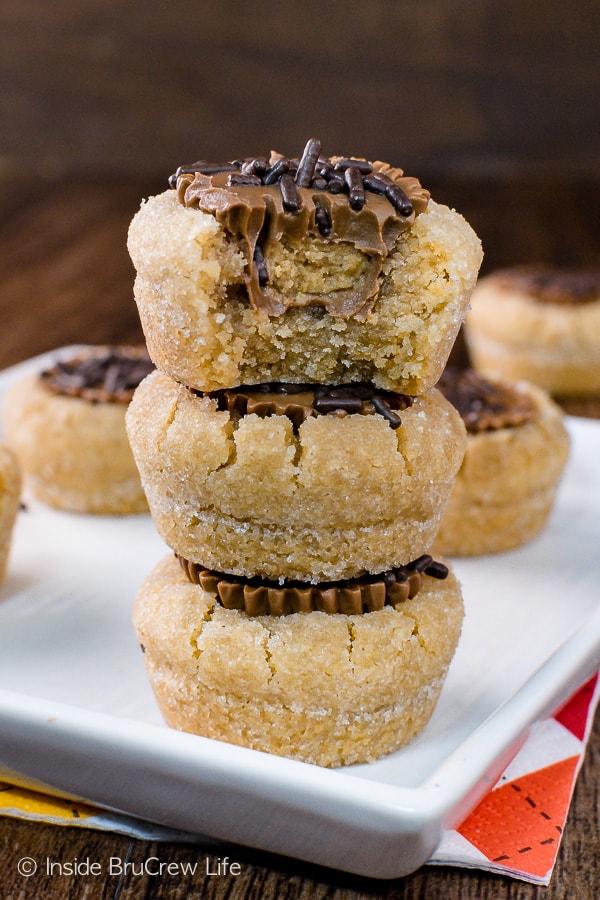 Peanut Butter Cup Cookies – the candy center in these chewy peanut butter cookies makes them a family favorite
More easy frozen treats to enjoy this summer: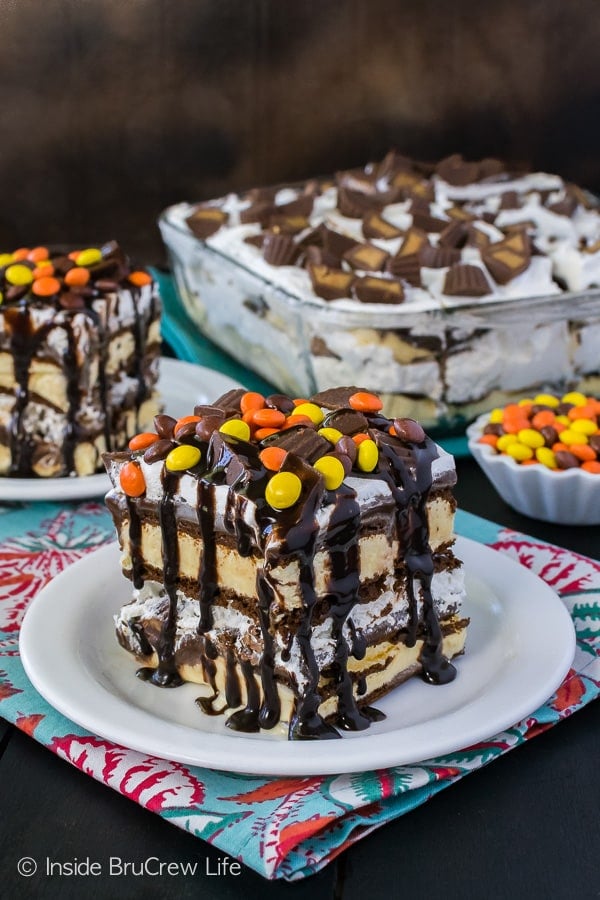 Connect with Inside BruCrew Life! Follow us on social media, so you never miss a post.
Email Subscription | Facebook | Pinterest | Twitter | Instagram | Bloglovin
I also created a fun new Facebook group, and I would love for you to join. It's a group where you can share your favorite recipes, ask questions, share photos, and see what's new with the BruCrew. If you would like to check it out, you can request to join HERE.
Reese's Ice Cream Cake recipe: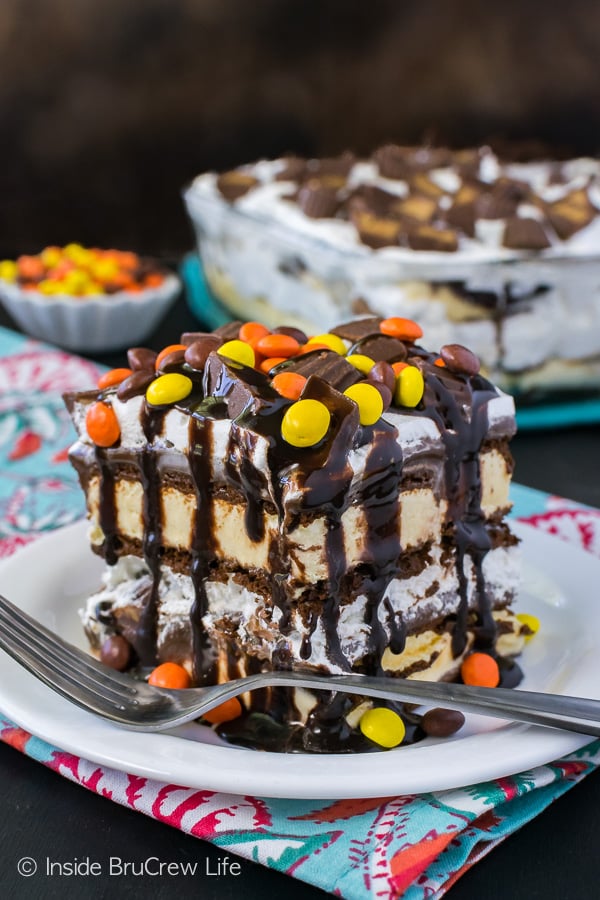 Layers of fudge and candy make this easy Reese's Ice Cream Cake a stunning summer dessert for any party! So easy to customize with your favorite candies!
Ingredients
16 mini ice cream sandwiches
1 jar hot fudge topping
1 - 8 ounce container Cool Whip, thawed & divided
2 cups chopped Reese's Peanut Butter Cups
1/4 cup mini Reese's Pieces candies
chocolate syrup
Instructions
Line an 8x8 pan with foil.
Unwrap the ice cream sandwiches and place 8 in the bottom of the lined pan.
Spread the top of the ice cream sandwiches with 1/2 the hot fudge.
Top with half the Cool Whip and 1 cup chopped peanut butter cups. Press the candies in.
Repeat the layers with the remaining ingredients. Cover and freeze for 4-6 hours.
Cut into 16 slices. Serve with chocolate syrup and mini Reese's Pieces.
https://insidebrucrewlife.com/i-scream-you-scream/
Copyright Inside BruCrew Life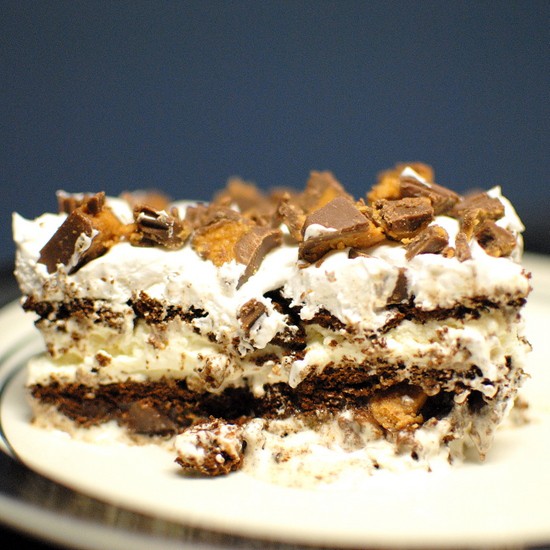 (original photo from August 2010)