Beat the heat with these quick and easy Mocha Oreo Milkshakes. They are creamy, rich, and totally delicious on a hot summer day.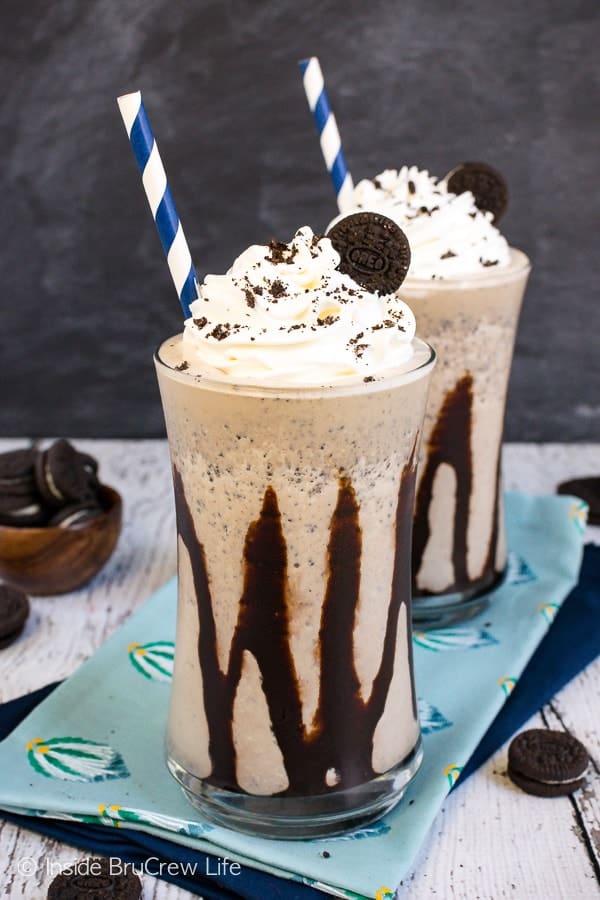 (photos and post updated June 2018)
I have a bad habit of staying up too late at night and getting up early to go to the gym has me behind on the house stuff. The house cleaning really needs done today.
I've got to find some motivation before the dust bunnies take over!! Maybe after another Dark Chocolate Latte I will be energized enough to tackle the cleaning. Maybe...
We are a month into summer vacation, and I'm ready to get back on a normal daily schedule. Call me crazy, but I'm ready for school to start back up.
I know, I know I should bite my tongue. I do really enjoy having the kids home during the summer. This summer has been one of lots of travel and fun with our three not so small munchkins.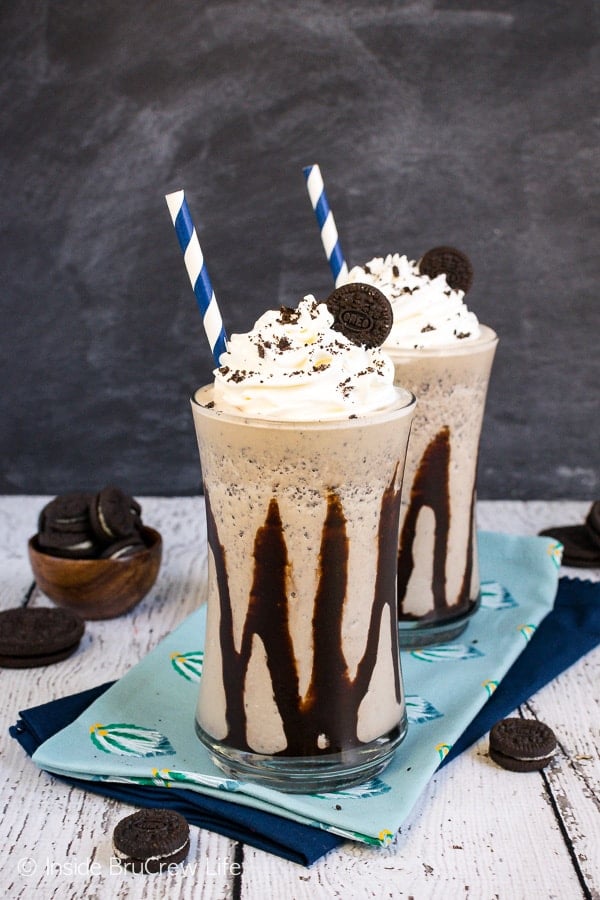 The kids have been following after our late night pattern too. Movie watching and video games with friends has been a normal thing lately.
The older two have totally embraced having a cup of coffee in the morning to get going after their late night fun. One more month of this lazy routine and then it's back to early mornings and homework.
Oh, yeah. Routine is coming, and I can't wait!!!
Sometimes we brew a full pot of coffee, and it doesn't get finished. Now with four of us drinking a cup of coffee each day that doesn't happen often. But sometimes it cools off before the night owls wake up, so I had to find a fun way to use up the extra joe. Milkshakes are always a fun treat when it is 100 degrees and humid outside.
I poured the extra coffee from the other day into the blender with some ice cream and Oreo cookies and whipped up an easy coffee cookies and cream milkshake!
Next time I want to try adding these Coffee Cream Brownies to the milkshake. I bet that would be crazy good.
A fun chocolate drizzle inside the glasses makes this look like a gourmet coffee shop drink. It's an optional step, but trust me and do it. It just makes the mocha milkshake so much fancier looking.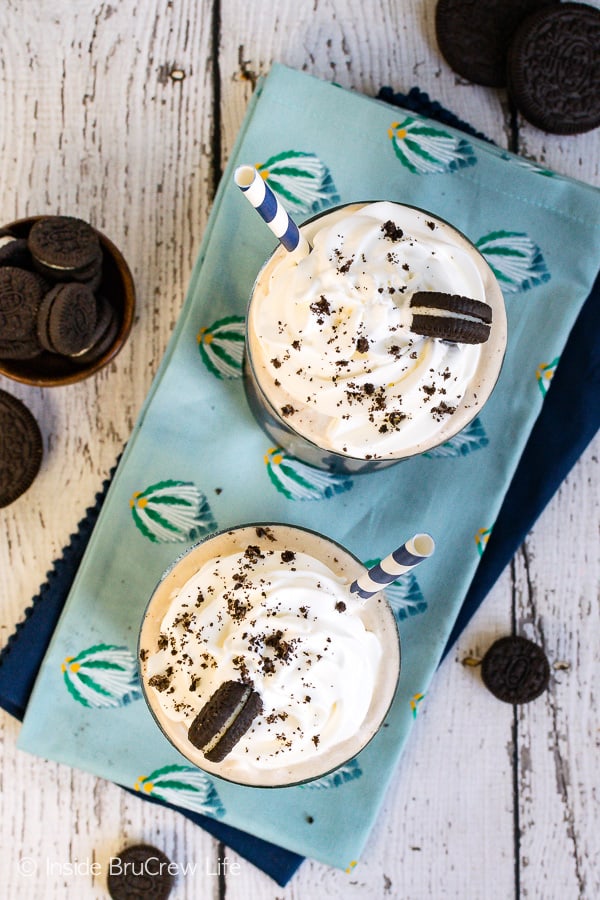 Tips for Making Mocha Oreo Milkshakes:
Make sure your coffee is brewed and cooled ahead of time. Hot coffee will melt your ice cream too quickly. If you make your milkshake with hot coffee it will be too melty. You could totally use a cold brew coffee or an iced coffee mix from the store if you prefer.
Set out all your ingredients first. Well, except for the ice cream. You can get that out last. It's easier to serve these coffee milkshakes if your cups and props are right in front of you.
Add the ice cream and coffee to a blender and pulse until mixed together. Throw in the Oreo cookie chunks and blend the mixture again.
Drizzle chocolate syrup on the inside of your glasses. Spoon or pour the milkshake into the glasses right away. The cold drink will keep the syrup in place.
Add a swirl of Cool Whip, a mini Oreo cookie, some cookie crumbs, and a fun straw to finish the milkshake off.
Now sit back and enjoy these Mocha Oreo Milkshakes. Who needs to do housecleaning when there are milkshakes to be enjoyed. Am I right?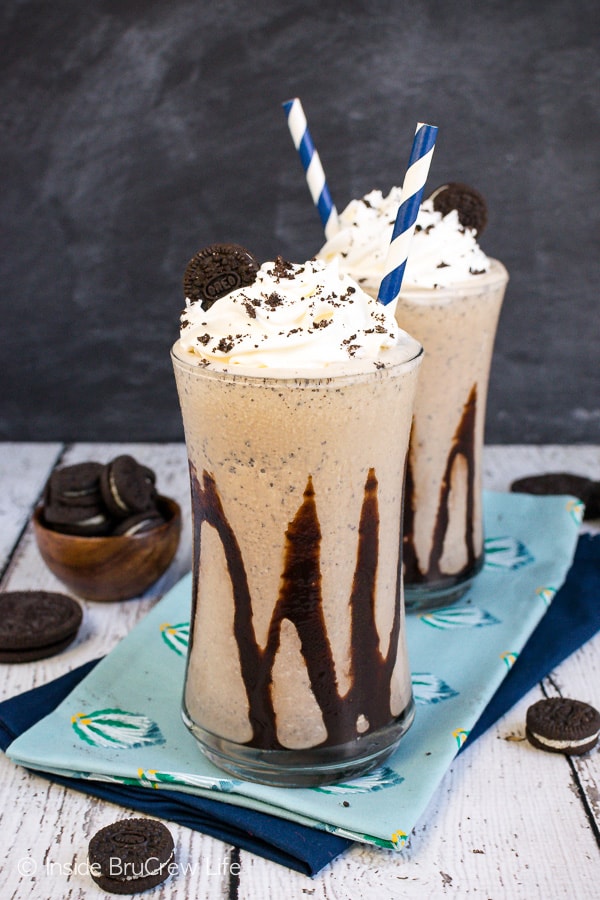 More fun frozen desserts for summer: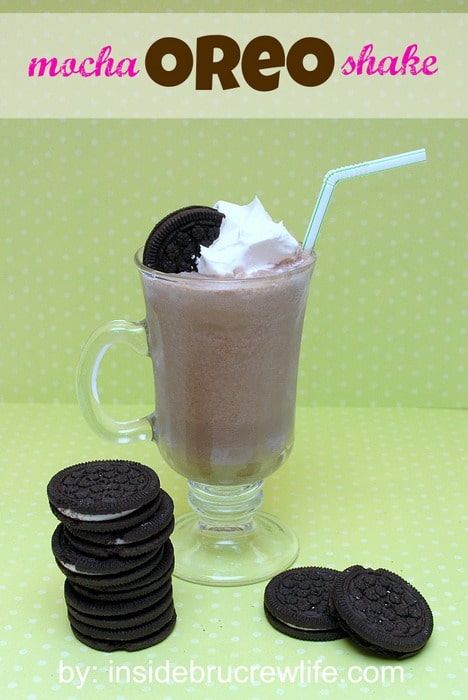 (original photo from July 2011)