Enjoy a slice of this easy Neapolitan Brownie Ice Cream Cake for dessert tonight. Layers of homemade brownies, strawberry ice cream, and vanilla ice cream makes this cake look so pretty!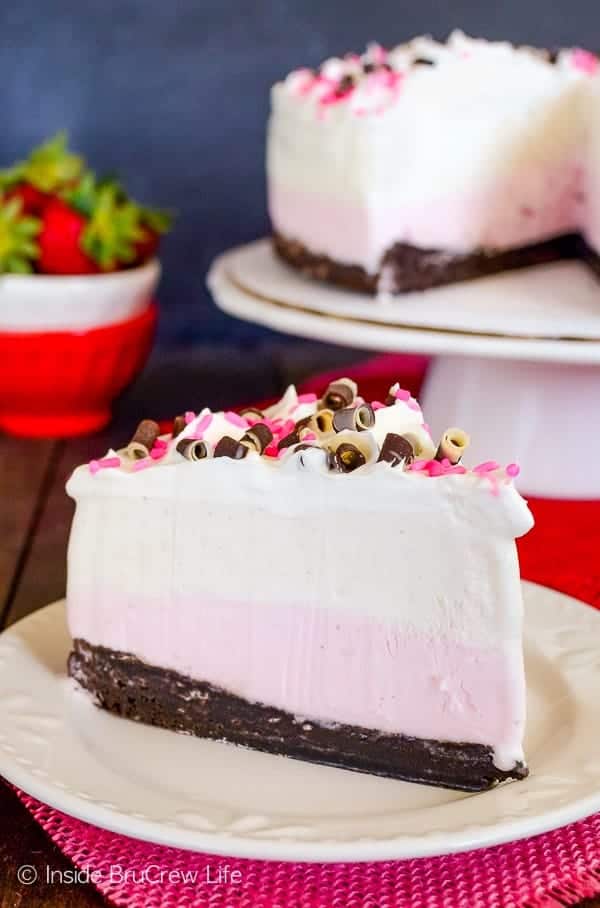 Ice cream is one of the treats we like to eat year round. Homemade ice cream, store-bought ice cream, frozen yogurt, "healthy" Peanut Butter Banana Ice Cream...we don't discriminate in our ice cream love.
The ice cream monsters in our house stage mini revolts when there is no available ice cream to snack on, or if there is ice cream in the freezer that is off limits.
Ok, so revolt might be a strong word. They do give me "the look" though when I say the ice cream has other plans. Yes, even ice cream goes on my list of "do not eat unless mom gives the ok".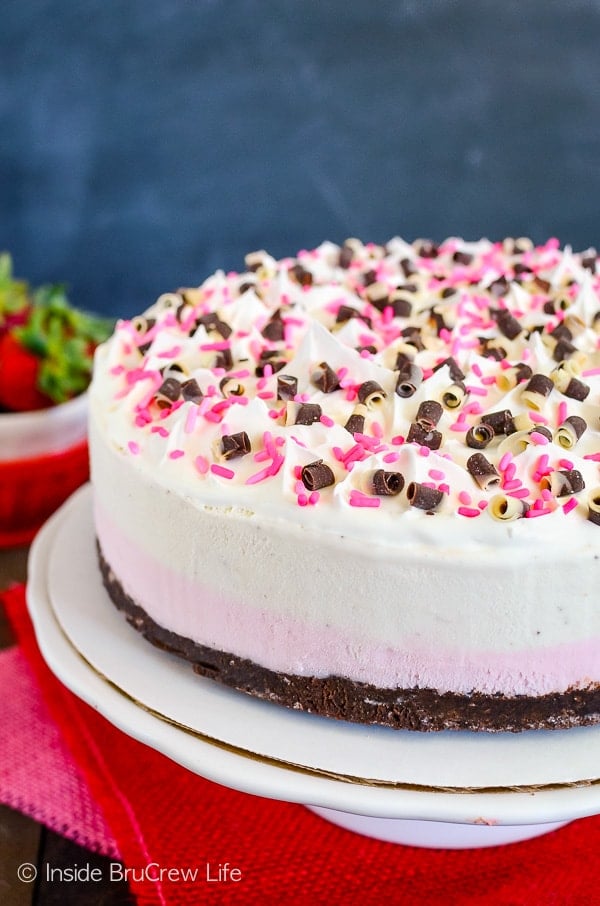 I decided to make a batch of these Homemade Chocolate Chip Brownies (minus the chocolate chips) as a crust on this easy DIY ice cream cake.
Making a Neapolitan Brownie Ice Cream Cake:
Preheat the oven and place a 9 inch piece of parchment or a cardboard cake circle in the bottom of a 9-inch springform pan.
Mix together the brownie batter and spread it in in the pan. Bake for 25 minutes. Remove and cool completely.
Set a carton of strawberry ice cream on the counter. Let it soften for 15-20 minutes. Just long enough to be able to stir it and then pour it on the cooled brownie. Place the pan in the freezer for 30 minutes.
While the strawberry layer is freezing, repeat with the vanilla ice cream. Stir and pour it on the frozen strawberry layer.
Place the homemade ice cream cake in the freezer for at least 5-6 hours, or until completely frozen.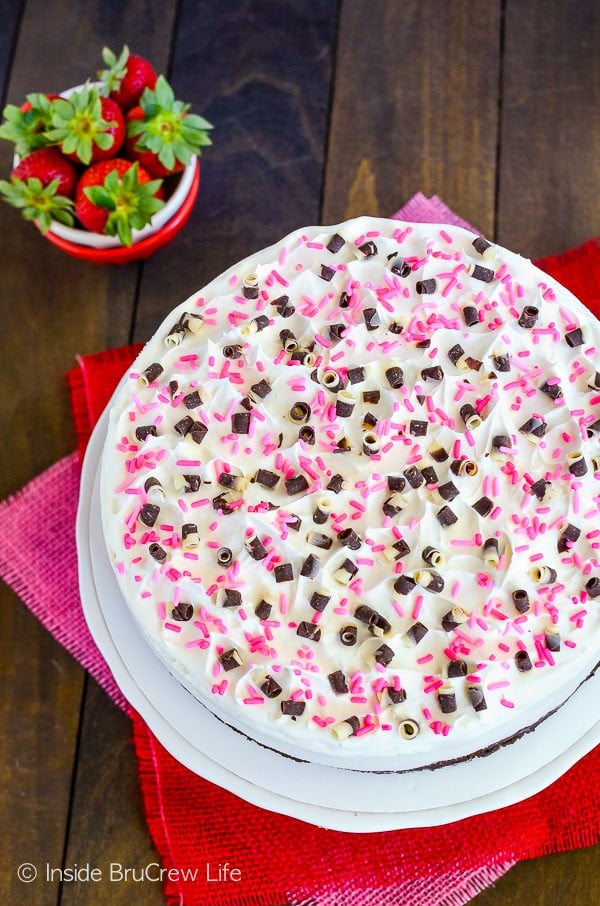 Place a knife under hot water and dry it off. Run it around the outside edge of the cake and the pan. Open the springform pan and lift the sides off.
Cover the top of the ice cream cake with Cool Whip, and then add some pink sprinkles and little chocolate curls on the top. Cut into slices and enjoy any time of day.
This Neapolitan Brownie Ice Cream Cake didn't last long around here once everyone knew it was fair game. In fact, I'm pretty sure I saw a few slices being eating for breakfast one morning.
If you are looking for mint version, you will love this mint chip ice cream cake.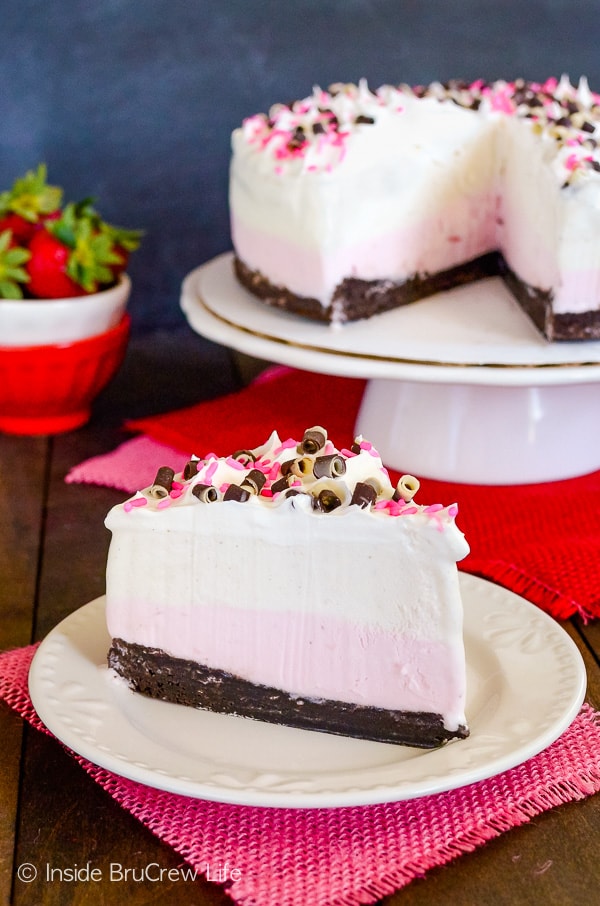 Other no bake desserts you may like: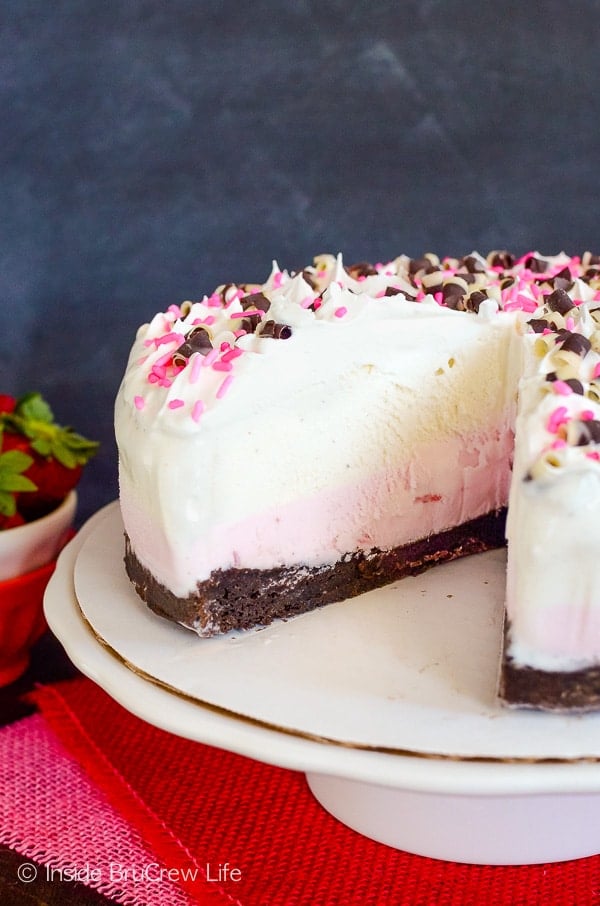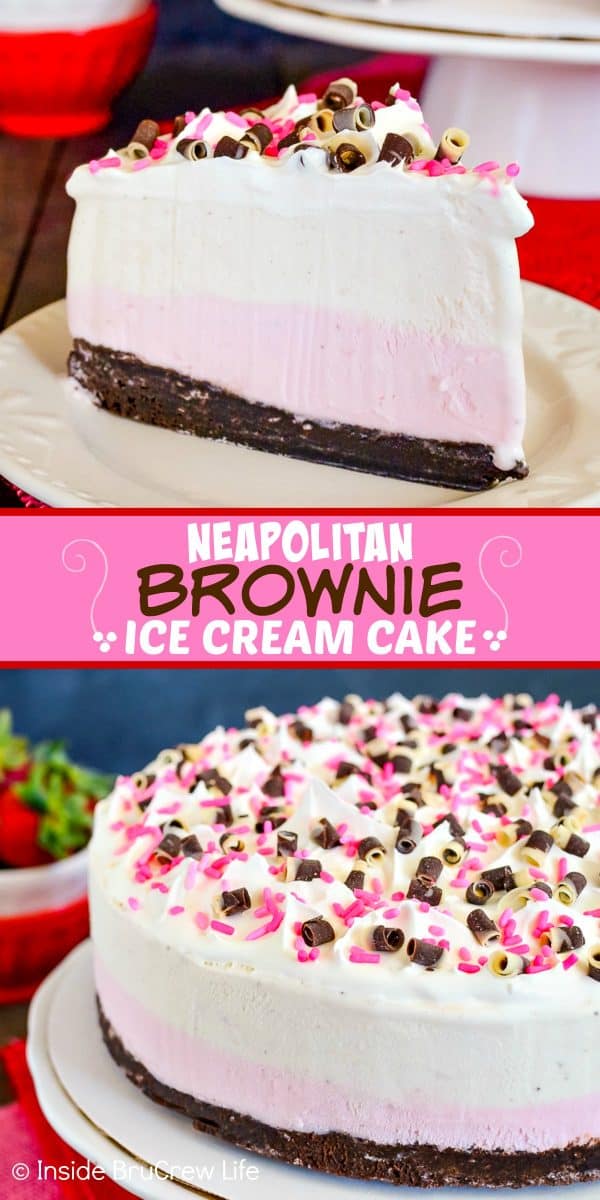 *The post and recipe for this Neapolitan Brownie Ice Cream Cake was originally published on July 22, 2014. The pictures have been updated and it has been republished on January 29, 2019.