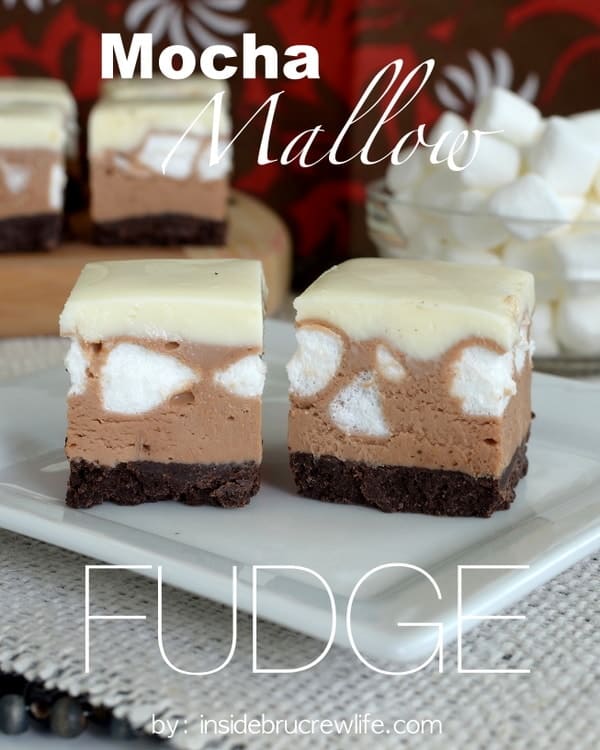 We love a good hot chocolate any time of the year.
But when the temperatures reach 100*…
a HOT chocolate just isn't going to cut it.
Cold hot chocolate's are pretty good,
but sometimes you just want more to bite into.
Have you tried out any of the Duncan Hines frosting creations?
I bought the mocha because, well because I love all things mocha flavored:-)
It sat in my cupboard for a while waiting for just the right thing to use it in…
I didn't want to use it on just anything.
Why didn't I just buy a few???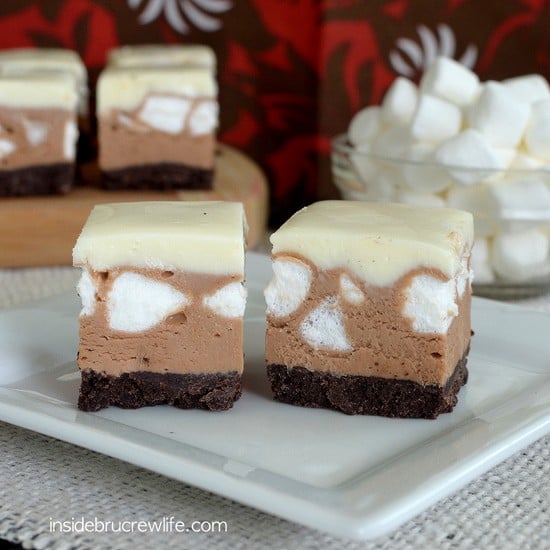 I always associated fudge with Christmas…
it seems like growing up that was the only time I ever ate it.
But now I think we need to have fudge more often.
So, to combat my craving for hot chocolate and to get more fudge in my diet,
I decided to combine the two together.
And the cookie crust, well it had nothing to do with either…
it just happened.
This just might be my favorite fudge right now.
Soft and marshmallowy…sweet and crunchy…chocolatey and creamy!
Oh, fudge, now I'm craving it all over again:-)
And of course I never did buy another mocha packet.
This could be bad…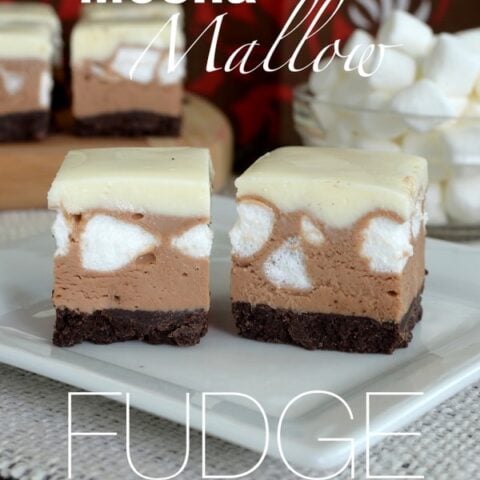 Mocha Mallow Fudge
Cookie crumbs with mocha and vanilla fudge layers.
Ingredients
For the Crust
2 cups chocolate cookie crumbs
5 Tablespoons butter, melted
For the Mocha Layer
2 cups white chocolate chips
1 Tablespoon butter
1/8 teaspoon salt
1/2 cup sweetened condensed milk
1 cup marshmallow cream
1 packet Mocha Duncan Hines Frosting Creation Flavor Mix
1 1/2 c. miniature marshmallows
For the Vanilla Layer
1 cup white chocolate chips
1 1/2 teaspoons butter
pinch of salt
1/4 cup sweetened condensed milk
1/2 cup marshmallow cream
Instructions
Combine the cookie crumbs and the melted butter in a bowl and press into a 8×8 pan that has been lined with wax paper. Set aside.
In a saucepan combine the white chocolate chips, butter, salt, condensed milk, and marshmallow cream for the mocha layer. Stir over medium heat until everything is all melted. Stir in the mocha packet. Let cool for 5 minutes. Stir in the marshmallows and pour over the crust. Refrigerate for about 15 minutes.
In a saucepan, combine the white chocolate chips, butter, salt, condensed milk, and marshmallow cream. Stir over medium heat until melted. Let cool 5 minutes and pour over the mocha layer. Refrigerate until set. Cut into 24 or 36 squares.
How about some more fudge to drool over?