This easy Cappuccino Fudge is made with just a few ingredients and only takes minutes to make. The creamy layers in this coffee fudge make it a pretty and tasty dessert.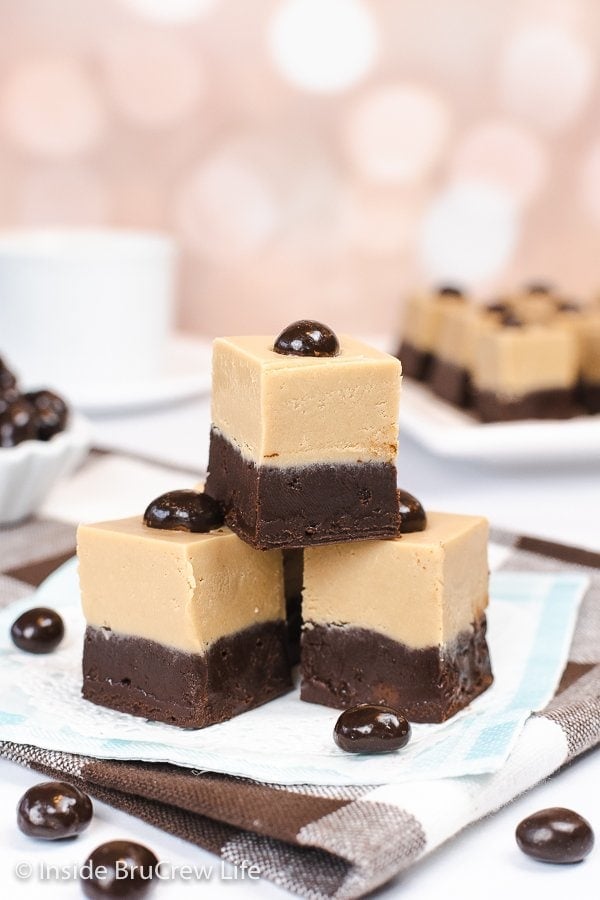 My favorite part of my day is my morning coffee. I love finding ways to incorporate that drink into recipes. Some of our favorites are these coffee cream brownies and this easy tiramisu recipe.
Years ago on vacation I tried a cappuccino fudge from a little shop. It had layers of chocolate and coffee swirled into little squares and tasted amazing.
I decided to make that flavor by jazzing up my simple three ingredient fudge. It was the perfect way to get my coffee fix for the day.
Normally, making homemade fudge can be messy and sometimes it doesn't set up right. Lucky for you, I have an easy trick for making fool proof fudge every time.
Did you know that melting chocolate chips and canned frosting together will give you the easiest fudge ever? In 15 minutes you can have a pan of it chilling on your counter. Seriously, it is so easy to put together.
Why This Fudge Works
The main reason this fudge works is because it is fool proof. There is no need for candy thermometers or endless stirring over a hot stove. All you do is melt it all together and let it chill.
This coffee fudge recipe has all the things you want in fudge. It has a creamy and smooth texture that melts in your mouth, and the layers of dark chocolate and coffee create a delicious mocha flavor.
I like to add coffee beans on top to make it pretty. Plus, that lets everyone know the fudge is caffeinated.
With just 15 minutes of prep work, some chilling, and a few ingredients this pretty layered fudge will deliver coffee joy to anyone who tries it.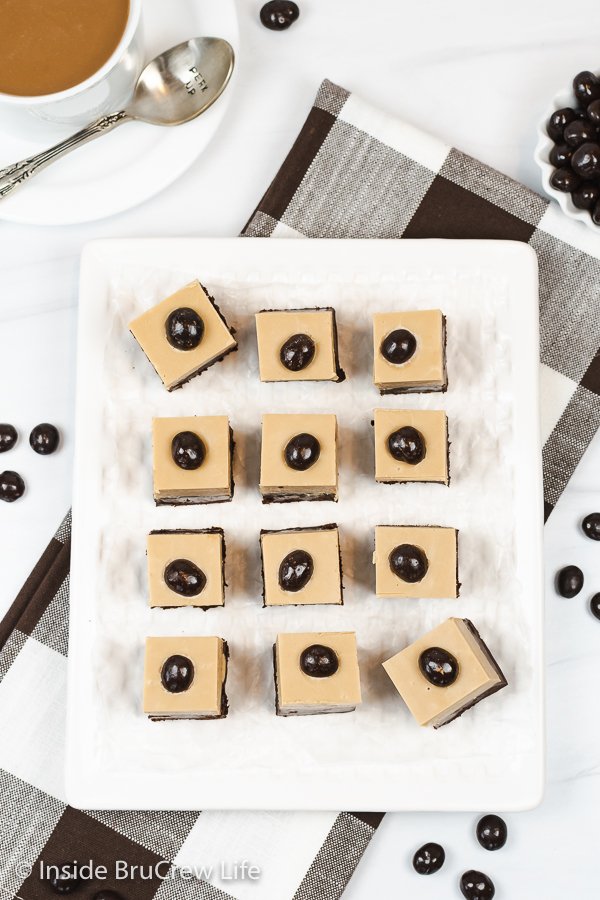 Main Ingredients
You will only need a few ingredients to make your own pan of coffee fudge. The end result will look absolutely amazing.
Canned Frosting - A can of vanilla frosting and chocolate frosting get melted down in the microwave for this fudge.
Chocolate Chips - You will need a bag of dark chocolate chips and white chocolate chips to get the layers in this fudge.
Butter - I like to use a little bit of unsalted butter to help the chocolate chips melt down smoothly. This is optional.
Heavy Cream - Needed to dissolve the instant coffee before adding it to the fudge.
Instant Coffee - Dissolving the granules will give the fudge a cappuccino flavor.
Chocolate Covered Coffee Beans - Adds the cutest little touch and lets everyone know what kind of fudge it is.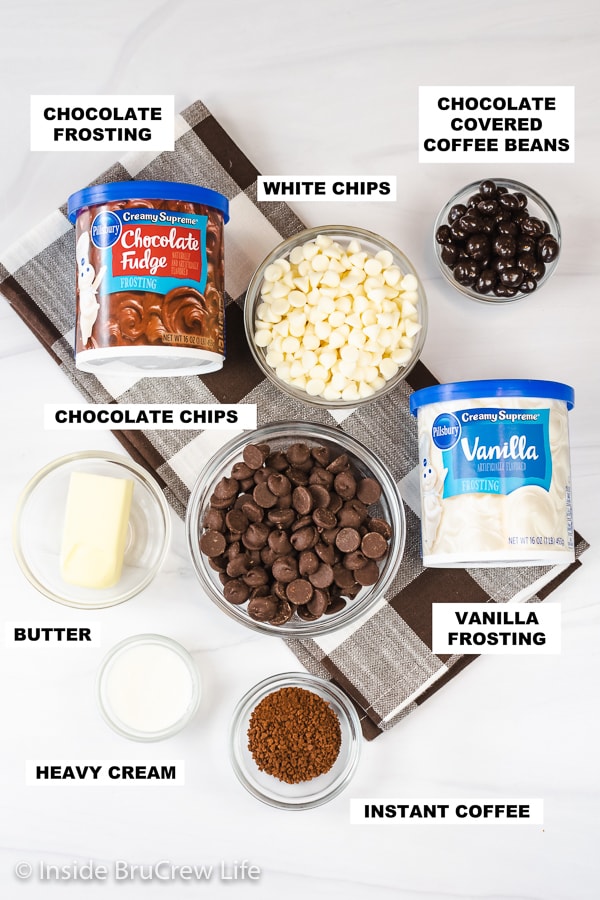 How to make Cappuccino Fudge
The layers in this coffee fudge recipe really do come together very quickly. Grab a pan and a wooden spoon and let's get started.
Dissolve coffee in cream. Heat the cream in the microwave for a few seconds. Slowly stir in the instant coffee granules a little bit at a time. Avoid dumping it all in at once because it will clump.
Make the chocolate fudge layer. Place the dark chocolate chips in a pan on low heat. Stir until melted and creamy. Remove the liner from the chocolate frosting and microwave 1 minute. Pour into the melted chocolate chips. Stir until smooth and creamy, then pour into a prepared pan.
Make the coffee fudge layer. Place the white chocolate in another pan on low heat. Stir until soft. Microwave the vanilla frosting for one minute, then pour the frosting and coffee cream into the white chips. Stir until everything is melted and smooth. Pour gently on top of the chocolate layer. Let it cool 15-20 minutes.
Decorate the fudge. Gently place the chocolate covered coffee beans onto the fudge. Do not press them in because they will slowly settle into the fudge a little bit.
Cool and cut. Let it cool and set completely before cutting into squares.
Storage
Counter: Fudge will stay soft if kept in a tightly sealed container on the counter for 4-5 days.
Fridge: If you need to keep the fudge for longer, place the container in the fridge and it will last for a few weeks. Enjoy it chilled or let it come to room temperature before serving.
Freezer: Wrap the entire block of fudge tightly in plastic wrap, then place in a freezer safe bag or container. Store it in the freezer for 5-6 months.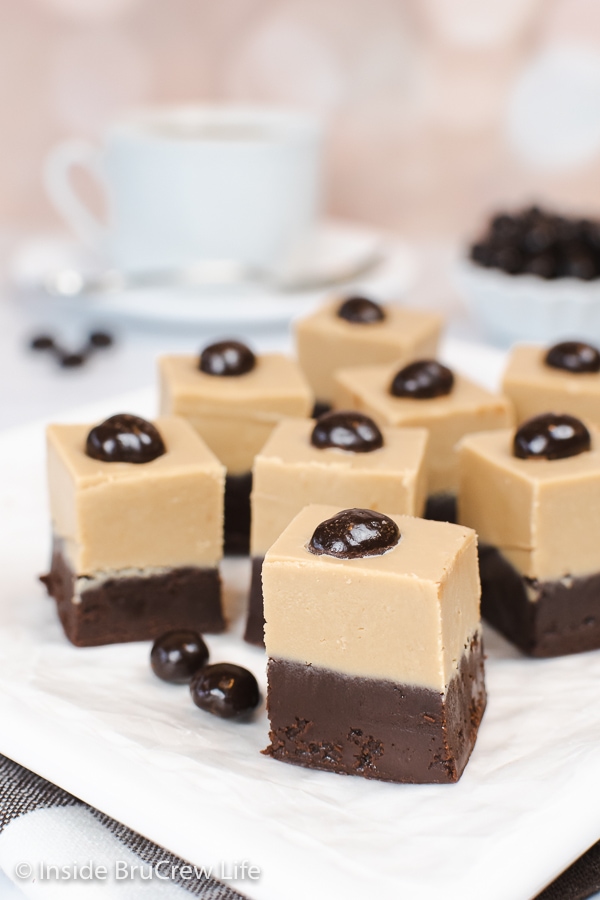 Tips

and Tricks
Line your baking pan with foil or parchment paper for easy fudge removal after it sets.
Heat the chocolate over low heat to prevent the chocolate from burning or scorching.
White chocolate chips do not melt the same. When you heat it in the pan, it will end up looking like soft play dough. Do not over heat it trying to get a liquid chocolate.
Want to make a marble fudge? Make both kinds of fudge, then drop spoonfuls into the pan randomly. Swirl gently with a knife or skewer to mix it up slightly.
Recipe Questions
Can you use espresso powder instead of instant coffee?
Yes, you can use either one as long as they are instant granules. The espresso powder may not dissolve as much but it will give the fudge a pretty speckled look.
Can this fudge be made in the microwave?
It sure can. Place the ingredients for each layer in a microwave safe bowl and heat at 50% power, stirring often. Once everything is melted and creamy, pour into your pan.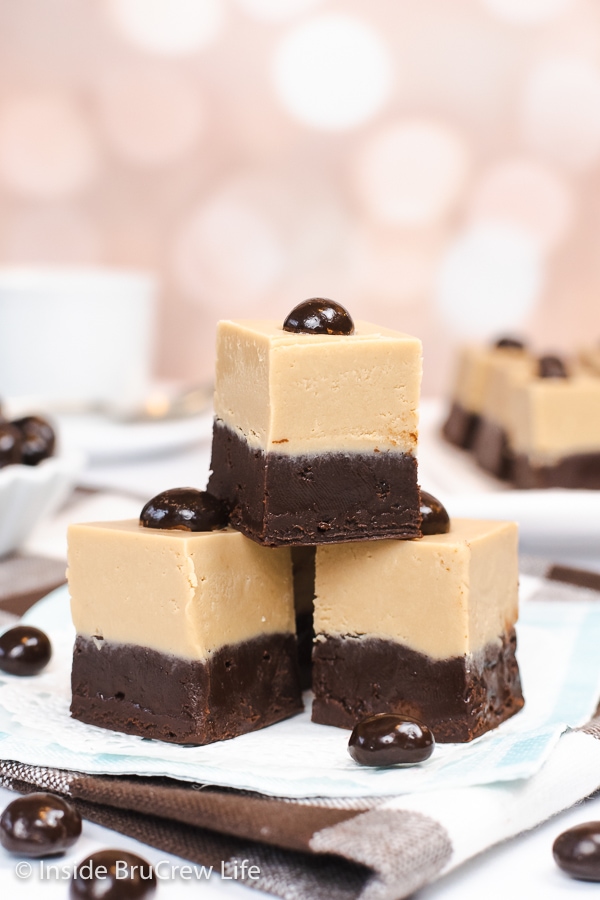 More Easy Fudge Recipes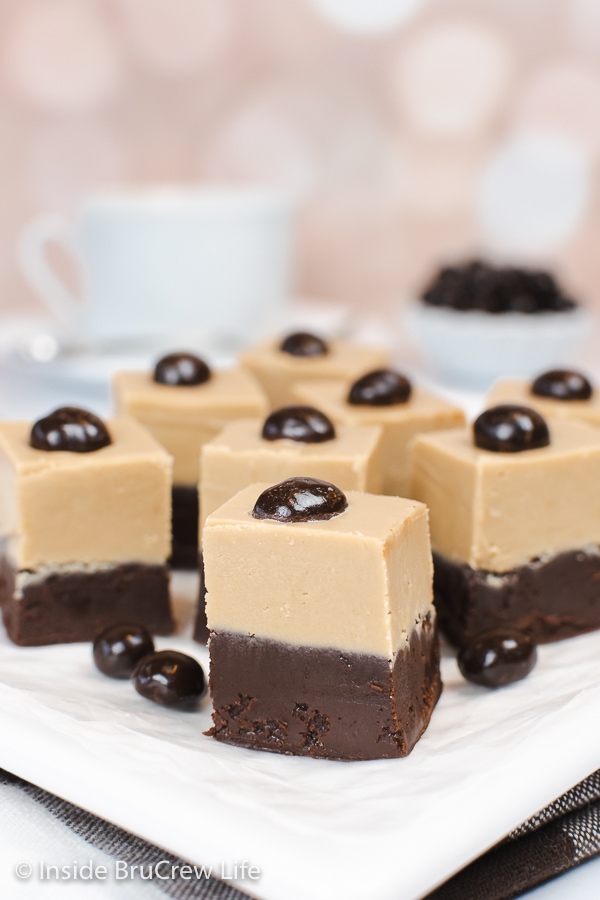 Do you love a recipe you tried from Inside BruCrew Life?
Please leave a 5-star ⭐️ rating and a review in the comments section below.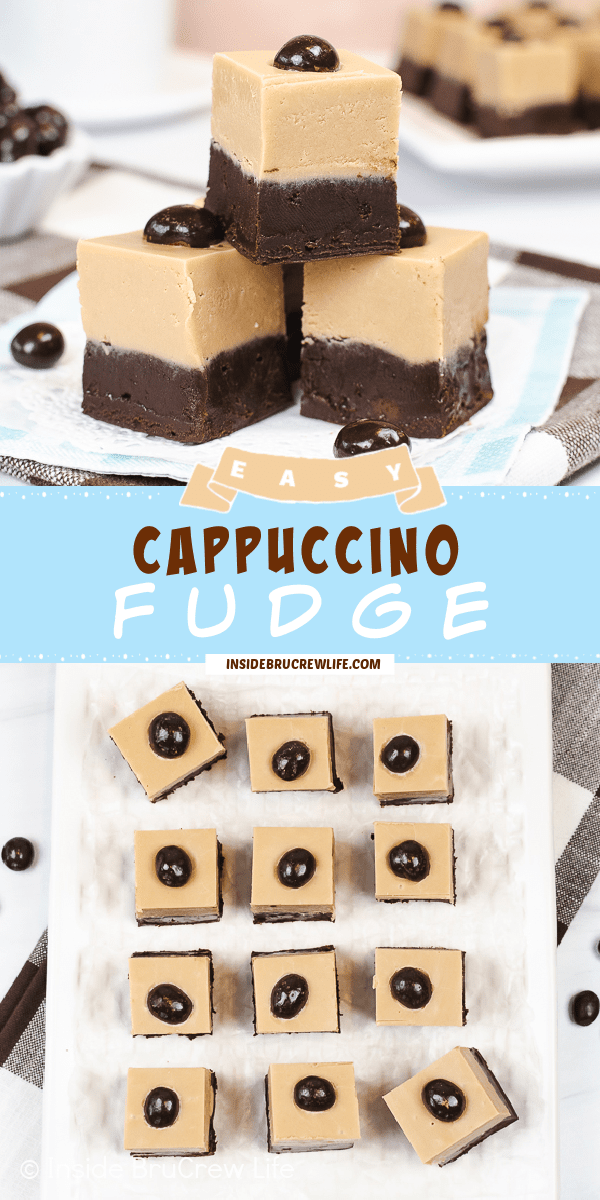 *The post for Cappuccino Fudge was first published December 2011. The post and pictures were updated February 2022.