A big bowl of this Fudge Mint Popcorn is the perfect snack to make for the next movie night. Mint cookies and candies will have everyone reaching for more chocolate covered popcorn in a hurry.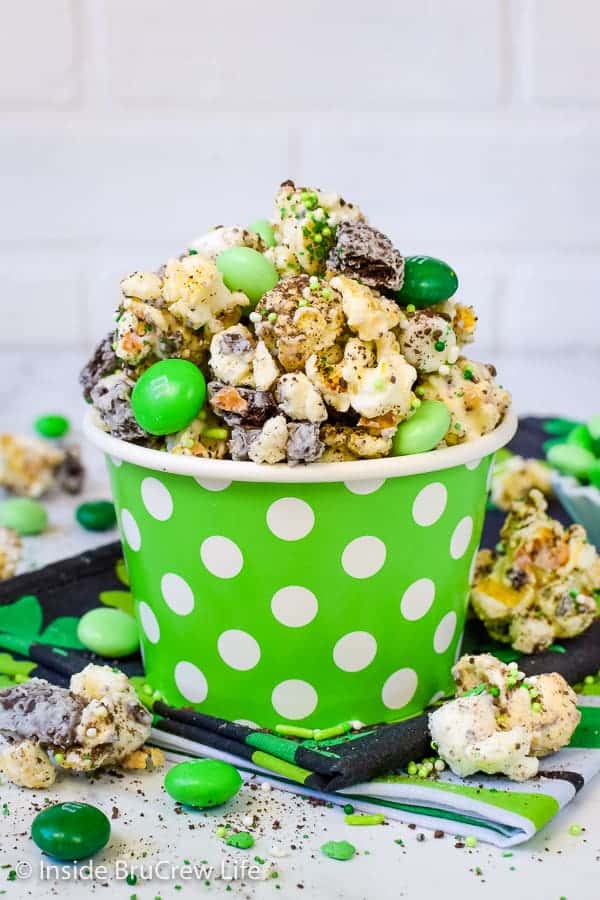 It's time to eat your greens. And by greens, I'm talking about green sprinkles and green candies.
You didn't think I meant the spinach, kale, broccoli or cucumbers that are in the fridge, did you? Veggies! Who needs them anyway?
Ha, ha! I'm just kidding. We really do eat veggies and proteins 80 percent of the time. These fun desserts and sweets that you see here only make up 20 percent of the food in our house.
Well, maybe that's not entirely true because there are probably more bags of chocolate chips, cookies, and candies in the pantry than there are veggies in the fridge. But we don't eat that food all the time.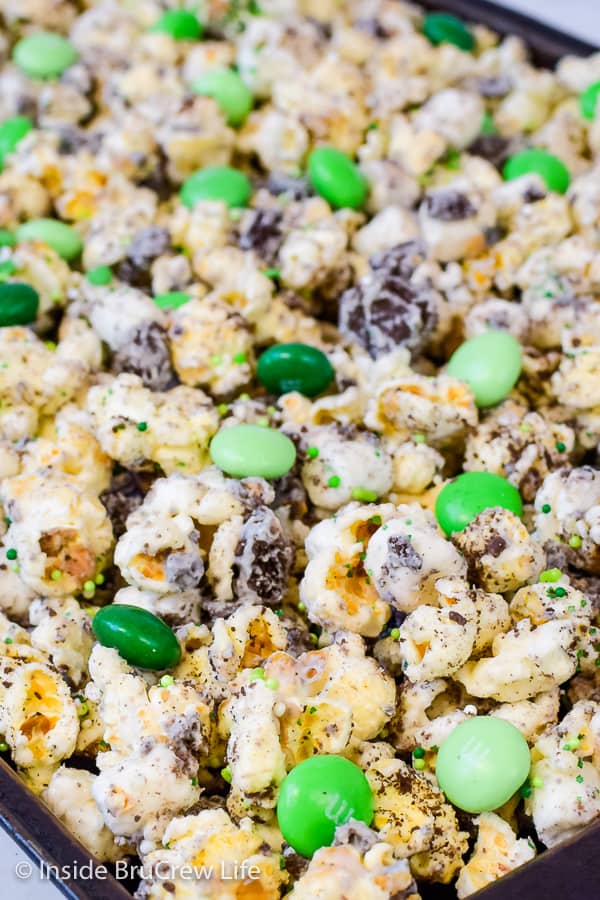 Since this month is all about mint desserts, I'm totally thinking about celebrating by adding green M&M's and mint cookies to bowls of sweet popcorn while chilling on the couch with my family!
Over the years we have enjoyed different chocolate covered treats like this M&M Nutella Popcorn and this Monster Cookie Dough Popcorn. This year I decided that a mint cookie version needed to happen!
This mint popcorn does have a little secret though. Come a little closer, and I will whisper it in your ear. This chocolate covered popcorn uses store-bought cookies. You didn't think I would those precious Girl Scout cookies, did you?
No siree, I am good with using generic brand cookies when I am going to chop them up and throw all sorts of other goodies in with them. Plus, my husband would never allow me to chop up his precious Thin Mints just for popcorn.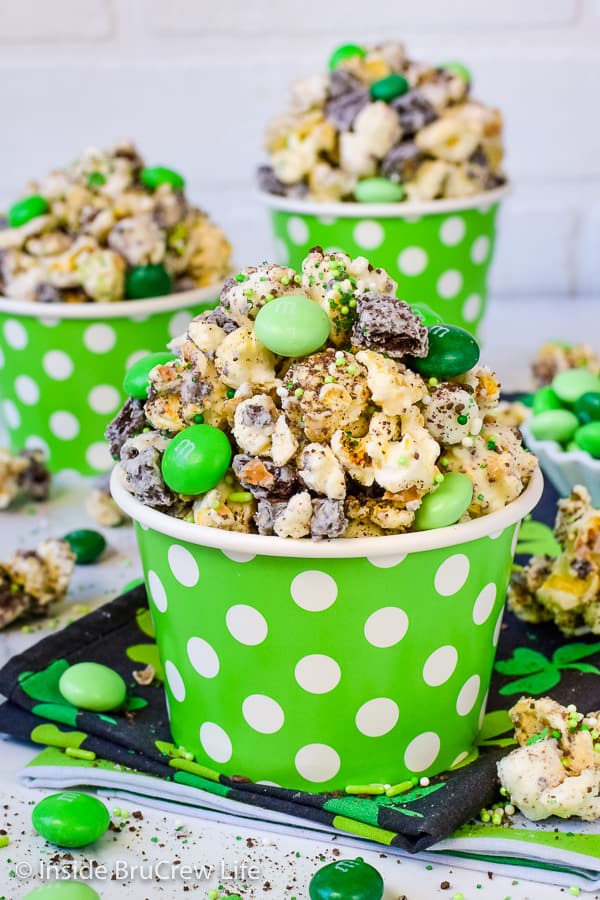 Ingredients needed to make Mint Chocolate Popcorn
Popcorn - you can use microwave popcorn or pop your own
Miniature Marshmallows
Mint M&M's
Mint Cookies - feel free to use Thin Mints, Keebler Grasshoppers, store brand fudge mint cookies, or even mint Oreos
White Chocolate Melts
Green sprinkles
Tips for making Fudge Mint Popcorn
Line a large sheet pan with foil.
Chop the mint chocolate cookies into chunks. Crush 2 cookies into crumbs.
Make sure to check the popcorn for unpopped seeds before you add it to the bowl because no one wants to bite into a seed and break a tooth.
Stir together the popcorn, mini marshmallows, and cookie chunks in a large bowl.
Melt the white chocolate according to the package directions. Pour the melted chocolate over the popcorn mixture and stir until everything is coated. Stir in the M&M's.
Spread the popcorn on the prepared pan and top with the sprinkles and the crushed cookies. Let set before diving in.
Store the Fudge Mint Popcorn in a tightly sealed container. If you have any left that is.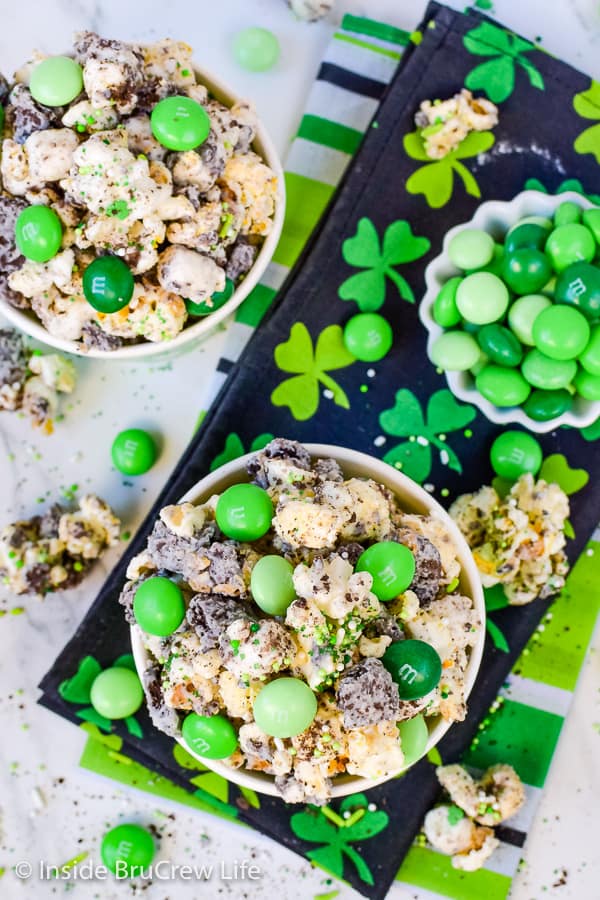 More fun chocolate covered popcorn recipes
This fun two toned Butterfinger Cookies and Cream Popcorn is loaded with candies and cookies. It's a sweet treat that gets rave reviews every time we make it.
Using a brownie mix and cookie dough candies creates this Brownie Batter Cookie Dough Popcorn that everyone will go crazy for.
This Peanut Butter Oreo Popcorn is loaded with peanuts, cereal, candies, and cookies. It's a fun snack that will disappear in a hurry at your next movie night because it's so good.
Looking for a fun and easy snack mix to munch on while you watch tv? This Coffee Toffee Popcorn is loaded with candy bits and chocolate covered coffee beans. Guaranteed to keep you awake through the end credits.
This Sweet and Salty Caramel Popcorn Mix is made with popcorn, pretzels, Chex cereal, nuts and potato chips, all coated in caramel. Perfect party snack!
Enjoy all the flavors of your favorite summer treat in this easy S'mores Popcorn. Chocolate, marshmallows, and Golden Grahams cereal make this a delicious treat.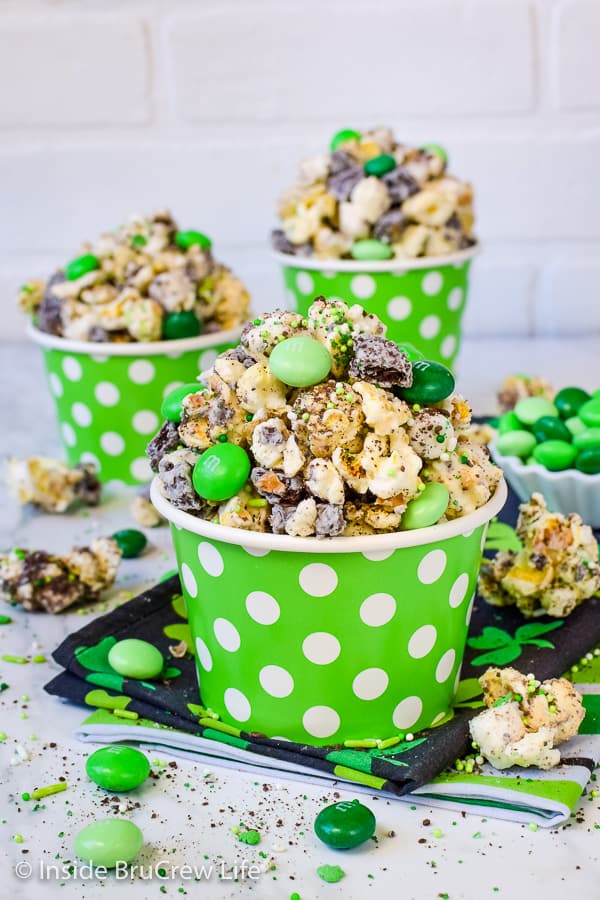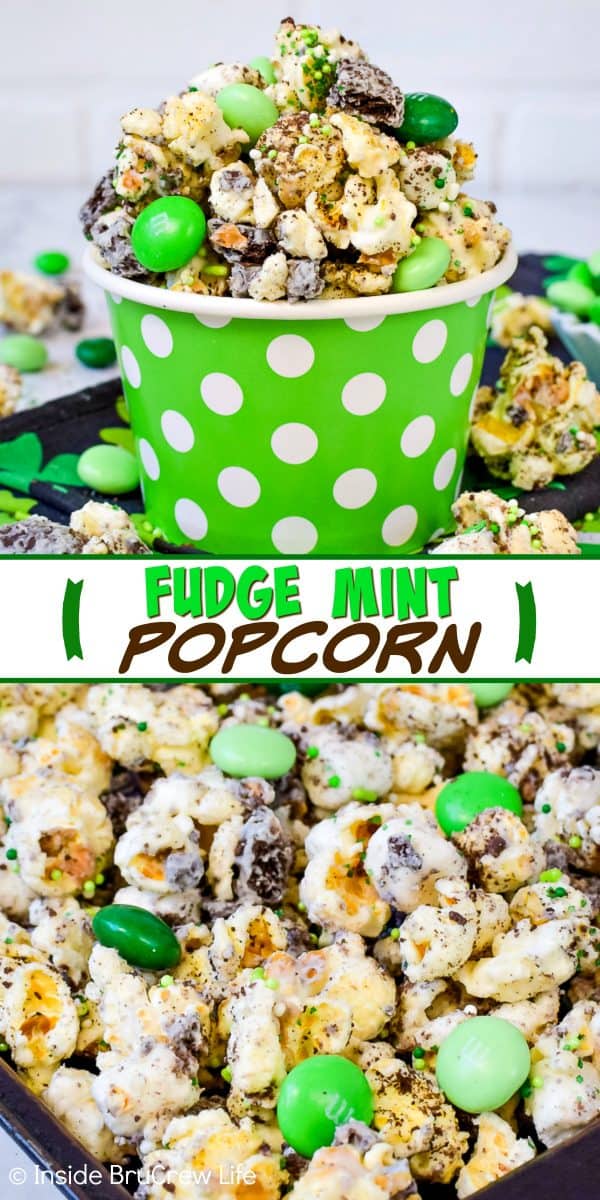 *The post and recipe for Fudge Mint Popcorn was first published on March 16, 2012. The photos have been updated and it has been republished on March 12, 2019.